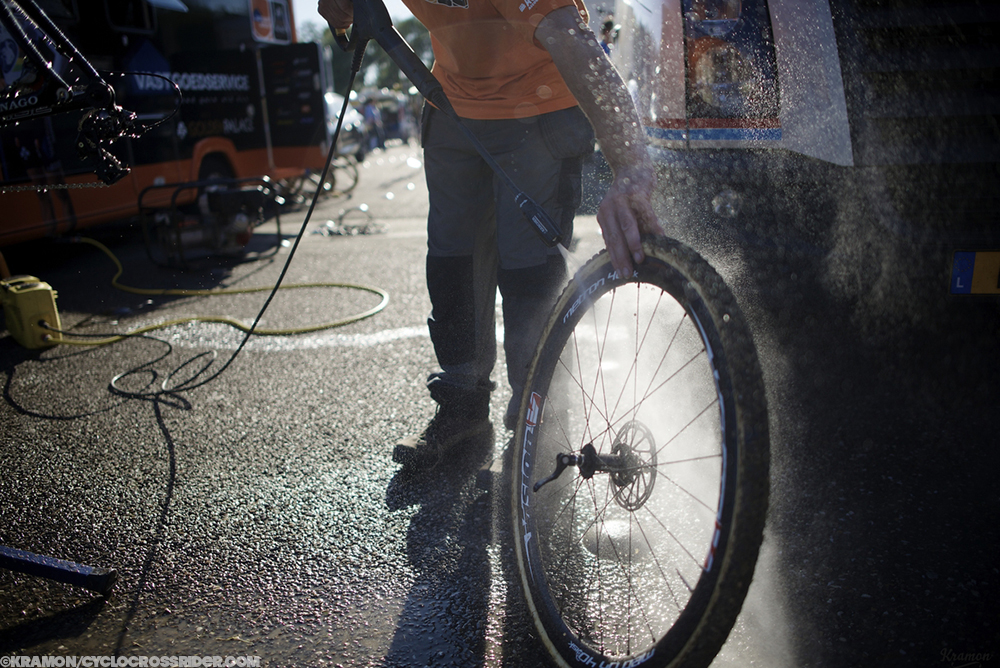 THE opening round of the UCI World Cup, in October, is the first major occasion of the season when the majority of the professional cyclocross scene comes together again. The early season races are done and dusted and the big names face each other for perhaps the first time.
There are around seven months between the last big gathering in February and there are changes to see – young riders have grown, sponsors have changed perhaps and there are new bikes and kit to look at.
Single chain ring set-ups were the talk of the summer – not a new concept as riders have been fashioning there own solutions to that for decades, but on the steep slopes of Valkenburg there was one other equipment change that was more common than twelve months previously.
Last season Dutch champion Lars van der Haar won on the Cauberg hillside, above the touristy town of Valkenburg, using disc brakes – the first rider to top a World Cup podium doing so. At Valkenburg this season there were noticeably more pro riders on disc brakes and there were three riders using them who 'podiumed' in the two senior elite races: Van der Haar (again); Kevin Pauwels; and Helen Wyman. And as Wyman points out to us – none of the three were American riders where "the disc revolution has really taken hold."
Really, there is no extra weight. People saying there is, are just looking for excuses really - Helen Wyman
"My bike weights 6.97kg, and as far as I know it's just about the lightest bike in the pro races," says British and European champion Helen Wyman, "So really, there is no extra weight. People saying there is, are just looking for excuses really.
There have obviously been well-documented teething problems with disc brake set-ups over the past couple of years in terms of pad wear, durability and the hydraulics, but we appear to be around most of those issues now.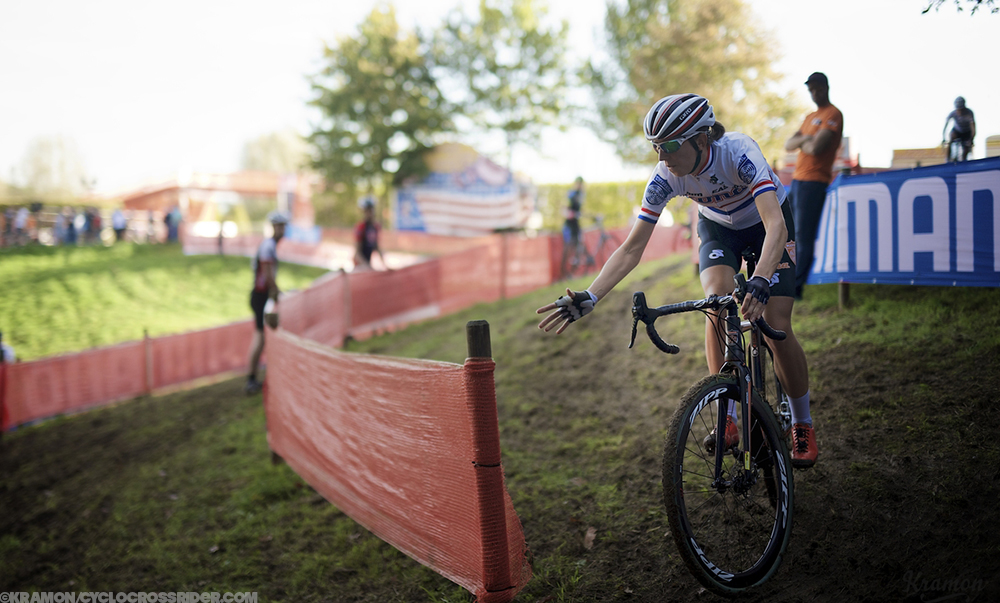 Helen Wyman scouts out the Valkenburg course being watched by none other than Niels Albert (right) and husband Stef (left).
"I think the great issue in Europe, and maybe further afield, is really two things," Wyman continues. "One. You need a lot of new equipment - new wheels, new spare parts (Rotors and different levers), disc wheels just aren't as easily available, they aren't cheap, and I guess the recall last year put the frighteners on some people. Secondly, it's the knowledge of mechanics. My mechanic (husband Stef – Ed.) took the time to learn how they work. He built, rebuilt, and rebuilt again all my hydro stuff until he knew them inside out. He's confident with it, so I'm confident with it. Some riders are not switching over as those around them just aren't confident in building and serving disc bikes."
Belgian champion Sven Nys has had disc-brake Trek Boone bikes available to him since January 1st of this year, but it's been noticeable how few laps he's raced on them – still preferring to race a cantilever brake bike in the main.
More and more European pros though are following their American cousins, like Jeremy Powers, over to discs. Kevin Pauwels raced in Valkenburg on discs for the first time and finished second behind long-term convert Lars Van der Haar – Wout Van Aert was on them, as was Jonathan Page, Simon Zahner, David Van der Poel – the list goes on especially in the younger age races.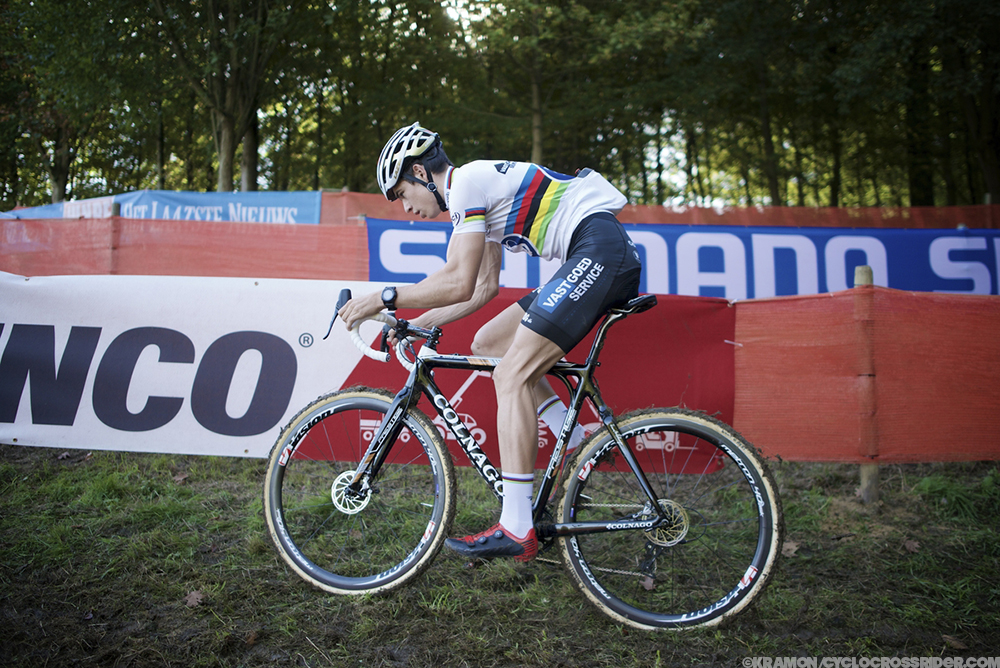 World Under-23 champion Wout Van Aert was combining disc brakes with a SRAM CX-1 set-up at Valkenburg (see main image also).
"I love 'cross, and I love it's history," says Wyman, "Canti brakes are part of the sport, but so is progress. Technology helps us get faster and more appealing for sponsors. Discs help me feel safer and more secure, and they help me find my limits. If we all thought we shouldn't progress - we'd be riding one type of tubular, on a steel bike and still doing river crossings in major events.
The manufacturers obviously talk up the advantages of discs, but it's interesting to hear views directly from the pro racers.
"I rode cable operated disc brakes last season, and I immediately saw the advantage of braking power," says Helen, "I also saw big advantages when I could change my riding style if a course benefits from more aggressive riding - like later braking on the start straight. I also saw big benefits in wet races and muddy races. Once I'd switched to the SwissStop brake pads, my pads lasted a long time, worked irrespective of the weather and gave me huge confidence. My bikes were 150g heavier than my canti bikes were there previous season. This season I'm on the Red hydraulic brakes."
Any new technology it has its growing pains, but the ease of stopping, the power they put out...- Jeremy Powers
American champion Jeremy Powers agrees, "They are much, much more powerful than their older cousin - the cantilever. With any new technology it has its growing pains, but the ease of stopping, the power they put out... my favourite bit is that we don't have to change cables and the feeling is always buttery smooth and the same from bike to bike. The effects of a muddy or sandy race are eliminated with hydraulic, they always feel the same."
"It's a developing technology, but it's certainly a better user experience for the rider just getting into 'cross and for the really challenging courses where you need to control your braking on the steep descents - like Asper-Gavere or Roubaix - that's when I really love having that constant power to stop," adds Powers.
There is no question though that hydraulic disc brakes are much more involved if you have to service them and for that reason Powers has canti-equipped bikes when travelling in Europe (as does Katie Compton).
"With all my personal travel in Europe between events, I chose to have the canti bikes in Europe for Valkenburg. You might see some of my disc bikes in Europe soon though, stay tuned," says Powers.
Discs give a rider the confidence that whatever the conditions, their braking will always be the same, every lap
Alan Weatherill - from UK disc brake manufacturing pioneers Hope Technology - also dispels the extra weigh argument. "The actual weight gain is quite small once you account for the weight of the brake hose compared to cables and in a muddy race there is far less build-up of mud on the disc bike over canti's."
"Cyclocross is quite often a series of quick sprints and sharp braking into tight corners. Discs give a rider the confidence that whatever the conditions, their braking will always be the same, every lap," adds Weatherill.
"I can only speak from Hope's prospective," says Weatherill, "but the team have had 100% reliability using our V-Twin hydraulic convertor. It uses our existing and well-proven hydraulic technology so there was never really an issue. I think that in the past discs have sometimes acquired a bad reputation due to some inferior mechanical brakes fitted to some bikes."
Hope sponsored rider Paul Oldham, the 2011 British champion, added, "We've been using discs on all our team bikes since 2011, and had no reliability issues at all. To begin with we did do quite a bit of testing with different pads etc to get the best out of them. Cross is quite a bit different to mountain biking, but we got a disc /pad combination that works well in all conditions, and all the riders are happy."
It was always going to take time for people, especially the bigger teams, to switch over purely on the cost outlay alone, but as Helen Wyman says "Times are changing."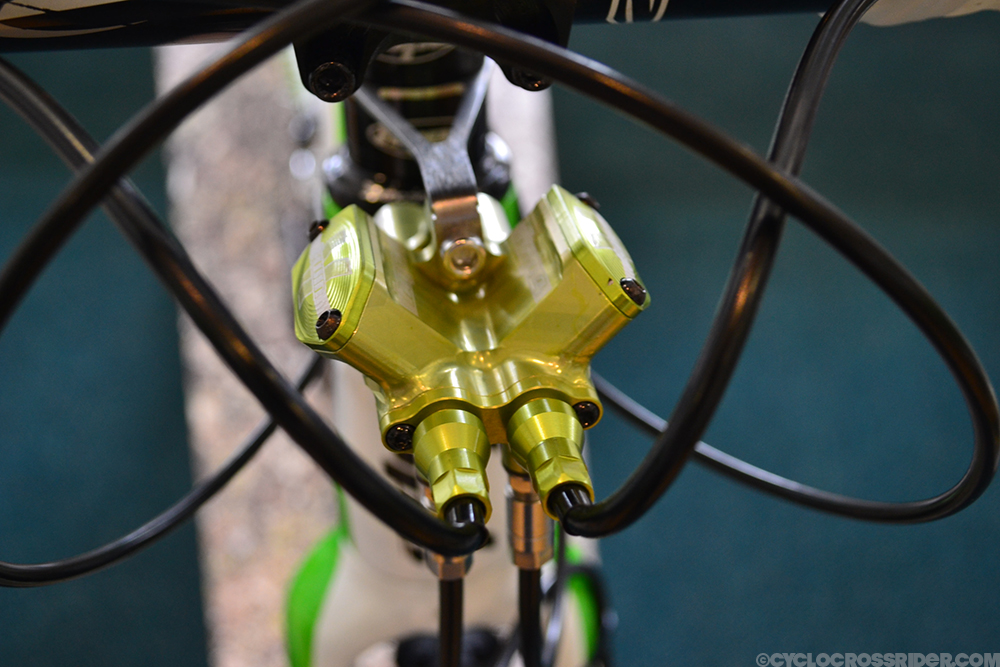 Hope Technology's V-Twin hydraulic convertor is still a problem free solution.
Photos: ©kramon/cyclocrossrider.com