Sporza's Race highlights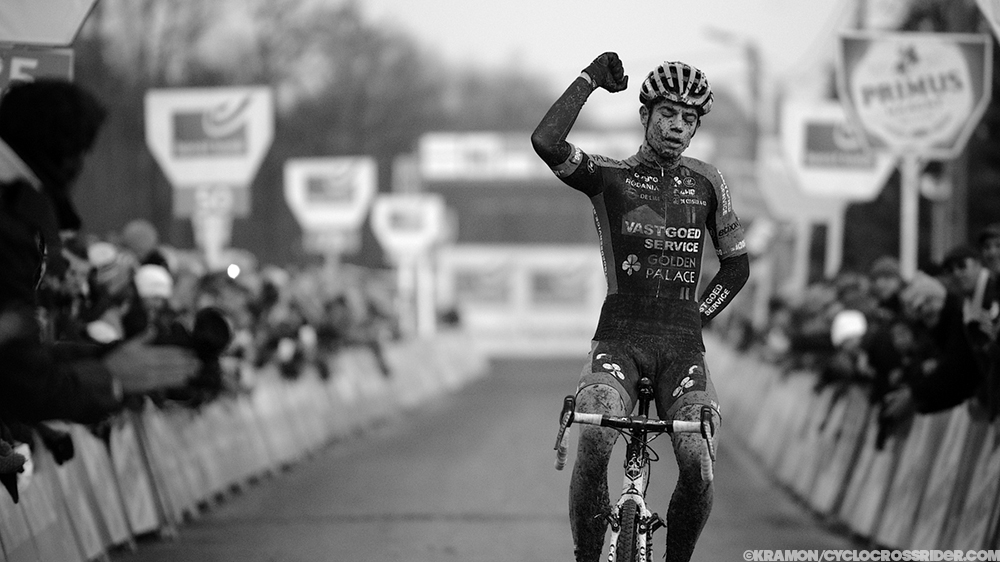 TWENTY-year-old Wout Van Aert secured his first major 'cross 'klassement' in Baal today - the bpost Bank-sponsored Trofee series - with one round still remaining in Lille on February 7th. Even though victory in the time-based series is now in the bag (a rider cannot lose more than five minutes in a single round), Van Aert will definitely still race the final round - as Lille (in Belgium) is his hometown!
As we said in our race preview – 'what a difference a year makes'… twelve months ago, on New Year's Day in Baal, Sven Nys won his hometown race convincingly, resplendent in the World champion's jersey, and was followed home by Zdenek Stybar and Niels Albert. 2015 is now certain to confirm further the 'changing of the guard' at the top of European cyclocross.
Belgian title chances
Van Aert will fly to Spain straight from the race tonight for four days of training in Calpe (with team mates Rob and Yannick Peeters) – perhaps the most obvious sign that he really is targeting the Belgian title very seriously.
I don't feel that I must win the national title - Wout Van Aert
"I know I'm still young and, at 20, I don't feel that I must win the national title," Van Aert said after to the race. The Belgian championship at Erpe-Mere is not a course that will particularly suit defending champion Nys and Van Aert will start as favourite although Kevin Pauwels and Tom Meeusen should not be ruled out.
Sven Nys will start his title defence as perhaps the main outsider and said today: "There is not much you can do against Wout. He is two minutes quicker than everyone else. Perhaps in the Nationals I can get on the podium." Getting on the podium was also Nys' aim today.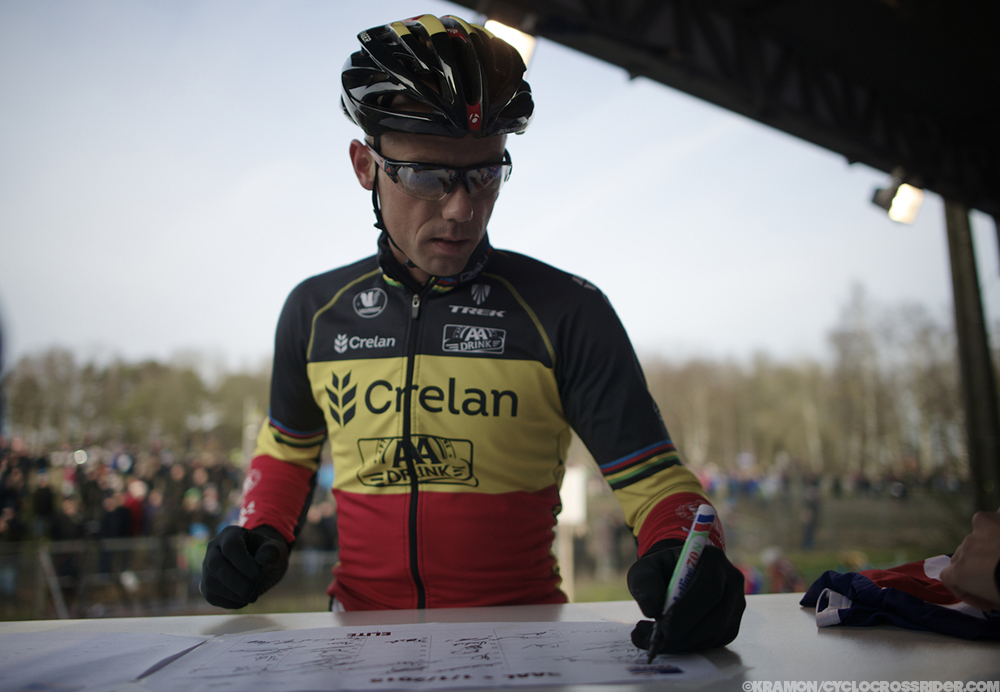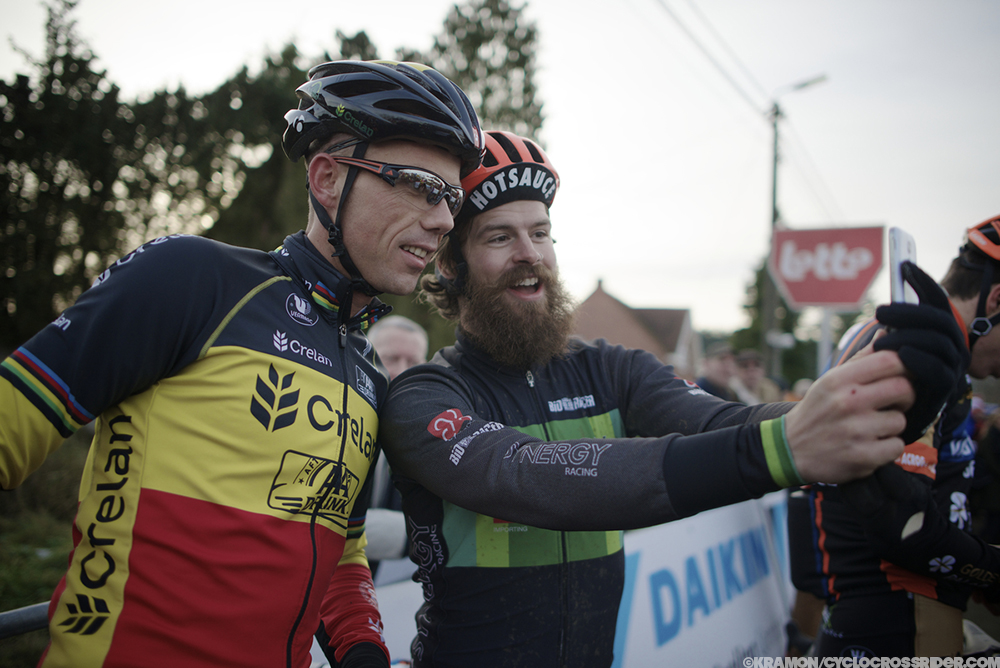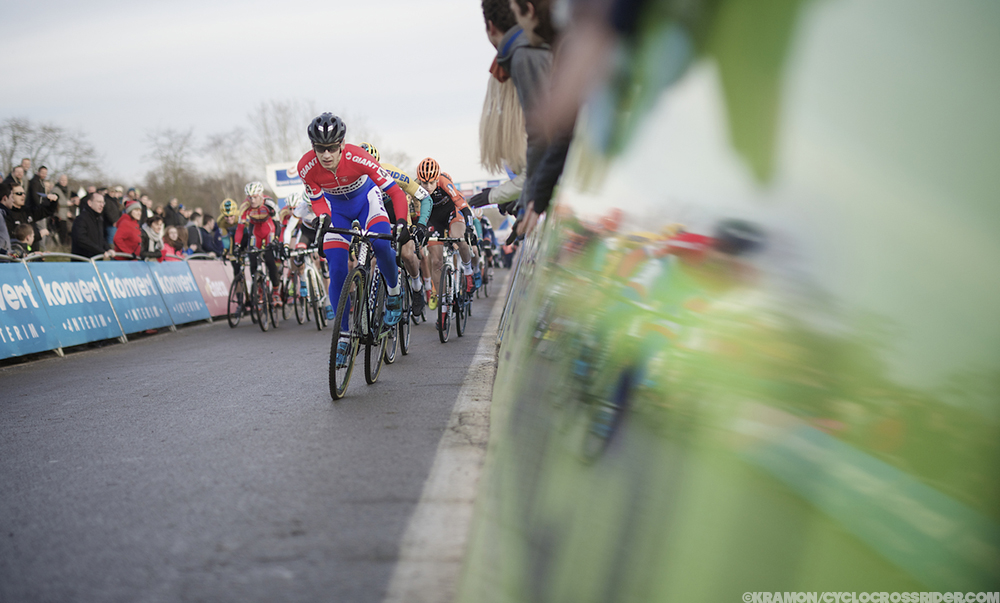 Dutchman Lars van der Haar (above) was the fastest away, with Nys in fifth, before Tom Meeusen leapt the logs in the front of the huge Baal beer tent and established a small lead. Van Aert was next to lead, but on a tough course like this he was not expected to launch an early attack.
At the end of the opening lap there was a group of eight leaders: Van Aert; Meeusen; Pauwels; Van der Haar; Peeters; Nys; Julien Taramarcaz; and Gianni Vermeersch with Klaas Vantornout ten seconds down.
Van Aert did, however, attack to win the second lap time bonus and it resulted in five riders going clear as Nys had to work a little to rejoin Van Aert, Van der Haar, Meeusen and Pauwels. At the end of the second lap the three chasers were Vermeersch, Peeters and Taramarcaz at 12 seconds.
On the third lap there were a few testing accelerations from Meeusen and Van der Haar and when Van Aert attacked on the steepest section of the Balenburg, Nys was attentive and moved up and Van der Haar quelled the young rider's move by going back in front.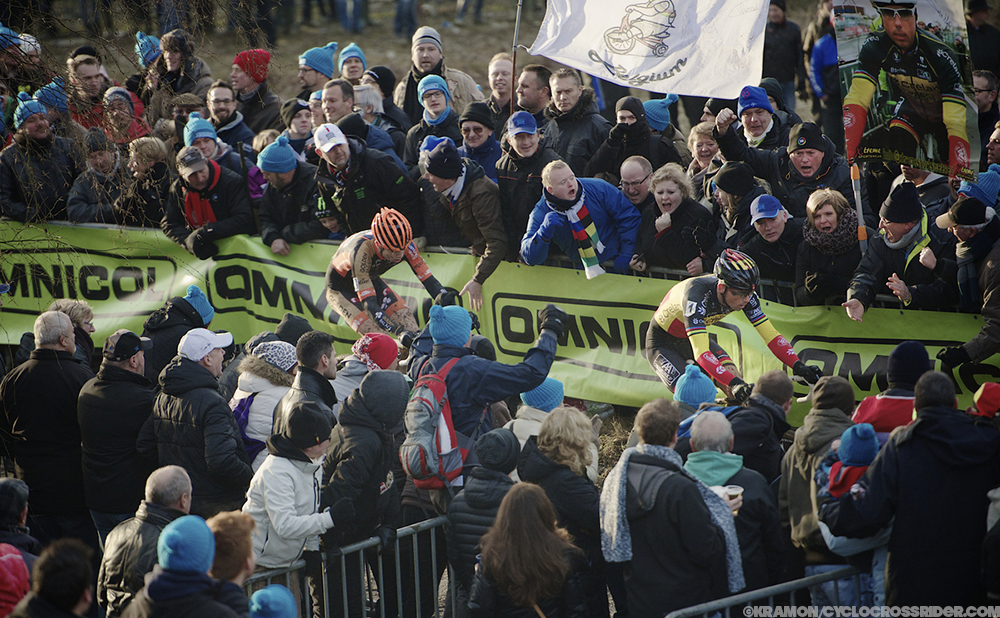 Crowd pleaser
Belgian champion Nys was riding in front of his home crowd and his coach Paul Van De Bosch told TV viewers that the plan was to try to get to halfway with the leaders and then see what "the legs felt like." On the fourth lap of the eight-lap race, Nys could contain himself no longer and he went to the front with a small attack after leaping the logs and then led down the tricky Balenberg descent. According to Sporza's television commentators "the descent does not flow at all and it's as if little gnomes are pulling on your wheels."
I'm improving and every day I'm feeling better - Nys
"I could not resist," Nys told reporters afterwards, "It wasn't a bad race, I'm improving and every day I'm feeling better."
A lap later later Nys repeated the crowd-pleasing move (a roar goes up around the Balenburg with every significant incident, especially those involving Nys). On the next soggy section, over the far side of the hill, Pauwels got bogged down and, knowledgable of this or not, Van Aert applied some pressure. Meeusen chased Van Aert alone as the move exploded the front group and Nys skipped a bike change in a doomed bid to get back on terms.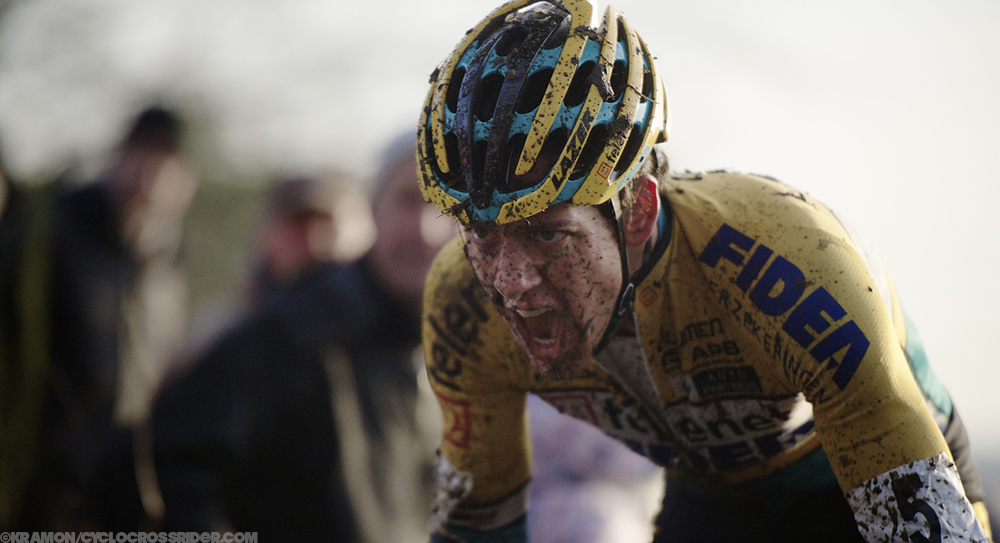 By the time Van Aert and Meeusen (above) reached the hillside timing point they were 11 seconds ahead and with three laps to go they led Nys, Van der Haar and Pauwels by 15 seconds.
Luck was not on Meeusen's side today and he punctured over the far side of the course which relegated him to seventh place by the pits. Meanwhile Van der Haar began to make second place his own and the battle for the final podium place looked to be between Nys and Pauwels (below).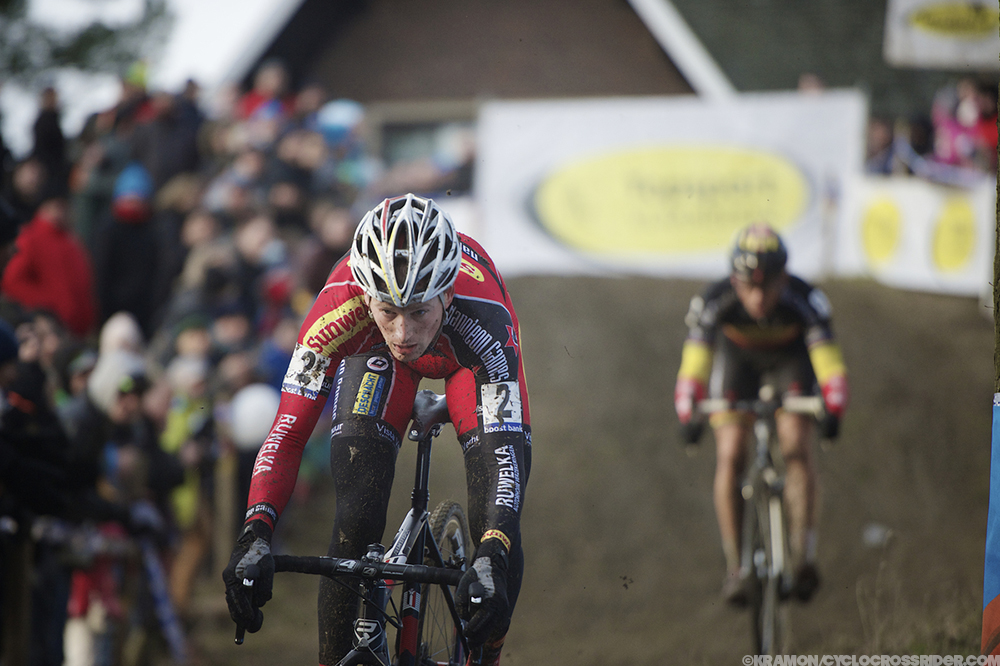 Nys' tiredness really showed on the steep climb of the stepped bridge though and at the bell he also had Pauwels' team mate Gianni Vermeersch to contend with. Pauwels dropped them both on the Balenburg climb and, whether he was a bit more reckless in the pursuit of Pauwels or not, Nys punctured on the descent. The puncture handed Vermeersch fourth place – another great ride (third Belgian finisher) which keeps him in the running for World Championship selection in his first season as a senior elite pro.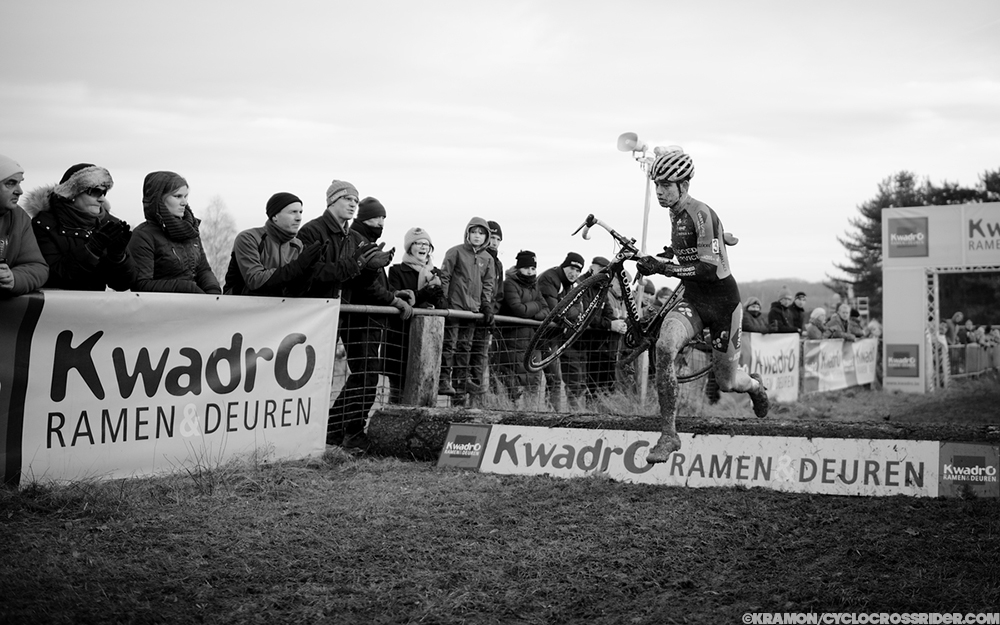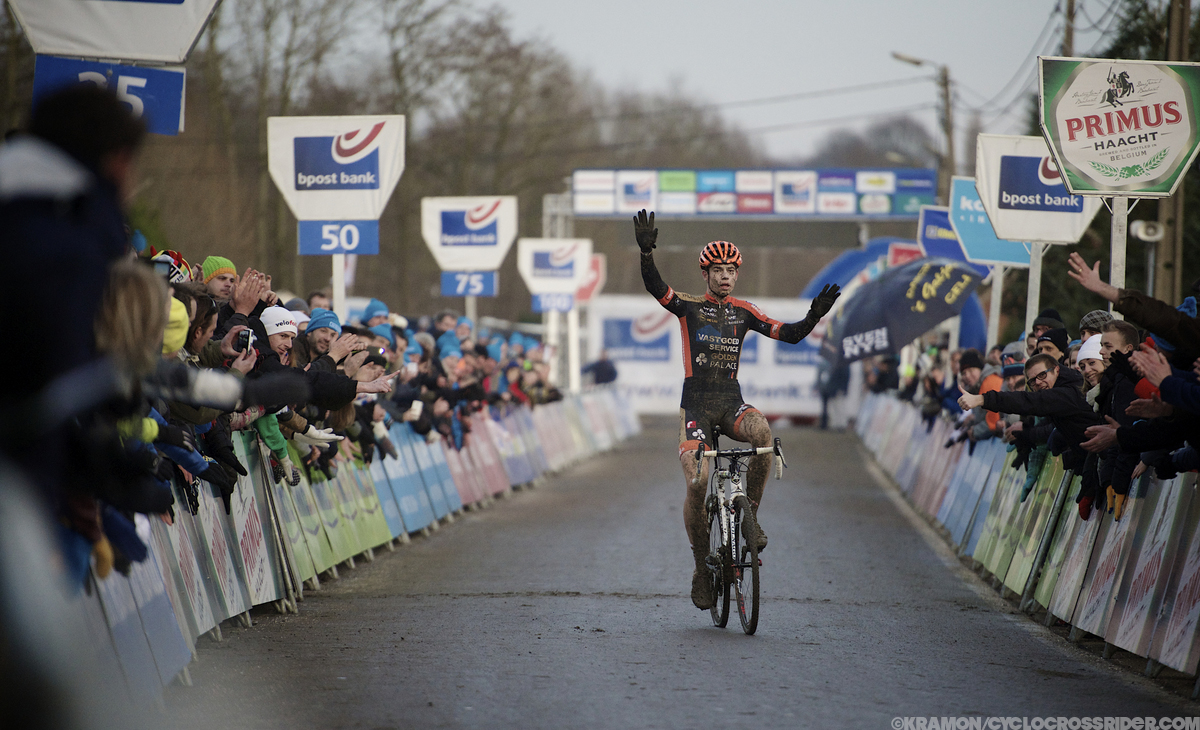 Van Aert said afterwards that, "I felt comfortable so I took off," but also admitted that "it might have been more interesting without Tom Meeusen's puncture." The other Belgians will almost certainly need luck on their side if they are to deny Van Aert the national title in ten days time.
Elite men
1 Wout Van Aert

66:10
2 Lars van der Haar

+0:46
3 Kevin Pauwels

+0:56
4 Gianni Vermeersch

+1:24
5 Sven Nys

+1:54
6 Rob Peeters

7 Klaas Vantornout

8 Joeri Adams

9 Tom Meeusen

10 Marcel Meisen

Overall Trofee standings (after 7 rounds)
1 Van Aert

2 Pauwels

+6:07
3 Nys

+ 7:09
4 Meeusen

+7:34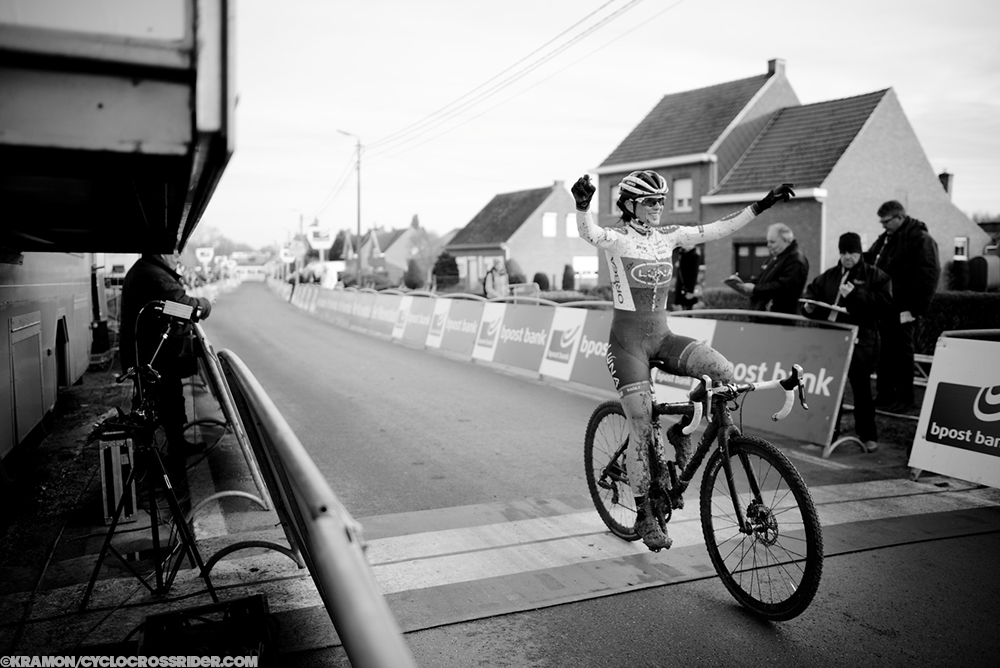 Elite women
SERIES leader Sophie de Boer retired after the first lap unwell in Baal and Ellen Van Loy seized the opportunity to go ahead in the time-based series. Sanne Cant was the early leader before Czech champion Katerina Nash (above) took over to claim another victory. Cant will have been pleased to beat Van Loy though with the national championships looming as Britons Nikki Harris and Helen Wyman finished fourth and sixth respectively.
Elite women
1 Katerina Nash

2 Sanne Cant

3 Ellen Van Loy

4 Nikki Harris

Overall Trofee standings (after 7 rounds)
1 Van Loy

– new series leader
2 Cant

+1:54
3 De Boer

+3:29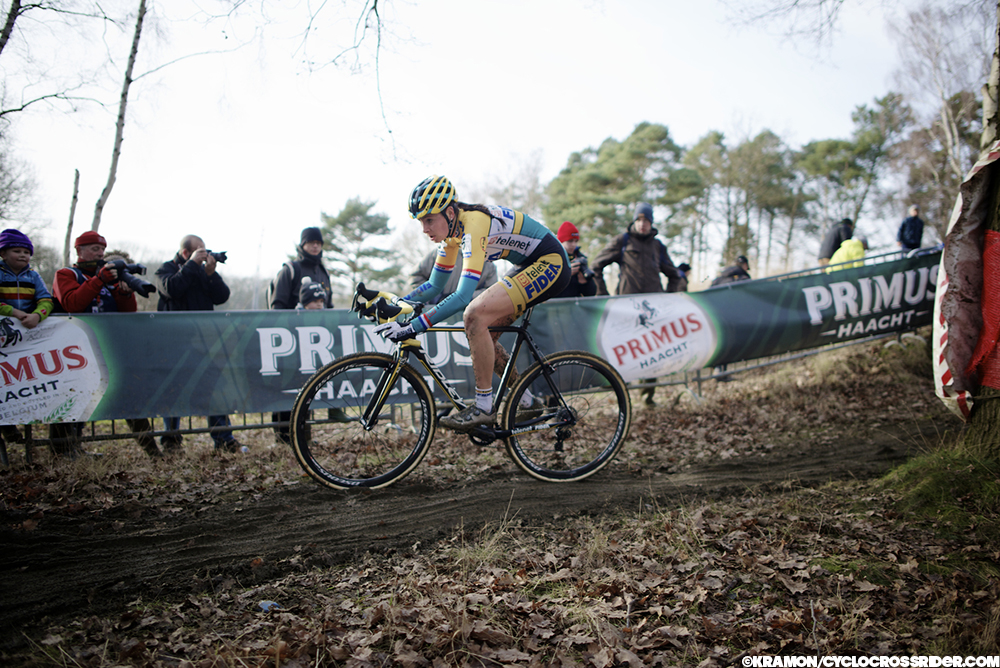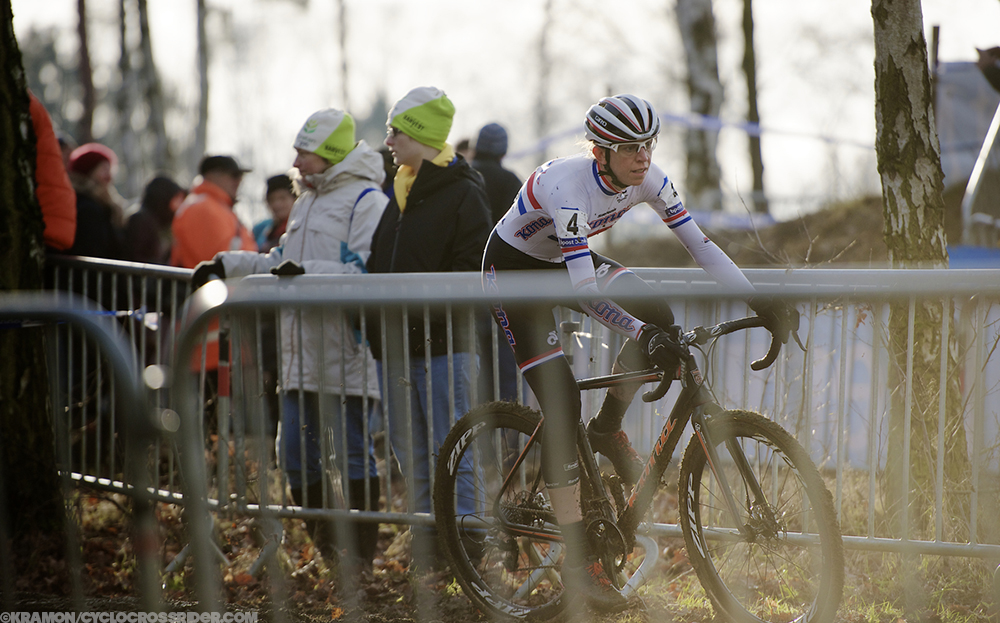 Under-23 men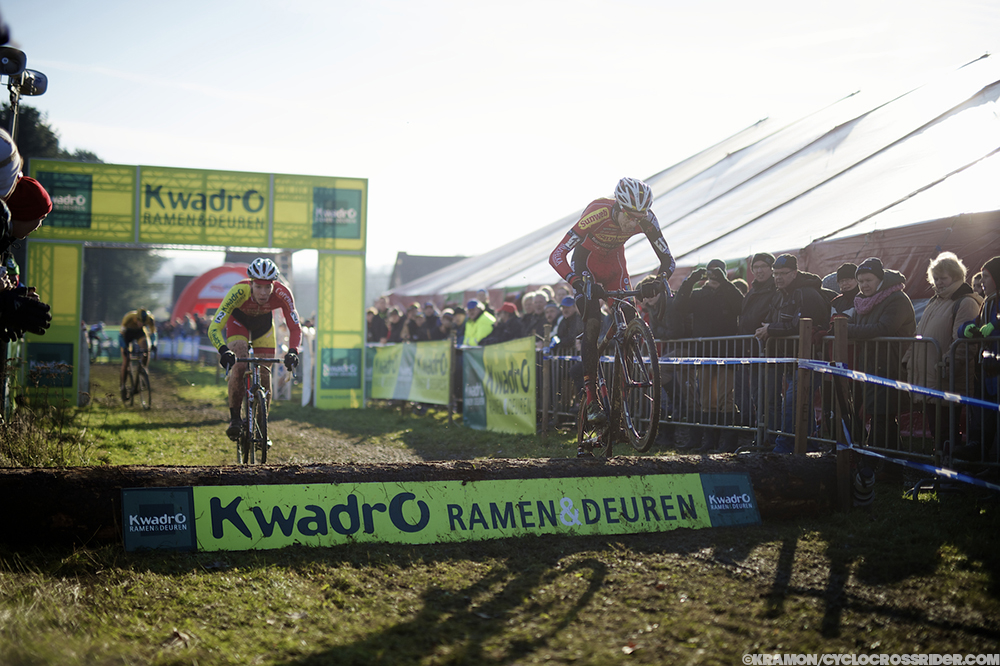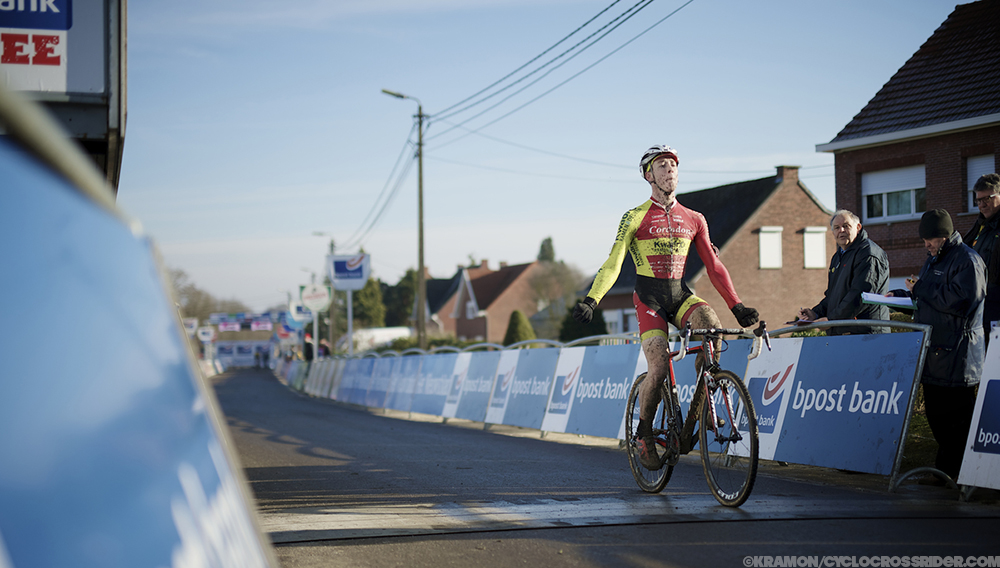 Under-23 men
1 Laurens Sweeck

– new series leader
2 Toon Aerts

3 Michael Vanthourenhout

Other results
DAVID van der Poel won the C2-ranked GP Hotel Threeland in Petange, Luxembourg. The older of the Van der Poel brothers plans to race four days in succession by following today with races in Bussnang (SUI on January 2nd), Lutterbach (FRA on January 3rd) and Leuven (BEL on January 4th).
Other news from Petange is that defending champion Sascha Weber and Fabien Canal are reported (on Radsport.ch) to have both been disqualified after a heated exchange (we have no more details).
The lead-up to the National championships
Friday January 2nd: Centrumcross, Surhuisterveen

(C2).
Friday January 2nd: Radquer Bussnang

(C1).
Sunday January 4th: Soudal Classics, Leuven

(C1).
January 10-11th: National championship weekend.
Photos: ©kramon/cyclocrossrider.com