BAAL RESULTS UPDATE:
Elite men
1 Wout Van Aert

66:10
2 Lars van der Haar

+0:46
3 Kevin Pauwels

+0:56
4 Gianni Vermeersch

+1:24
5 Sven Nys

+1:54
6 Rob Peeters

7 Klaas Vantornout

8 Joeri Adams

9 Tom Meeusen

10 Marcel Meisen

Overall Trofee standings (after 7 rounds)
1 Van Aert

2 Pauwels

+6:07
3 Nys

+ 7:09
4 Meeusen

+7:34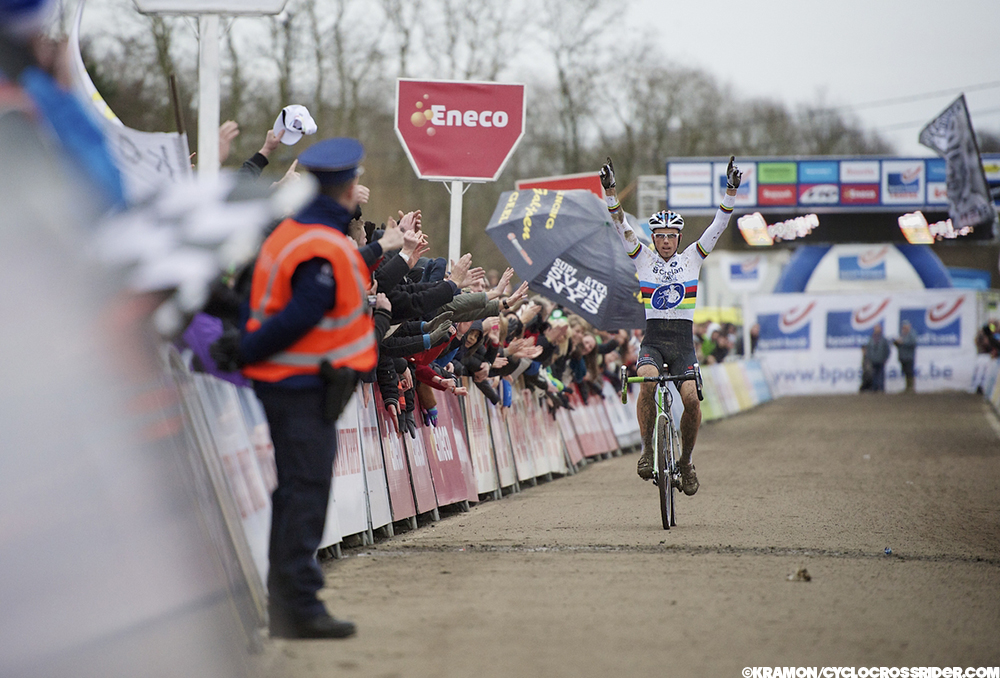 WHAT a difference a year makes. Twelve months ago, on New Year's Day in Baal, Sven Nys launched his new deal with Trek Bikes and won his hometown race convincingly resplendent in the World champion's jersey. Also on the podium in 2014 were Zdeněk Štybar and Niels Albert. The times, as the song goes, are a changing.

Today on his 'own' muddy course on the Balenburg, Nys is hoping to finish on the podium as he tries to pull his disappointing Kerstperiode around with the Championship season looming. There were signs of improvement in Loenhout on Tuesday and it would be great to see the Belgian champion back on top form.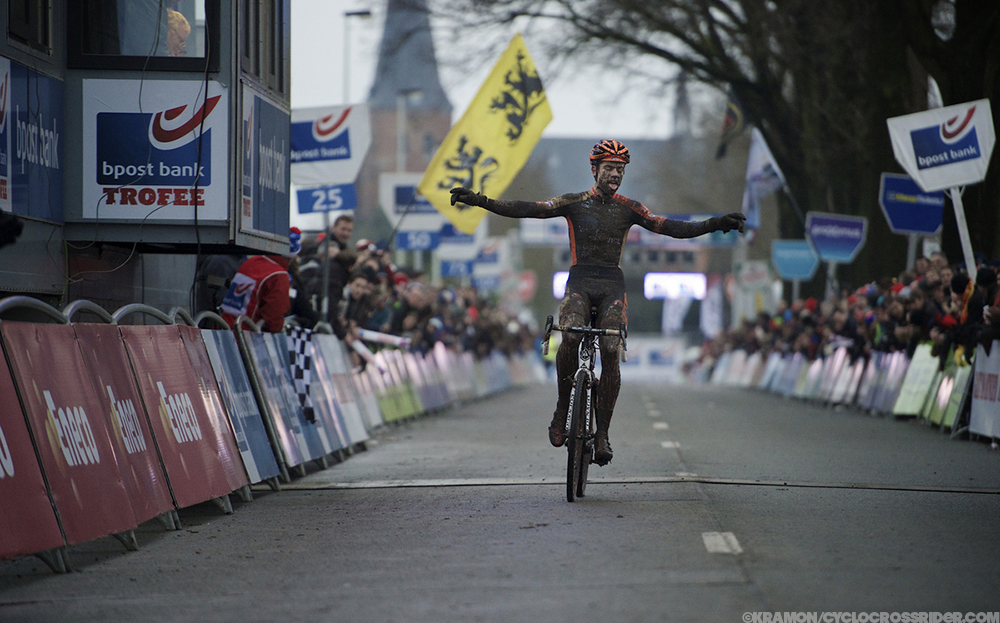 World Under-23 champion Wout van Aert (above) leads the senior elite Trofee series and put himself almost out of sight in Loenhout with two races in the time-based series remaining. Van Aert holds almost a five-minute lead over the three riders closest to him (Nys; Kevin Pauwels; and Tom Meeusen) and today, the twenty-year-old, who is now surely favourite to become the Belgian champion (for the first time) on January 11th, need only ride with the 'pack'.
Whether that is the tactic that he employs remains to be seen!
Training in Spain
Immediately after today's race Van Aert will fly to Spain for four days of training with Rob Peeters – perhaps the most obvious sign that he really is targeting the Belgian title in ten days time.
Lars van der Haar and Klaas Vantornout both return today after missing the mud of Loenhout, but neither are in contention on the overall standings.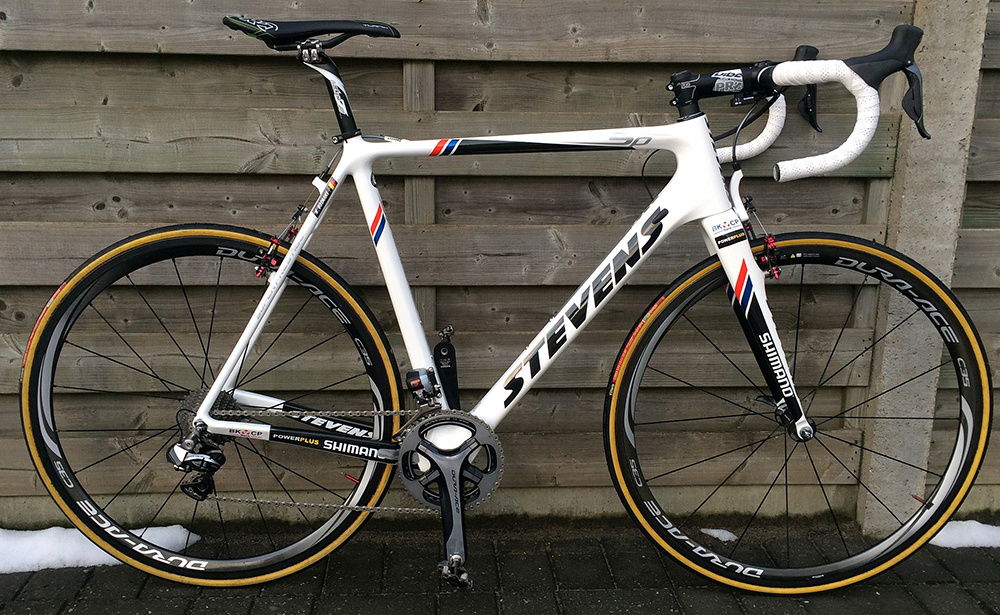 Mathieu van der Poel will not race today and his brother David races in Luxembourg, as does Jonathan Page. The BKCP-Powerplus team (of the Van der Poels) reveal their new bike sponsor – Stevens – today and we have photos of the new bikes and custom paint schemes (Mathieu van der Poel and Philipp Walsleben) here.
The Sunweb-Napoleon Games team roll out a new, predominantly red, jersey for 2015 today as well (below).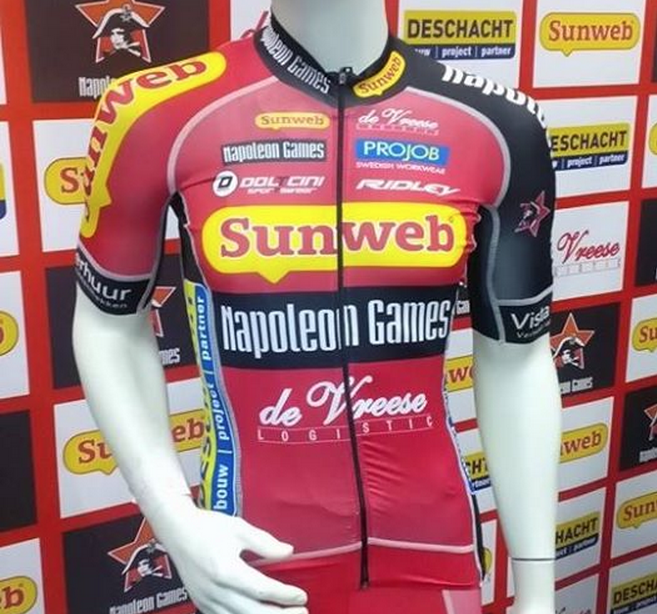 Baal race programme (CET): 10.00 Nieuwelingen; 11.00 Junior men; 12.00 Under-23 men; 13.45 Elite women; 15.00 Elite men.
2013 result: 1 Nys; 2 Stybar; 3 Albert.
Live race coverage expected on Sporza from around 14.45 (CET).
Overall Trofee standings (after 6 rounds)
1 Van Aert

2 Nys

+ 4:45
3 Pauwels

+4:46
4 Meeusen

+4:48
BAAL RESULTS UPDATE:
Elite women
1 Katerina Nash

2 Sanne Cant

3 Ellen Van Loy

4 Nikki Harris



Elite women
THERE is still perhaps the chance that the elite women's title will get tighter today as Ellen Van Loy (above) has the opportunity to put more pressure on series leader Sophie de Boer. The result between Van Loy and Sanne Cant will also be interesting with the Belgian title being decided very soon.
Overall Trofee standings (after 6 rounds)
1 De Boer

2 Van Loy

+1:01
3 Cant

+3:08
2015: The lead-up to the Nationals
Thursday January 1st: bpost Bank Trofee, Baal (C1).
Friday January 2nd: Centrumcross, Surhuisterveen

(C2).
Sunday January 4th: Soudal Classics, Leuven (C1).
January 10-11th: National championship weekend.