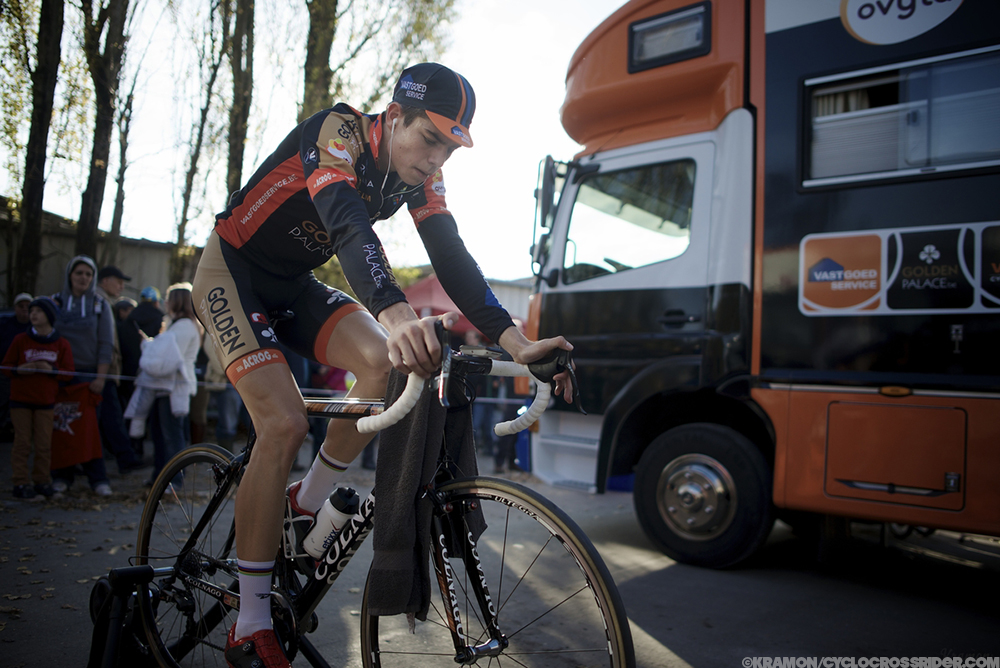 KEVIN Pauwels added yet another victory to his successful season in Hasselt today (December 6th) where he won the Trofee race over the fast parkland course for a third time. The race turned into a duel between Pauwels and World Under-23 champion Wout Van Aert (above).
"I felt really good today," Pauwels said after the race, "After a fast start, Wout was a good man to be out front with - we are currently stronger than the rest. I sensed that I was cornering better than Wout and so I was able to increase the gap over the last lap that I had created through the first sand section."
Pauwels' final lap was in fact the fastest lap of the entire race
Pauwels' final lap was in fact the fastest lap of the entire race as Van Aert raced his first full race using disc brakes - perhaps another reason why Pauwels simply looked smoother around the tight corners of Hasselt.
Dutchman Corne van Kessel was the early leader, chased by fast starter Lars van der Haar and Tom Meeusen. Van Aert was in fifth place with Pauwels on his wheel as Belgian champion Sven Nys got away in 11 th place just ahead of Czech champion Martin Bina who returned to Belgium after a break from racing in November.
Sprint bonus
On the second lap Van der Haar edged in front only to immediately puncture and face a long limp to the pits. Van Kessel and Meeusen pressed on chased by Van Aert and Pauwels as the battle for the 'sprint bonus' seconds began. Van Kessel took the maximum bonus of 15 seconds ahead of Meeusen (10 secs) and Pauwels (5). At this point Nys was 15 seconds behind the leader and the man who was totally 'missing' was Klaas Vantornout.
Van Kessel eased away to lead by 8 seconds from Van Aert and Pauwels as a shoe issue dropped Meeusen back down to a chase group containing Sven Vanthourenhout, Nys, Philipp Walsleben and Van der Haar. Two large logs are used as the barriers at Hasselt and on the third lap (of ten) Van Kessel took the first one too fast and hit the second one and lost his hard earned lead.
Going into the fourth lap Pauwels and Van Aert led Van Kessel by five seconds with Nys a further five seconds down on them. Van der Haar was the next rider to take a tumble at the logs and he had to start his chase all over again.
Nys had left himself too much to do behind an in-form Pauwels and the young Van Aert
Nys looked more like his pre-illness self as he focused on his pursuit of a podium place but it already began to look like he had left himself too much to do behind an in-form Pauwels and the young Van Aert. Around the middle of the race Nys was pushing hard but was not really gaining on the leaders.
At halfway (five laps gone/five to go), the leaders had a 12 second gap on Nys and Meeusen as Pauwels began to look the stronger up front. For the next two laps Pauwels held a small four second lead over Van Aert as the chasers fell away to trail by around 20 seconds.
With two laps remaining Van Aert had rejoined Pauwels and when Nys and Meeusen closed again to 14 seconds it was the signal for Pauwels to start winding it up again for a fast last lap.
Pauwels opened up a gap on Van Aert at the long sand strip which then grew again at the logs as Pauwels bunny-hopped and Van Aert continued to dismount for. As Pauwels hit the final road section he had a comfortable gap and could enjoy his victory. Meeusen took third as Nys was content to roll in behind him albeit seeing his one minute 58 second Trofee lead cut by 51 secnds by Pauwels.
Klaas Vantornout, at 2 minutes and 10 seconds on overall klassement before todays race, retired just before half-distance after suffering a poor start and so takes the full five-minute 'penalty' for a non-start or non-finish and drops down to sixth place overall.
Result: 1 Pauwels; 2 Van Aert; 3 Meeusen; 4 Nys; 5 Van der Haar; 6 Van Kessel; 7 Sven Vanthourenhout; 8 Taramarcaz; 9 Jim Aernouts; 10 Bart Wellens.
Overall standings (after 4 rounds): 1 Nys; 2 Pauwels +1:09; 3 Van Aert +1:31; 4 Meeusen +2:37; 5 Van der Haar +3:18; 6 Vantornout +6:39.


Elite women
French 'cross champion Pauline Ferrand-Prevot returned to 'cross racing in Hasselt today, but, as expected, in-form Sanne Cant (above) ran out the winner to add to her long victory list this season.
Belgian champion Cant won the maximum bonus seconds on the second lap just ahead of Sophie de Boer before they were joined briefly at the front by World road race champion, and multi-French title holder, Ferrand-Prevot and Ellen Van Loy.
Ferrand-Prevot led for a while before Cant took off to win solo. The Frenchwoman held onto the runner-up spot just ahead of De Boer who remains the leader on the overall classification with Cant now up to third place.

Result: 1 Cant; 2 Ferrand-Prevot; 3 De Boer.
Overall standings: 1 De Boer; 2 Van Loy; 3 Cant.
Under-23 men
Result: 1 Diether Sweeck; 2 Laurens Sweeck; 3 Michael Vanthourenhout.
Overall standings: 1 Michael Vanthourenhout; 2 Laurens Sweeck; 3 Aerts.
Race Highlights: here.