THE dust (or mud) has finally settled after the first-ever UCI World Cup cyclocross to be held outside of mainland Europe. The professional cyclocross circuit descended on Campbell Park in Milton Keynes last Saturday (November 29th) and by all accounts the event was a great success.
With estimates of over 10,000 spectators the weekend drew praise from fans and riders alike for the first British round of the UCI World Cup and the UK National Trophy the following day. We've only just fully recovered from our busy weekend in Milton Keynes (and racing on that course on the Sunday!).
So what happens now that the British have proved that they have 'cross fans and challenging courses and what did the riders think of racing 'across the water' in Britain?
We spoke to event promoter Simon Burney some weeks before the event and he told us that the longer-term plan was to ideally hold an event in Campbell Park for at least three, maybe four, years.
"In year two we can make any improvements and by year three it will be where we want it," Burney told us in the run-up to the event.
After the event Simon Burney was overwhelmed by the reaction from fans, riders, sponsors and even, the sometimes hard to please, Belgian trade team managers.
All indications are they were happy and would like to see it back - Simon Burney
"The help I got from Milton Keynes Council was huge, they really stepped up to get involved on all fronts and I can't thank them enough for making it happen. Right now they are evaluating what happened, have commissioned an economic impact study, and we've got until early January to get a bid in to the UCI for next season. If the bid happens then let's see if they (UCI) want to include us on the calendar, but all indications are they were happy and would like to see it back," Burney told us about the likelihood of a second event.
"If Milton Keynes decide that they can't do it again, and next year they have the Rugby World Cup so that's a big deal and a big chunk of budget, then at least it's shown that the UK has an appetite for a good 'cross race, that it can be done, that people will show up and love it. Maybe there's another Council with a nice park we can use!" Simon added.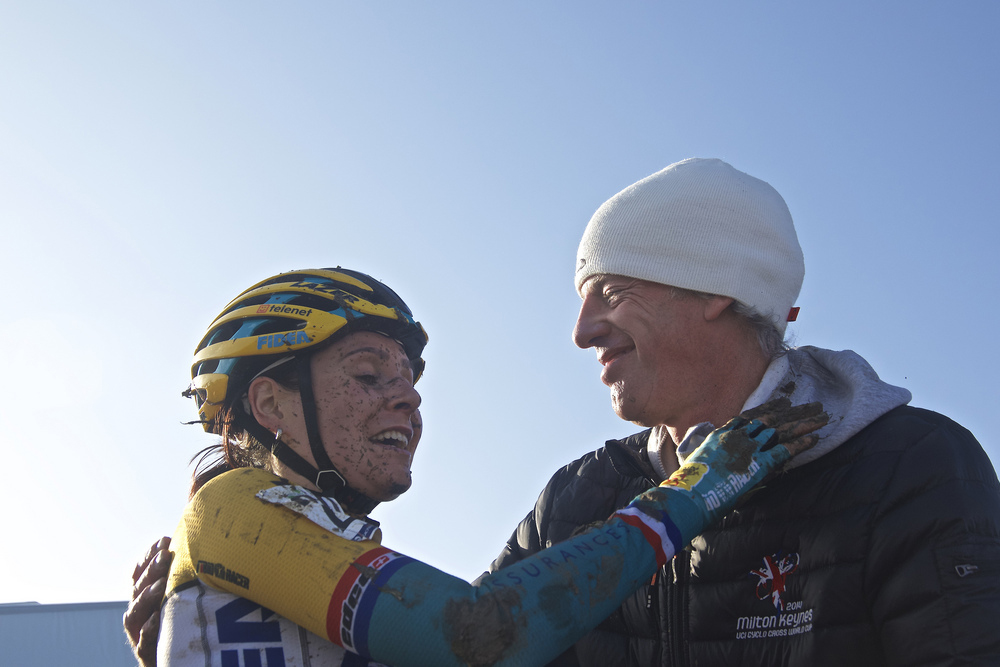 Event organiser Simon Burney congratulates Nikki Harris (above). Niels Albert (below) enjoyed the trip to Milton Keynes.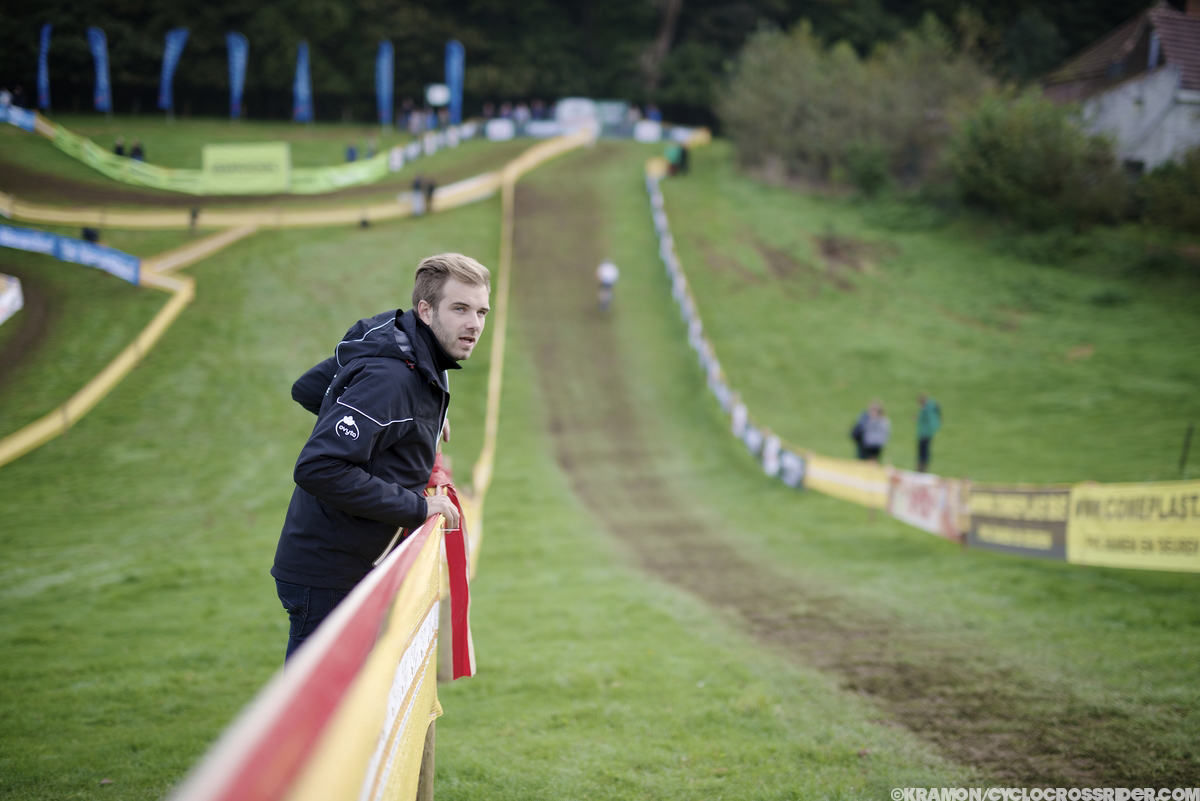 What did the riders say?
Double elite World champion Niels Albert (pictured above in Ronse) was in Milton Keynes as a manager of his Belgian trade team (Vastgoedservice-Golden Palace) riders who were racing the World Cup (Rob Peeters and Jens Adams). Albert who was forced to retire with a heart condition earlier this year, you may be aware, is also opening the 'Niels Albert Bike Store' in his hometown of Tremelo so we actually caught up with him as he was looking around the Campbell Park Expo Village.
Before the weekend the Belgians were saying it's in a park – it's nothing
– but when we saw the course we were excited - Niels Albert
"Before the weekend the Belgians were saying it's in a park – it's nothing," Niels told us, "but when we saw the course we were excited. It's very nice to be in Britain and I'm impressed by the size of the crowd."
Some British fans were disappointed at not seeing Albert's new protégé World Under-23 champion Wout Van Aert (and arch-rival Mathieu van der Poel) racing head-to-head (there were no junior men or Under-23 races in Milton Keynes).
"There is no World Cup classification for Wout here in Milton Keynes," said Albert, "and it's an opportunity for him to win in Hamme tomorrow – which is a classic race." (Van Aert duly won the Trofee race in Hamme against Van der Poel and some tired legs from those who'd raced in Milton Keynes).
The top Vastgoedservice-Golden Palace finisher in the World Cup was Rob Peeters in tenth place who raced under very difficult circumstances.
"Rob did very well," Niels told us, "His father passed away on Thursday so there was no pressure from the team for him to ride, but he just wanted to race."
Briton Roger Hammond - more well-known for his cobbled classics performances - won the World junior cyclocross title in Leeds in 1992 and was in Milton Keynes as a guest of the organisers.
Roger told Cyclocrossrider, "It's brilliant. It's been a while since our last big event but they are always well supported. Simon Burney (organiser) is experienced and has done exceptionally well. It's been a lovely opportunity and a great family day out which my parents have also enjoyed."
Hammond, who retired after racing the 2012 National 'cross Championship, went on to say that it had brought back memories of his World title and that he had enjoyed being invited alongside other British cyclocross greats such as Stuart Marshall (Britain's first World junior champion in 1986) and seven-time British champion Steve Douce.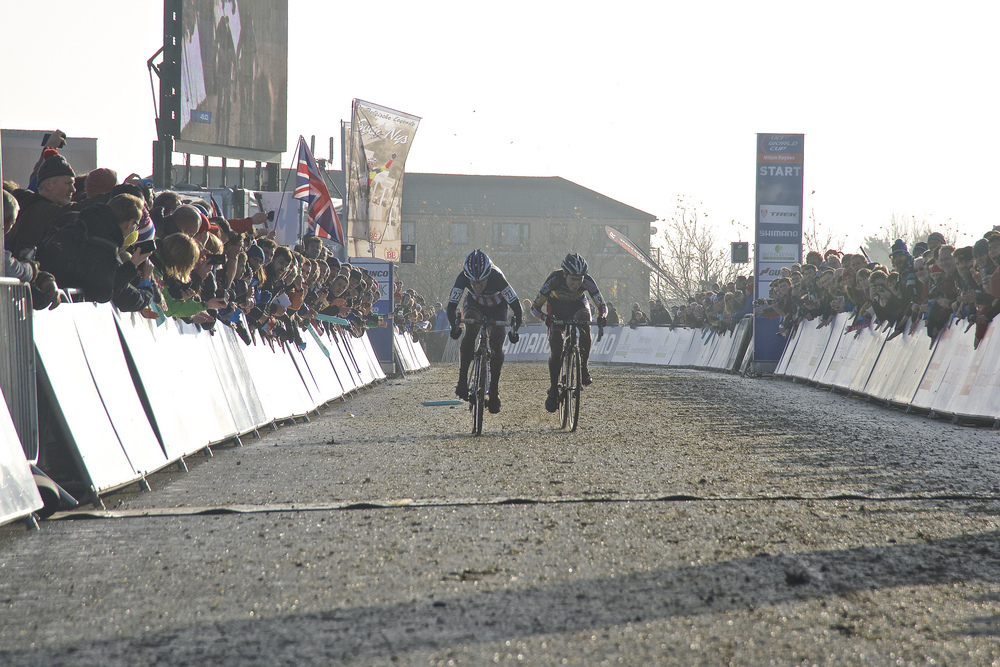 The crowd was amazing, I love to see that they are super excited for 'cross
- Katie Compton
American champion Katie Compton, who narrowly lost out (above) to Sanne Cant in the World Cup race on Saturday and won the race on Sunday, said, "The crowd was amazing, I love to see that they are super excited for 'cross."
Katie's husband Mark Legg also tweeted emphatically: "A fantastic event. Best World Cup we've attended."
CrossVegas promoter Brook Watts was in Milton Keynes to support the organisation with his expertise of large 'cross races. Watts told us after the event, "It was so great to see such a 'complete' event in the first year. So often the reviews of a new event are "maybe they can improve this element or that organizational aspect next year." In fact, Simon Burney and his team 'hit a home run at their first time up to the plate' as we would say in American baseball. Great show and great racing that should give British cyclocross a nice boost."

American men's champion Jeremy Powers (below) was disappointed with his race but said, "That was a really challenging track which required a lot of power. I lost 45 seconds on the first lap (with a fall) but today that was just my level. I'm not super happy – that was a really hard course."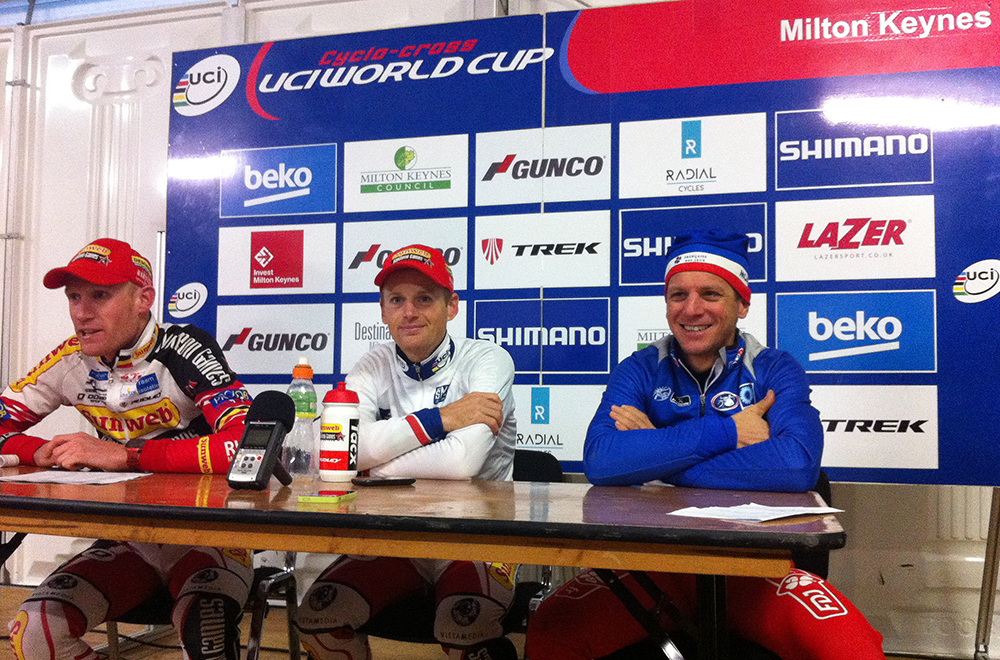 Runner-up in the Elite men's race Klaas Vantornout (above left) spoke highly of the Milton Keynes course and organisation, "It was a very nice track with technical zones, running and requiring a lot of power. For a first-time event it was top, super, and I hope we come back next year. Everyone was so excited and the atmosphere was similar to the World Championships in Louisville."
When asked about the travel to the UK, Vantornout said, "For me it's not so far. It's only 100km to Calais, but tomorrow we race again in Belgium so that will be hard, but I hope that I can return next year."
Third placed man French champion Francis Mourey decided before the start that it was a course for him.
"I liked it very much, the course was similar to many French Cups and I decided that the podium was my target," Mourey said at the post-race press conference. "I enjoy racing in other 'newer' cyclocross countries and would be happy to come back," Mourey added.
Young Dutch rider David van der Poel was one of the elite riders who stayed in Milton Keynes to race in the C2-ranked UK National Trophy race the day after. Van der Poel commented: "Great track, great crowds today. Can't wait to start again tomorrow!"
A couple of seasons ago, Valkenburg in Limburg in the south of the Netherlands, was introduced to the UCI World Cup calendar and was voted almost immediately as the 'Best World Cup of the season.' Here at Cyclocrossrider's European base, Valkenburg just happens to be our local race, but we would not object to it losing its 'title' to our 'home country' and to Milton Keynes!
Photos: ©kramon/cyclocrossrider.com, © Paul Burgoine & ©cyclocrossrider.com