"I FEEL good and all things are pointing to a good ride Sunday," said Powers. "I've got good legs - I know it's not the be all and end all this weekend, just the first race, but I'm looking to finish in the top ten."
Powers' best placing in a World Cup race was seventh in Tabor in 2012. Sunday's World Cup, however, will be the first after changes made to eligibility that will make it harder than ever before to break into the top ten. Any rider ranked in the World top 50 is now able to start in the UCI World Cup, previously national teams of a restricted number were selected, and so the Belgian 'team' has swelled to twelve riders in the elite men's race.
With twelve Belgians it's now as deep in quality as any other big race here
Powers is relaxed ahead of his first European test of the season though and recognizes that. "Sure, with twelve Belgians it's now as deep in quality as any other big race here, but taking that into account though, there's still never been a better opportunity for me to seize."
The affable American champion tells me that in previous years he's felt a little over-raced coming into Europe, but that this year he actually feels under-raced despite scoring no less than eight UCI wins in the States already this season.
"I feel hungry," he says.
"The last two weeks I deliberately raced only one day of the weekend. I wanted to push real hard for 60 to 70 minutes just to feel what it was like to suffer, suffer and not be holding back for another race," Jeremy tells me.
"2012 was my best year in Europe and I'm putting out the same power numbers as then," he adds.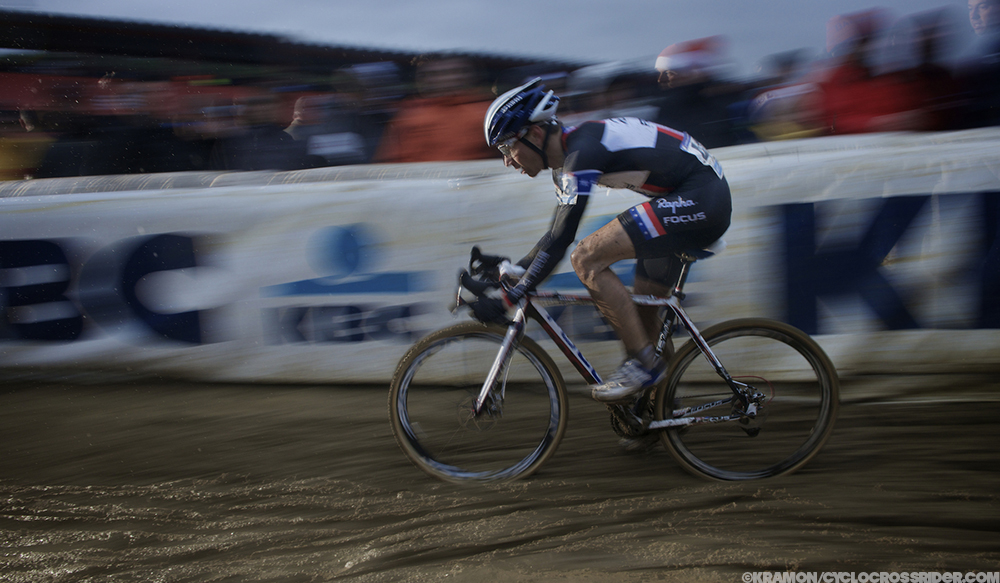 Powers has been travelling to race in Europe since 2003 - at the Zolder World Cup in 2012.
After Valkenburg, Powers will return to America for a short break from racing, then three more races (Ohio, Louisville and Iowa) and then it's back over to Europe for the Koksijde and Milton Keynes World Cups.
One non-racing aspect that Powers has improved and refined for this season is his travel – not really a major headache for most of his European rivals who are generally based close to the racing. Powers will travel to Europe from the States at least four times this season and Trans-Atlantic travel does mess with your body clock.
"After a couple of days the flight really catches up with you," says Powers, "but I've worked out a way that I can continue with my normal sleep cycle this season."
"I leave home (in Massachusetts) very early morning, and catch a 'day flight' to London via Washington and arrive in time to maybe get a ride in and go to sleep at a normal time," he explains.
"It's scary how much that has helped me," says Powers who stays with friends in London before the short hop over to mainland Europe.
Tabor is a good course for me. It's wide and open, with a nice hill that suits me
Looking ahead, later into the season – the World Championships are in Tabor the venue of his best World Cup placing.
"Yeah, Tabor is a good course for me. It's wide and open, with a nice hill that suits me – not too steep," Powers says, "I think because it's not too technical they sometimes even call it an American-style course."
Jeremy Powers has proved his dominance on the American circuit so far this season and had a great ride for third place in CrossVegas close behind Sven Nys and Lars van der Haar. Now he arrives on the World stage again and we hope that he can mix it with the very best in Valkenburg and for the rest of the season.
We also have a pre-season interview with Jeremy here.