Saturday: GP Brabant in Den Bosch
The Grand Prix Brabant may be a new race, today's is only the second edition, but the UCI C2-ranked event in 's-Hertogenbosch (more commonly known as Den Bosch) already has a high profile and the ability to attract top riders (Marianne Vos won and Tom Meeusen beat Sven Nys here twelve months ago).
For most of the top 'crossers it will really be a 'warm-up' race before Sunday's Trofee race in Ronse whilst a handful of riders are here to go all out here and not race Ronse. Most of the younger riders, like Wout van Aert and Mathieu van der Poel play it sensible and sit it out until Sunday.
There is no shortage of stars in Den Bosch though as Belgian champion Sven Nys will meet Dutch champion Lars van der Haar and most of the big teams send a selection of riders. Sunweb-Napoleon Games have their top pairing of Klaas Vantornout and Kevin Pauwels whilst Telenet-Fidea send Meeusen (pictured below), Bart Wellens and Corne van Kessel. David van der Poel and Bart Aernouts also start and former American champion Jonathan Page will race in Europe for the first time this season.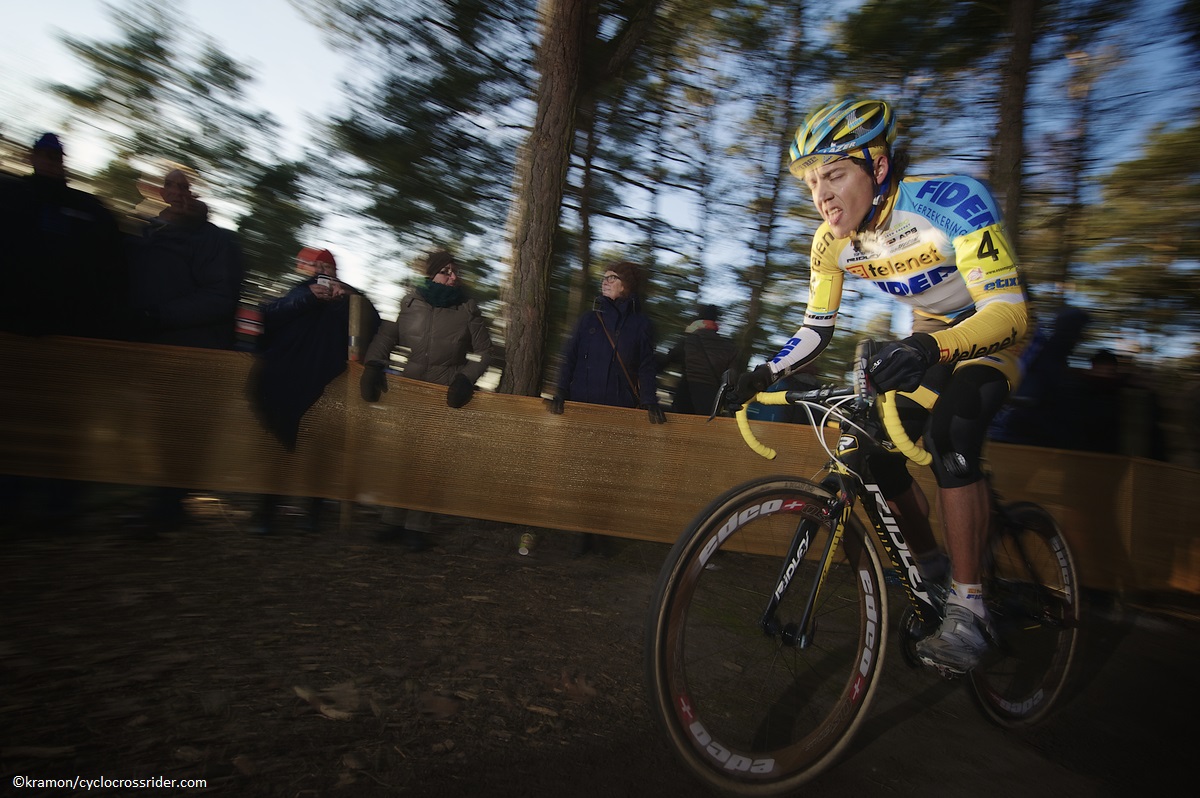 The rider who could surprise the established names is Dutchman Michiel van der Heijden who won the Under-23 title in this summers World Mountain Bike Championship. Van der Heijden's last big 'cross win was the Under-23 race at the Namur World Cup in December, 2012 and he won a World bronze medal, four seconds behind Van der Haar, in Koksijde in January, 2012.
Sanne Cant is unable to start today which leaves Helen Wyman as clear favourite in the women's race. British and European champion, Wyman returned to Belgium this week after taking three victories in America in the last month. Multiple World Cup race winner Sanne van Paassen continues her return to racing after finishing fourth in Gieten.
The organisers of the race have expressed interest in hosting a round of the World Cup in Den Bosch and the course is understood to have been inspected by UCI officials. This season the UCI World Cup will run with only six races after Roubaix announced that they could not go ahead and a replacement venue was not put forward. With the current crop of top Dutch 'crossers it would make sense to raise the profile of another race in the Netherlands.
The elite women start at 13.30 CEST, with the men at the traditional time of 15.00 CEST. There is not expected to be any live TV coverage but the race has a twitter account @veldritGPB
2013 Result
Marianne Vos won in her first 'cross of the season and Tom Meeusen scored his second win in as many weekends.
RESULTS: GP VAN BRABANT, 's-HERTOGENBOSCH (C2): Elite women: 1 Vos; 2 Stultiens; 3 Wyman. Elite men: 1 Meeusen; 2 Nys; 3 Van Der Haar.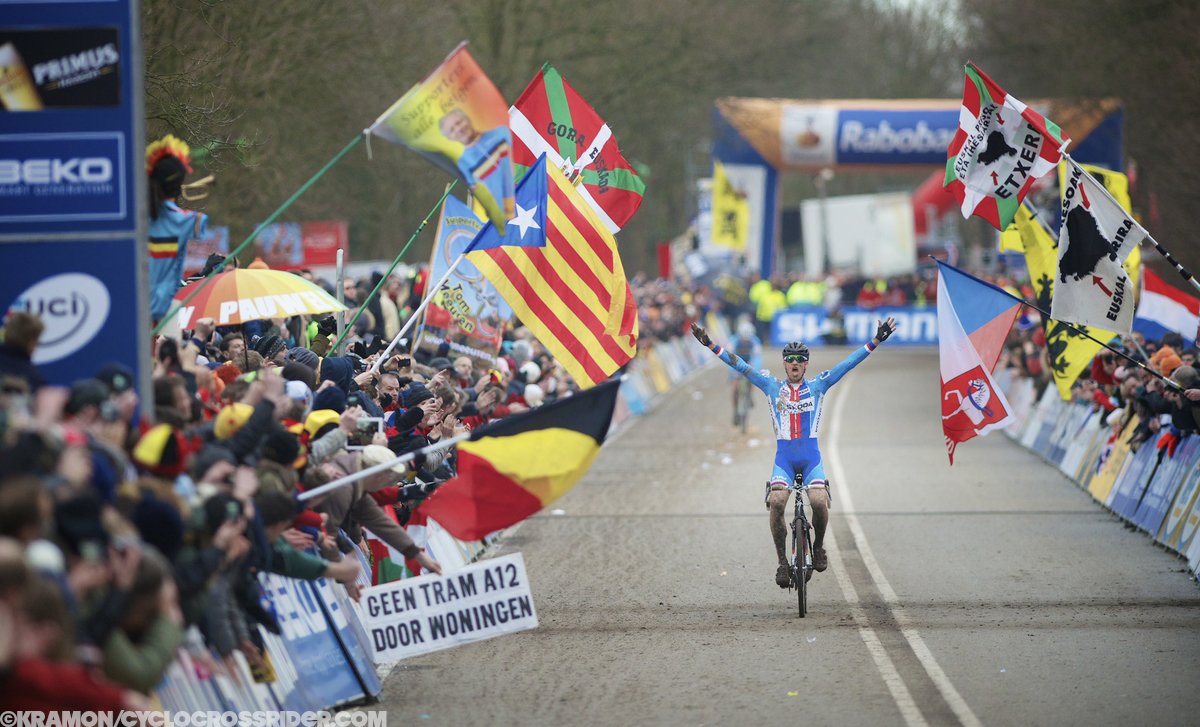 Sunday: bpost Bank Trofee opens in Ronse
"One of the highlights of this season is already upon us," said Sven Nys ahead of the first round of the Trofee in Ronse on Sunday where he will clash with World champion Zdenek Stybar for the first time since their battle in the 2014 Worlds in Hoogerheide (pictured above).
"The top younger riders are present, the World champion will be there - and he is riding well. If you see how he (Stybar) won on Wednesday (in the Binche-Chimay-Binche road race) then you know he's strong. He has not raced 'cross yet, but that is not a handicap for him. He already proved himself in the past and I'm looking forward to Sunday's game," added Belgian champion Nys.
At the Series launch recently, it was announced that the total prize money for the Trofee series is 96,400 euros and this year the overall men's winner receives 30,000 euros.
"In the Koppenbergcross the prize money for the men and women will be equal thanks to one big, additional sponsor," Christophe Impens of organisers Golazo announced at the launch. "It's only feasible for that one 'cross with that sponsor. For the rest of the series, we have however increased the prize money for the women by a quarter. It is not the same as the men, but it is a first step in the right direction.' The women's series winner will receive a prize of 7,500 euros.
We also have a Ronse race preview, including course pre-ride footage, here and more on the return of Stybar to 'cross here.
USA action in Rochester, NY
The focus for racing in America this weekend is the Ellison Park Festival (C1 & C2 races) in Rochester, New York state, where American champion Jeremy Powers will be aiming to continue his great form and add to his six UCI wins so far this season. Event website: here. Livestreams are expected here.
UK National Trophy kicks off
British champion Ian Field will be looking to win the opening round of the UCI-C2 ranked UK National Trophy Series in Shrewsbury on Sunday. Field, who won a round of the Yorkshire regional league last Sunday, will then travel to Belgium to begin his continental Europe-based season. Series title-holder Paul Oldham is understood to be starting, but is still recovering from breaking a collarbone recently, so Olympic mountain biker Liam Killeen may well be Field's main challenger.
Ian Field's recent Diary for Cyclocrossrider is here.
photos: ©kramon/cyclocrossrider.com