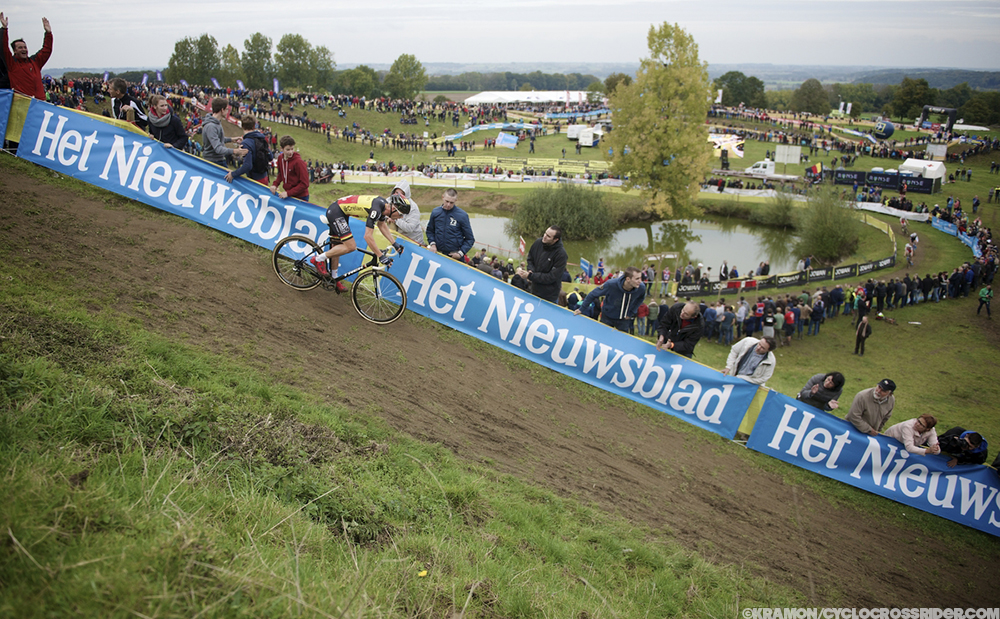 IN A season that it being billed by pundits as a "Battle of the Generations", 38-year-old Sven Nys produced a one-man show to win comfortably in Ronse, for a second year running, and importantly take big time out of his series rivals.
Defending Trofee Series title-holder Nys (who has won nine Trofee titles since 2003) took the lead on the second of nine laps, taking the "Sprint" time bonus in the process and never looking back.
The best of the younger generation was 19-year-old Dutchman Mathieu van der Poel, in second place, who many people believe could become a big star in cyclocross if he resists the lure of road racing long enough.
"I felt comfortable," Nys told our reporter Paul Burgoine, "it's not usually wise to be out front alone on a such an exposed course, but I felt so strong that I didn't feel the need to wait for anyone. I've known that Mathieu was going to be one of my biggest rivals and I expect him to only get better." he added.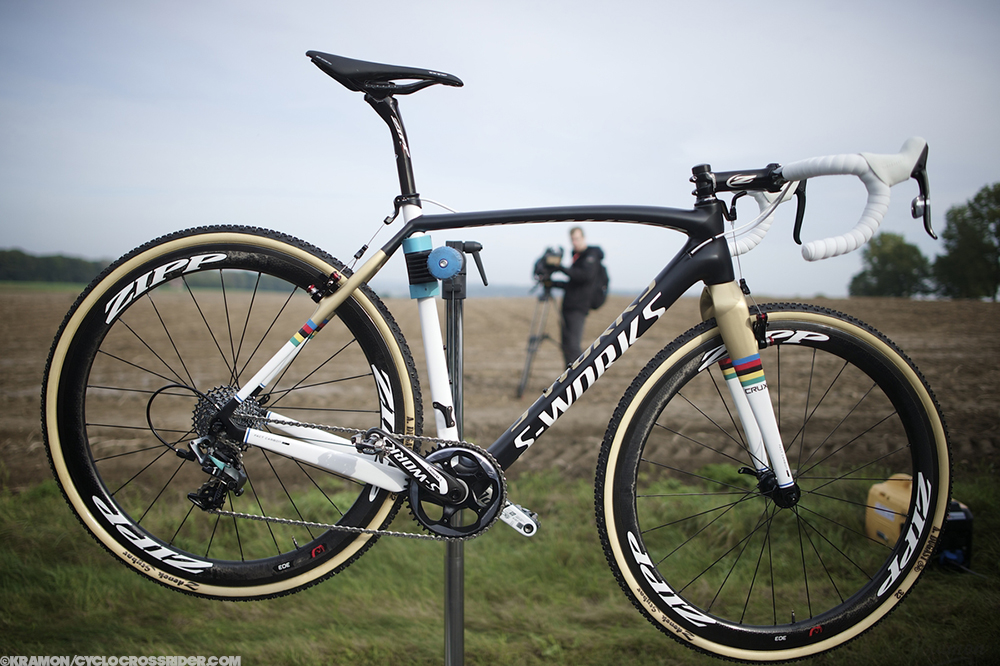 Zdenek Stybar's Specialized Crux with a SRAM single chainring set-up and some golden touches. He perhaps looked a bit over-geared at times.
World 'cross champion Zdenek Stybar, who is now a road-focused rider was in the mix for the first half of the race, but faded somewhat to finish eighth. After winning the Binche-Chimay-Binche road race on Tuesday, it's understood that Stybar only got in one 'cross preparation ride 24 hours before today's race.
It was Van der Poel, racing a disc-braked Colnago, who took the holeshot and proceeded to hit the accelerator straight away creating a gap. Nys was having none of it though and almost immediately went to the front of the chasers to begin closing it. It was noticeable that the young Van der Poel was more reckless on the big, rutted downhill corner and even showboated by getting air of a ramp near the materiaalpost (pit).
Pretty much every top team now has disc brake-shod bikes at their disposal and Nys used one in warm-up, but Van der Poel and Lars van der Haar were the only front runners to race on them.
Next to make a move however was the rainbow jersey of Stybar who stormed up the long concrete track to the head of the race before leading a big group through the finish line for the first time.
One of the trickiest sections was a slippy off-camber bank near the start of the lap and when fifth-placed Philipp Walsleben stuttered here on the second lap, gaps started to appear. Nys then used the big run-up to make his move, taking the bonus seconds easily ahead of Stybar and Van der Poel and by the end of the lap he led by nine seconds. A lap later it was 12 seconds as Kevin Pauwels responded to Van der Poel's appeal for help.
By the start of the fourth lap Stybar was slipping from the chase group that was now just Van der Poel, Van der Haar and team mates Pauwels and Klaas Vantornout. World under-23 champion Wout van Aert, just recovered from a broken collarbone, was the next victim of the off-camber and took a trip over the handlebars. Van Aert slipped out of the second chase group and into the pits, but eventually recovered to claim seventh place.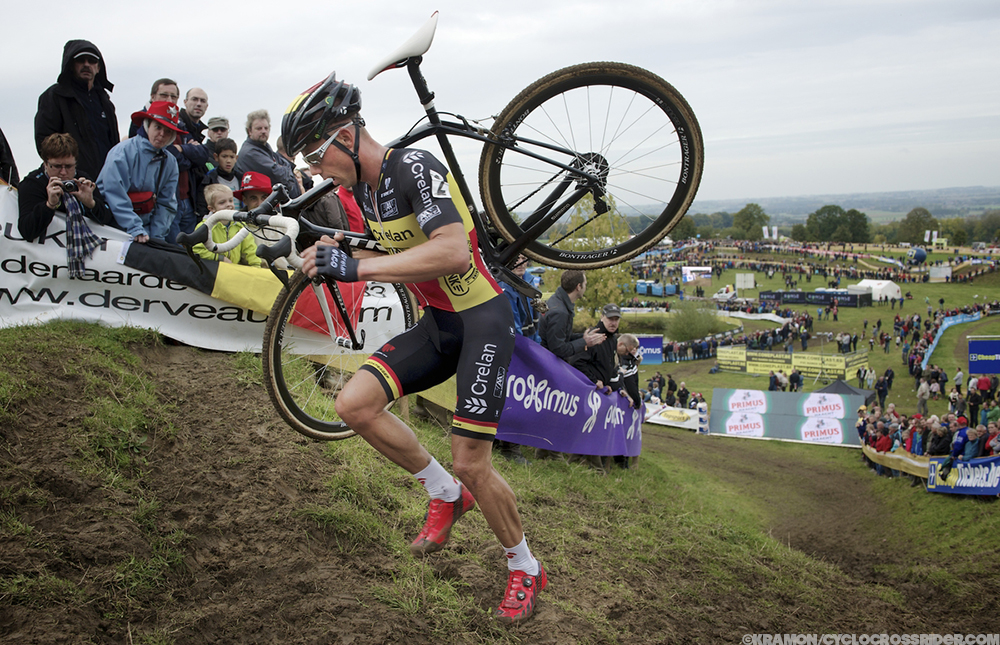 Nys' advantage mounts
Into the middle part of the race and Nys' advantage continued to steadily mount: 21 seconds after four laps; 31 seconds after five; 35 seconds after six; and 47 seconds with three laps remaining.
Dutch champion Van der Haar was struggling on the off-camber and suggestions have been made that he is missing the expert eye of Richard Groenendaal (the World champion in 2000) in his corner after leaving Rabobank for Giant-Shimano.
Kevin Pauwels, who won here in Ronse in 2011, was looking good as Van der Haar momentarily slipped back, but no one was able to drive the chase group back towards Nys.
Van der Poel launched one last attempt with two laps to go and gained four seconds, ridding himself of Pauwels, Van der Haar and Vantornout in the process, but at the bell Nys' lead was back up to 48 seconds.
Otherwise it was a faultless and ominous performance
Belgian champion Nys stumbled slightly on the very last steep run-up, but otherwise it was a faultless and ominous performance as Van der Poel also began to tire and struggled up the same climb. Nys' adavantage at the finish line was 50 seconds (more with time bonuses – no official classement available yet) as Vantornout closed to finish three seconds behind Van der Poel.
A tired looking Van der Poel told our reporter that "It was a really hard race, but, apart from the World Cups, I'll continue to race with the elites."
Stybar also said that he found the race tough. "I got a good start, but suffered a lot and my legs weren't ready for all the running, but I had a lot of fun. After the first two laps, I was in the red and 'rested' for few laps."
With the Koppenbergcross (on November 1 st) being the second round of the Trofee series and suiting Nys down to the ground though, it could be a long season of 'catch-up' for the rest.
Results: 1 Nys (BEL); 2 Van der Poel (NED) @50s; 3 Vantornout (BEL) @54s; 4 Pauwels (BEL); 5 Van der Haar (NED); 6 Tom Meeusen (BEL); 7 Van Aert (BEL); 8 Stybar (CZE); 9 Thijs van Amerongen (NED); 10 Joeri Adams (BEL).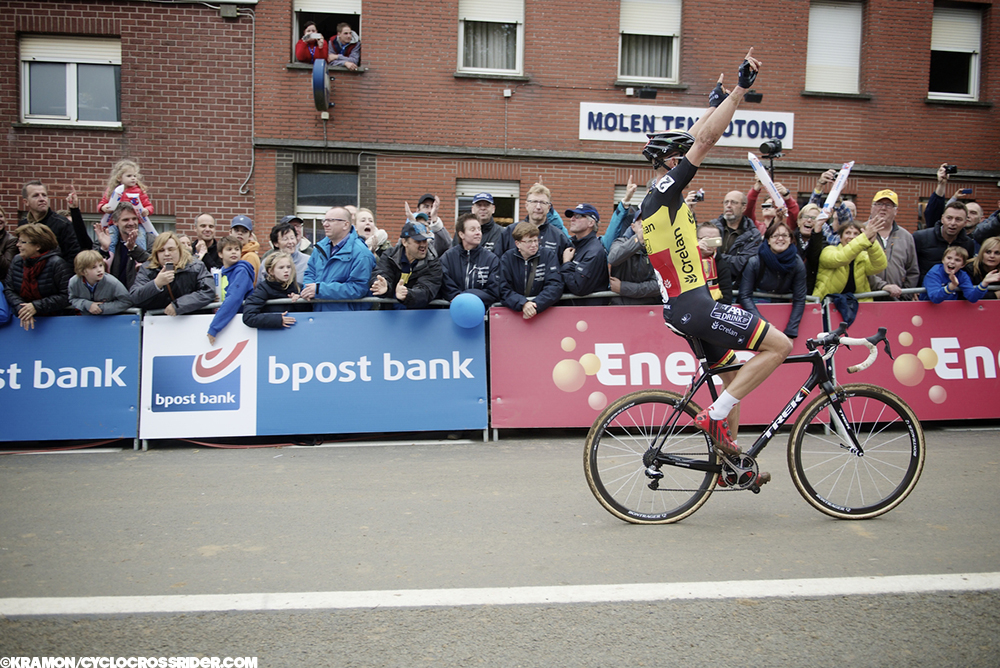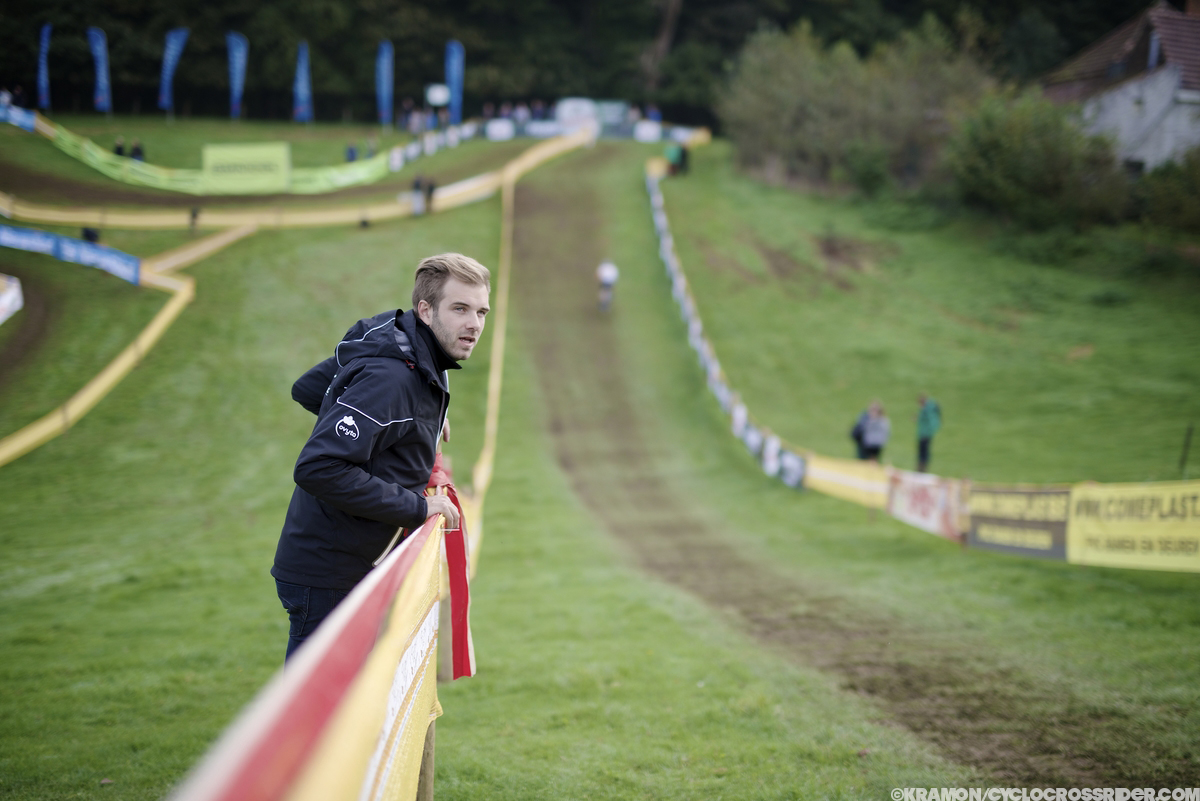 Former World champion Niels Albert in his new role in team management for the Vastgoedservice-Golden Palace team.

De Boer holds off Wyman
Dutchwoman Sophie de Boer (above) was a surprise winner in the women's race ahead of Helen Wyman with, a new name for many, Jolien Verschueren in third place. Sanne Cant the defending Trofee Series champion has been unwell this week and finished outside the top ten in twelfth place.
British and European champion Wyman dropped her chain early in the race and never quite got back on terms with De Boer, but importantly, in this time-based series, finished only seven seconds down. Former British champion Nikki Harris, who won here twelve months ago, led the race for a time, but faded to finish ninth after suffering from a mechanical issue.
"I got a bad start," Helen told us, "and I wasn't feeling 'on it'. I found the running really hard and a big change from the hard and dusty American courses."
Wyman beat De Boer into second place in the previous day's GP Brabant in Den Bosch, but there are signs that the young Dutchwoman is on for a good season.
American Elle Anderson, who described the course as "insane", impressed in fifth place despite falling on the cobbles right after taking the holeshot and having to work her way through from the back. "My team mate Sophie took the win so it was not so bad in the end and now I'm fired up for the first World Cup," she said after the race.
Elite women: 1 Sophie de Boer (NED); 2 Helen Wyman (GBR) @7s; 3 Jolien Vershueren (BEL) @16s; 4 Ellen van Loy (BEL); 5 Elle Anderson (USA); 6 Githa Michiels (BEL); 7 Aida Nuno Palacio (ESP); 8 Pavla Havlikova (CZE); 9 Nikki Harris (GBR); 10 Karen Verhestraeten (BEL).
Under-23 men: 1 Michael Vanthourenhout (BEL); 2 Laurens Sweeck (BEL); 3 Toon Aerts (BEL).
Junior men: 1 Eli Iserbyt (BEL); 2 Max Gulickx (NED); 3 Jappe Jaspers (BEL).
Nieuwelingen: 1 Andreas Goeman (BEL).
Under-23 winner European champion Michael Vanthourenhout.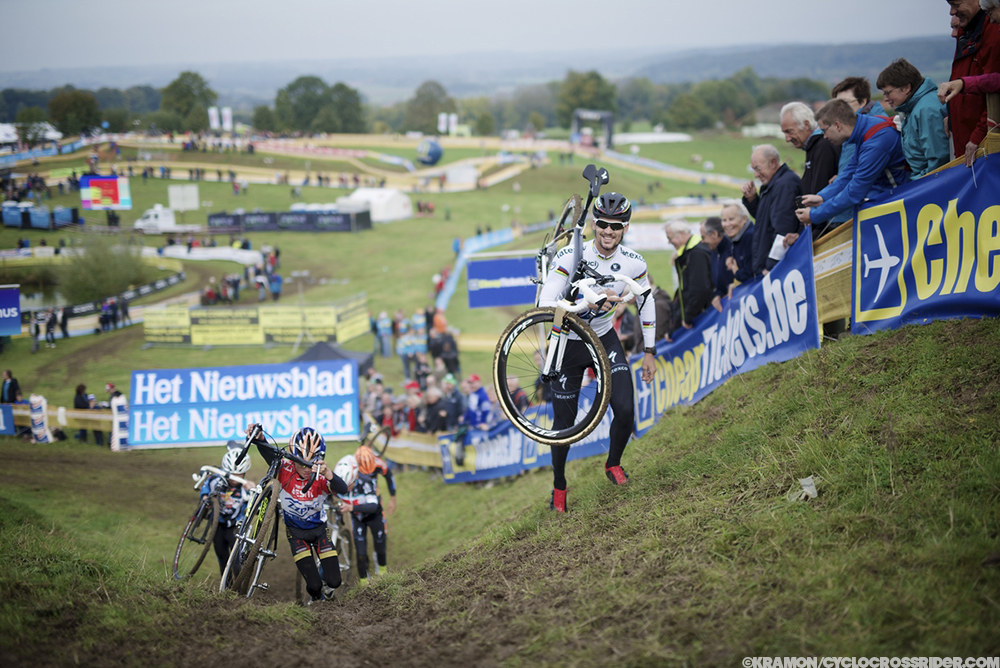 World champion Stybar leads a following of future stars up one of Ronse's famous run-ups.
Full TV coverage
Junior Men's race highlights
Photos: ©kramon/cyclocrossrider.com