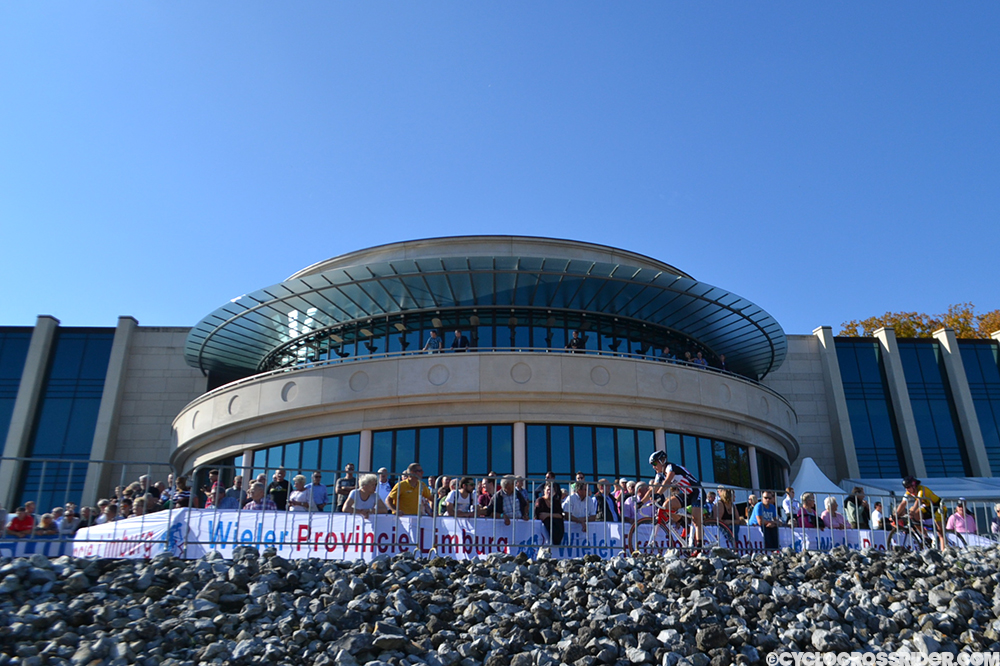 AMERICAN Champion Katie Compton is the defending World Cup title-holder, but as the elite women unwound from the tight opening corner sections in front of the Cauberg's post-modernist casino she was missing from the front of the race.
"It was kind of a chaotic start," Compton told reporters afterwards, "It's busy and it's full, but I was in the top ten somewhere. I made a mistake on one of the hills though and fell on the derailleur side so had to come in for a bike. Then I just had to start chasing."
British and European champion Helen Wyman was the rider who sought to seek most advantage by leading the long line of riders (there were 39 women starters) out onto the first full lap. Compton was 35 seconds behind the front of the race.
Frenchwoman Lucie Chainel-Lefevre also did a stint at the front before falling back to eventually finish twelfth.
With four laps to go a top quality lead group had formed containing Wyman, Sophie de Boer, Sanne Cant, Nikki Harris and Ellen van Loy as Compton continued to make slow progress towards the front. The American was still 29 seconds off the pace though.
Compton began to make great gains now and two laps later (with two laps remaining) she was fully back in contention replacing Van Loy in the five-strong leading group. Wyman and Compton then began to pull clear as American Elle Anderson began to move forward towards the chasers.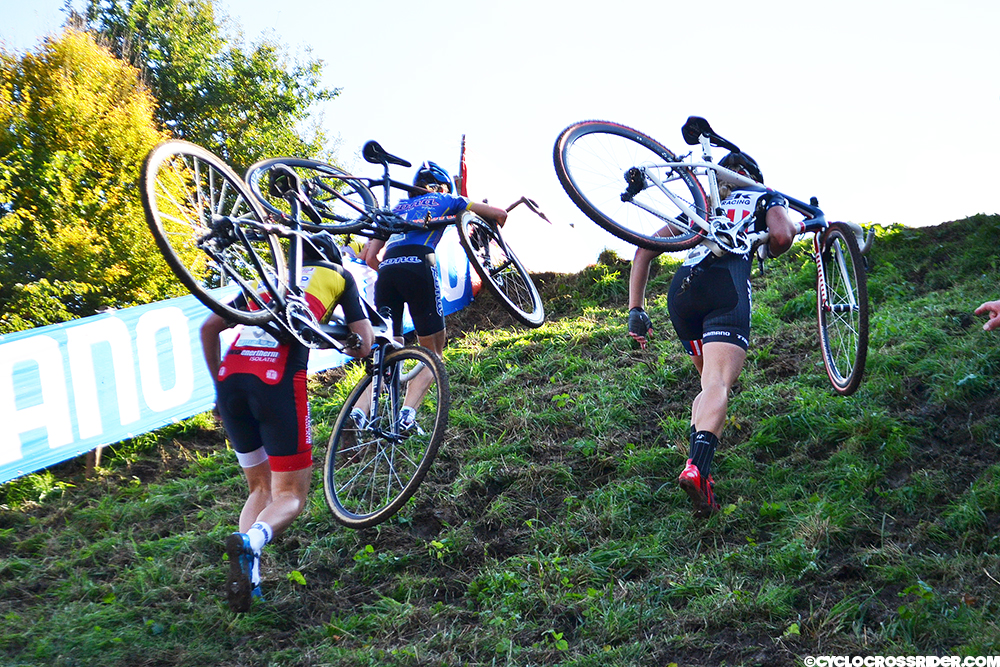 Katie Compton (USA) had to battle her way back into the race to score her 100th UCI race win. This is the moment that she finally got alongside Belgian champion Sanne Cant and British and European champion Helen Wyman.
At the bell Compton had ridded herself of Wyman who was 8 seconds adrift with Cant, De Boer, Harris and Van Loy more or less together at 24 seconds and the charging Elle Anderson a further 9 seconds behind in seventh place. The third American rider Arley Kemmerer was also going well in twelfth place.
Brit Wyman did not give up though and closed again on the big run-up before Compton eased away again to win by 13 seconds in the end. Dutchwoman Sophie de Boer made sure of third place with a strong last lap as Anderson came through to take fifth overhauling Nikki Harris in the process.
Katie's speed is destructive... she deserved the win
"I'll take that," said Helen Wyman on her personal blog. "The group at the front didn't hang around, but Katie's speed is destructive. She was 22 seconds quicker than me on the third lap. That shows why she deserved the win. I thought I had a pretty good third lap," Helen continued.
"It was a really hard day," concluded Compton, "and I made my job real hard. I never panicked and just tried to keep it smooth. I'm used to not having great starts." Asked if she thought she could hold onto the World Cup leader's jersey she said, "I hope so, I'm feeling good and stronger than last year." It was Compton's 100th win in a UCI race which she celebrated later with a cake.
Brief results: 1 Compton (USA); 2 Helen Wyman (GBR); 3 Sophie de Boer (NED); 4 Ellen van Loy (BEL); 5 Elle Anderson (USA); 6 Nikki Harris (GBR); 7 Sanne Cant (BEL); 8 Pavla Havlikova (CZE); 9 Sanne van Paassen (NED); 10 Jolien Verschueren (BEL)... 11 Arley Kemmerer (USA); 30 Hannah Payton (GBR).
More photos and reports to follow.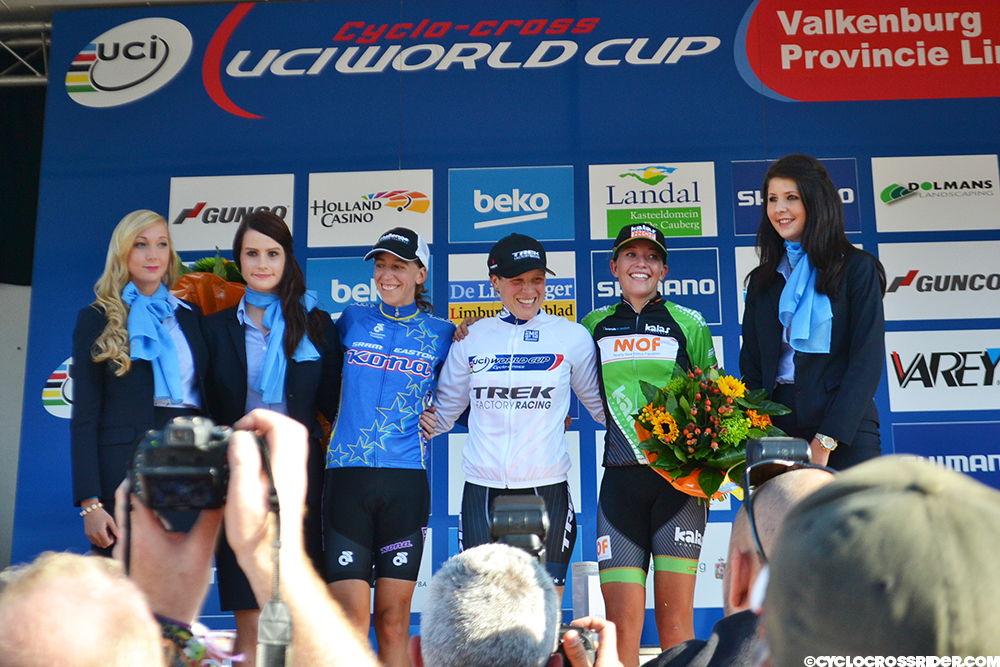 Elite Women's race re-run (starts at 2:30 into stream)
NB There is short technical issue with the sound on the women's footage.