WINNING at the tough Koppenbergcross is a dream for many professional cyclocross racers. This season that dream became a reality for a little-known junior racer from the north east of England when he conquered the mass of young Dutch and Belgian racers, including Sven Nys' young protégés, and outflanked them all at this prestigious race.

At first glance this seems like a most unlikely outcome, given the almost total dominance of Belgian and Dutch riders in most of the male 'cross racing categories, and many of the women's events too. This season we've seen some exceptions of course, and the talented British racer Tom Pidcock's victories including claiming the Junior European Championship in Pont-Château are highly notable ones, but when you look at the average UCI World Cup results sheet you'll see what I mean.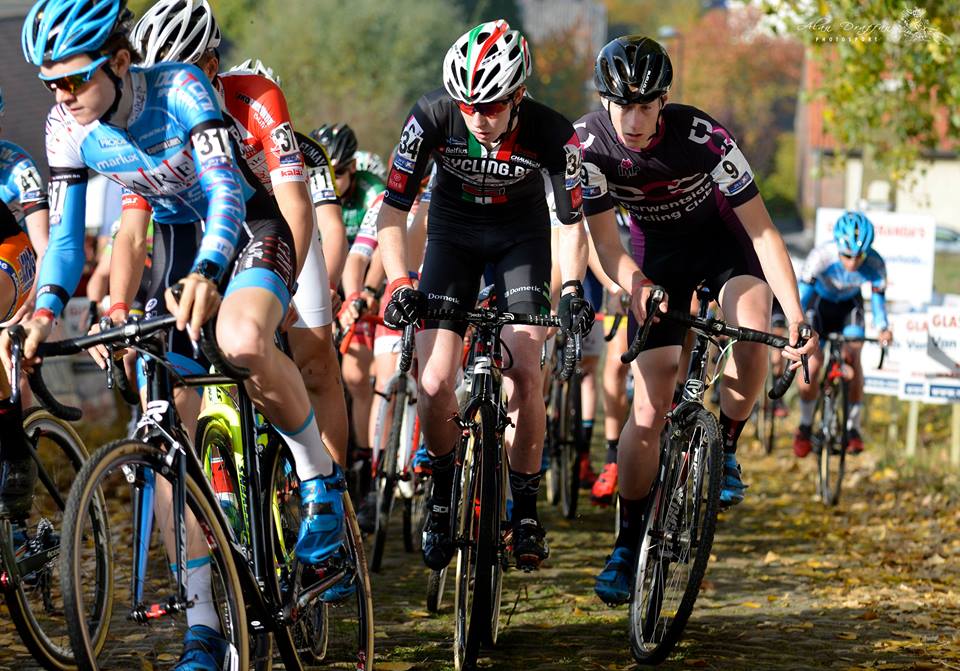 Also selected, alongside Pidcock, that day at the very end of October for the European Championship Junior race was seventeen-year-old Thomas Mein, representing Great Britain and the north east's Derwentside Cycling Club. Thomas hadn't travelled across the Channel only to race the Europeans, he was part of a dedicated team of enthusiasts from Cyclo Cross North East (CXNE) who'd hatched a plan a couple of years earlier to take on the Low Countries in their own back yard.
Euro-raiders
The ringleader of these 'Euro-raiders' is Tony Glover who has been involved with the Derwentside club for almost 25 years, and acknowledges the help and support he himself received as a young mountain biker and 'cross racer from the club's veterans. Nowadays it'd be fair to say he dedicates most of his spare time to helping others with their racing ambitions, but he also manages to combine that with being a top class veteran racer himself.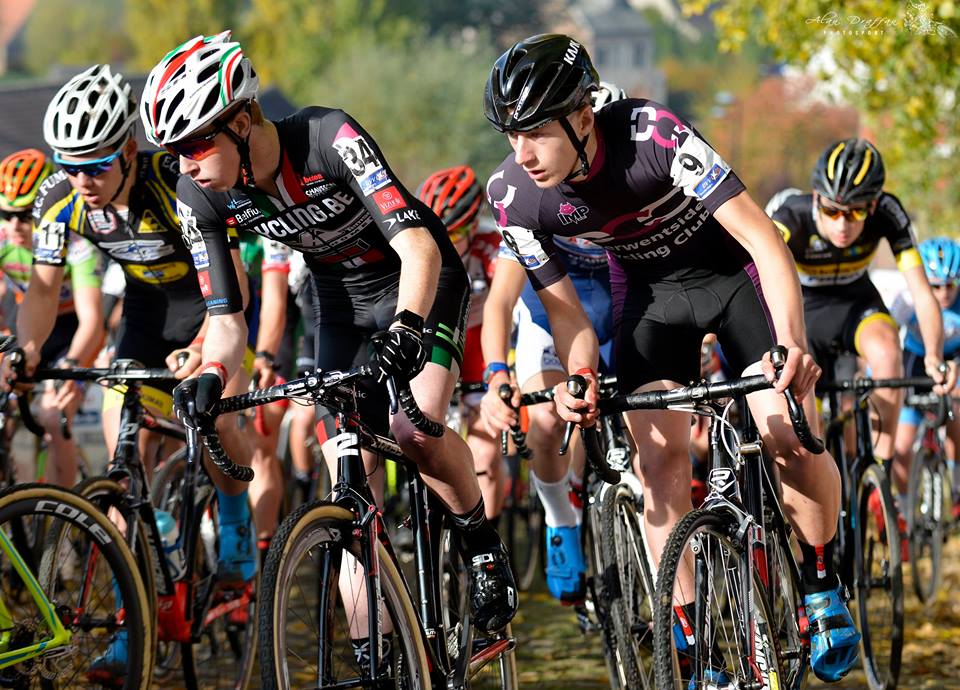 One of the first answers Tony provides to my prying questions is that, "Cyclocross is definitely a team sport."
The 'team' in question is the whole Derwentside Cycling Club along with an extended 'CXNE family'. That said one or two names crop up more than once during our conversation including former international MTB downhiller Ed Beechinoor-Collins who "acts as a coach and mentor to the young riders and they work really well with him." Tony tells me. Thomas also testifies to the excellent training sessions and drills that Ed has provided him to progress his all-round athletic performance.
Having other riders around is equally important and Tony tries to emphasise off-road skills and confidence with a high enjoyment factor by taking the Club's youngsters on MTB and 'cross weekend rides.
"They just love riding their bikes and importantly, doing it together. This bond cannot be underestimated. The support they give each other is amazing to see," Glover tells me.
Helped by volunteers
It is one thing to train and race at home in northern England, but quite another to venture over to Europe and hope to compete among the world's top talent though. Here's where the volunteers are so important: Chris Young (British Cycling 'cross team manager) helped with the race entries, while pit and logistics crew Jamie Brady, Dicky Noble, Malcolm Lewis and Alan Draffan (photographer) also travelled along with Thomas' father John who has supported his son since introducing him to cycling at the age of nine.
The Koppenbergcross is fairly unusual in that it always takes place on the first day of November (the Belgian public holiday of All Saints' Day) which is more often than not midweek and this year fell just two days after the European junior championship race in France. So the first issue was getting permission for a couple of days off school for Thomas and the other Derwentside racers: Fin Robertson; Stephen Lee; and Ollie Draffan (you'll want to remember these names).
.....
Support our Partners
SHOW YOUR LOVE OF 'CROSS...
Celebrate the Koppenbergcross and our other 'Monuments of 'Cross' with this unique Fruit of the Loom quality cotton sweatshirt.
SPECIAL LOCKDOWN OFFER ONLY £10 + P&P
ALL SIZES IN STOCK.


.....

Using all their experience from a similar trip the previous year the team had worked out where to base themselves and how to access the venue close to Oudenaarde so that they could get in some practice laps on the day between the two race days. Tony took the riders around the course to help them all consider the best decisions on this redesigned Koppenberg course, the most obvious feature being the (some say excessive) climbing, often on pavé and the rapid and technical nature of the revised downhill - possibly the key to Thomas' fortunes on the day.
According to Tony, who helps out the young riders with equipment through his bike shop Cycle Art, Thomas isn't too fussy when it comes to 'cross equipment - "He'd race on a chopper quite happily!" Fortunately for Thomas he had a pair of Ridley X-Nights with handbuilt Mavic Reflex tubular wheels and opted for Clement PDX treads instead of Grifos on a dry and fast course.
"The pair of Grifos we had are a few years old and a bit worn" dad John told me, sometimes it really is just a case of needs must.
The backroom staff were quietly confident before the Koppenberg according to Tony. Thomas had recently debuted for Great Britain at the Valkenburg World Cup where he placed 14th and he picked up further valuable UCI ranking points at the British National Trophy races so that he was gridded on the second row on the Koppenberg. Thomas himself was confident and even thought a top five might be on the cards too.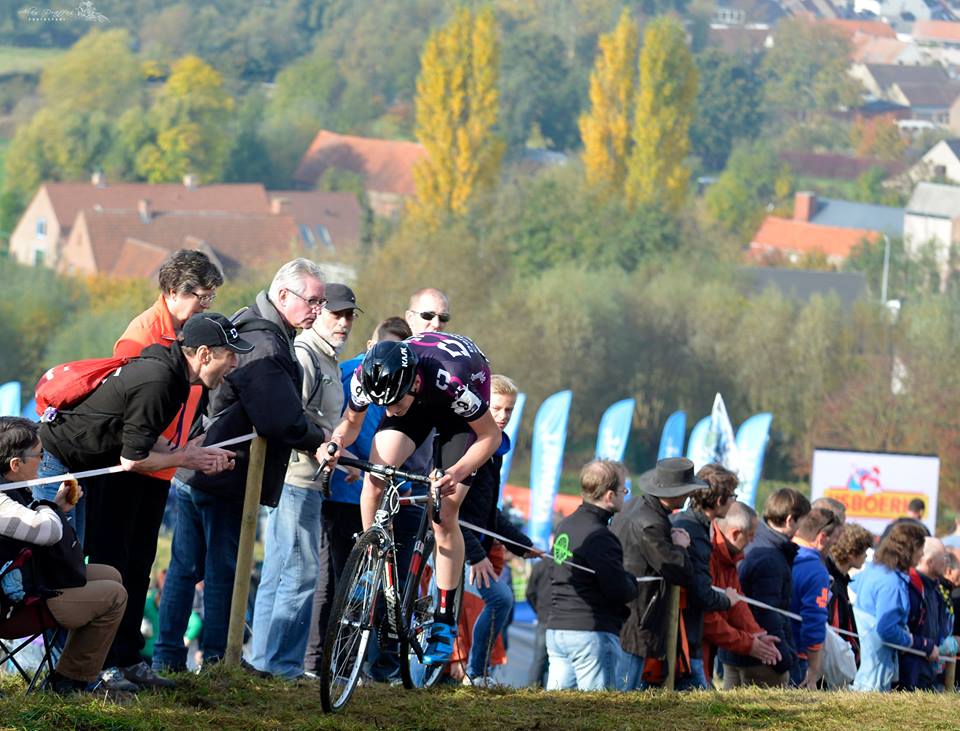 Over to Tony at trackside..."Thomas rode what I would consider to be one of the most mature, perfectly judged race efforts I have seen (including televised races). He worked out, during the race, exactly where to be all the time, not trying to go with every acceleration, and knowing who the principal danger men were. He worked out for himself exactly where to attack, knowing how long he could sustain his effort." All during the race Tony and John were running across the course to vantage points. "It was special to be shadowing the great Sven Nys as he was doing the same with his young Telenet-Fidea riders."
After the first lap Thomas was in a leading group of five or six riders and looked comfortable just following wheels and letting the Belgians lead the way and was surprisingly lucid all the way.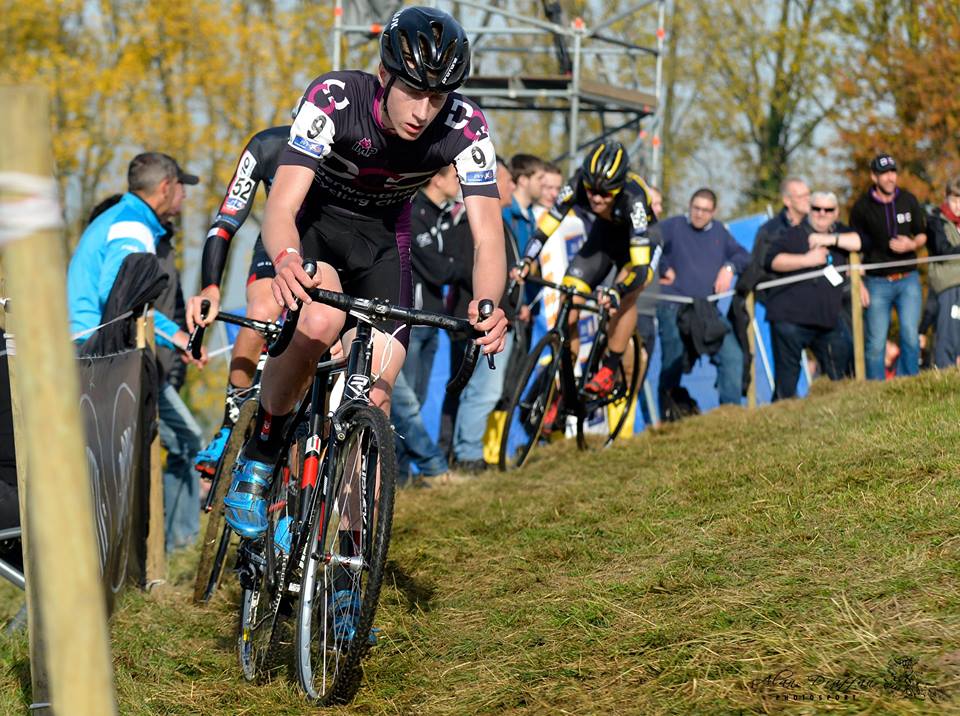 "I felt comfortable with the pace throughout the full race and I never felt under any pressure. At the start of the final lap I led from the top of the descent because I knew that I had good lines which allowed me to carry lots of speed. When I got to the bottom of the Koppenberg I attacked opening up a gap on the riders behind me. Once I got onto the final cobbled climbing section I realised that I was going to win."
Technical training
The technical training back home had really paid dividends as dad John recalls, "With the Koppenberg trip in mind we spent all of September and October training with Ed Beechinor-Collins at Kirkley Cycles in Ponteland which has very similar terrain - hard and bumpy farmland."
Tony saw the race unfolding similarly, "Thomas's victory was forged on the very long and fast descent to the bottom of the Koppenberg climb. He started the final climb with a small buffer that he had gained on the descent. He was the quickest descender of the front group, without a doubt."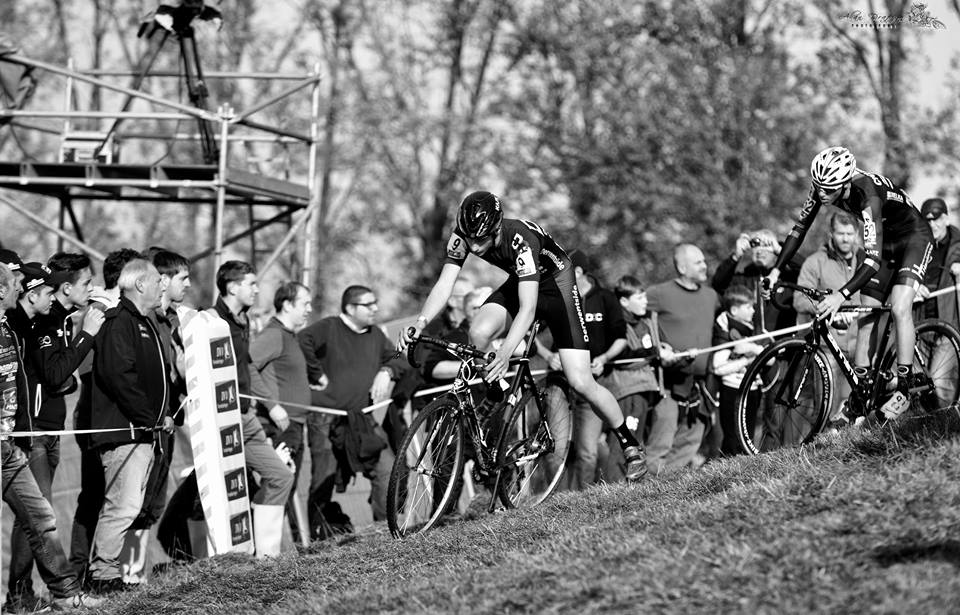 But while it might all sound like a walk in the park, nothing could be further from the truth, "I knew exactly when Thomas had pulled the pin as he adopts a particular riding that I am very familiar with. It's the 'Thomas Mein at 100% Effort' position" is how Tony describes it.
Despite, or perhaps because of, the meticulous planning and huge team effort it was a very emotional victory for everyone except possibly Thomas himself who went on to give a few TV interviews as calm and composed as Sven Nys might have been after one of his record nine victories at this race. But for Tony and the rest of the CXNE crew it was very different.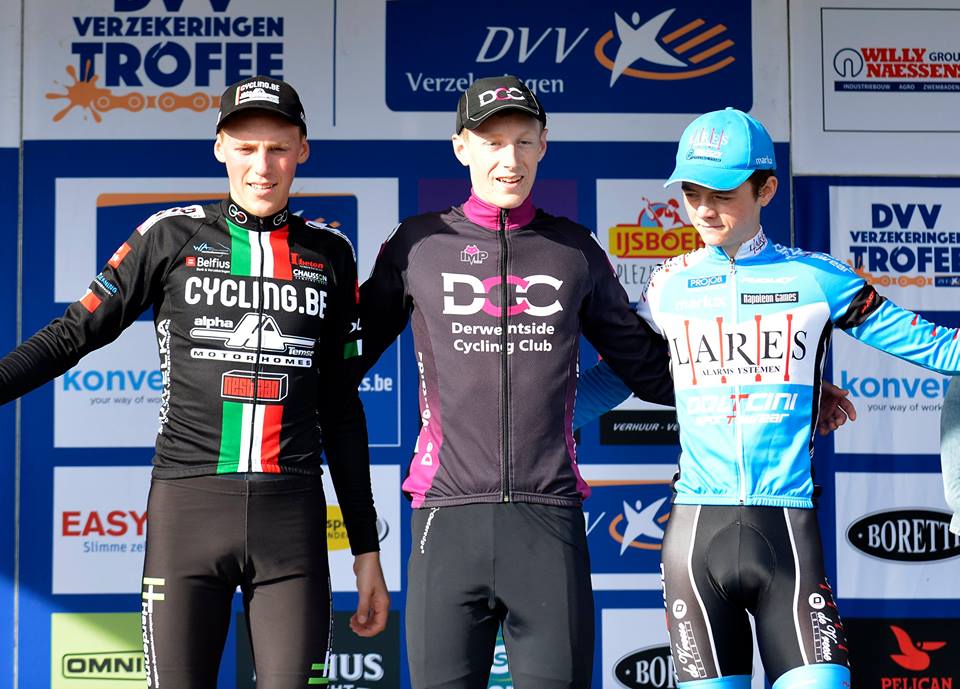 "I was overcome with emotions on the day and shed more than the odd tear. It is particularly special as I have seen him develop for many years and he is a great example for the younger members of our club to follow. I see many similar things to come in the future." Tony told me.
Bound for Belgium
With that in mind both Thomas and Fin have decided to take the plunge and base themselves in Belgium for the 2017-18 'cross season, with the 'CXNE crew' planning multiple visits to support them as well as bringing other riders across for the experience.
Before that, of course, there is the small matter of 'The Show': the 2017 World Championships in Bieles, Luxembourg (on Saturday morning) where Thomas and Tom Pidcock are two of the British team among the anticipated 68 starters. Could these British victories be the beginning of the end of the Belgian-Dutch stranglehold on 'cross racing? If so, remember you read it here first!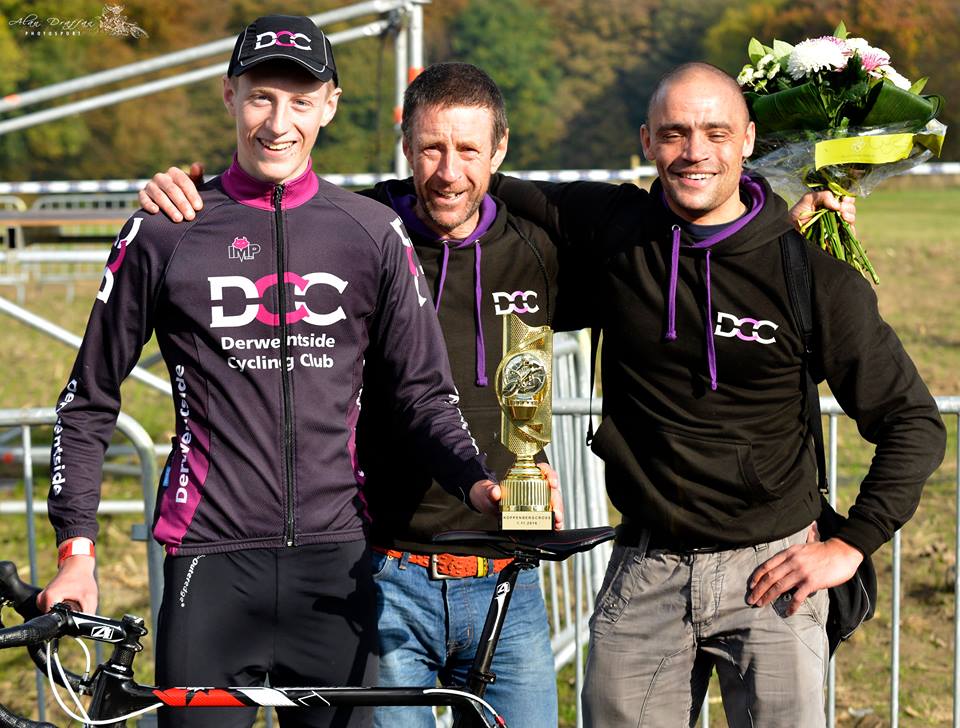 Worlds notes: Tom Pidcock is UCI World ranked number one this season and will start on the front row. Twelve months ago Pidcock finished fifth from his grid positioning of 65 in Zolder. Thomas Mein has scored 20 UCI points (disappointingly only 10 points were awarded for the Koppenbergcross win), but unfortunately will be low on the start grid – likely the sixth row. Pidcock's fellow Yorkshireman Ben Turner is Britain's other serious medal contender after finishing second to him in the final World Cup race in Hoogerheide. The junior men's World Championship takes place on Saturday morning (11:00 CET/10:00 GMT) with live coverage expected via the UCI YouTube channel (geo-restricted for some).
Words: Ted Sarmiento.
Main photos: Alan Draffan.
SHOW YOUR LOVE OF 'CROSS...
Celebrate the Koppenbergcross and our other 'Monuments of 'Cross' with this unique Fruit of the Loom quality cotton sweatshirt.
SPECIAL LOCKDOWN OFFER ONLY £10 + P&P
ALL SIZES IN STOCK.