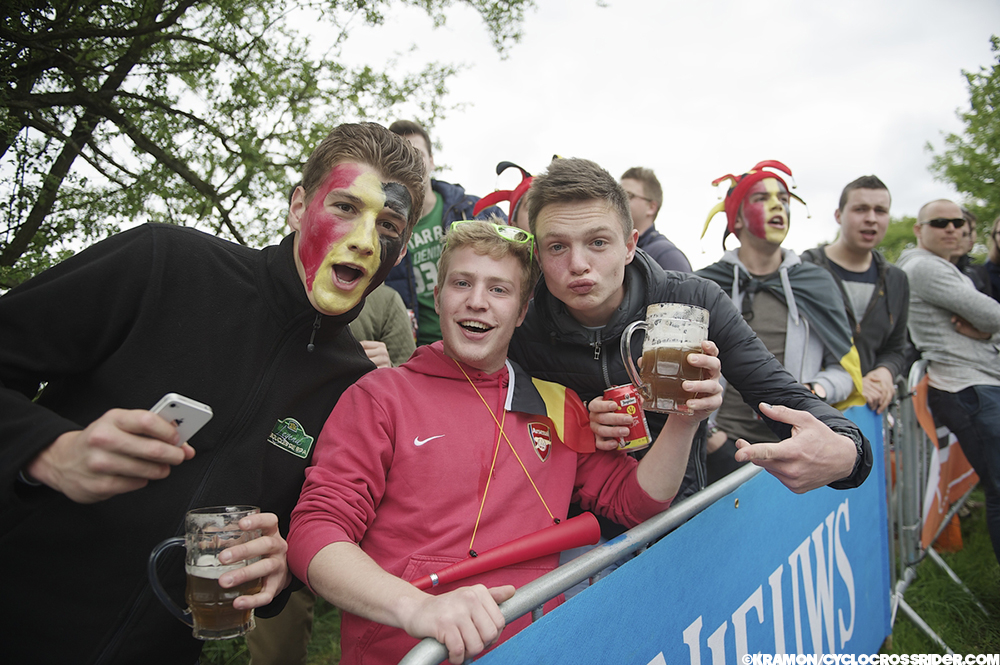 Riding new cat CC
BEER TALK: The Captain Cross taste test & what beer will be in MK
Captain Cross tastes some high profile Belgian beers and reveals what tipples will be available in Campbell Park, Milton Keynes on November 29th.
Most fans of pro Belgian 'cross have heard of Primus, Jupiler, or Maes - the beers seen on the course side banners - but what do they actually taste like? Cyclocrossrider gave me the onerous task of finding out.
Believe it or not some fans are at the big Belgian and Dutch 'cross races simply for the beer and the party. Races like Zonhoven or Baal, and many others, have huge beer or party tents where loud Europop thumps out and the alcohol flows.
Some fans attracted by the tents might never see any of the actual racing perhaps popping their heads out the glimpse some action on a nearby big screen before returning to their 'action.'
For these fans, maybe from a normally sleepy rural village, the 'circus' has come to town and the cyclocross becomes a date on their annual party calendar.
Race through the tent – now banned.
Pic of Baal fans in lion suit . Zonhoven TV screen
So what are these fans generally drinking that makes them so happy - singing and swaying around the place?
Jupiler 5.2%
Jupiler – brewed in Liege - is the official beer of the Superprestige series
sprawling outskirts of Liege.
We use it as a table beer it's local
Primus Haacht 5.2%
(bpost Bank Trofee)
also (World Cup)
also (Soudal Classics)
One hour away near Christine & Niels Albert's Bike Shop Tremelo
Haacht Brewery plc
Provinciesteenweg 28
3190 Boortmeerbeek
Sweet Caroline clip.
So what else to you need to know to become a seasoned, big race 'cross fan? You should enjoy a beer of course but every true 'cross fan has to learn the words of the cyclocross 'theme song'… Sweet Caroline. I don't think anyone is quite sure why this song is played at every major 'cross race, but it is
Captain Cross is interestingly the founding father of Cyclocrossrider.com. Back in 2011 he first appeared on Facebook and twitter spreading the word of European pro cyclocross for English-language fans who, perhaps understandably, had difficulty with the Dutch-language.
Captain Cross film
What next?
Connoisseurs' guide to mayo and sauss?
Frites: Fat or thin?
What type of umbrella is best for ambush marketing?
A guide to effective protest placards for races with TV coverage.
Beer is the original energy drink BTW. – you can quote me on that.
M
Photos: ©Cyclocrossrider and ©kramon/cyclocrossrider.com