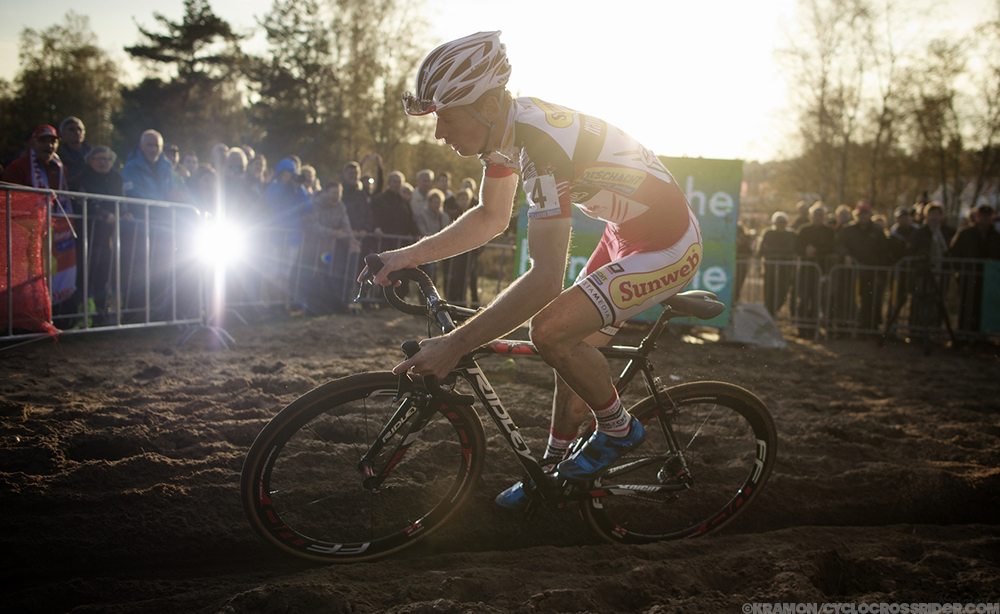 SUNDAY'S sandy Superprestige race in Zonhoven came down to a sprint finish and Kevin Pauwels (above) surprised most onlookers by coming around Belgian champion Sven Nys to win by a bike length. Nys was on the attack for much of the middle part of the race and in trying to distance Pauwels on the last lap he seemed to have drained himself of his normally powerful sprint.
"My final corner was not perfect, so Kevin had an excellent target," Nys told reporters afterwards and true, he did overcook it, but only slightly. "I still had something left in the final lap and attacked, but towards the finish my legs were completely empty. Eventually I had to bow to Pauwels, who was slightly faster in the sprint." Nys conceded.
I thought that Sven was out of reach, but I took a risk on the last corner and Nys made a mistake
Pauwels who's victory was his first of the season told the Press, "I thought that Sven was out of reach, but I took a risk on the last corner and Nys made a mistake and I had enough speed to pass him. Finally a win, so hopefully they'll be even more. I feel it's getting better and better now."
This was always going to be a dramatic weekend, but one where few would have predicted that Belgian champion Sven Nys would lose two successive sprint finishes. The second round of the Superprestige series came 24 hours after the controversial sprint finish in the Koppenbergcross which Nys lost to Wout van Aert (and his disqualified team mate Denuwelaere – see Koppenberg report).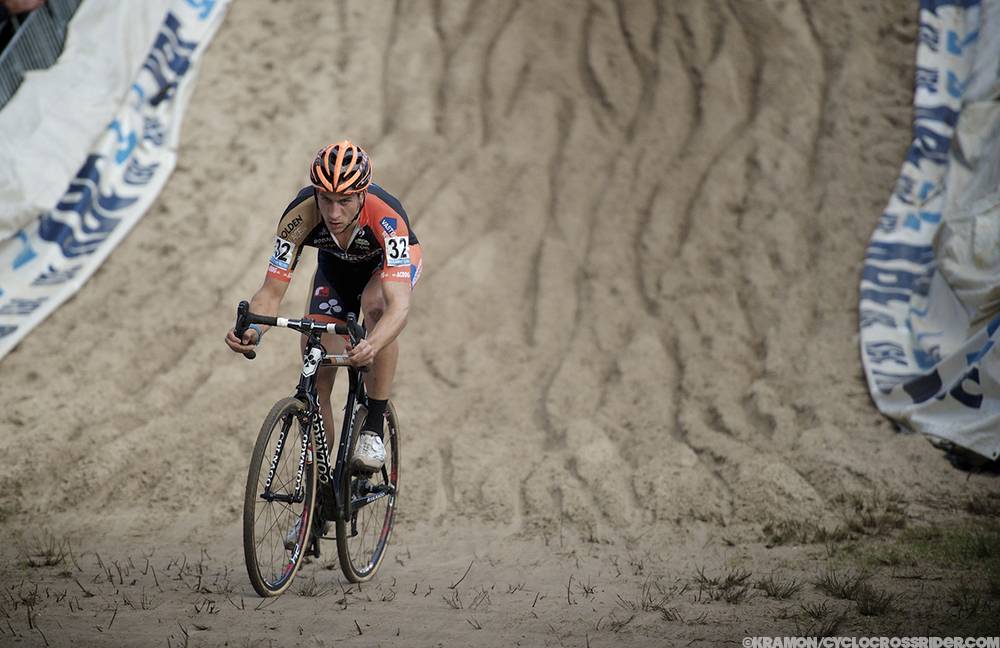 Jan Denuwelaere (above) was booed by the Zonhoven crowd after his involvement in Saturday's sprint at the Koppenbergcross and below, the officials stress the point at which riders more than 80% behind the leader will be pulled from the race.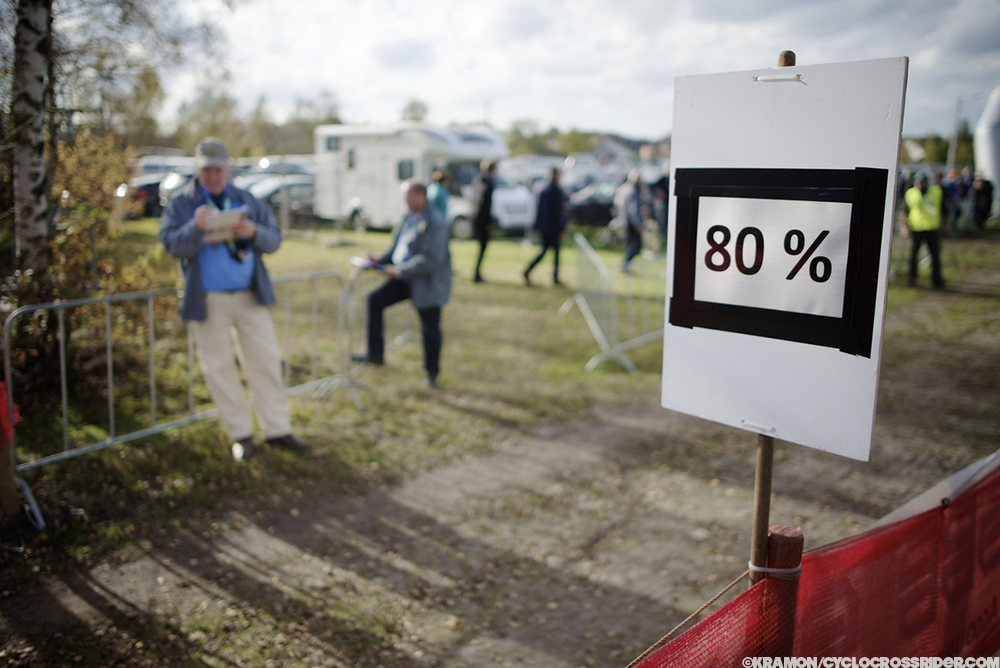 Van Aert rode and won the Under-23 race in Zonhoven, but when his team mate Jan Denuwelaere's name was called to line up at the elite men's start he was booed by the large Zonhoven crowd and again as he entered the huge sand pit packed with spectators. Racing near the back of the field Denuwelaere continued to be booed throughout the race and at two-thirds distance was 3 minutes off the leaders before eventually retiring.
It was Tom Meeusen who led the race into 'the pit' for the first time and the young rider who Nys was most worried about, Mathieu Van der Poel was down in 12th after missing getting his foot straight in his pedal off the start line. Van der Poel was doomed to be forever playing catch-up and we did not see his best form.
Klaas Vantornout was next to take up the pace and began what was from thereon in pretty much one long, ten-lap race of attrition. Vantornout was still leading around the third lap as Nys moved up the group to sit in third place. The leading group was 10-strong going into 'the pit' that lap, but seven riders went clear after this tricky section with two big sand descents and two climbs out. Van der Poel was in eighth and had to work hard to rejoin the leaders and as soon as he did Nys attacked with just 15 minutes of racing gone.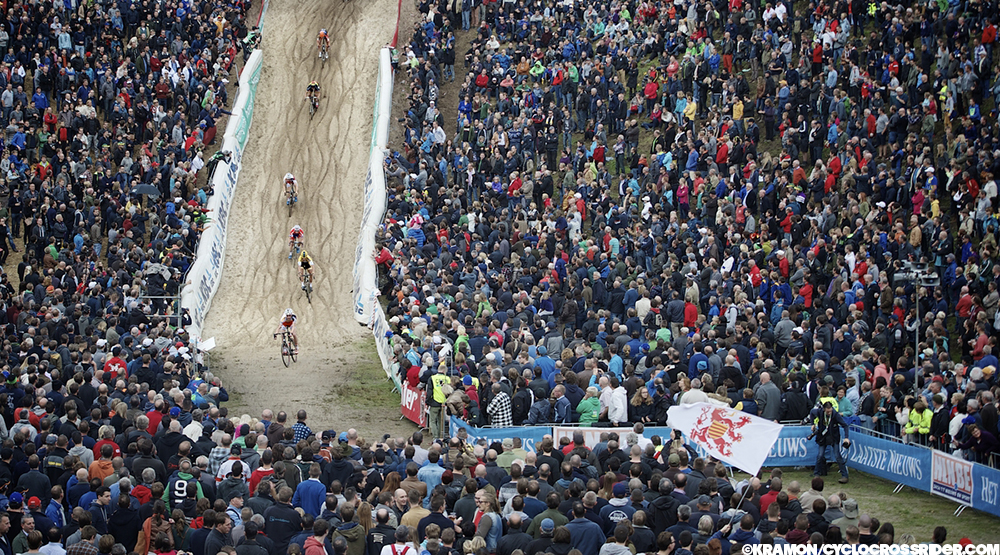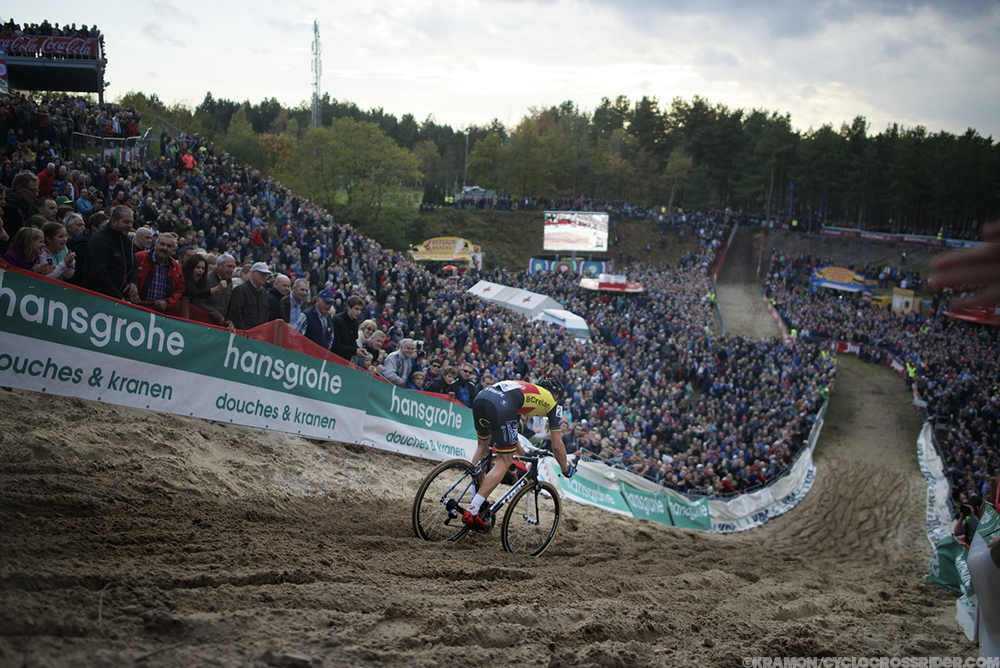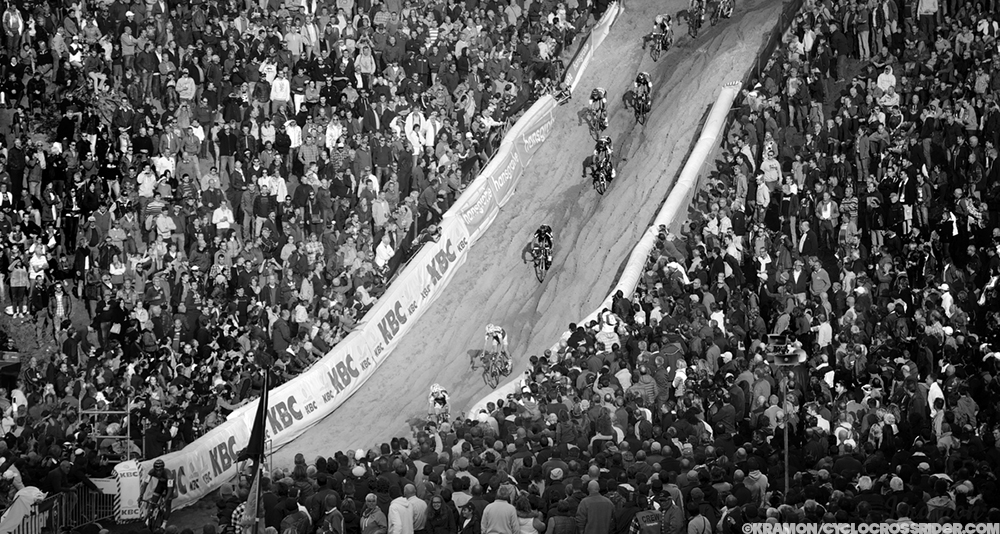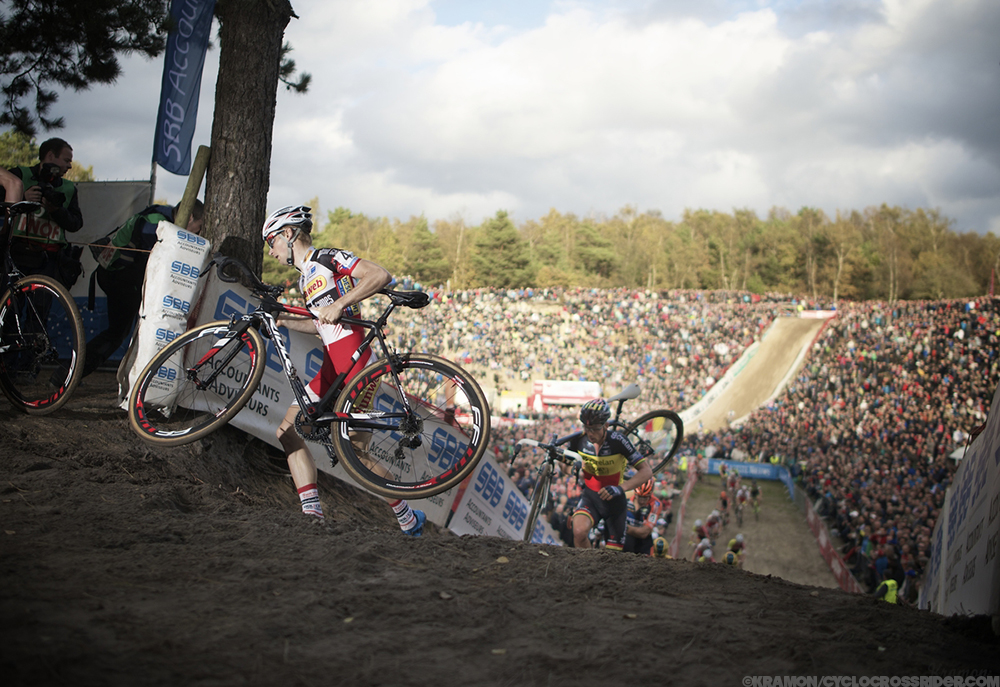 Only Vantornout and Meeusen were able to track the Nys attack and going into 'the pit' on lap four Vantornout crashed in the deeply rutted sand, leaving just two riders out front. Nys continued to push the pace very hard and a lap later the chase group was beginning to break up. Young Van der Poel had been leading the chase, but Van der Haar took over and immediately went clear in third place as Kevin Pauwels was some 20 seconds behind the leading pair of Nys and Meeusen.
At half-distance, Nys and Meeusen led Van der Haar by five seconds, Van der Poel by 13 and Pauwels by 19 seconds. Pauwels now began his charge as Van der Haar also chased hard. Nys had been leading, and pushing hard, for three and a half laps before he eventually eased up with four laps to go which allowed Van der Haar and Pauwels to join and make a leading group of four.
Not the feeling I was hoping for today - Van der Poel
After the race, Mathieu Van der Poel was disappointed with his ride – eventually finishing a lone fifth – "Not the feeling I was hoping for today" he tweeted.
Nys was still in attacking mode though and towards the end of that seventh lap he attacked again over the far side of the course before the two rideable sand climbs, but the four came back together again. The war of attrition continued with more injections of pace from first Nys and then Pauwels. On the eighth lap Meeusen lost contact and on the penultimate lap Van der Haar began to struggle.
At the bell Dutch champion Van der Haar was still struggling to stay in touch as ahead of him Pauwels and Nys glanced around like it was a track race until Nys made his final move. In the same spot, before the final two sandy climbs, Nys made a huge attack and put Pauwels four or five seconds behind him as Van der Haar fell out of contention. The point of Nys's attack was two minutes racing from the finish line and Pauwels was slowly inching back towards striking distance, but it really looked like he was going to run out of track. Nys still had a small bit of daylight around the last corner, but his slight mistake put Pauwels back in with a sniff of victory and he seized it passing Nys in the last ten metres to win. A fittingly dramatic end to a dramatic weekend.
Result: 1 Pauwels (BEL); 2 Nys (BEL); 3 Van der Haar (NED); 4 Meeusen (BEL); 5 Van der Poel (NED); 6 Vantornout (BEL); 7 Bart Aernouts (BEL); 8 Wubben (NED); 9 Van Kessel (NED); 10 Walsleben (GER)… 17 Field (GBR).
Overall standings (after 2 races): 1= Nys & Van der Haar 29 points; 3 Van der Poel 26.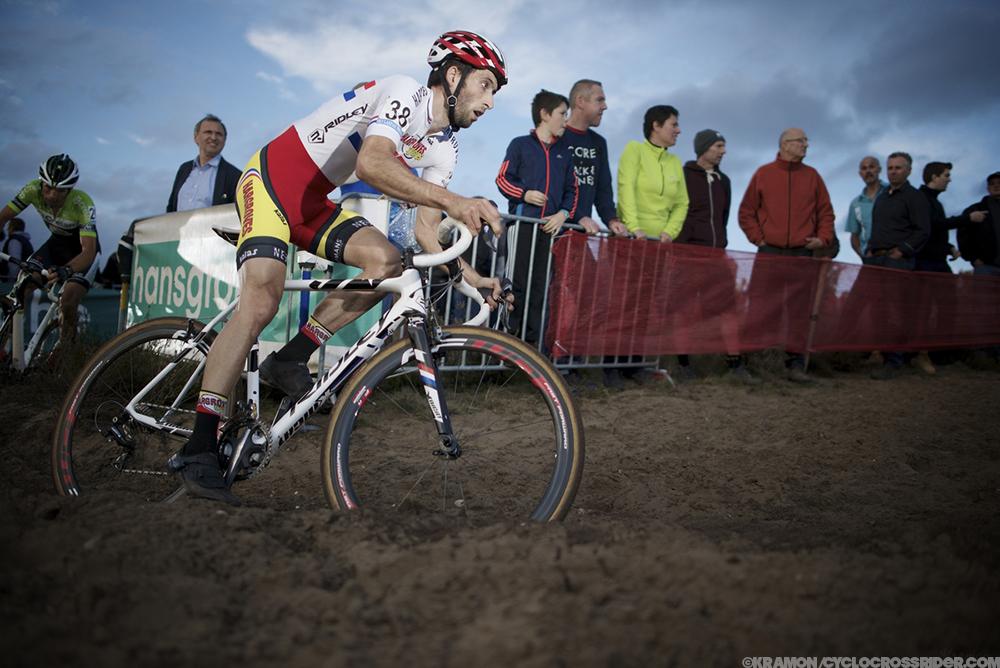 Ian Field (above) finished off a great weekend with 17th place (15th on Saturday). Below: Tim Merlier falls victim to Zonhoven's giant sand pit.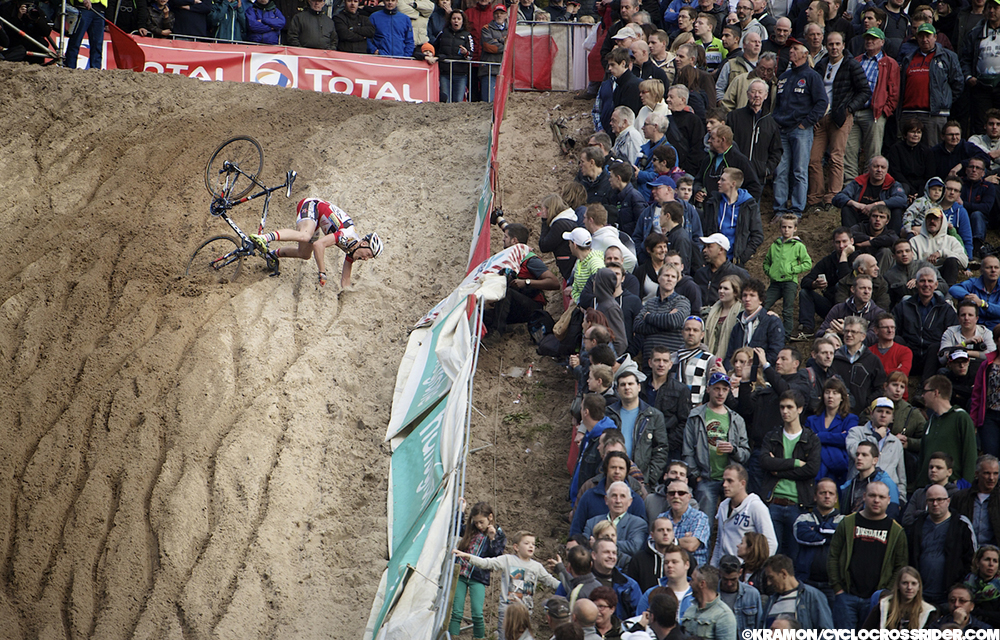 Photos: ©kramon/cyclocrossrider.com
Full TV coverage
Junior men
Highlights of all race here.