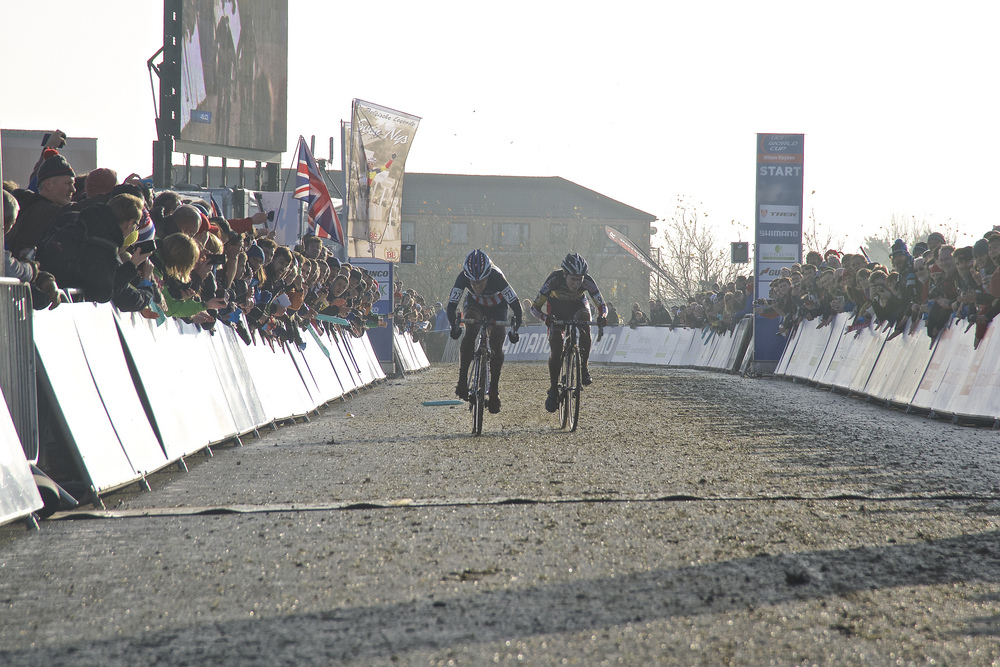 Re-run of race coverage
THE Campbell Park course laid out in Milton Keynes on Saturday was not only muddy and strength sapping but had a number of tricky technical sections. The course designer had used the slope of the central hill to create a succession of testing off cambers, steep downhill corners and some difficult sloping remounts.
The first World Cup race on British soil – the elite women – also provided the closest of finishes as Belgian Sanne Cant out-lunged American Katie Compton right on the line.
"Katie, I think, was really tired and I had maybe ten metres to close," said Cant afterwards, "It was a heavy track but we need this kind of course in the World Cup and the crowds were amazing - it was like a World Championships in Belgium." When asked about her brilliant start to the season (with eleven victories) she added, "I'm a little bit older and a little bit stronger may be so it's been a good season so far."
The cambered sections had become slippy and rutted, the grassy corners were already slick and the run-ups were becoming increasingly sticky
Very quickly after Friday's official training and Saturday's warm-up many of the cambered sections had become slippy and rutted, the grassy corners were already slick and the run-ups were becoming increasingly sticky and glutinous.
As the elite women raced away from the start – making history as the first UCI World Cup race outside of mainland Europe – they headed straight for the trickiest of the tricky sections. Belgian Ellen Van Loy was first 'over the edge' and onto the first camber descent closely followed by Belgian champion Sanne Cant. On the second camber British champion Helen Wyman slid dramatically and crashed causing a domino effect behind her, but she was remarkably quickly back up and running.
As the dust (or mud) settled, Cant and British hope Nikki Harris were out front with Wyman and Van Loy chasing whilst World Cup title holder Katie Compton was down in about tenth place. Also visible up near the front were: Lucie Chainel-Lefevre; Martina Mikulaskova; Gabby Durrin; and the American trio of Meredith Miller, Rachel Lloyd and Kaitlin Antonneau. World Cup leader Sophie de Boer was down with Compton both with some work to do over the five lap race.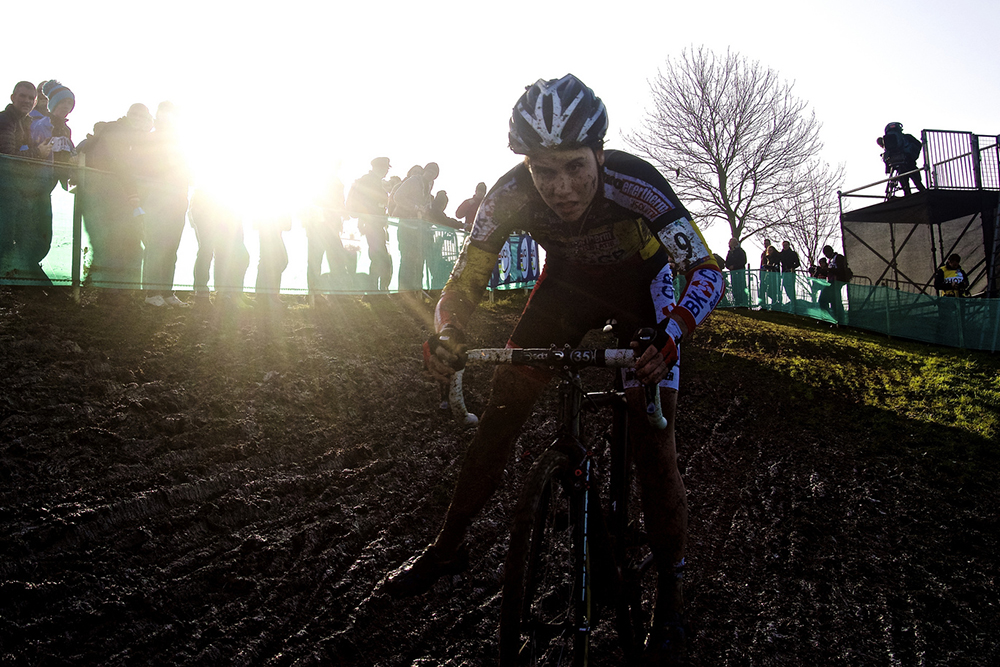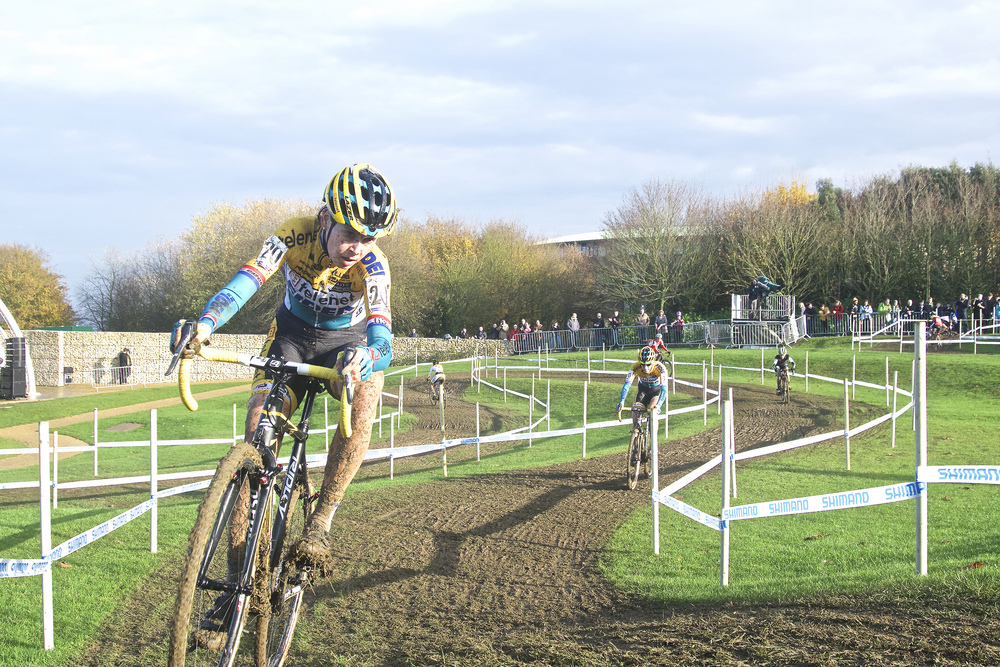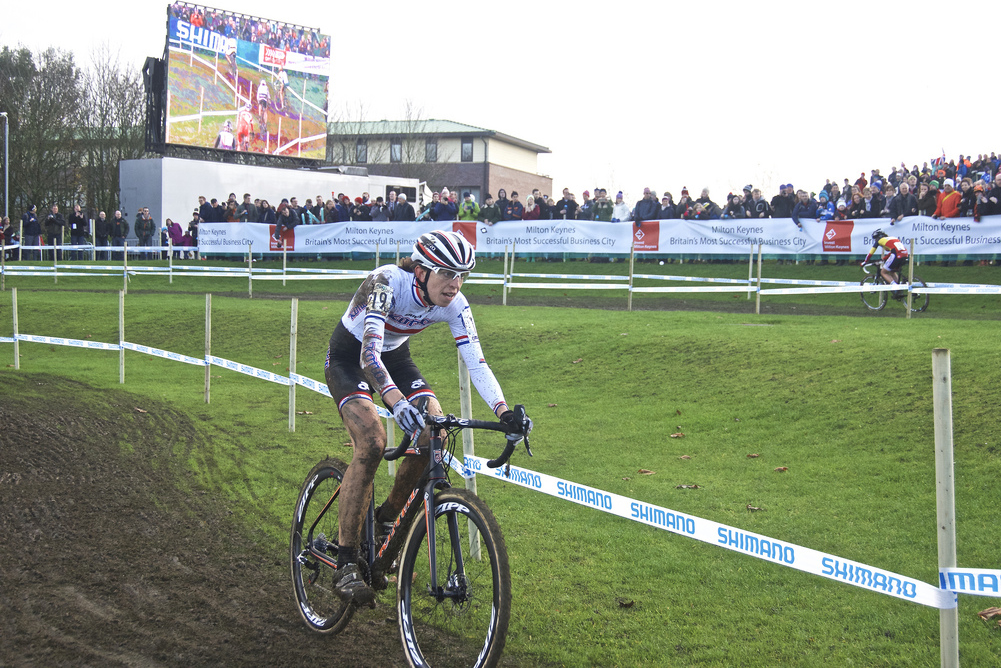 At the start of the second lap Cant opened up a small lead as Compton joined the five-rider chase group, moved through into second place quite easily before bridging alone to Cant. The pair quickly moved away from the rest as the winter sun came out and they pressed on into the third lap with Wyman, Van Loy and Harris chasing at 11 seconds.
A mistake by Wyman allowed Harris to move into third place, tracked by her team mate Van Loy, as Compton hit the front for the first time. All the riders were being forced into small mistakes by the conditions and as Harris pushed hard she slipped and Van Loy closed on her.
A two-rider race
With two laps to go it had become a two-rider race as Compton and Cant led Harris by 16 seconds with Van Loy two seconds behind her and Helen Wyman in fifth at 34 seconds. The World Cup leader Sophie de Boer was down in twelfth place over a minute off the pace.
Cant retook the lead but there was no shedding the American champion Compton however hard she tried as Harris began to make third place her own.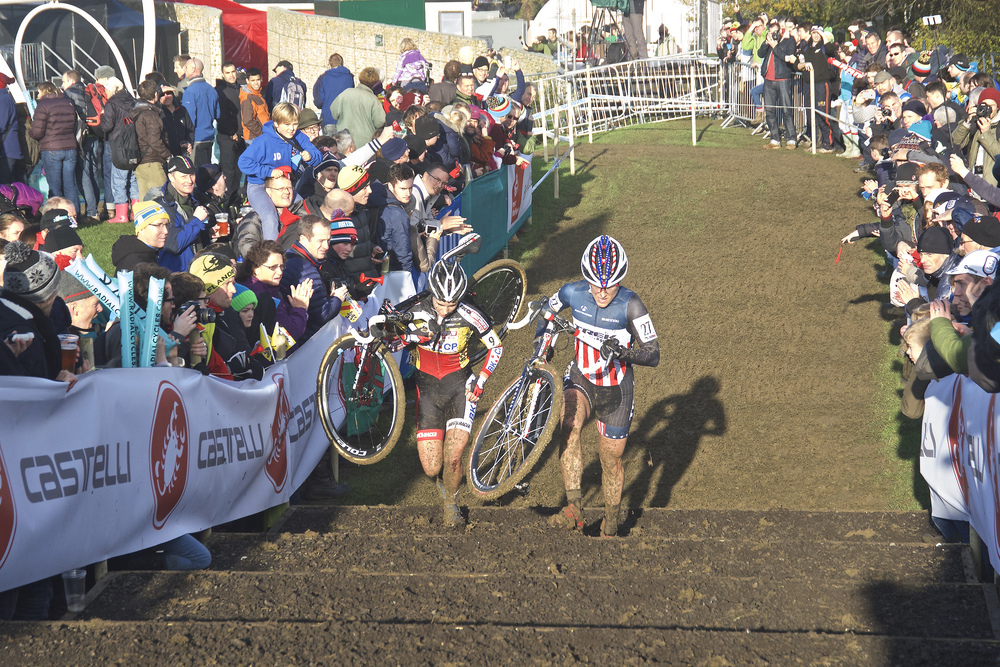 At the bell the two pre-race favourites were still locked together with Harris now at 20 seconds and Van Loy at 28. It was Cant who led across the long off-camber running section showing the renewed confidence that she's gained from a recent unbeaten run of six UCI race wins. Compton on the other hand missed much of November's racing through illness and suffered badly from asthma in Koksijde a week earlier.
The large crowd were not going to see a home winner, but were being treated to a fantastic battle between the Belgian champion from the 'First World' of 'cross and the American champ from the 'New World' of cyclocross.
Cant and Compton continued to exchange the race lead several times around the final lap before Compton opened up a small lead after the steps away from the podium bowl. This looked like the winning move as she gained five metres only for Cant to close it again down the finishing straight.
It was the closest of finishes as the Belgian flung her front wheel across the line to pass Compton in the final metres throwing her arms up in celebration.
With Dutchwoman De Boer finishing in 16th place, Cant also took the lead in the World Cup series ahead of Compton and Harris as De Boer fell to fifth.
I gave it everything I had but Sanne had such a good kick - Katie Compton
A contented rather than downhearted Katie Compton said afterwards, "I was happy especially after last week (Koksijde), I gave it everything I had but Sanne had such a good kick. I tried to be consistent, I pushed a couple of times but it was hard to attack because you could crack and perhaps lose it."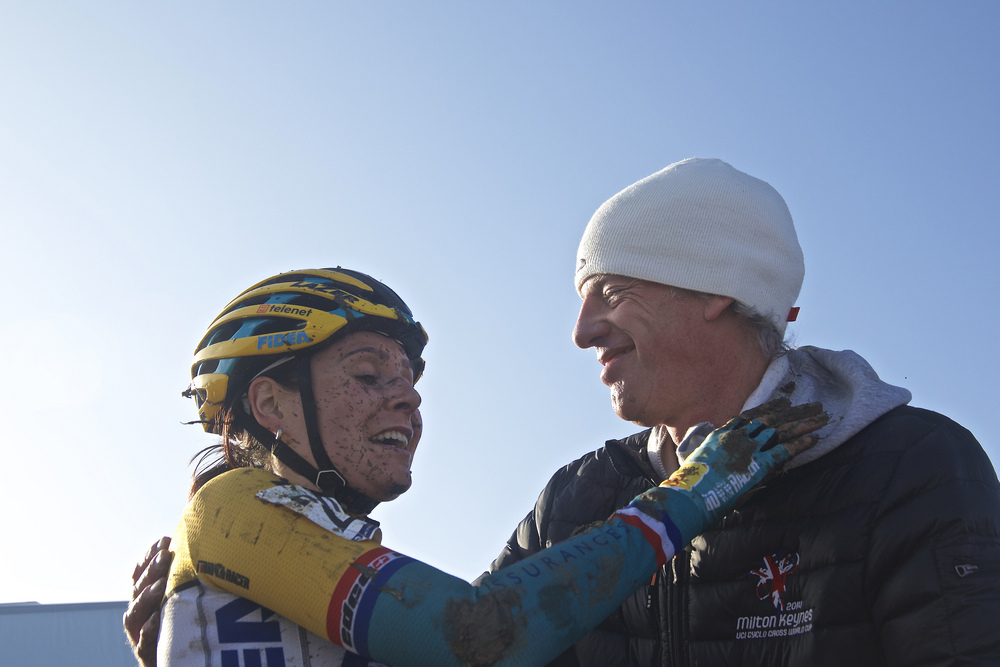 Nikki Harris is congratulated by event organiser Simon Burney.
Former British champion Nikki Harris was naturally thrilled after the race and told reporters, "It was unbelievable - the support all the way around the course was something I thought I'd never experience in my cyclocross career - it's such an honour and I'm so happy to get a podium. Third was the best I could do in the end. The hardest part," she added, "was the running, it really got to you because it was off camber. The start was a bit mental, but I decided to take the bottom line and I got a good start and that really helped my momentum."
"Today just shows how many British people like cycling and it's great that they came out to support us." Harris concluded.
Results: 1 Cant (BEL); 2 Compton (USA); 3 Harris (GBR); 4 Van Loy (BEL); 5 Chainel-Lefevre (FRA); 6 Caroline Mani (FRA); 7 Antonneau (USA); 8 Wyman (GBR); 9 Lloyd (USA); 10 Mikulaskova (CZE)… 12 Miller (USA); 17 Crystal Anthony (USA); 19 Durrin (GBR); 25 Maghalie Rochette (CAN); 26 Amira Mellor (GBR); 28 Adela Carter (GBR); 30 Mercedes Pacos Pujado (ESP); 31 Hannah Payton (GBR); 32 Ffion James (GBR); 37 Christine Vardaros (USA); 38 Annie Simpson (GBR).
Overall standings (after 3 rounds): 1 Cant 148 points; 2 Compton 132; 3 Harris 110.