Re-run of race coverage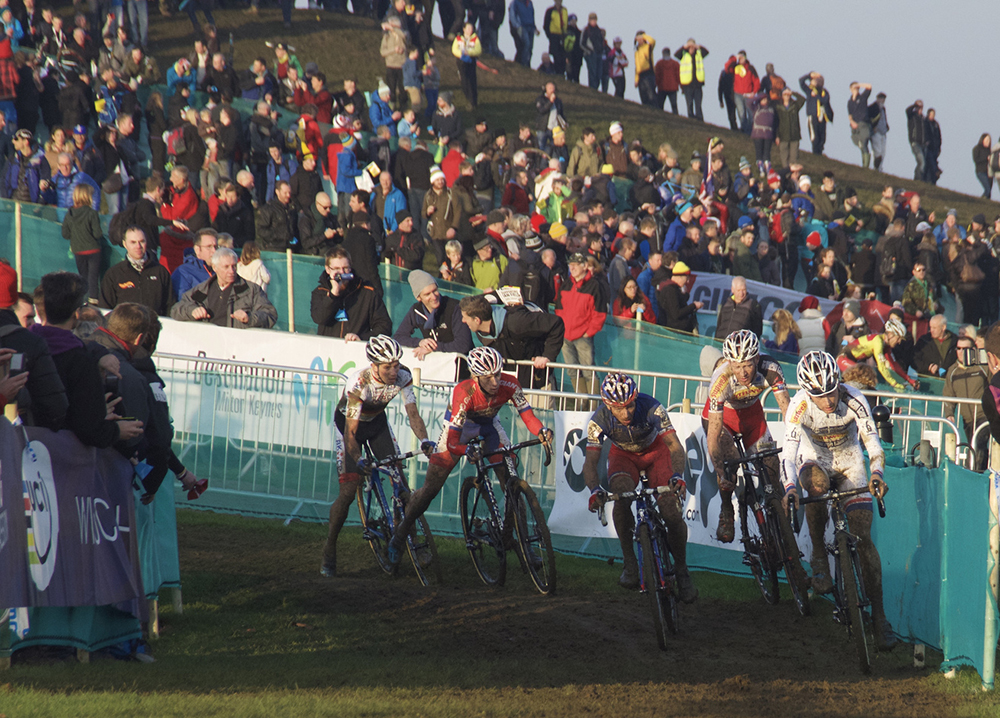 WORLD CUP leader Kevin Pauwels outsprinted his Belgian and trade team mate Klaas Vantornout to win the historic Milton Keynes round of the World Cup in Campbell Park today. The victory strengthened Pauwels' grip on the overall leader's white jersey as his nearest challenger before today Tom Meeusen could only finish seventh and drops to fourth in the standings.
Pauwels admitted that he was not sure of victory going onto the Tarmac finishing straight in a head-to-head against his team mate Vantornout whose sprint is perhaps the only weak point of his game. "I wasn't so strong in the sprint," said Pauwels after the race, "I put in a lot of effort to keep pace with Klaas in the closing stages. It was a good race and a great atmosphere." When asked if he thought his lead of 35 points would give him the World Cup title this season, Pauwels replied, "It's not finished yet – there are still three races to go."
Runner-up Vantornout – the better English-speaker – was even more glowing in praise for the Milton Keynes organisation, "It was a very nice track with technical zones, running and requiring a lot of power. It was top, super and I hope we come back next year. Everyone was so excited and the atmosphere was similar to the World Championships in Louisville."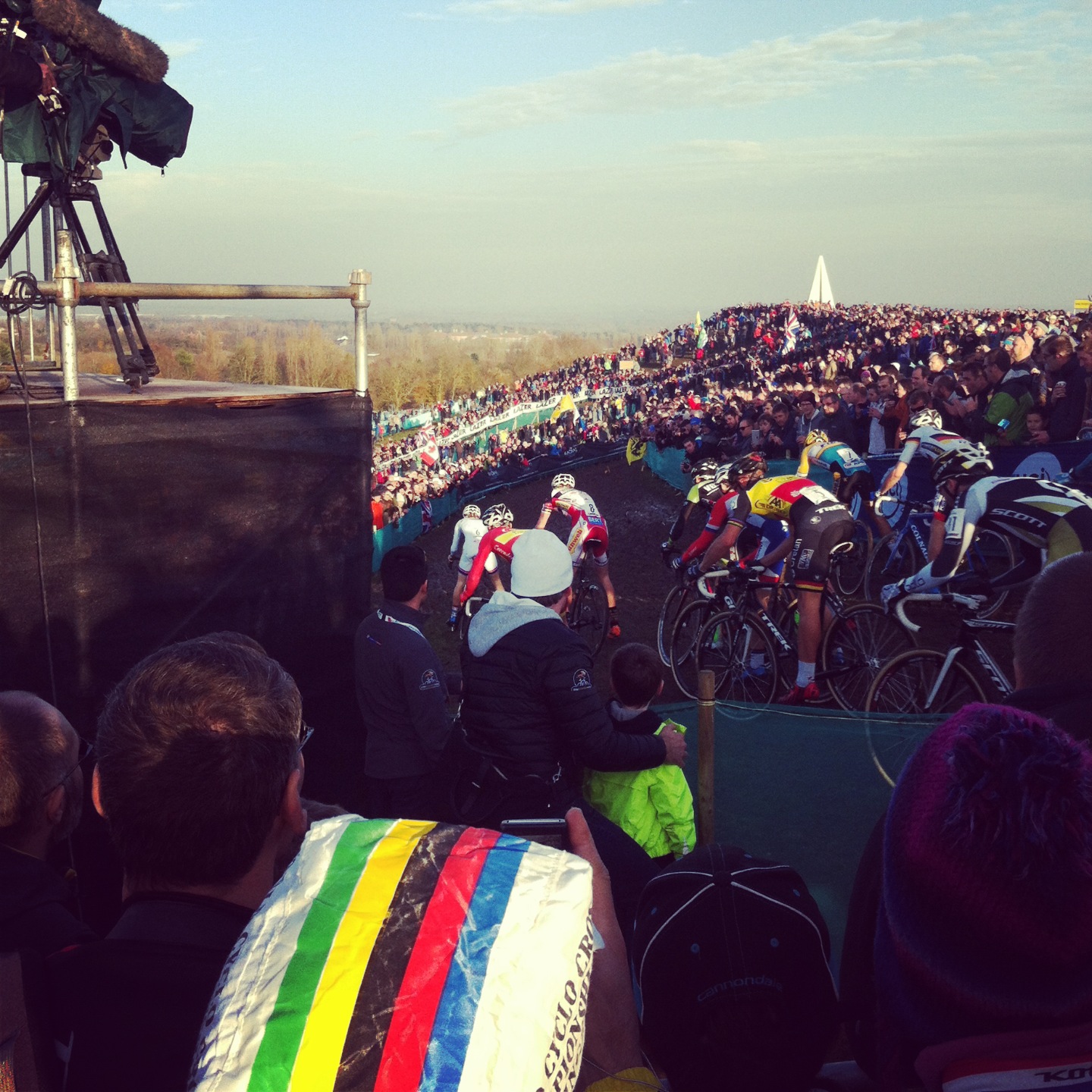 There was a big crowd waiting eagerly on the hilltop spine of Campbell Park as the men charged towards the technical opening corners. The very first corner had been studied at great length by most riders as it dropped downhill and off camber straight after the turn before a right angle turn back uphill.
The eventual winner Pauwels was the leader onto the opening tricky offroad camber (above) and within the first minute or two of the race the day's big drama had unfolded. Belgian champion, and crowd favourite (aside from the Britons lead by Ian Field), Sven Nys had lost his chain and struggled to refit it losing twenty or more seconds before remounting which put him almost dead last of the 56 riders on the start list.
Nys' chances of winning had evapourated
Effectively Nys' chances of winning had evapourated on the first passage of the Campbell Park hillside as at the end of the first lap he was back in 36th place and 34 seconds behind a Lars van der Haar led front group. British champion Ian Field had got a great start and was up in 16th place just nine seconds behind the leader.
German champion Philipp Walsleben led for most of the second lap as noticeably Pauwels stayed withing striking distance with Dutch champion Van der Haar behind him. On the third lap of the eight lap race Walsleben and Pauwels were exchanging the lead as Van der Haar made efforts to make contact. Nys was up to 24th place but he was no closer to the leaders – still over half a minute behind.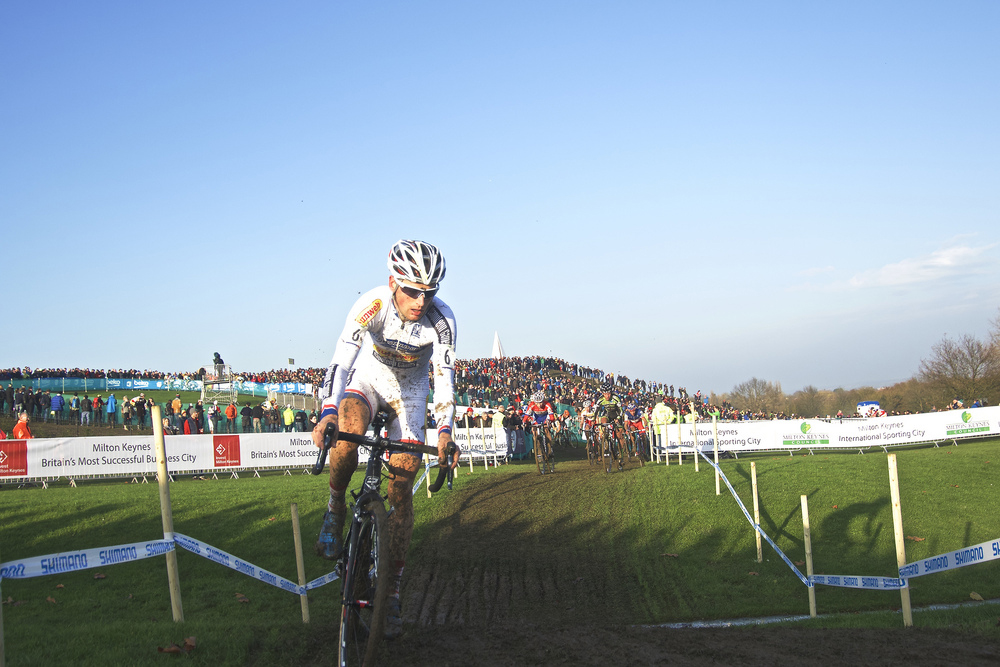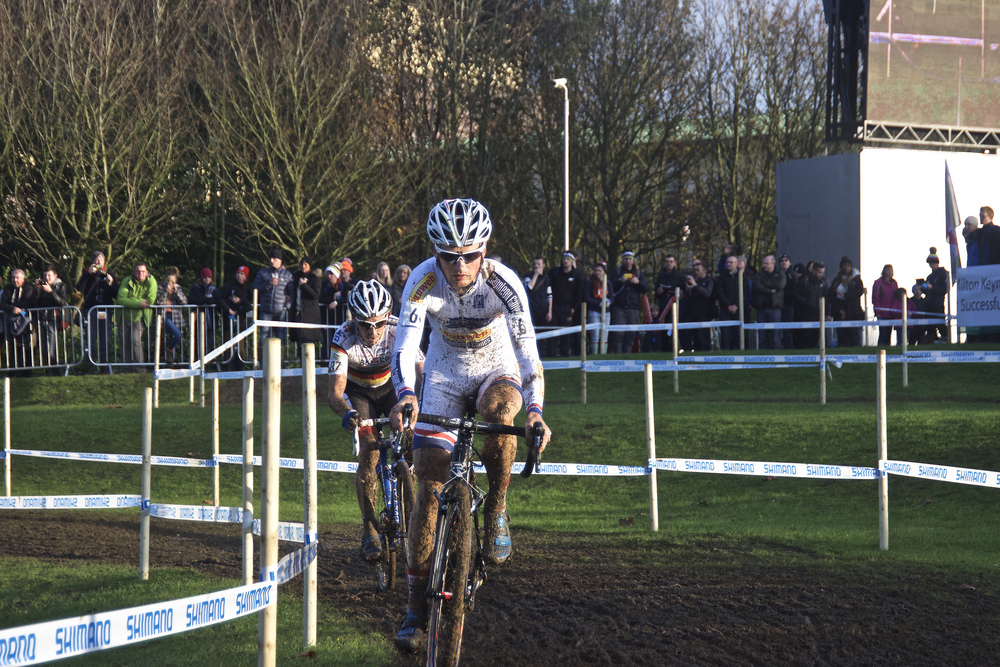 Francis Mourey the French champion was noticeable in a big bunch of ten chasing riders as Pauwels took the lead again with 18 minutes of the racing gone. Behind Pauwels the order was: Walsbelen; Van der Haar; Sasha Weber; Mourey; Tom Meeusen; Corne van Kessel; and Vantornout with Brit Ian Field tantalisingly close to the back of the big group.
Approaching halfway Field had climbed to 13th place some 22 seconds off the leaders. Van der Haar was the next race leader as Nys continued his move through passing riders easily especially over the numerous running sections.
The lead group was now five strong – Pauwels; Walsleben; Van der Haar; Mourey and Vantornout, but they appeared to be looking at one another and as Meeusen and Van Kessel looked to get back into the race perhaps there was still a glimmer of hope for Nys. The Belgian champion (below) was just outside the top ten and moving through.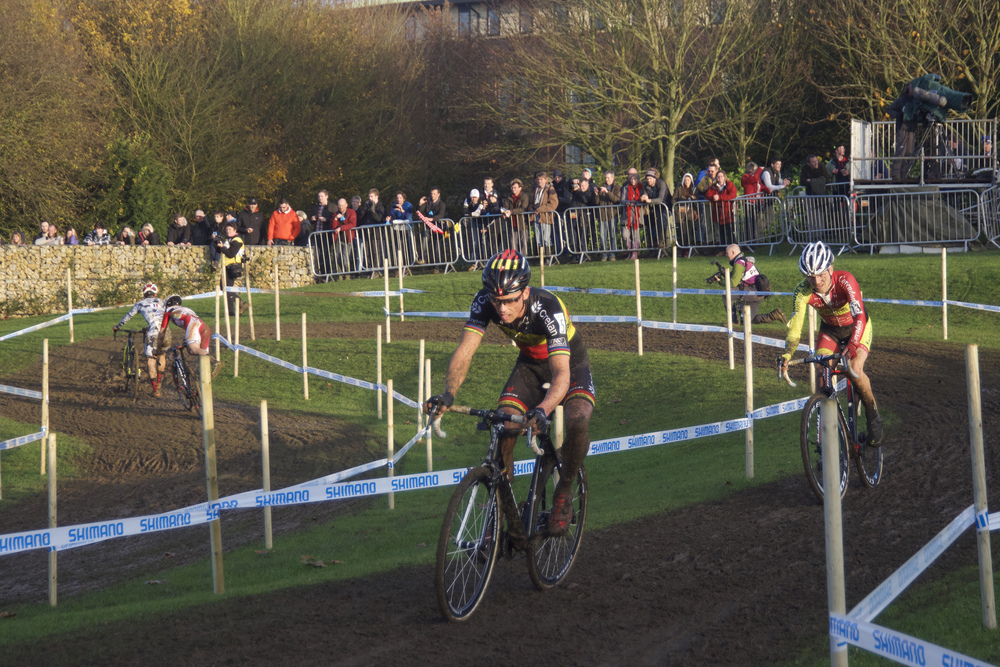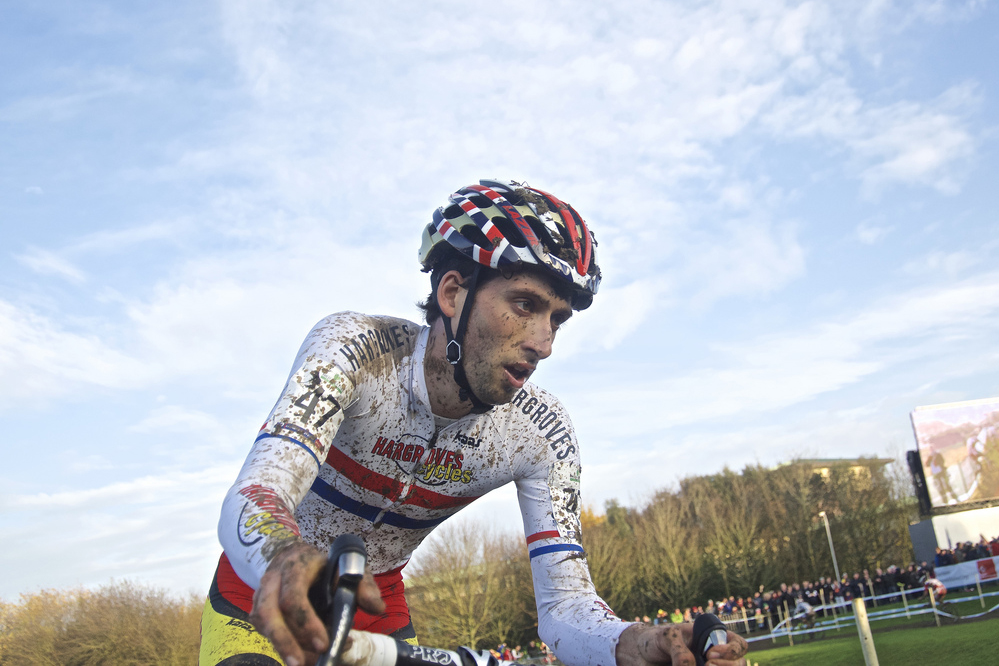 Vantornout explained the hesitancy afterwards, "I waited in the early stages as it was not the kind of course to go into the red early on." Francis Mourey was a big fan of the Milton Keynes course saying afterwards, "When I saw the course – it's similar to many French Cup races – I decided that the podium was my target."
Mourey took the lead at halfway with four laps to go but there were still seven riders in contention. Nys had got past Ian Field (above) and was up into 11th place and now 24 seconds behind the leader - still perhaps a not insurmountable gap. Riders were beginning to tire and make mistakes – Walsleben lost his front wheel and Van Kessel slid into the barriers behind him on the offcamber and Nys was still picking off riders one by one.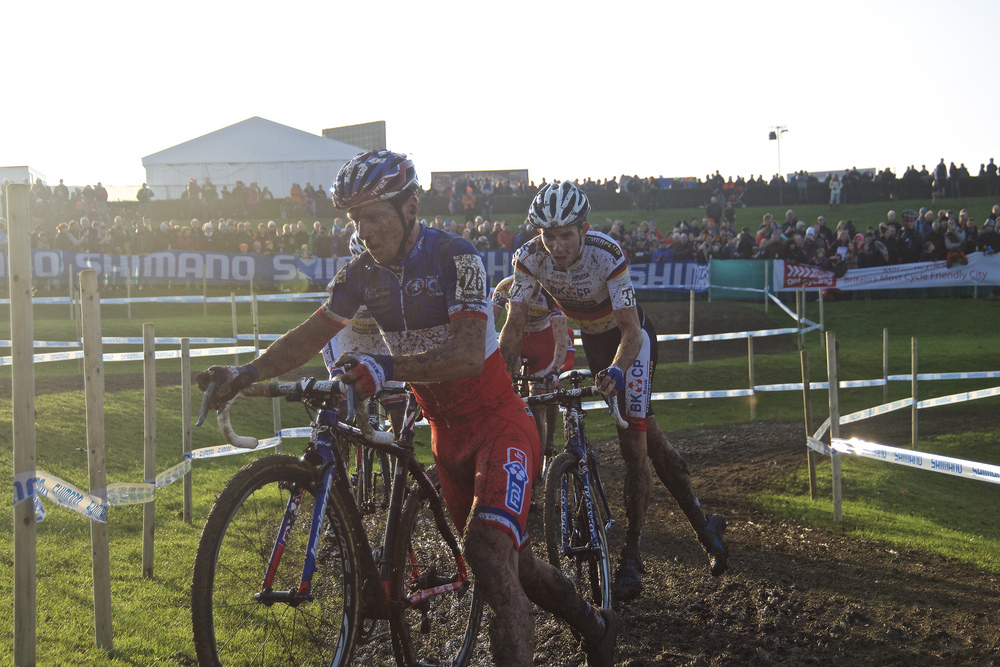 Mourey continued to push at the front with only Pauwels, Van der Haar and Vantornout in close touch. Even as a small group of four they looked to be holding each other up in the slower corners (above) and perhaps losing time to Nys now in eighth place. The truth was that Nys was gaining, but actually by only one second per lap.
Pauwels was the next to fall as the leaders teetered down the worst off-camber that even Nys had trouble with – bouncing down it and almost losing control. On the long cambered section that turned into a run it looked very much like a seasoned 'old school' type course with the long straight providing a memorable TV image of a long stream of running riders.
They were soon into the last quarter of the race and with two laps remaining the riders completing the top ten were: Meeusen in fifth; then Van Kessel; Nys; Bart Aernouts; and Rob Peeters. Ian Field was in a battle just outside the top ten with Frenchman Fabian Canal and American Jonathan Page. American champion Jeremy Powers had fallen on the first lap and was not riding well down in 24th place and two minutes off the pace. Afterwards Powers had no real excuses telling reporters, "I'm not super happy. I lost 45 seconds on the first lap – it was a really hard course, a real challenging track requiring a lot of power. Sven was down with me and he got back in the race but that was just my level today."
Mourey pushed the pace on the penultimate lap but could not shake anyone off as Tom Meeusen remained in contention in fifth. The soft and sticky surface and challenging course was making Milton Keynes one of the trickiest courses that the Euro pros had faced this season.
At the bell, Nys was still 18 seconds behind and his hope of salvaging a podium place had gone as Klaas Vantornout hit the front for the first time. Mourey and Pauwels both stumbled on a dismount as the conditions forced even the very best into minor mistakes. Pauwels however was able to bridge up to his team mate and the winning move had been made as they put daylight between themselves and Mourey and Van der Haar.
Mourey said afterwards, "I pushed it hard on the penultimate lap, but didn't get away and lost contact on a cambered section. After that I decided to preserve a podium spot." And that he did finishing third.
The leading pair exchanged the lead into the final half lap and Vantornout opened a small gap up a running climb but it was not enough. He led onto the finishing straight only for Pauwels to come charging past to take the win as behind then Mourey took the last podium spot 15 seconds behind.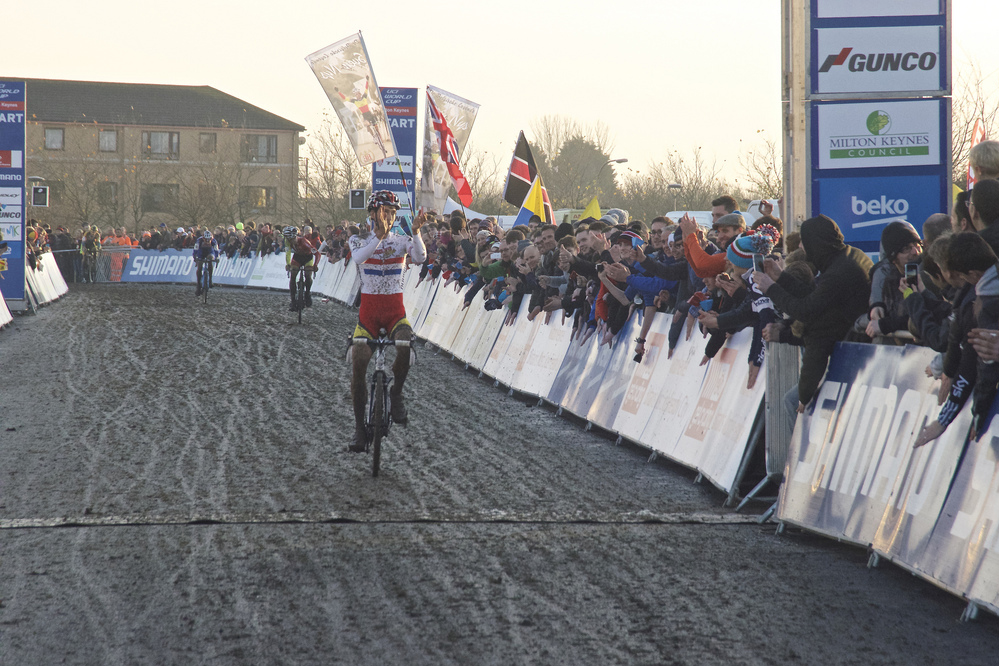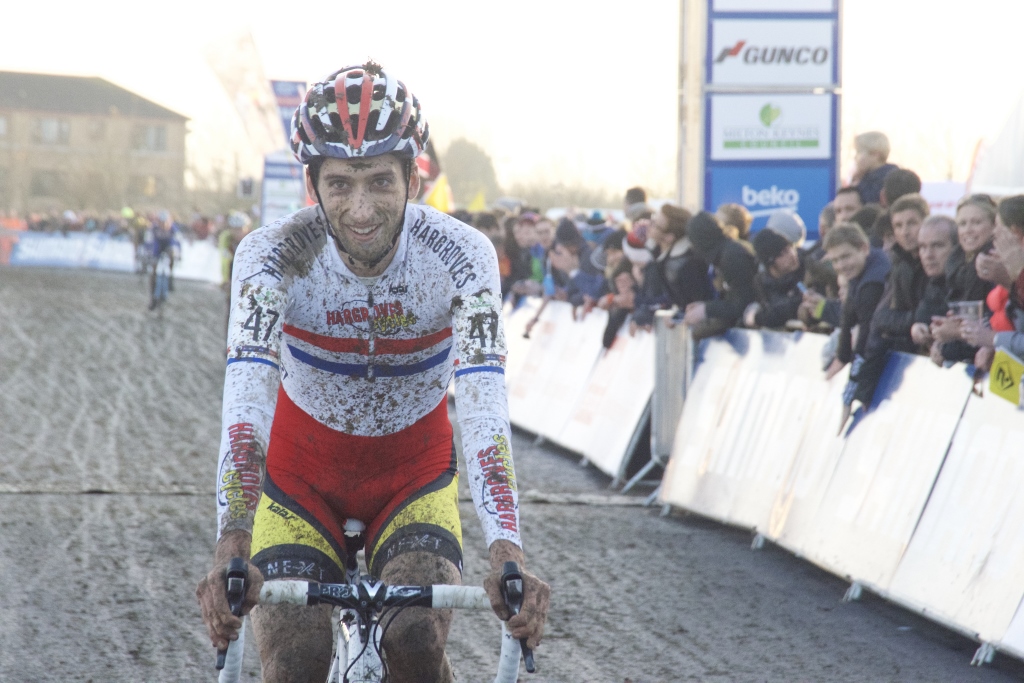 Nys remained in eighth waving to the crowd on the finishing straight before an emotional Ian Field (above) crossed the line in 12th place arms aloft in appreciation of the tremendous home crowd support that he and his compatriots had received.
It was a brave ride by Belgian Rob Peeters who finished in tenth place and whose father had sadly passed away on Thursday. Niels Albert told me after the race that, "Rob rode very well. We put no pressure on him to race, but he wanted to ride."
I would be happy to come back (to the UK) - Klaas Vantornout
The Milton Keynes organisation hope to bid for another World Cup round next season and the venue was certainly very well received.
Francis Mourey said, "I would be happy to come back." Klass Vantornout, when asked about the travel to the UK, said, "For me it's not so far. It's only 100km to Calais, but tomorrow we race again in Belgium so that will be hard, but I hope that I can return next year."
Results: 1 Pauwels (BEL); 2 Vantornout (BEL); 3 Mourey (FRA).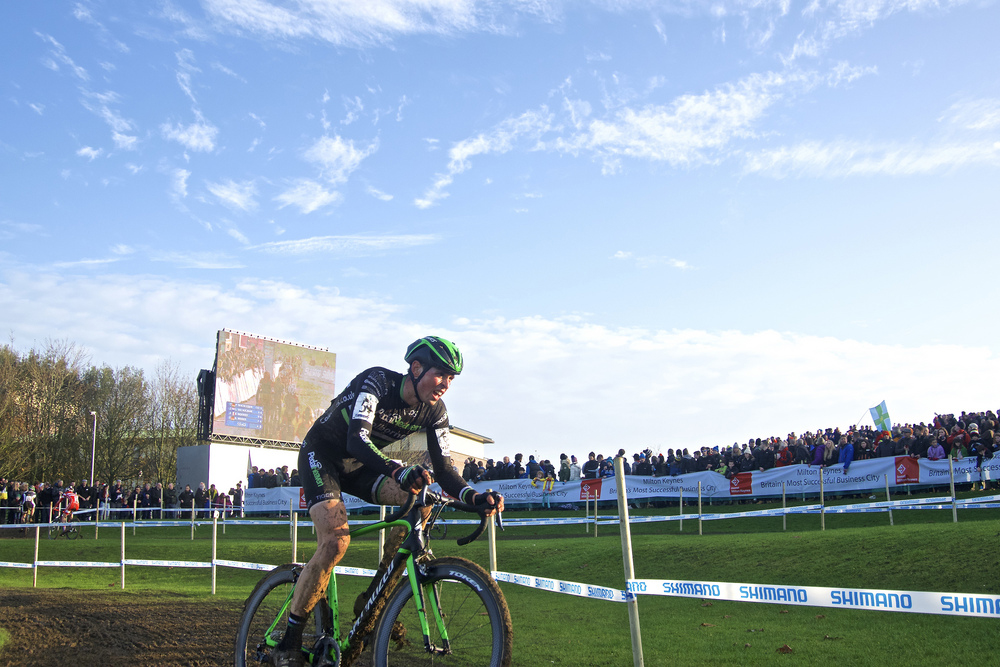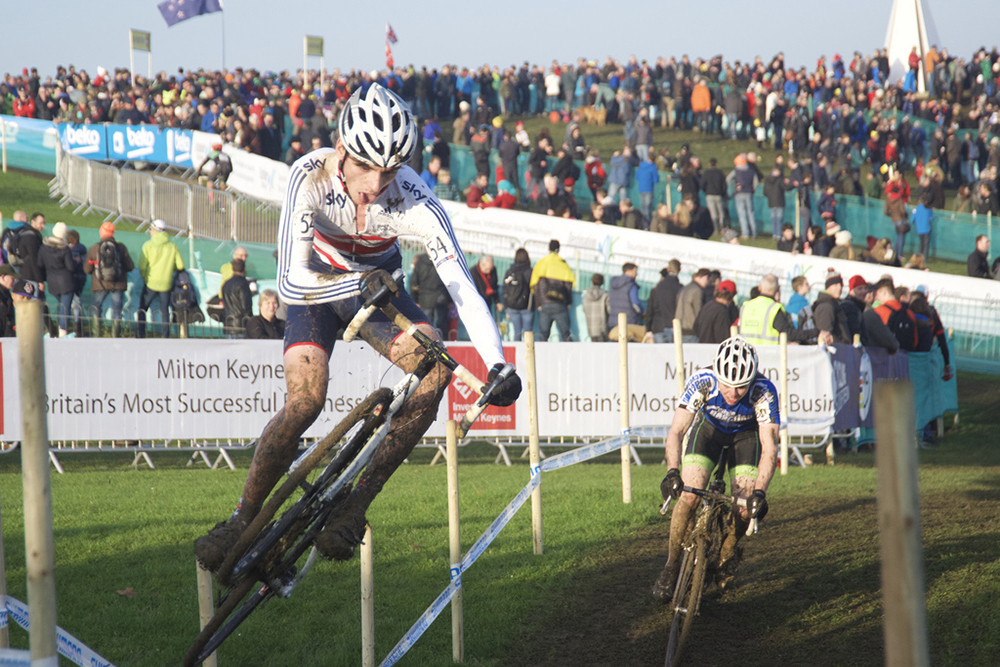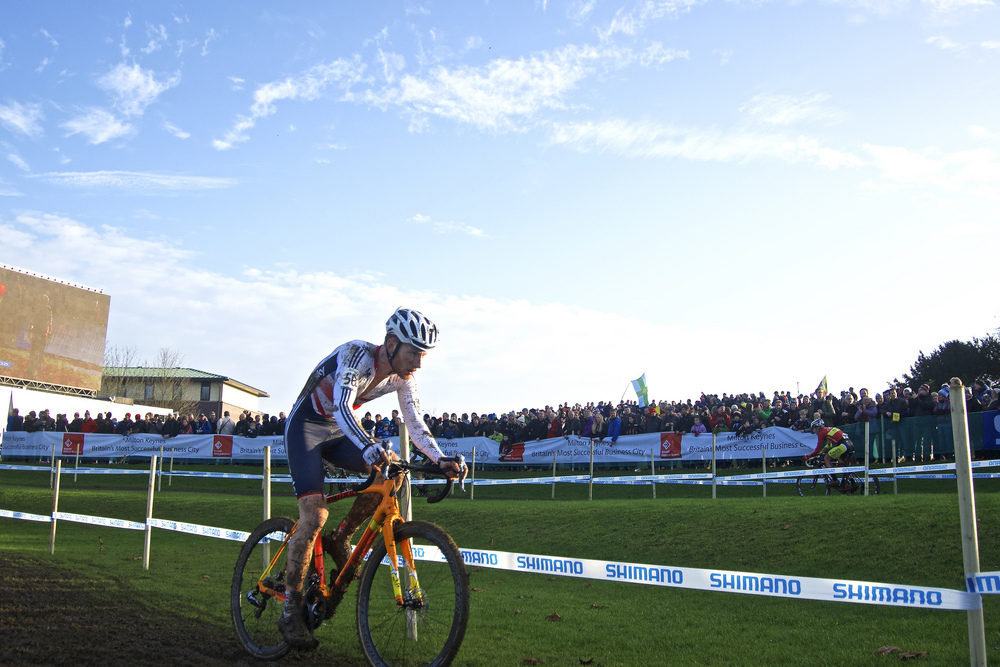 Alex Paton (top), Jack Ravenscroft (middle) and Ben Sumner were among the British riders in Milton Keynes.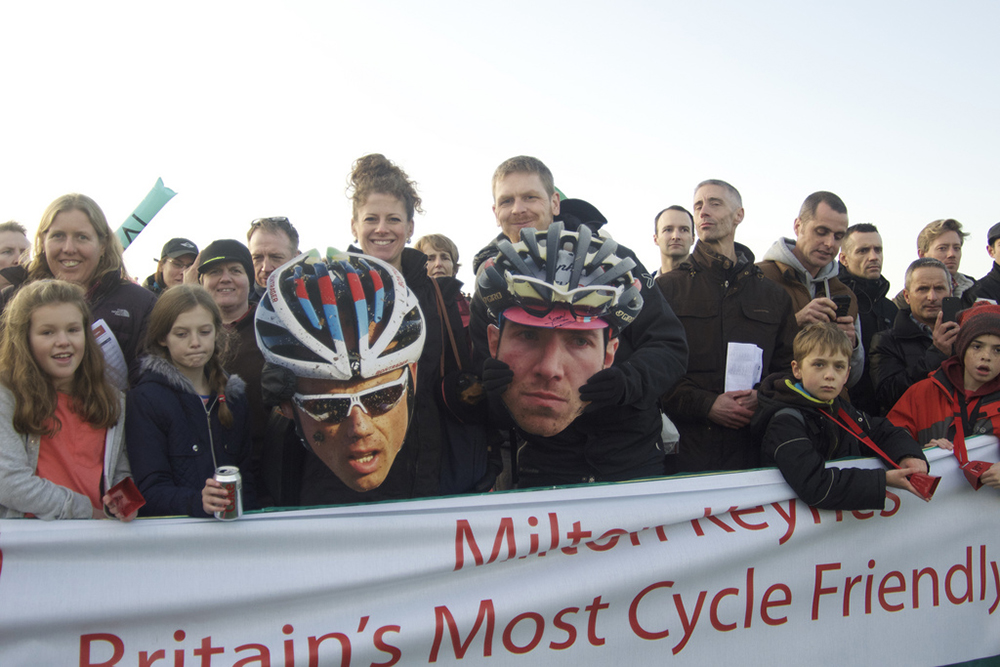 Fans with Sven Nys and Jeremy Powers cut-outs amongst the large crowd.
Photos: © Paul Burgoine (& Konrad Manning).
Apologies for the slight delay in our race coverage this weekend (we were active on twitter and Instagram), but it was a busy weekend for the Cyclocrossrider team. We had a presence in the Milton Keynes Expo Village (thanks to the large number of you who came and said hello!) and, on top of that, editor Konrad Manning 'raced' the UK National Trophy race on the Sunday morning. We'll continue to catch up and will add more photos and quotes to our weekend coverage during the coming days. What a weekend!