THIS weekend's grand finale to the 'cross season is looking very enticing. The new Swiss airfield track is an unknown, but I'm expecting something similar to the flattish Danish race course at last year's Championships – a circuit that looked unpromising but delivered a weekend of fantastic racing.
Under-19 – With Helen Wyman's view
First up we have, for the very first time, a junior event for women, officially the Under-19s. Like the inaugural Under-23 race just four years ago in Zolder, where Evie Richards (GBR) won, this is probably the hardest to predict as these riders haven't had many stand-alone races to compete against each other.
Former European and British champion Helen Wyman has helped ensure a few Under-19 races have happened in Europe the last couple of seasons and she follows these riders closely, so here's Helen's own view on the race: "I think it's going to be between Shirin Van Anrooij (NED) and Puck Pieterse (NED) as they have been the best so far this season. Shirin was 7th in the elite women's race in Hoogerheide last weekend, so clearly on form. Then outsiders would be the USA girls Maddie Munroe and Lizzy Gunsalus - both won rounds of the Helen 100 trophy series. After that the British girls Anna Flynn and Millie Couzens were really good at the Euros and Couzens has been on a Great Britain training camp for track I think so should have some good form." Helen also points out that, just like a Junior men's race, "anything could happen!"

Latest updates on this category from Helen can be found at helen100cx on Instagram.
Under-23 – Alvarado moves up
Now that we have four women's Under-23 World Champs under out belts we have a better understanding of this category. And although these riders still have to compete with the elites at World Cup level, it's fair to say that they have held their own pretty successfully this year, especially Dutchwoman Ceylin del Carmen Alvarado who has opted to race in the elites this weekend.
First out of the blocks early season was Anna Kay (GBR) with two U23 podiums in the American World Cup rounds and she went on to place 3rd U23 and 8th overall. More recently she's been a bit off the pace but the Dübendorf track may well suit her racing style, she can hold the wheels and power to weight could be Anna's (below) advantage here. However, she faces stiff competition from the Nederlands generally and her own team-mate Manon Bakker (NED) specifically.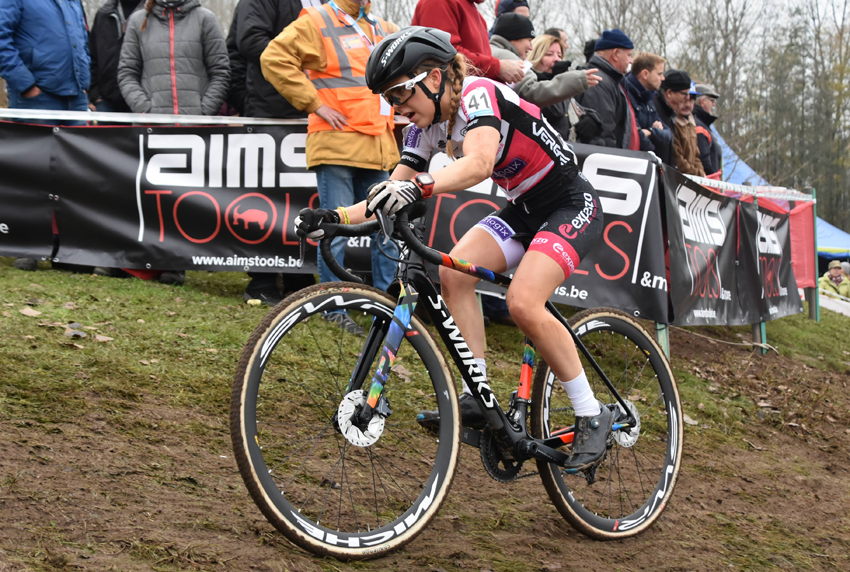 Photo: Geert Nachtergaele.
The race favourite though has to be Inge van der Heijden (NED), not only for her excellent performances all season, but her outright speed, rapid starts and road racing will probably suit this weekend's racing well, as it proved last year in Bogense, Denmark - she is the defending champion so knows just how to win this race already. Other riders who may feature in the running are Katie Clouse (USA), Ruby West (CAN) and yet another Anna Kay team-mate in Marion Norbert Riberolle (FRA) who recently secured the elite French title along with her British counterpart Hattie Harnden, the new British elite champion.
Elite women – Cant versus the Dutch
Finally, we get to the elite racers. Let's start with the Under-23 upgrade Ceylin del Carmen Alvarado (NED) who, but for that last lap wobble, would have won the elite World Cup series outright. Her racing this season has been imperious, combining superb technical skills with power and determination as evidenced by the (messy) Ronse and (tricky) Brussels University courses for excellent examples of her ability. Riding for the same team as Mathieu van der Poel, she has shown some uncannily similar qualities. Ceylin also won outright the Dutch national championship, which is almost a de facto World title these days.
Technically only Sanne Cant (BEL) has been her superior this season, though the current World Champion hasn't quite had the speed to match some of her rivals... yet. But this course looks to have fewer technical features to help make Sanne's strength count. The same however could be said of last year's Danish circuit so let's not be too hasty in ruling the defending champion Cant (below) out, and third spot at Hoogerheide bodes well.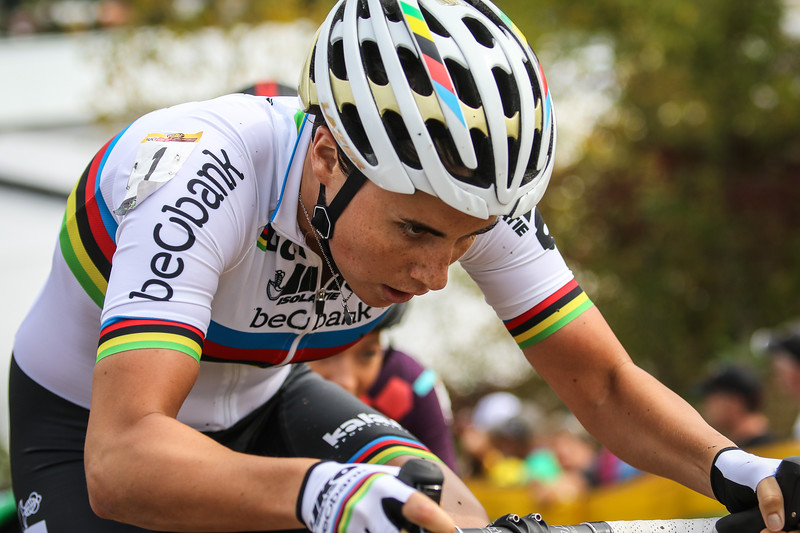 My bets though would be on Lucinda Brand (NED) to win, she's clearly the strongest rider and her only weakness is the occasional technical faux pas, she had the same crash as Alverado at Hoogerheide, but hers was early in the race and she appeared to easily catch back up with the leaders. Her sprint finish is class leading too, so other riders will need to distance her to win.
"I felt physically very strong today," Brand told her sponsors Trek bikes after Hoogerheide. "It looks like it will be an exciting race at World Championships next week. In that respect, this victory is very important for confidence."
I think we can expect a more of a bunch grouped race, so we should also throw into the mix the World Cup series winner Annemarie Worst (NED), who has shown speed, technical agility and race winning tactics all season long. It wouldn't be such a surprise if Worst added an elite rainbow jersey to her Bieles Under-23 title from 2017, won in some in frozen, highly technical conditions (below).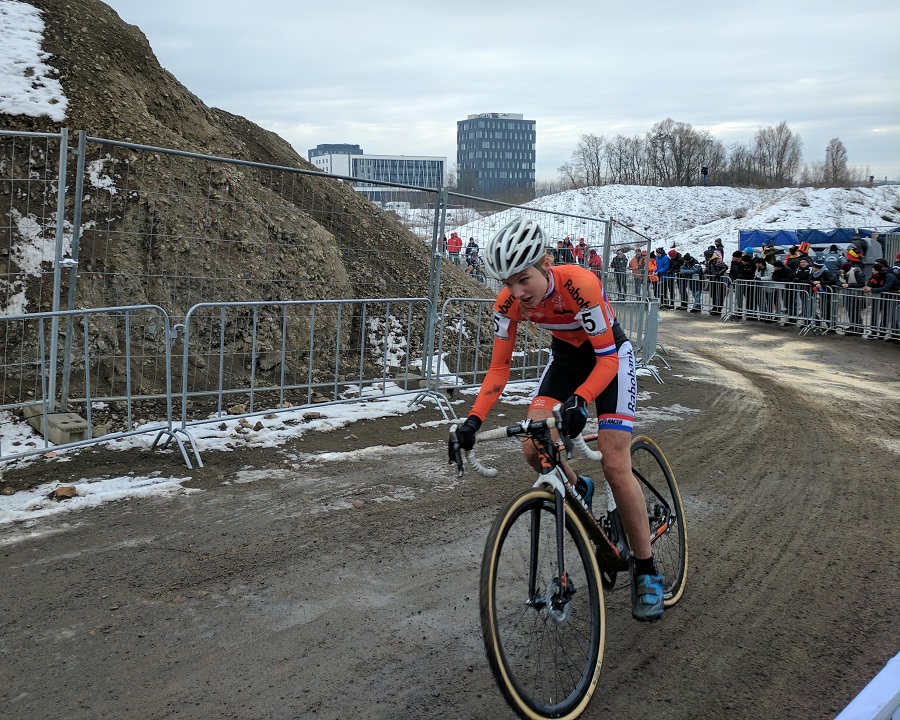 Other riders I'd expect to see in that front group are Yara Kastelijn (NED), the current European title holder and Evie Richards (GBR) who demonstrated her return to form last weekend as well. Finally, I'm going to give Katie Compton (USA) a nod as she's has a superb season which is gathering momentum and on a good day, she may well be in that leading group also if she can get herself off to a flying start.
The racing all kicks off at 11:00 CET on Saturday with the Under-19 women, many regions (including the UK) can watch via the Red Bull TV website or the UCI feed. There will be some coverage on the BBC Red Button but not necessarily all races or live - details here. Failing that, consider getting yourself to Dübendorf for the weekend!
Don't forget to follow our CYCLOCROSSRIDER Facebook (and other social) for updates over the weekend.
.....

Support our Partners
Browse Specialized CX Bikes HERE
Browse other CX Bikes HERE
Browse CX Bikes from £849 HERE
Browse Kinesis CX framesets HERE
.....