SVEN NYS is the biggest name in cyclocross and his palmares in the sport is simply staggering. Four World titles (two senior and two at Under-23); nine Belgian senior titles; thirteen Superprestige series awards; over 300 professional race wins; and the list goes on.

I'll make no bones about the fact that Sven's attacking racing style, technical mastery and dominance over the tougher parcours has made him the rider that has excited me the most in my years of following 'cross. I know that I am not alone.
For older readers familiar with the golden era of middle-distance running, Nys has both the finesse and speed of Sebastian Coe and the raw power, edge and aggressiveness of Steve Ovett – and that's a devastating combination.
Despite advancing years – he is 38-years-old – Nys is still holding off younger riders and winning important races. In January 2013 he won his second elite World Championship title (his first was in 2005). Last season he won 16 of the 35 races he finished – that's a pretty good average by anyone's measure.
An unwell Nys finished 15th at Koksijde.
Form crisis?
Nys' form in recent weeks has however been a little indifferent and it has revealed that perhaps he is not the almost invincible rider of the past few seasons. There have been four race victories and five other podiums places this season, but the way he lost the Koppenbergcross and in Zonhoven the day after seemed to indicate a possible turn of fortune for Nys. Having said that in only three races this season has he finished outside the top five (not including two retirements in Valkenburg and Overijse).
It's also clear that some of Sven's recent results – particularly the Koksijde and Spa-Francorchamps weekend - were affected by a bout of illness and any long winter season is bound to have a 'blip'. After that weekend (15th place in Koksijde and 8th in Spa) Nys was prompted to rebut certain Press remarks with, "I am ill, not old!"
New challengers
The 2013-14 season was pretty much dominated by Nys and his duels with Niels Albert. After Albert's premature retirement in May of this year though others have come forward to take up the challenge – Kevin Pauwels is having his best year since his impressive 2011-12 season and Wout Van Aert and Mathieu van der Poel are the two under-23 stars who are often able to take advantage of racing 'rested' whilst others like Nys tackle back-to-back racing double-header weekends.
It is going to be a hard pill to swallow, but fans will have to get used to seeing Sven lose more races.
It is going to be a hard pill to swallow, but fans (and the media) will have to get used to seeing Sven lose more races.
On December 9th, Nys reminded his followers on twitter (below) that losing is inevitable and as Michael Jordan pointed out in the quote Nys used to illustrate it, "I've failed over and over and over again in my life. And that is why I succeed."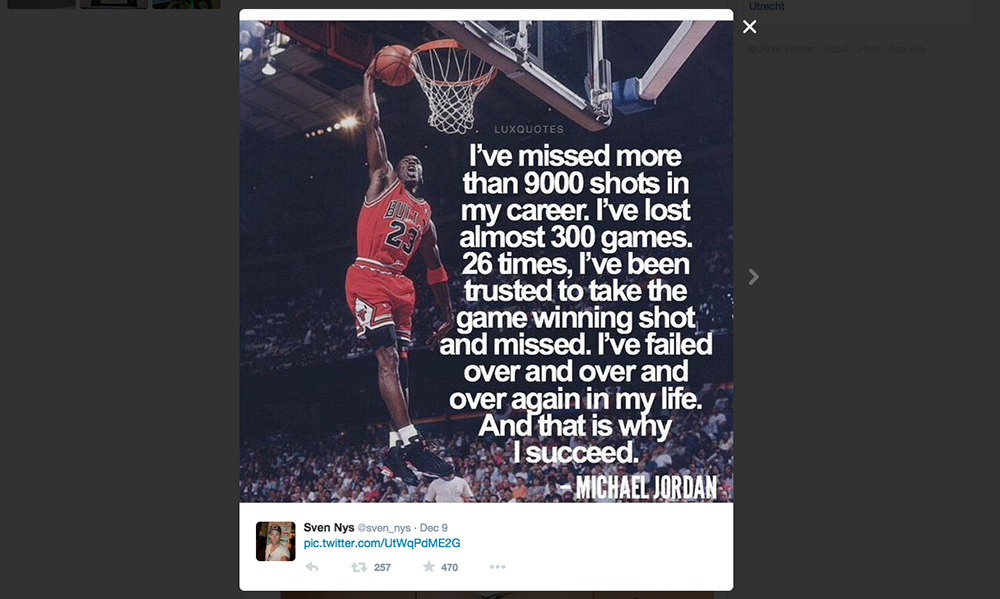 Working and recovering on Mallorca
Nys is currently on one of his regular mid-season trips to the island of Mallorca. He'll miss Saturday's Soudal Classic Scheldecross – a race he's won three times - and Sunday's C2-ranked race at Zilvermeer, Mol, but his key aim will to return to Belgium on December 19th fighting fit. Nys has undergone blood tests to determine if there is any underlying cause to his recent problems – the results however are understood to have revealed little.
Nys' team manager Jan Verstraeten was moved to comment after Overijse, "This is not normal," and that he "wanted to find out what was going on."
"We'll do our best in the coming days to find the cause of this poor performance," he added.
"It wasn't there, that's all I can say about it. We're going to look for the cause," the Belgian champion said briefly through a statement after retiring from the classic Overijse race (below) that he had won for the past four seasons.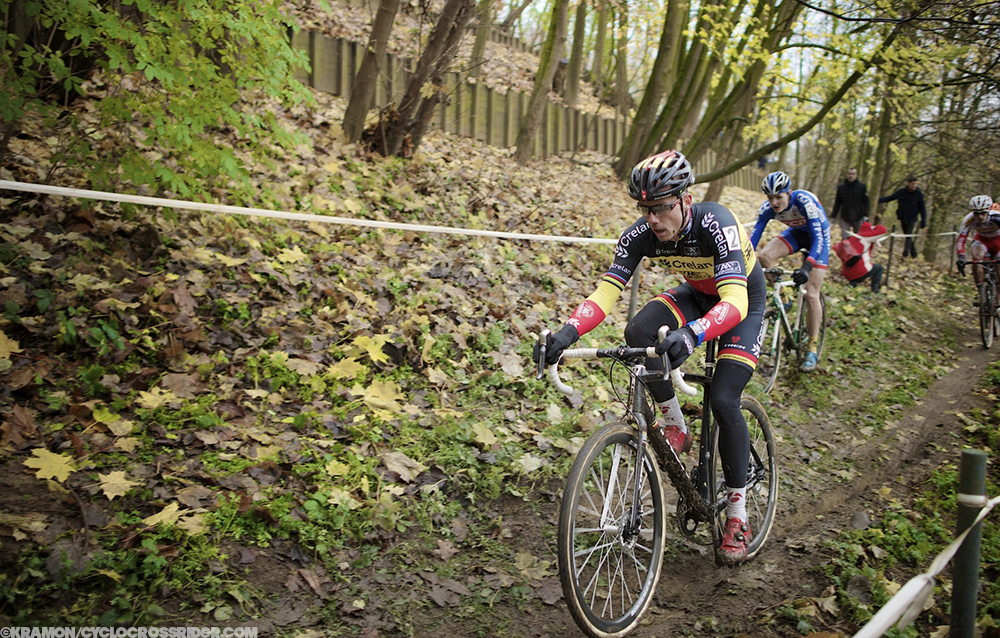 Verstraeten also told SportWereld that, "Sven has in recent weeks indicated several times that something is not right, that power, that extra punch is not there and after his performance today is very clear that there is something wrong. We have to examine him, find the cause and then develop a plan of action. Hopefully he'll quickly be back to normal."
Things are not as they normally are for Sven Nys on Mallorca though
The break on the Spanish island might be familiar but things are not as they normally are for Nys in Mallorca though. Earlier this year he announced that he and wife Isabelle were separating after twelve years of marriage and the apartment they had together near Port Andratx is now no longer at his disposal. Nys, it is understood, is staying in a hotel on this visit. Team mate Sven Vanthourenhout has also been unable to join Nys on this trip so it's believed that the Belgian champion has been training alone.
Nys denies that the marriage break-up is affecting his racing performances, telling the Belgian Press, "Up to now our divorce goes very well. Both Isabelle and myself have very mature response to the situation."
The 'cross season is long and arduous and it's hard to stay illness-free for the whole winter. This is not the first season that Nys has suffered an illness and in previous years more often than not he has taken a ten-day trip to Mallorca – recovered and trained there – and come back to peak form again.
There is good, yet uncertain, news from Mallorca this week, with Nys reported to have said to Press today (December 12th) that "The feeling is good" and "the investigation findings have revealed little."
Belgian media scrutiny
With cyclocross being such a popular sport in Belgium, Nys is the subject of weekly press interest and scrutiny. Another unnecessary diversion for Nys last month was a bizarre Belgian tabloid story about an alleged alliance with a male Belgian singer. Nys denied the rumours almost before the story broke and tweeted "All respect for gay couples, but a relationship with a man? No. Not now. Not in the past. Never." Following it with a more ironic post of "My girlfriend is Boone. It comes from America. It's fast, stylish and fits me perfectly" referring to the Trek Boone bike that he races on.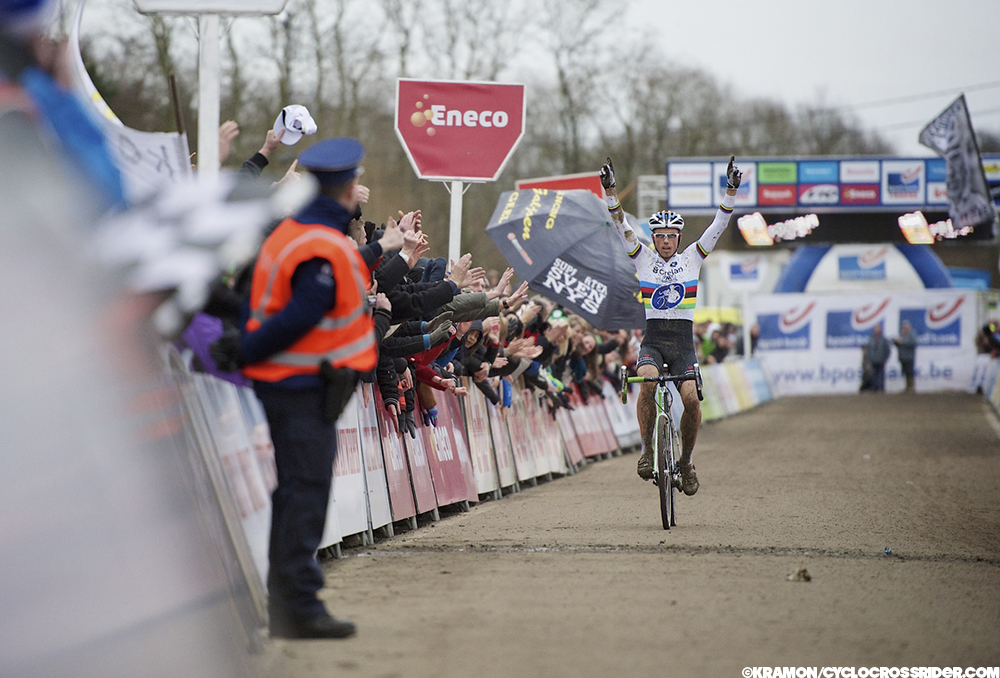 Happier times: Nys wins the GP Sven Nys on the new Trek Boone on New Years Day, 2014.
Retirement or Rio 2016?
There has been talk of Sven's retirement for several seasons now and his racing career has been extended more than once (currently he is expected to retire in March 2016). When the 2013 World Championships were awarded to the United States Nys seemed to decide that might be a significant end to his career, but then a new sponsorship deal, with American bike company Trek, breathed renewed life into it.
Nys told us, at the Trek event at the Milton Keynes World Cup that, "Mentally, I still feel twenty-four."
Maybe the Rio 2016 Olympics will be where I end my career - Sven Nys
He was also asked about whether he believed cyclocross would be accepted into the Winter Olympics and after saying "there was a long way to go" it led him to suggest that he could consider the 2016 Summer Games as his final target – a mountain bike race.
"Maybe Rio 2016 will be where I end my career," Nys said, "but let's see if we qualify first."
Belgium would first have to secure (up to three) places in the event by being a high enough ranked UCI nation in mountain biking and Nys would also have to be selected by Belgium from the half dozen mountain bike races he races each summer. Last summer he won the Belgian national mountain bike title for the fourth time.
"It would be nice to end my career at a cyclocross race, but a third Olympics - in something that isn't my main sport – that would also be special."
Cyclocross in the Olympics?
On whether his main sport cyclocross would be included in the Winter Olympics - Nys recognises that there may still be a long way to go before cyclocross is accepted into the Games. "The sport makes changes every year but there needs be more equality. America with equal prize money for women is leading the way. There also needs to be more nations taking part," Nys said in Milton Keynes.
Earlier this week the International Olympic Committee, meeting in Monte Carlo, maintained that the Winter Olympics should feature only sports practiced on snow and ice and so apparently still leaving cyclocross very much on the sidelines.
What Sven said in Milton Keynes
Sven Nys (and American champion Katie Compton) met fans at a Q&A session at the Milton Keynes Trek store on the eve of the World Cup. They answered fluidly and openly questions from the audience on a range of topics.
Sven on winning a World Championship… "It's a very special jersey, but it's also a single race on one special day. Winning a second World Championship in Louisville makes me feel like my career is complete."
Sven on Zdenek Stybar and last season's World Championship… "Stybar is the complete cyclocross rider. It does not bother me that he does not race a full 'cross season and to lose to someone like Stybar is not a problem. After the race I felt that I had not lost gold but won silver and look how far ahead of the rest we were."
Sven on racing in Great Britain… "I will enjoy being here and I like to promote the sport. I'm really happy that my fans come out and support me over my career and so now it's time for me to come to the fans."
So what is the future for Sven Nys?
In the immediate future, Nys will be back in Belgium on December 19th before defending his lead in the bpost Bank Trofee (Essen on December 20th) and tackling the extreme Namur World Cup course (December 21st). It will be another difficult weekend for the 'cross toppers and may well set the tone for the important Christmas and Championship period.
World Champs: Nys could be well worth a little flutter whilst the odds are long!
One thing is for sure though, knowing Nys' sense for the history of the sport, he'll be gunning for a record-equaling tenth Belgian title come January 11th and with champion Zdenek Stybar now unlikely to start in the World Championship, he could be well worth a little flutter whilst the odds are long!
It may have been an eventful, and atypical, year for Nys, but the 'Sven Nys Story' is by no means reaching an end.
Postscript (updated - December 25th)
Nys lost his lead in the bpost Bank Trofee in Essen on December 20th. In our preview here we warned that Nys' biggest danger would come from an early attack from Wout Van Aert – using the tactic that now team manager Niels Albert successfully employed in the past – and that's exactly what happened. Nys could only finish 13th and nearly three minutes down – perhaps suffering from some tiredness from his training block in Mallorca. Our Essen race report is here.
After lacklustre rides in the first three rounds of the World Cup, Nys was sitting a lowly 20th in the overall standings and out of contention so it was perhaps no big surprise that he withdrew from Namur the day after Essen. Sven will not start in Zolder - another World Cup round - on Boxing Day (December 26th) either.
Nys spent last Sunday watching his son Thibau race in Huldenberg and has also thanked the many people who had sent him messages of support recently. The Belgian champion is currently only three points off the lead in the Superprestige series so he will return to race action in round six in Diegem on Sunday (December 28th) and after that the two Trofee races in Loenhout (Dec 30th) and his home race of Baal (January 1st).
Nys, however, is still aware that he is battling some unresolved issues.
"I cannot pinpoint the problem, if I knew exactly what it was I would have been able to solve it," he told Sporza.be this week. "I can only perform well when I feel good and so I make no illusions – I'm unlikely to suddenly perform very well after such a poor spell."
Although Nys also said this week that his appearance at the World Championships may be "uncertain", he does still have six weeks to recapture some better form before the title is decided in Tabor.
"One thing is for certain," Nys concluded, "I'm not retiring yet."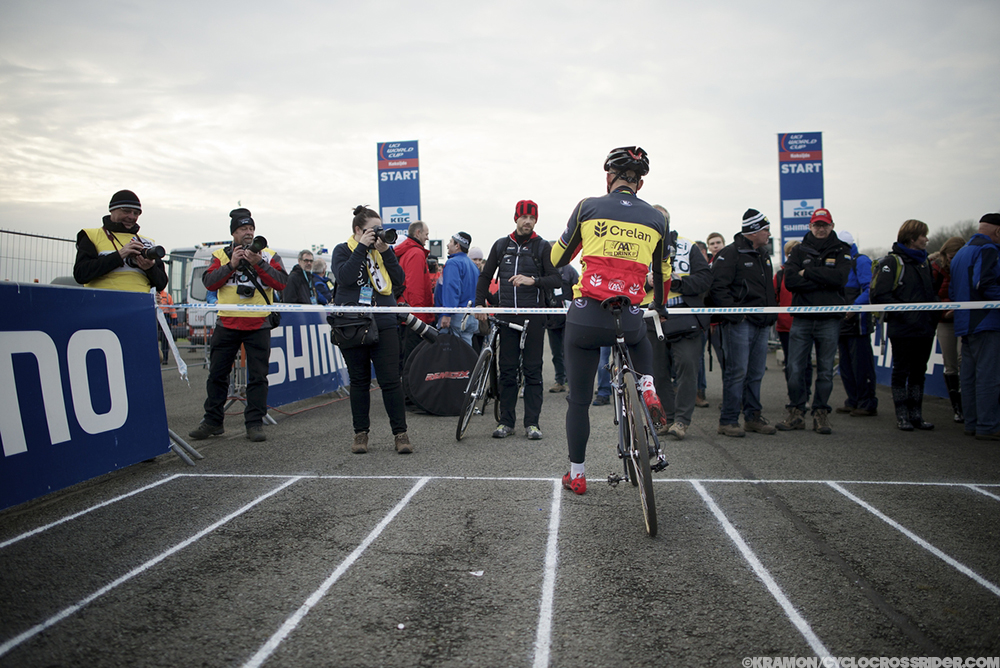 Photos: ©kramon/cyclocrossrider.com