ON the eve of the Tour we predicted that Wout van Aert's first chance of a stage win would be the stage two team time trial and that a win for Jumbo-Visma could put the Belgian into the yellow jersey in Brussels. What we did not bargain for was - and neither did anyone else for that matter - Wout's teammate Mike Teunissen - the 2013 World under-23 cyclocross champion - winning stage one. That surprised everyone including Mike and the entire Dutch-based team.

Jumbo-Visma did win the stage two team time trial but Teunissen was in yellow thanks to a ten second time bonus for winning stage one. Without that stage one victory we though the team was perfectly capable of winning the TTT and would let Belgian Van Aert cross the line first on home soil and take the yellow jersey.
The team time trial victory did give Van Aert the white Young Rider classification jersey though which he raced in for four days before the new race leader Giulio Ciccone took over on stage six.
The individual time trial around Pau on Friday should suit Wout van Aert, but before we could predict a stage win there, he went and surprised the sprinters to win in Albi yesterday (Monday) and our man Jeff Corcoran was there on the ground to capture it (and get a selfie)!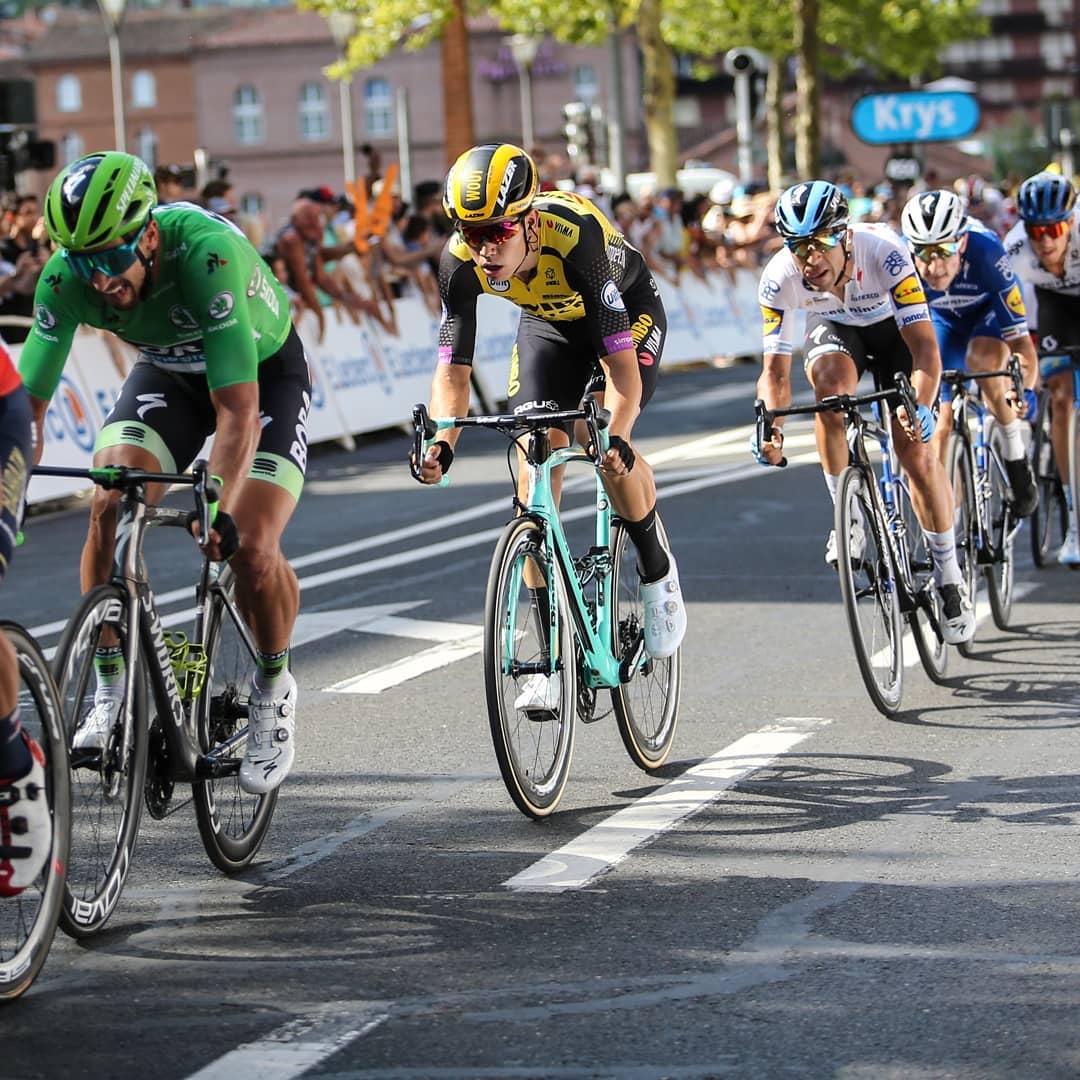 THE WEEK ONE ROUND-UP
Team Presentation Grote Markt, Brussels.
🇫🇷 #TDF19
What a warm welcome for @WoutvanAert ❤️. Thank you @letourbrussels pic.twitter.com/1BJo8A4Em2

— Team Jumbo-Visma cycling (@JumboVismaRoad) July 6, 2019
3 2 1 Let's go! Thanks for the warm welcome BXL! Bedankt voor alle steun! Merci à tous pour votre soutien! 🇧🇪 #LeTour #TDF19 @JumboVismaRoad pic.twitter.com/JKzLaTngB8

— Wout van Aert (@WoutvanAert) July 5, 2019
STAGE 1 - Saturday 6th July - Brussels to Brussels 194.5km.
The 'Year of the crossers' begins as Mike Teunissen surprises everyone in the uphill sprint.
2019, het jaar van de crossers. 🎉@MikeTeunissen @JumboVismaRoad #TDF19 pic.twitter.com/jqWFp4NF4i

— Wout van Aert (@WoutvanAert) July 6, 2019
STAGE 2 - Sunday 7th July - Team Time Trial Brussels 27.6km.
Jumbo win and Wout takes the white jersey.
🇫🇷 #TDF2019

"'We are all happy, we are all proud'💛💪🏼
The TTT win through the eyes of the team🎥

Whole video⤵️#samenwinnen

— Team Jumbo-Visma cycling (@JumboVismaRoad) July 7, 2019
STAGE 3 - Monday 8th July - Binche to Épernay 215km.

Wout in white: Former 'crosser Julian Alaphillipe takes the yellow jersey from Teunissen whilst Wout sat in ninth place on GC.
STAGE 4 - Tuesday 9th July - Reims to Nancy 213.5km.
Wout in white: A bunch sprint into Nancy.
STAGE 5 - Wednesday 10th July - Saint-Dié-des-Vosges to Colmar 175.5km.
Wout in white sprints to second: A hilly day in the Vosges produced an all cyclocross podium as Peter Sagan beat Van Aert and Matteo Trentin to the line.
STAGE 6 - Thursday 11th July - Mulhouse > La Planche des Belles Filles 160.5km.
Lost time: Wout was not able to stay with the lead group on the final summit finish and lost over 13 minutes to the GC contenders. This was the day that Van Aert lost the white jersey to 24-year-old Italian Ciccone who took yellow (although white would now be worn by Egan Bernal).
STAGE 7 - Friday 12th July - Belfort to Chalon-sur-Saône 230km.

Wout the lead out man: In Friday's long stage seven from Belfort to Chalon-sur-Saône, Wout was one of a group of big names, including Dan Martin and Nairo Quintana, who were briefly dropped after a 'comfort break' with only 30km to go. After a slight panic these dozen or so riders worked together and rode back into the peloton. With 10km to go Wout had become part of the Jumbo-Visma leadout train for Dylan Groenewegen and did a huge turn on the front of the peloton taking them up to 2.2km to go. The 230km stage - the longest of this year's Tour - ended in a tense bunch sprint with Groenewegen taking it by centimetres to win his first stage. The win was Jumbo-Visma's third stage win of the 2019 Tour and Groenewegen's fourth Tour stage career win.
How I felt after 5min above 500watts 🥴. So glad @GroenewegenD finished off our teamwork! That's 3 wins out of 7 stages 🤩 #samenwinnen #BlackandYellow @JumboVismaRoad pic.twitter.com/17PHULcUpp

— Wout van Aert (@WoutvanAert) July 12, 2019
STAGE 8 - Saturday 13th July - Mâcon to Saint-Étienne 200km.
Like the Ardennes: A hot and exciting Ardennes-style stage with lots of climbing produced a thrilling and attacking day. Surviving over two climbs in the last 20km, Thomas de Gendt hung on to win as Julian Alaphilippe retook the yellow jersey.
STAGE 9 - Sunday 14th July - Saint-Étienne to Brioude 170.5km.
Easier day: Wout was active in the early moves of the stage but it was Tony Martin who represented Jumbo in the day's break. This allowed Wout an easier day in the peloton as Darryl Impey won the stage in a two-up sprint. Van Aert came in two and a half minutes behind the GC group perhaps with an eye on the Pau time trial on Friday.
STAGE 10 - Monday 15th July - Saint-Flour to Albi 217.5km.
A first Grand Tour individual stage win for Wout: Our photographer Jeff Corcoran has taken images of Wout in the States, Belgium and now France including this selfie with Wout after the stage win.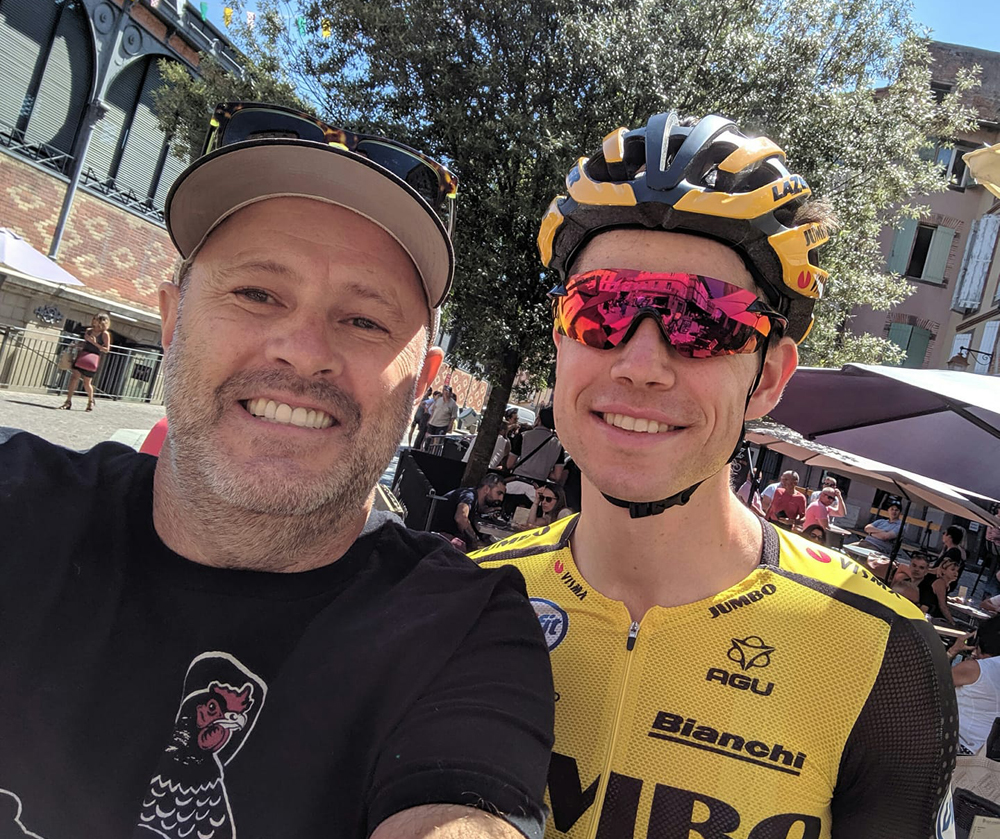 Main photos: Jeff Corcoran.
.....
Browse Specialized CX Bikes HERE
Browse other CX Bikes HERE
Browse CX Bikes from £640 HERE
Browse Kinesis CX framesets HERE
.....