It's official. CrossVegas selected as World Cup for 2015. Complete details at http://t.co/gVUpAWazUH pic.twitter.com/AUYNQZWTzq

— Brook_Watts 🥑 (@Brook_Watts) January 30, 2015
BEFORE an official UCI release had been issued race organisers in America and Canada were celebrating their inclusion in next season's cyclocross World Cup. It's understood that the two north American rounds in Las Vegas and Montreal, in Canada, in September will be for Elite men and Elite women only.
We reported them as likely venues a fortnight ago on our Facebook page...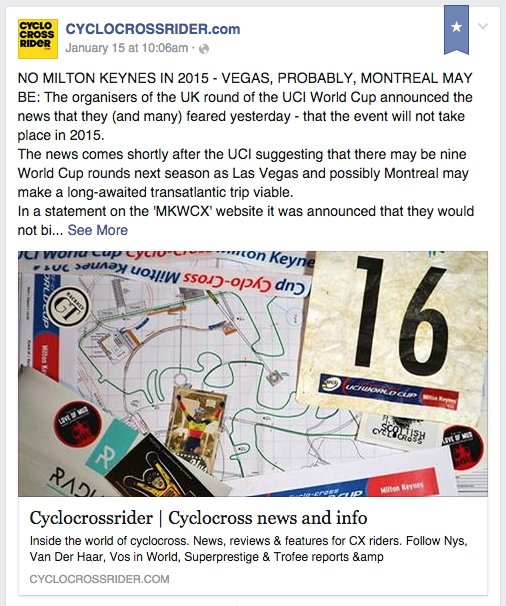 An email from the Canadian event organisers dropped into our inbox first (at 19.15hrs Friday) closely followed by one from CrossVegas.
"CrossVegas is honoured to be selected. Becoming a UCI Cyclocross World Cup race is the natural next step for CrossVegas and is the culmination of years of support from dedicated sponsors and the worldwide cyclocross community," said race director Brook Watts in the CrossVegas press release.

UCI off-road chief Peter Van den Abeele, commented: After the 2013 Worlds in Louisville, we look forward to another milestone of the first ever World Cup round to be held in the United States. Las Vegas will provide a spectacular backdrop to the opening round of the 2015-2016 UCI Cyclo-cross World Cup, and this event will fit in perfectly with the famous Interbike show, underlining the close link between the sport and industry. With the second round of the 2015-2016 World Cup taking place in Montreal, our leading cyclocross series is definitely pushing back the discipline's geographical barriers."

UCI President Brian Cookson said, "I'm delighted the second round of the 2015-2016 UCI World Cup will be taking us to Montréal. It shows that cyclocross is becoming more international after Louisville hosted the UCI World Championships for the first time in 2013. A new phase has now begun in North America with the first round of the UCI Cyclocross World Cup to ever be organised in Canada."

Co-ordinated planning
Organisers of both events have worked closely in developing their plans with special attention to travel and ground arrangements for racers and supporters. "Our goal will be to make the experience of traveling to North American World Cup events as simple as possible, especially for competitors," Vegas organiser Watts added.

A couple of weeks ago it was hinted that the World Cup might expand from six to as many as nine rounds despite Milton Keynes in England being unable to bid again. Eight rounds were announced today.
2015-16 UCI World Cup dates announced
Wednesday September 16th, 2015: CrossVegas, Las Vegas, America.
Saturday September 19th, 2015: Montreal, Canada.
Sunday October 18th, 2015: Valkenburg (NED).

Sunday November 22nd: Koksijde (BEL).
Sunday December 20th: Namur (BEL).
Saturday December 26th: Heusden-Zolder (BEL).
Sunday January 17th, 2016: Lignières-en-Berry (FRA).
Sunday January 24th: Hoogerheide (NED).

Sat & Sun 30-31st January, 2016: World Championships in Heusden-Zolder, Belgium.
Lignières-en-Berry hosted the 2014 French national championships.

PLUS New World Championship category
THE other main cyclocross development to come from the meeting in Tabor is a new race being added to the UCI World Championship timetable for Under-23 women (believed to include 17-22 year olds). At the 2016 Worlds in Heusden-Zolder, Belgium the 'youth women' is expected to be the opening race on the Saturday morning.