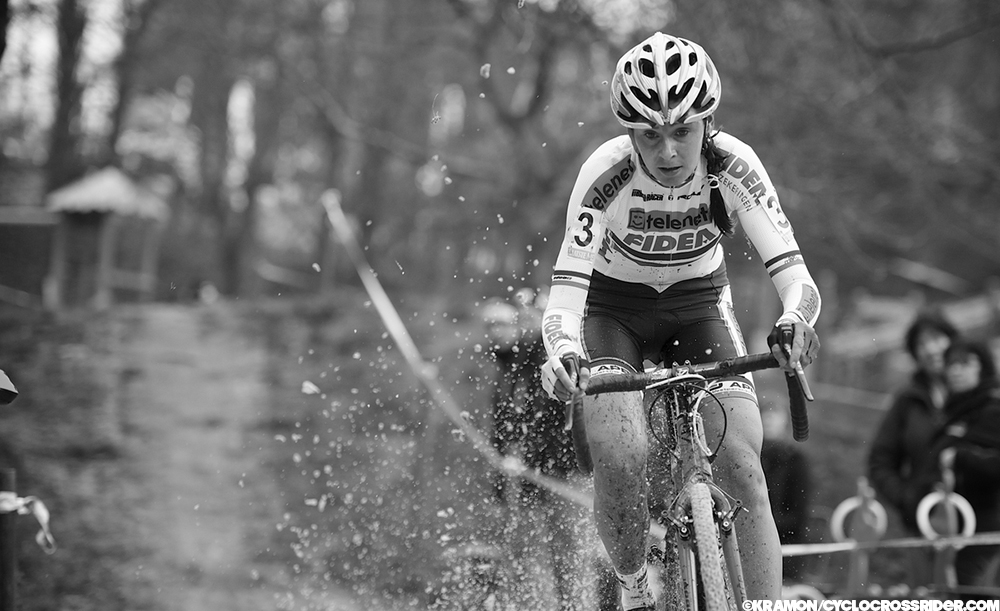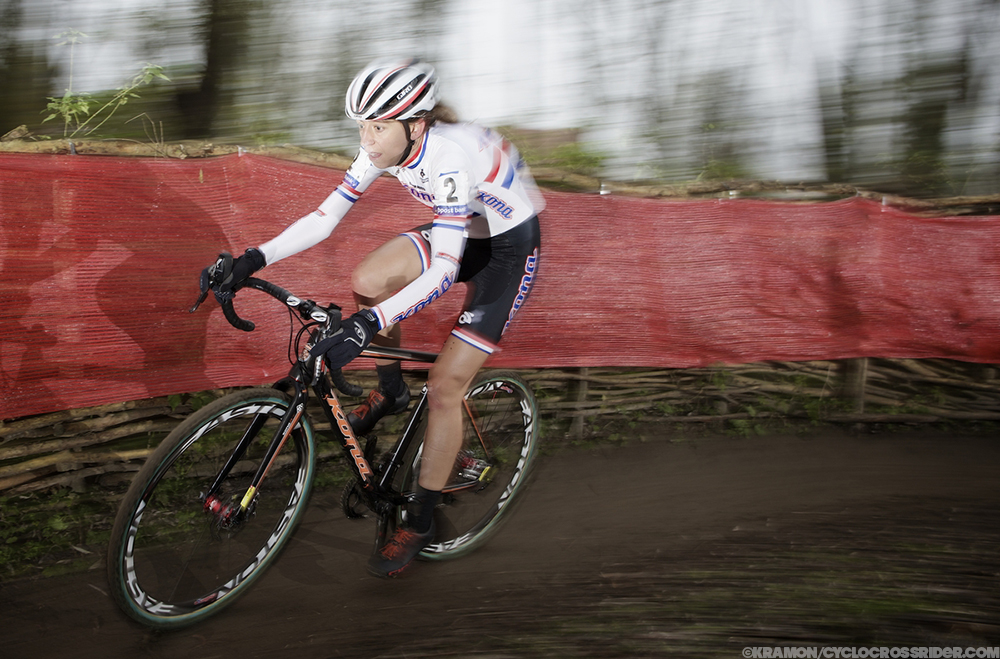 THE British elite women's title race is perhaps the most difficult to predict this weekend in Wales. It is expected to be another exciting duel between eight–time champion Helen Wyman and Telenet-Fidea's Nikki Harris, the 2013 champion.
Harris has only been able to break Wyman's recent stranglehold on the title once - in the wet conditions of Bradford in 2013 - when she capitalised on a slip by Wyman. This season the pair have been quite closely matched in Europe though and one of the highlights was their British one-two in Spa-Francorchamps (won by Harris). Harris got the better result on home soil in Milton Keynes in November, finishing third, and she also won bronze in the European Championship in Germany.
Nikki has only lost to Helen once in their last eight races against one another
Helen Wyman should not be ruled out of winning a ninth title, but Nikki has only lost to Helen once (Hamme) in their last eight races against one another. The form book points towards Nikki Harris.
Unfortunately Nikki had a frustrating end to the Christmas period though after crashing hard into a lamp post in Diegem (December 29th). She did not feel on form in Baal on New Year's Day (finishing fourth with Helen sixth) and retired from her last race in Leuven on January 4th to rest what she called her "battered body." It should be another very close and exciting race in Abergavenny.
Gabby Durrin, five-times a medalist in the elite championships (three silvers and two bronze), has called an early halt to her season and will not travel to Wales.
Wyman-Harris: their last five race meetings
1.1.15 Baal: 4th Harris - 6th Wyman
30.12.14 Loenhout: 4th Harris - 6th Wyman
26.12.14 Zolder: 11th Harris - 13th Wyman
20.12.14 Essen: 4th Harris - 8th Wyman
30.11.14 Hamme: 3rd Wyman - 6th Harris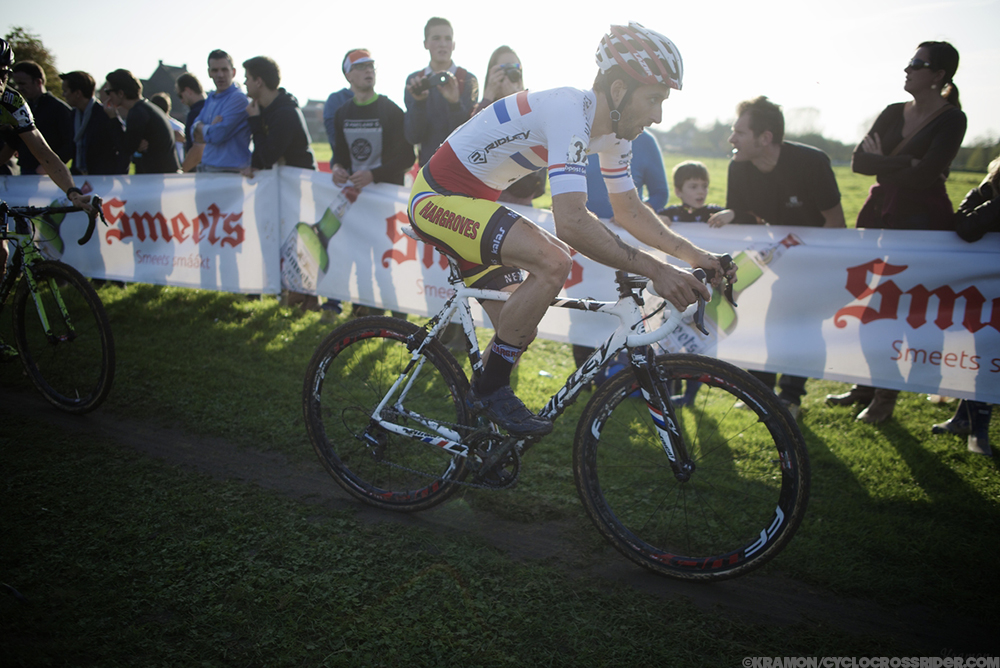 A fourth for Field?
Ian Field (above) will be aiming to win his fourth successive national title and although his performance in the Milton Keynes World Cup in November (finishing 12th) showed that he is the most outstanding rider in Britain he will have several challengers. Riders like mountain bike Olympian Liam Killeen and former junior champion Alex Paton will be only to keen to take advantage of any slip or off day from Field.
Field has fought off a bout of illness that hit him around Christmas time and showed that he was getting back to top form with a second place behind the British Under-23 champion Grant Ferguson in Derby a week ago. Ferguson is the favourite to win his third successive national Under-23 title on Sunday.
"I sacrificed today a little bit," Field told Cyclocrossrider after Derby last weekend, "as I knew I only needed a respectable result to win the overall. I trained really hard in the week so that I'm good at Worlds." (on February 1st - Ed).

Reigning 2014 national champions

Elite men: Ian Field
Elite women: Helen Wyman
Under-23 men: Grant Ferguson
Junior men: Thomas Craig
BRITISH NATIONAL CHAMPS, Abergavenny
Saturday January 10th
09.30-14.30: Other age categories.
Sunday January 11th
10.15: Under-23 men
11.30: Junior men
12.45: Elite women
14.15: Elite men
Venue: Abergavenny Leisure Centre, Gwent, Wales.
We have reporters and photographers in Wales this weekend so we hope to have some great coverage for you after the racing. We may also be adding more items of interest to this page (below) as the weekend goes on so please check back.
Updates from Abergavenny
Saturday 10.00: It's sunny in Wales as Isla Rowntree (Elite women's national champion in 2002 and 2003) wins the Veteran women's title.

Cross: Congratulations to Isla Rowntree (Islabikes), veteran women's winner at the National Champs #Aberg2015 pic.twitter.com/Bl5AhEAMbO

— British Cycling (@BritishCycling) January 10, 2015
Saturday 10.30: Conditions in Wales are slightly sticky today rather than wet as the strong winds dry things out a little. Helen Wyman (below) was out checking the course this morning.
@CXHelen checking out the course before the Vet50's @2015_Cyclocross National Champs, there's some tricky bits pic.twitter.com/r0XqOWtPCJ

— Roger Maidment (@pedalardour) January 10, 2015
Thanks everyone for today, what great racing! Hope the course was ok, looked alright from my view! pic.twitter.com/Nwowf8Mn3U

— CrosstoberWales (@CrosstoberWales) January 10, 2015
Saturday: The end of the first day in Wales. Four big races tomorrow.
A great course at @2015_Cyclocross ,looking forward to a good race on a great course ready to hit it hard! pic.twitter.com/Xfpp6A06ve

— Bruce Dalton (@BruceDaltonCX) January 10, 2015
Main photos: ©kramon/cyclocrossrider.com