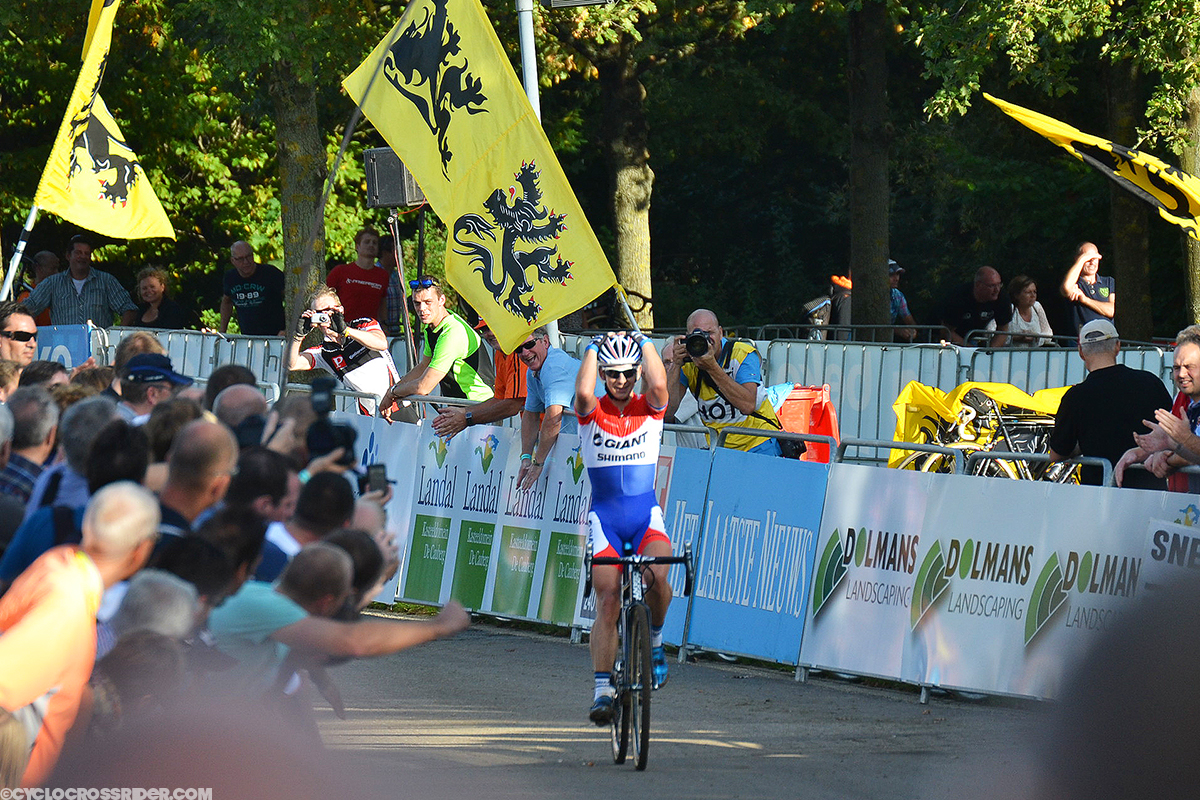 DUTCH champion Lars van der Haar got the defence of his World Cup title off to the perfect start by winning easily on home soil in Valkenburg. The young Dutchman has won on all four occasions that he's raced at the tricky Cauberg venue.
"I came here thinking about a podium finish and trying to take the pressure off," said Van der Haar after the race, "but I got a gap and so I wanted to make it half a minute as quickly as possible. Pretty soon I heard that it was 40 seconds."
At one point Van der Haar led by over a minute after his nearest challenger Kevin Pauwels fell on the steep descent in front of the Cauberg casino. Sven Nys had a bad day at the office – suffering in the warm temperatures and having a chain problem that dropped him further down the field before he eventually retired.
I felt that Pauwels was very strong, but I guess I pushed him a little too far - Van der Haar
"It went perfectly," added Van der Haar, "I felt that Pauwels was very strong, but I guess I pushed him a little too far and he took some risk and he crashed."
Temperatures were unseasonal - around the mid-twenties Celsius - so riders were allowed dispensation to pit for drinks during the race (except for the first two and the final two laps). Dutchman Thijs van Amerongen even wore a 'cooling vest' before the start to keep his body temperature down.
"I didn't take a drink," Van der Haar told us, "I made sure that I drank a lot before the race and the descent was enough to cool you down." Many of his rivals did pit for drinks during the race.
As Van der Haar got his obligatory good start and immediately went on the attack, Nys began dropping further back - around the start lap and first lap proper - and was down in thirteenth place with American champion Jeremy Powers 20th (from a second row start) and British champion Ian Field in 23rd position.
Dutchman Van der Haar was eventually joined at the front by Belgium's Kevin Pauwels (racing a disc-braked Ridley for one of the first times) and Tom Meeusen.
After just over 20 minutes of racing (with six of the nine laps remaining), Van der Haar still had Pauwels for company, but Meeusen was beginning to slip back as Nys began his move back through the chasers. The decisive moment came next when Pauwels crashed on the steep descent in front of the Holland Casino, Van der Haar looked around to see his rival sprawled on the ground and pushed on.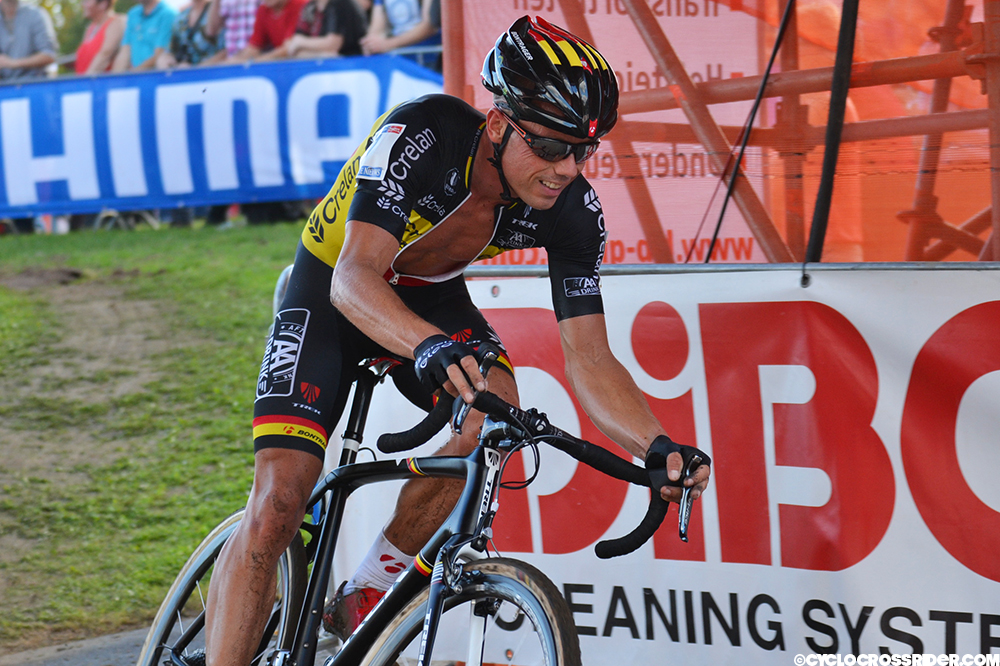 Sven Nys had a bad day at the office dropping his chain and admitted to suffering badly in the unseasonal heat and retired in the closing stages.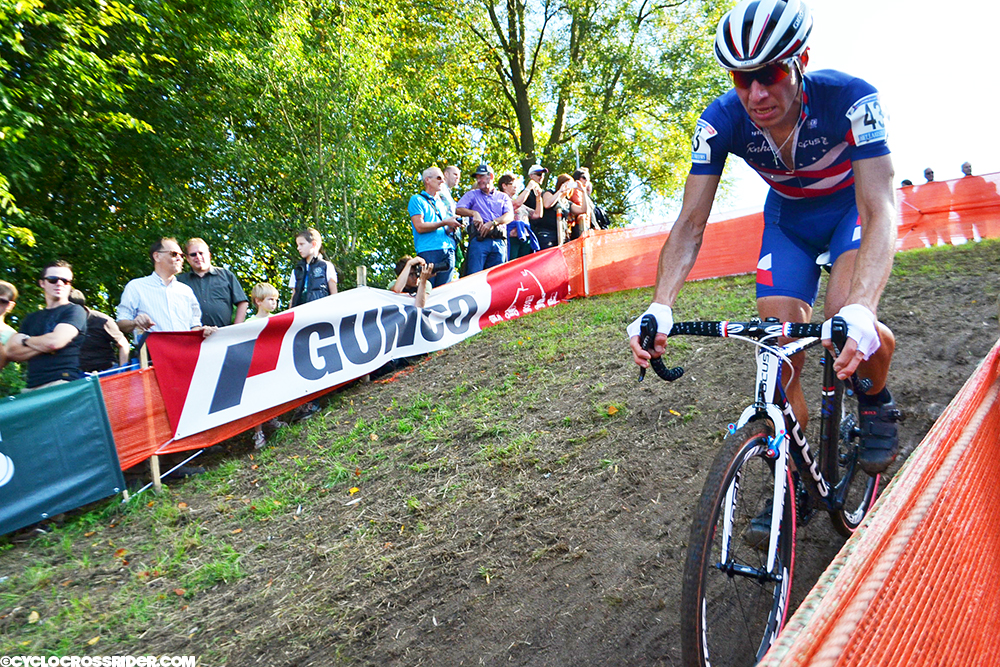 Jeremy Powers predicted a top ten placing to us on Friday and delivered with a great 9th place.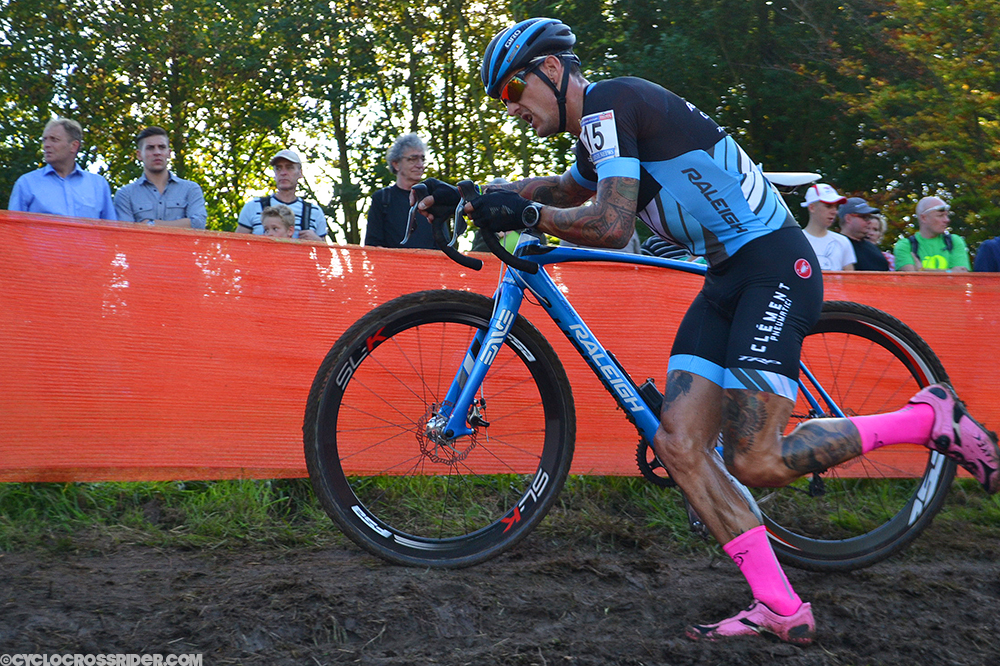 Ben Berden (BEL) returned to Europe (from America) to contest the race under the new ruling allowing any rider ranked in the UCI Top 50 to ride.
From there on in it was a solo effort from Van der Haar over the last five laps, Nys, looking laboured, was down in 6th place some 40 seconds off the leader. American champion Jeremy Powers was having a strong ride - just a handful of seconds behind Sven Nys and fighting for a top ten place. Dutchman Corne van Kessel was in seventh place and about to move through to eventual take the third podium spot.
Van der Haar's gap continued to grow and at one point was over a minute and the battle for the minor places brewed between Meeusen, Pauwels, Philipp Walsleben, Klaas Vantornout and eventually Van Kessel and Van Amerongen.
Come on Sven, let's go - shouted Bart Wellens
With just over three laps remaining Nys' chain bounced off on the bumpy Casino descent and the seconds ticked away as he struggled to get it back in place. He'd dropped right down to 15th place and even the encouragement of Bart Wellens - "Come on Sven, let's go" – as Wellens past him failed to lift the Belgian champion.
Nys dropped further to 18th place and decided to retire - after the race saying, "I immediately felt that there was no power in the legs today. I have good form and don't want to dwell on today too long. Next week it might be completely different weather."
Van der Haar 'enjoyed' his final two laps with a clear lead as six riders battled it out for the remaining podium places on the bell lap. Powers, Gianni Vermeersch and Jens Adams were behind them fighting for eighth, ninth and tenth. On a thrilling final lap, with Van der Haar home and hosed, Van Kessel attacked first, but was tracked by Pauwels who counter-attacked to go clear in second place.
American champion Jeremy Powers lived up to his pre-race prediction to Cyclocrossrider ("top ten" - interview here) and finished an impressive ninth and a course like Milton Keynes (November 29th) or Hoogerheide (January 25th) may even suit the Americans strengths even more.
Jonathan Page was one of the unluckiest riders of the weekend – he crashed hard into a tree in training and then broke his rear derailleur "in the first three pedal strokes" and had to chase back from off the back.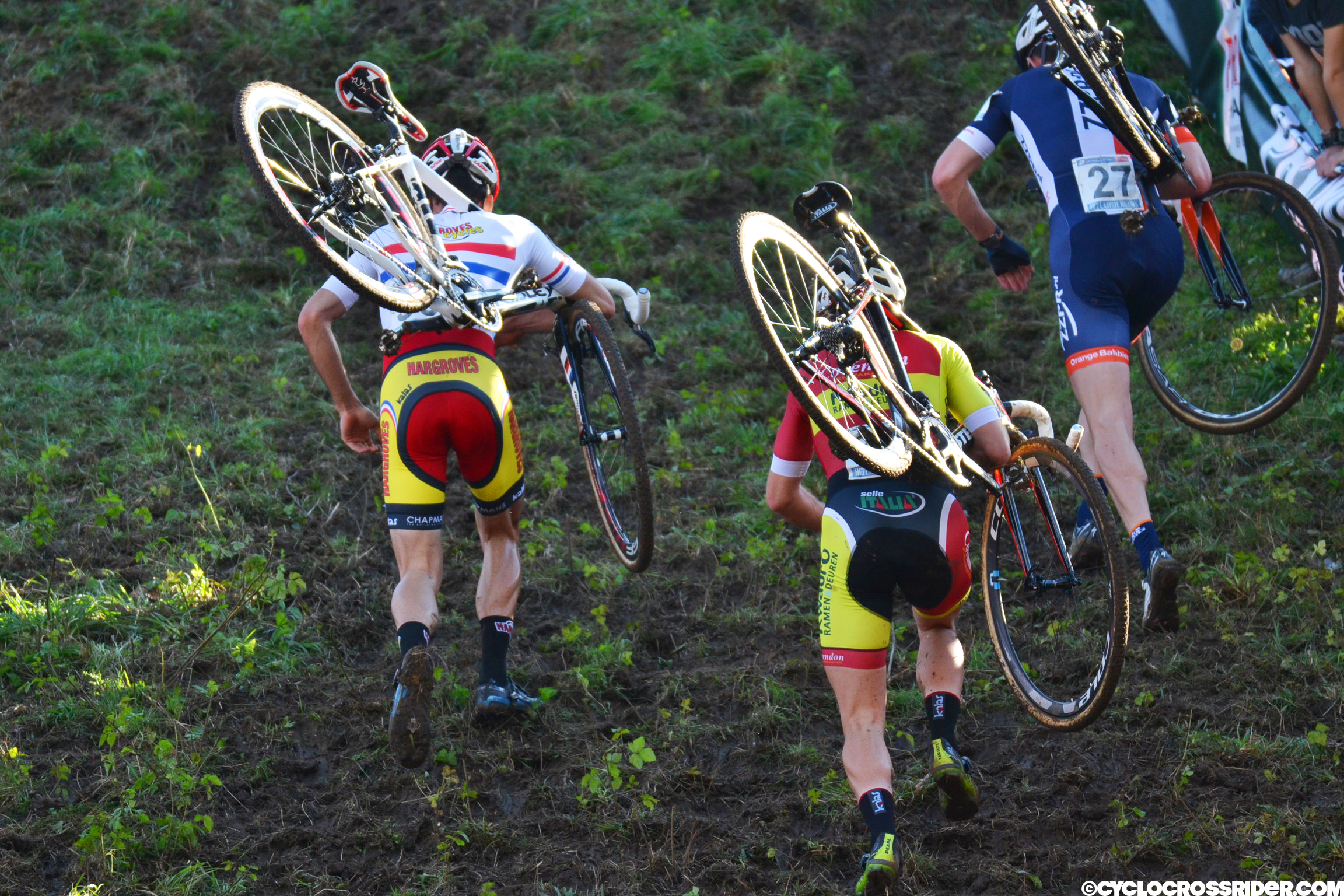 British champion Ian Field (above) came down with a sickness bug just hours before the race. Field got a good start, but not at full strength, he fell back to 30th place.
Van der Haar told reporters that the vocal support from the home crowd was something he only became aware of in the last two laps, "It was a real boost and a few times it even gave me goose bumps." Asked about his prospects for the rest of the season Van der Haar replied "I feel stronger than I was twelve months ago, but it's a long season. The World Cup was always a goal, but so is finishing top three in at least two of the big series."
Brief results: 1 Van der Haar (NED); 2 Kevin Pauwels (BEL); 3 Corne van Kessel (NED); 4 Klaas Vantornout (BEL); 5 Tom Meeusen (BEL); 6 Thijs van Amerongen (NED); 7 Philipp Walsleben (GER); 8 Jens Adams (BEL); 9 Jeremy Powers (USA); 10 Gianni Vermeersch (BEL)... 30 Ian Field (GBR); 41 Jonathan Page (USA); 47 Angus Edmond (NZL).
Other race reports: Elite women. Under 23 & Junior men.
Elite Men's race re-run (starts at 2:25 into stream)
Elite Women's race re-run (starts at 2:30 into stream)
NB There is short technical issue with the sound on the women's footage.