Full TV Coverage
IN quite possibly one of the most open and exciting races of the season so far, as per usual, it was Lars van der Haar who got out of the blocks first and negotiated the first corner - which always looks like it's an alley way next to someone's house (it's not even an alleyway it's just through the garden of a suburban house! – Ed). After Van der Haar's burst there was a brief moment of glory for one of the crowd favourites Rob Peeters, but he was soon swallowed up again by Tom Meeusen, Klaas Vantornout and Van der Haar.
As the race, the third round of the Superprestige series, settled down there were eight riders up front and in contention: Meeusen; Van der Haar; Vantornout; Sven Nys; Jens Adams; Kevin Pauwels; Mathieu van der Poel; and Corne van Kessel. Nys and Van der Haar were joint overall leaders of the series with Dutchman Van der Poel a single point behind.
It was always Vantornout, Van der Haar or Meeusen who were putting the pressure on in the early stages of the race with the others content to sit in touch behind. On the second lap Van der Poel, the winner of the opening round in Gieten, came down in the sand strip losing a few positions, but without panic he rode back up to the leaders again. The same eight riders remained clear of the rest of the field and swapped positions on a regular basis, but with Meeusen noticeably never dropping out of the top three.
Three riders clear
With six laps remaining Kevin Pauwels, a winner last weekend in Zonhoven, crashed to the ground - holding up those behind him and leaving three riders clear – Van Kessel, Van der Haar and Vantornout. On the very next corner though, Van Kessel rode into the barriers and Van de Haar's bike got tangled up in the process, which left Vantornout alone and clear. This was perhaps the former Belgian champion's big chance, but he didn't seem able to get the gap he would have needed to win solo especially with Nys leading the chase.
With four to go, it was Jens Adams time to try and establish a gap, but to no avail, before Van der Poel put in some strong attacks – the young Dutchman's pressure did split the group with only Meeusen and Vantornout able to hang on to his wheel.
Laatste ronde
Into the 'laatste ronde' and with the three leaders slowing the bunch came back together and once again there were eight riders in contention. Halfway through the lap Meeusen launched an attack and got a small gap on the rest, but with Sven Nys still looking like a potential threat.
Nys did move up a few riders in the long sand section, but he was unable to get near Meeusen who entered the finishing straight with enough of a lead to hold off Van der Poel and Vantornout in the sprint with Nys fourth in line. This result made young Mathieu van der Poel the new leader in the overall Superprestige standings as Nys finished, unusually off the podium, in fourth and Van der Haar fifth. Jens Adams continued his good season against the elites with sixth place.
Result: 1 Meeusen; 2 Van der Poel; 3 Vantornout; 4 Nys; 5 Van der Haar; 6 Jens Adams; 7 Pauwels; 8 Van Kessel; 9 Joeri Adams; 10 Bart Aernouts.
Overall standings (after 3 rounds): 1 Van der Poel 40 points; 2 Nys 39; 3 Van der Haar 38.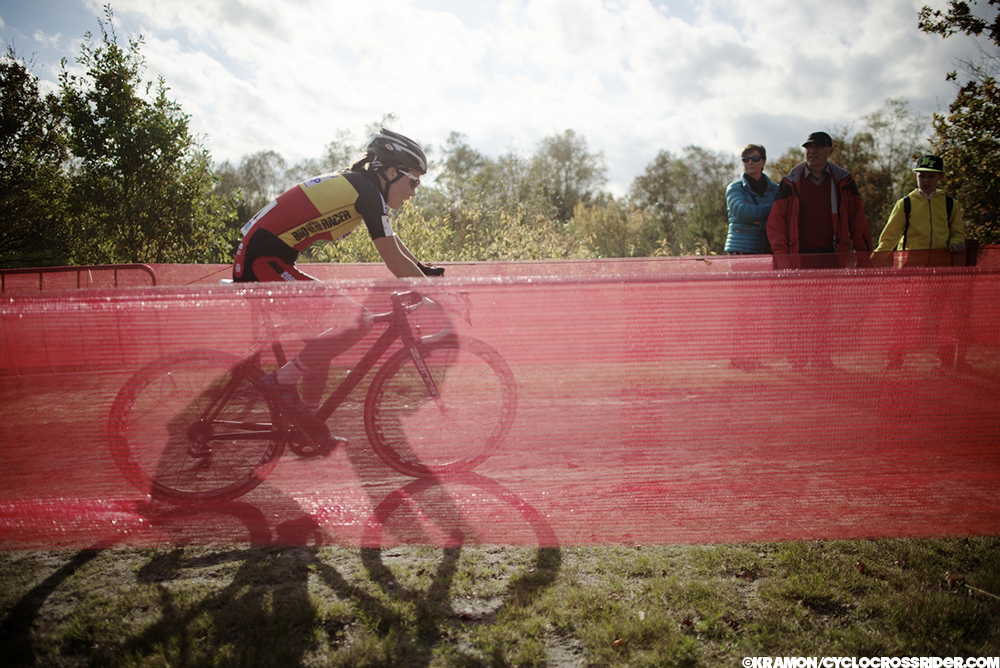 Elite women: Weekend double for new European champion Cant
Helen Wyman, back riding in her British Champion's skin suit after losing her European title the day before in Germany, got away to the best start. Wyman was followed by Belgians Ellen Van Loy and Sanne Cant the newly crowned European Champion. Cant was still wearing her Belgium champion's colours probably for the final time before she receives a blue European champion's outfit.
It wasn't long before these three women escaped from the rest of the field that were led by Jolien Verschueren and Pavla Havlikova. Cant eventually rode away from Van Loy and Wyman, mainly gapping them by her expertise in riding the sand sections.
Wyman and Van Loy had a good battle for second place but were always losing time to Cant through through the sand as Nikki Harris threatened to come up to the leaders - her challenge was thwarted by two mistakes that saw her hitting the deck in consecutive laps through the long sand section.
In the closing laps, as Cant was clear and looking comfortable, Van Loy put in a big attack to try and distance Wyman, but in the final lap Wyman clawed her way back. The Briton finally broke Van Loy to come home in second place with a 20 second margin. Nikki Harris sadly retired, but Briton Hannah Payton finished 13th after finishing in the same position in Saturday's European Under-23 championship.
Result: 1 Cant; 2 Wyman; 3 Van Loy; 4 Verschueren; 5 Havlikova… 13 Hannah Payton (GBR); 15 Christine Vardaros (USA).
Under-23 men: 1 Laurens Sweeck; 2 Michael Vanthourenhout; 3 Diether Sweeck.
Junior men: 1 Eli Iserbyt. Nieuwelingen: 1 Dan Tulett (GBR).
TV Highlights
More highlights here
Photos: ©kramon/cyclocrossrider.com