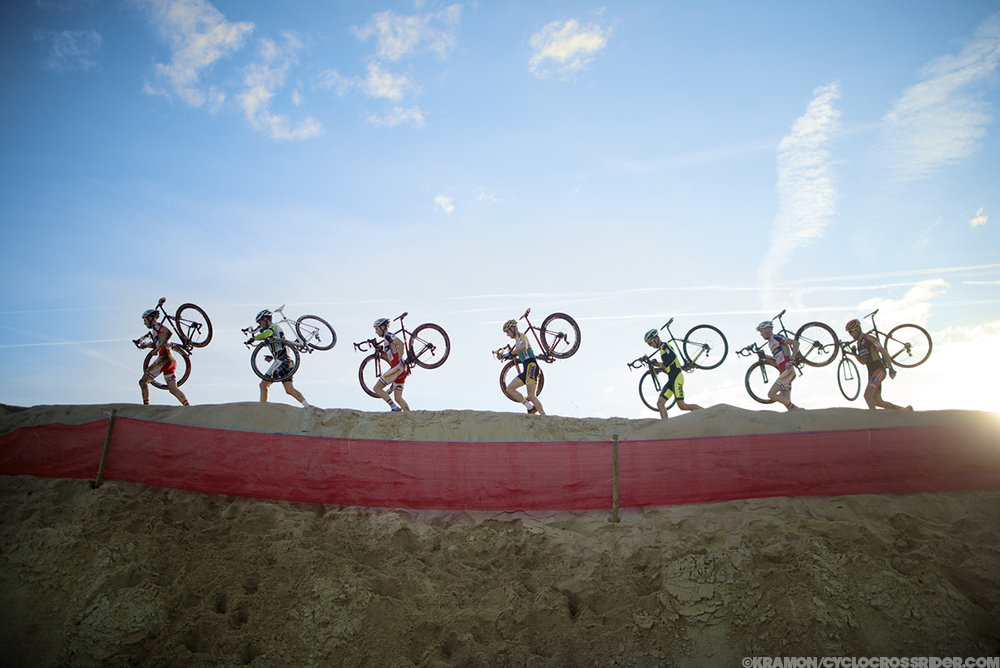 Full TV coverage from Niel
BELGIAN champion Sven Nys got back to winning ways today with a dominant, solo demonstration over a tricky riverside course around the Rupeldijk in Niel. It was his sixth victory (his first was in 2005) in the race that was first held in 1963. Nys used his experience to be up near the front and out of trouble before the first huge off-camber section which caused some amount of chaos especially in the opening laps.
Today I got it all together – the concentration, the course and a good day - Nys
"They did challenge me for some of the race, but I had a very good day," Nys told the post-race TV reporter who tried to suggest that he was seeking to wreak some sort of revenge. Nys simply replied, "It was a technical 'cross and I hadn't really planned to go on my own as there was such a lot of wind. Today I got it all together – the concentration, the course and a good day – and then I can win."
World and European Under-23 champion Wout Van Aert – runner-up here last year – and Kevin Pauwels had an interesting duel for second place (won by Van Aert), but at the finish were almost a minute in arrears. Next man Philipp Walsleben in fourth, and the rest, were all over two minutes down on Nys.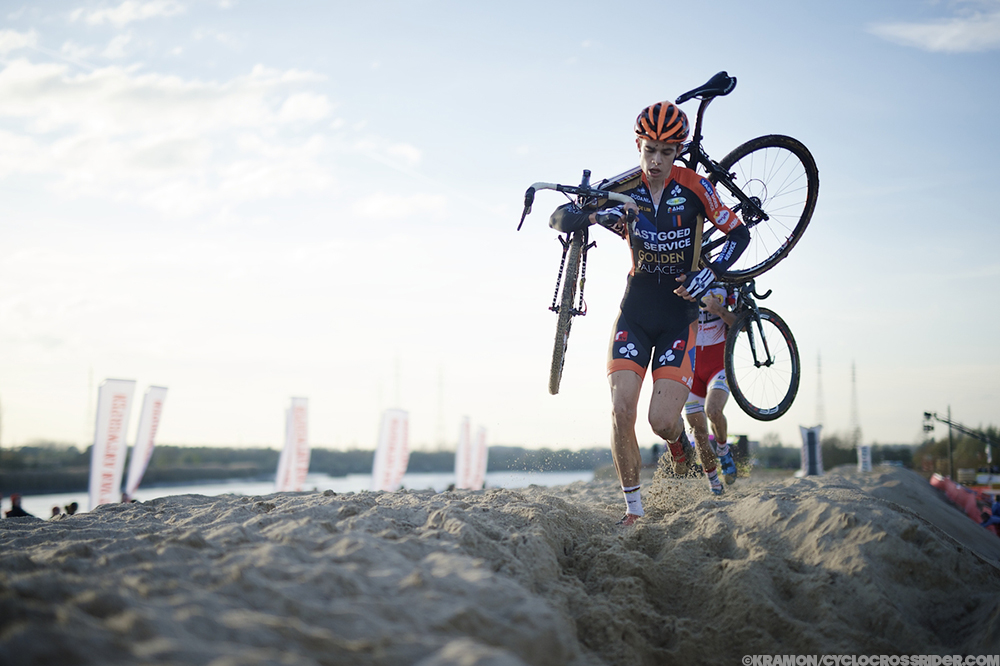 Van Aert (above) said after the race, part of the Soudal Classics series, "I felt good and I'm pleased but I recognize that I made some mistakes. Towards the end my small mistakes kept letting Kevin (Pauwels) back in." Pauwels commented "It was not really my kind of course with the long sand strip which had to be run."
In winning the Jaarmarktcross today Nys became the only six-time winner of the classic race moving ahead of five-time winning legends Eric De Vlaeminck, Roland Liboton and Robert Vermeire. In our race preview we felt sure that Sven would want to win such a historic race and that a victory would also reassert his position as the man to beat after a few slightly disappointing results (2nd in the Koppenbergcross, 2nd in Zonhoven and in 4th in Ruddervoorde) and a month since his last win in Ronse.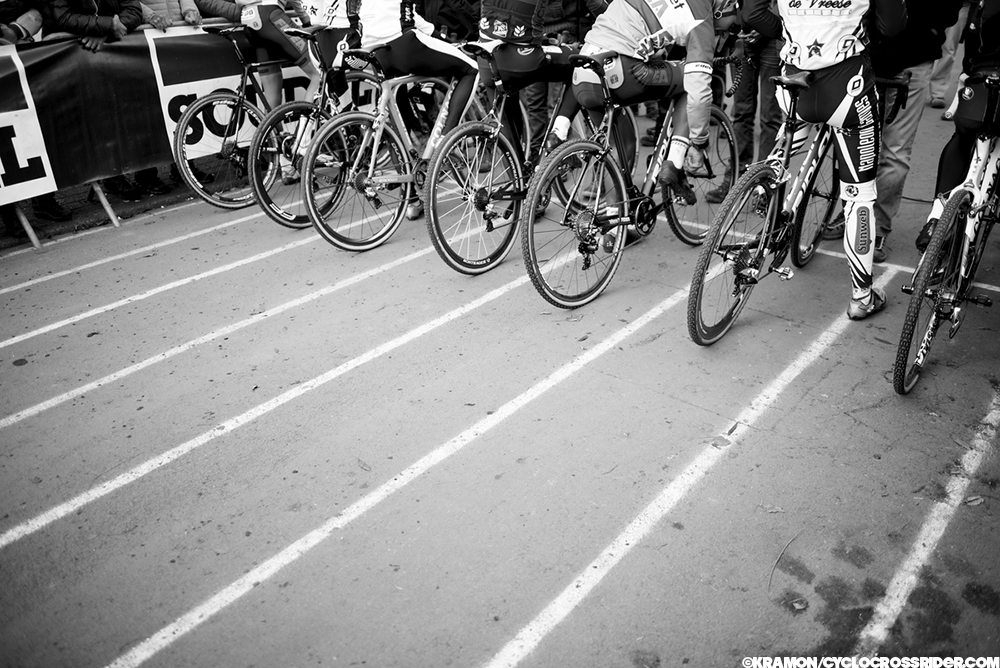 Early leader
Sunday's Ruddervoorde winner Tom Meeusen was the early leader but he was destined to slip back to finish in ninth place and three minutes behind the winner such was the trickiness of the new Niel parcours.
Across the first big off-camber traverse Nys stayed high as Meeusen went low and the Belgian champion's line was a little quicker whilst behind Van Aert got tangled up with another rider and was outside the top ten along with Pauwels and Klaas Vantornout.
Corne van Kessel was the next leader and the Dutchman and Nys moved away so that by the end of the first long, sandbank running section they already had a sizeable lead. German champion Philipp Walsleben was leading the chasers who were already 10 seconds down. The steep riverside bankings were proving difficult and Van Aert lost more time here being hampered by struggling riders.
At the end of the first lap (of the nine-lap race), Nys and Van Kessel had a 15 second lead over Walsleben with Van Aert at 20 seconds. Then came Nys' only moment of worry – at the barriers Van Kessel bunny-hopped slightly faster than Nys and in doing so veered right across the Belgian champion's line. Nys took evasive action and Van Kessel apologized. Pretty soon afterwards, with only 10 minutes of racing completed, Nys moved clear of Van Kessel and it appeared that it was quite possibly 'game over' for the rest.
Van Aert had made progress through to fifth place, but he was still not getting a clear ride when with Pauwels, Walsleben and Van Kessel he briefly formed a four-strong chase group.
The laps ticked by and Nys' solo lead ticked up: 23 seconds lead after two laps; 28 seconds after three; 36s after four; 39s after five; 42s after six.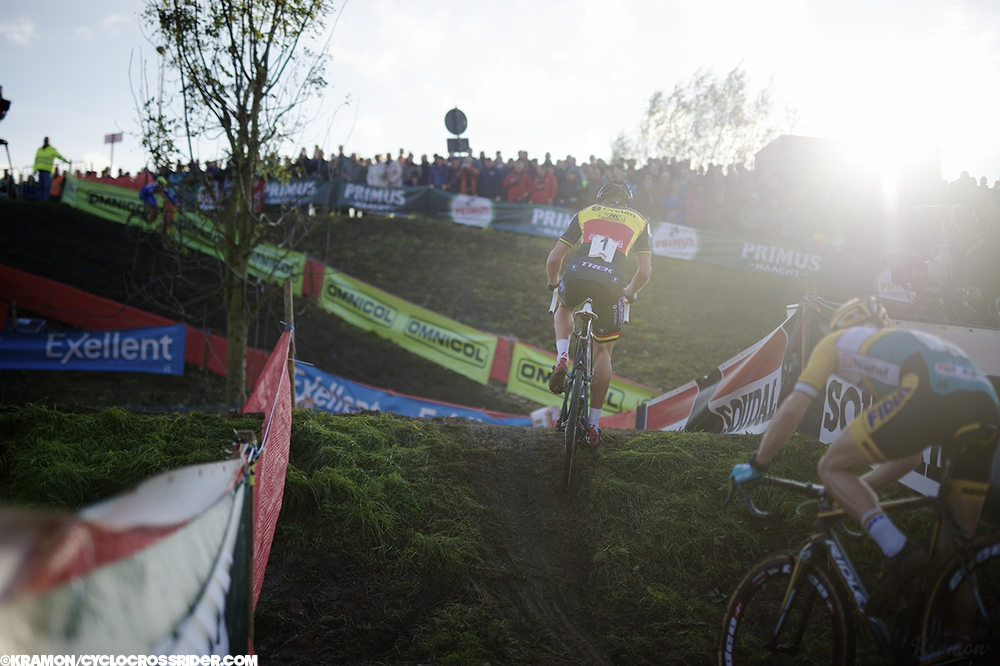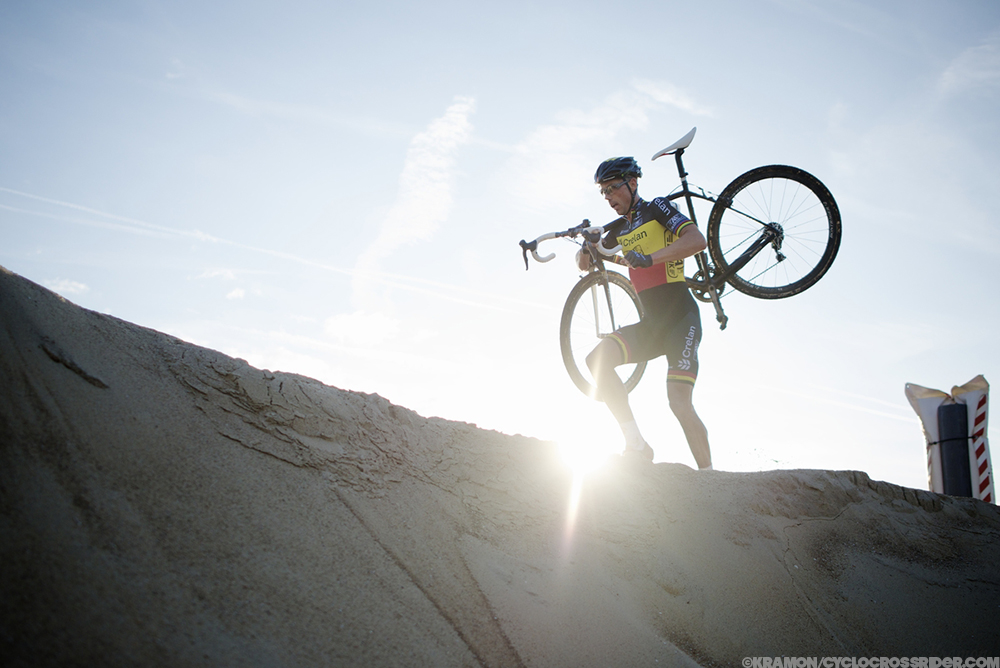 If ever there was a need for someone to tell them "What would Sven do?" perhaps it was here
Over the tricky cambered section Nys was still staying high, running as awkwardly as everyone else before jumping back on. Van Aert and Pauwels persisted with lower lines across the bank and if ever there was a need for someone (Van Aert's team manager Niels Albert for instance) to tell them "What would Sven do?" perhaps it was here as Nys continued to build his lead.
Real battles behind
The real battles that were taking place were between Van Aert and Pauwels for second place and behind them an almighty tussle for fourth place between an ever-changing peloton.
Before the penultimate lap Van Aert managed to close the gap to 41 seconds and he had ridded himself of Pauwels, who fell on a corner, but across the big camber he struggled and Nys' lead increased back up to 57 seconds as a result. At the bell the chasing pair were back together, but now some 1 minute 10 seconds adrift of Nys. Pauwels eventually slipped back again on the final crossing of the off-camber and Van Aert rode on to claim second place - twelve months after his 'breakthrough ride' for second place here as a 19-year-old.
Nys was the only rider who really held it together for the full hour and the crowd showed their appreciation across the Rupeldijk for the final time recognising the quality of his performance. Nys was back to his best and this was a classic Nys demonstration – he responded by waving to the crowd and several pumps of his fist.
Elite men: 1 Nys; 2 Van Aert +51s; 3 Pauwels +1:00; 4 Walsleben; 5 Dieter Vanthourenhout; 6 Rob Peeters; 7 Sven Vanthourenhout; 8 Julien Taramarcaz; 9 Meeusen; 10 Jim Aernouts.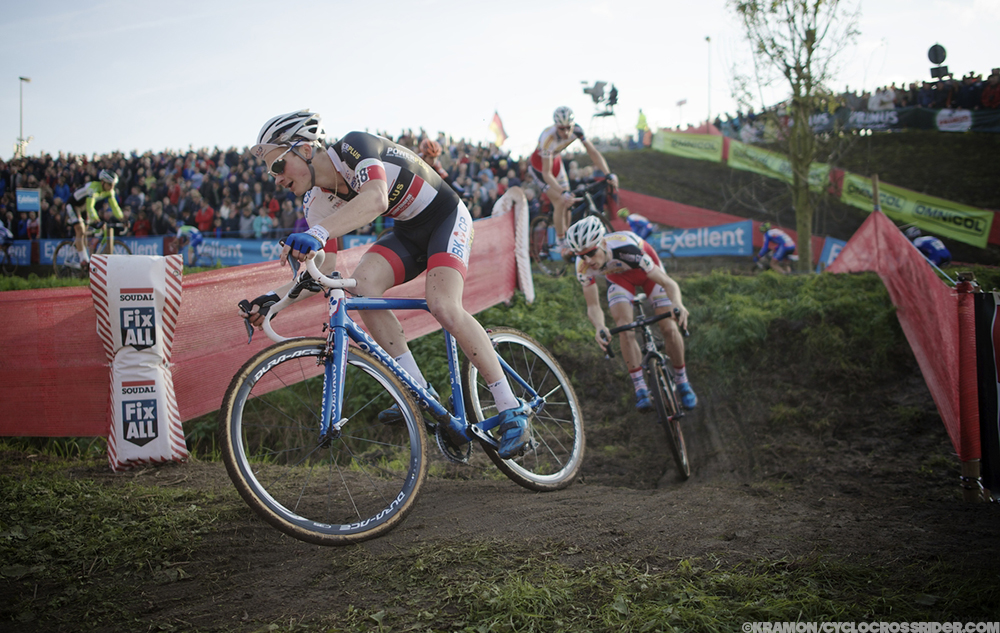 David van der Poel leads Kevin Pauwels early in the race. Below: Van Aert and Pauwels chase through the dockside section.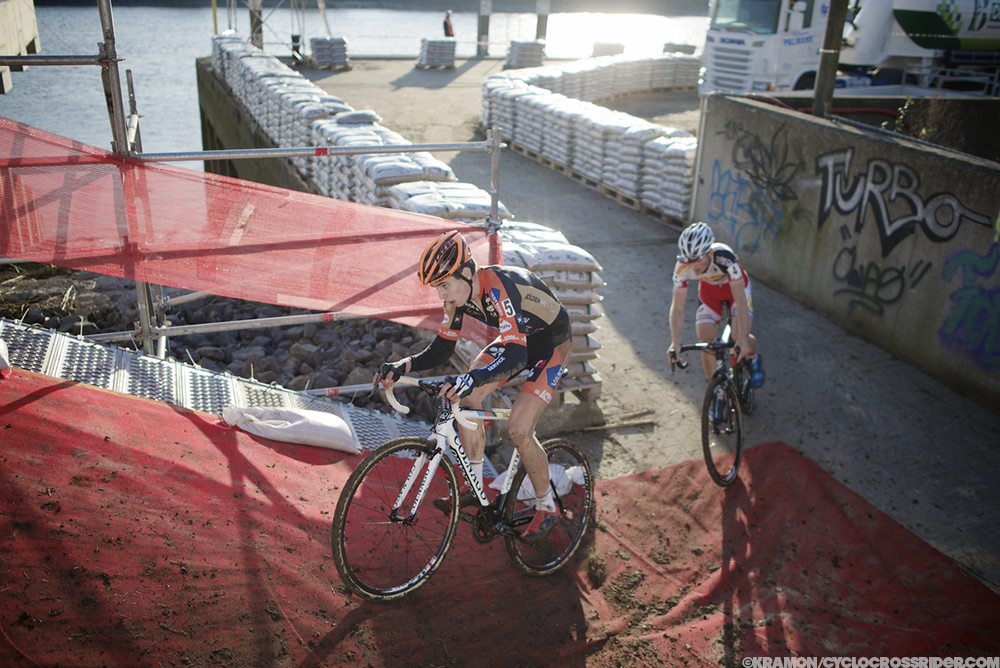 Elite women: Cant wins three in four days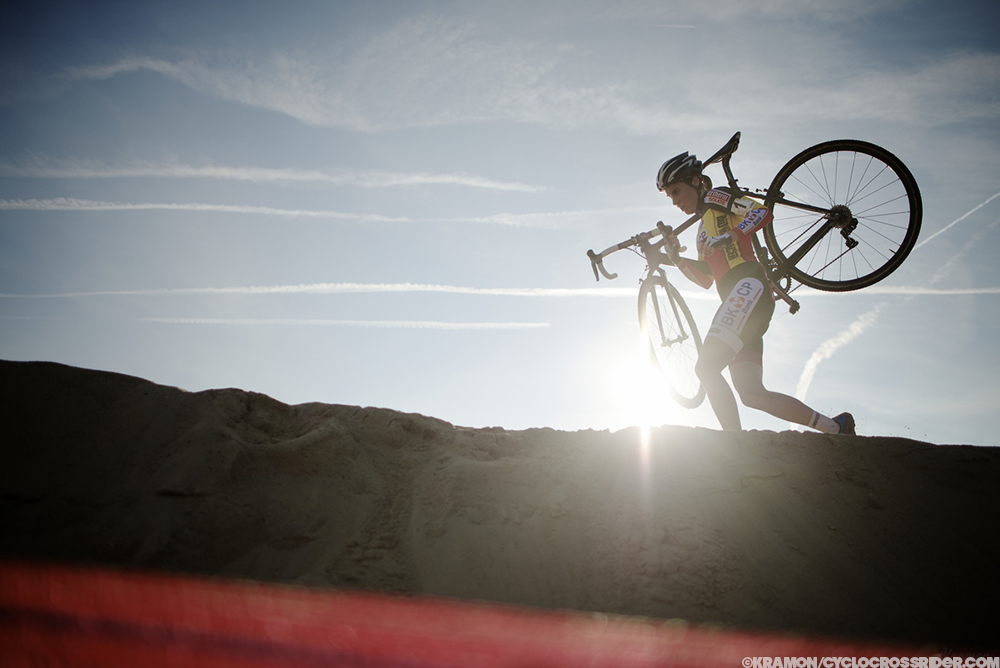 IN the women's race, Belgian, and newly crowned European champion Sanne Cant's great form continued in the Jaarmarktcross – which was amazingly her third victory in four days.
Helen Wyman (below) was the early leader before, first young Jolien Verschueren and then Sanne Cant (above) took over at the front. Cant lost some of her lead by dropping her chain on the large off-camber bank, but stayed ahead of her chasers.
With three laps remaining Verschueren broke away from Wyman on the long sand strip with a faster running style, but Cant's lead had grown to 20 seconds.
The Belgian champion came home comfortably to add to her European win on Saturday in Germany and in Ruddervoorde on Sunday. British champion Wyman held off Ellen Van Loy to secure third place. Briton Nikki Harris skipped the race after a heavy fall in the sand at Ruddervoorde – Harris went to hospital for X-rays after the handlebars hit her chest and she was luckily clear of any damage to her ribs except painful bruising.
Elite women: 1 Sanne Cant; 2 Jolien Verschueren; 3 Helen Wyman.
Juniors: 1 Thijs Wolsink (NED). Nieuwelingen: 1 Florien Vermeersch (BEL).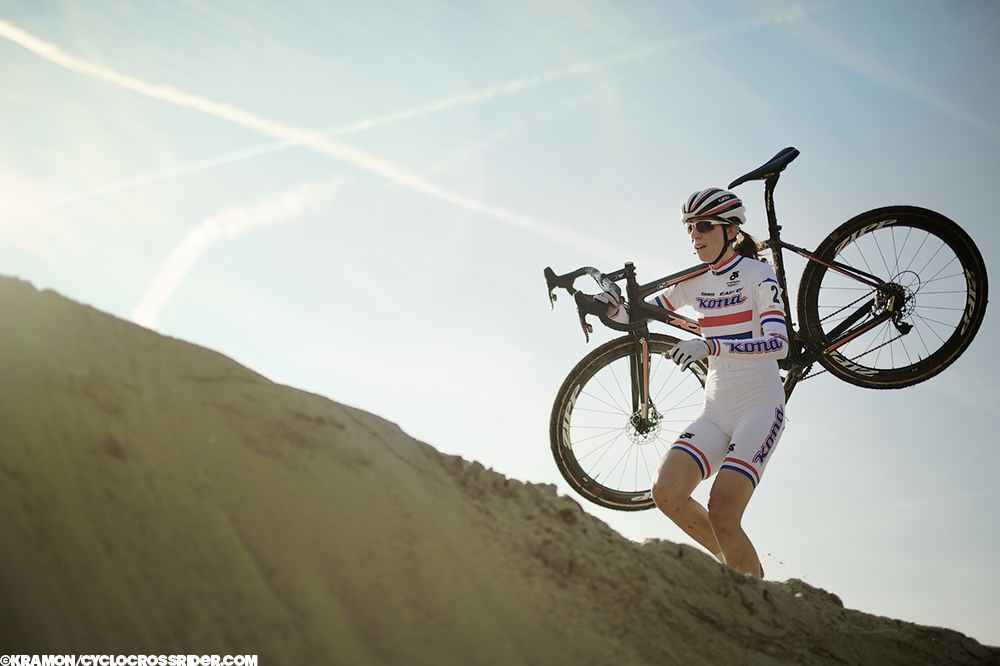 Highlights and post-race interviews (Dutch) here.