Local TV report on Woerden Kermis
VAN DER HAAR HAS A 'GOED NACHT'

The 'cross circus arrived at the Woerden Kermis (Fair) on Tuesday night to contest the 15th Nacht van Woerden race. The Dutch riders always look to impress on home soil - last year it was an all-Dutch podium in the men's race with Thijs van Amerongen winning. No surprise then that it was Lars van der Haar and Corne van Kessel doing battle at the front early on. The unfortunate Van Kessel though suffered two punctures and a final lap crash (eventually finishing fifth) which left Van der Haar out on his own to take a clear victory.
American champion Jeremy Powers stayed on in The Netherlands - perhaps looking for a good test after the disappointment of finishing 41st in the Valkenburg World Cup - and finished 17th two places behind Van Amerongen.
Powers will return to Europe for the next round of the World Cup in Koksijde and told Cyclocrossrider that there is "nothing specific" to pin point about his first two performances in Europe, but only that "it just didn't happen."

Czech Pavla Havlikova won the women's race to continue her great start to the season. The victory follows on from her impressive win in Ronse. Nikki Harris led the Britons home in fourth place with Helen Wyman sixth and Hannah Payton 18th.
Results: Elite men: 1 Lars van der Haar (NED); 2 Marcel Meisen (GER); 3 Stan Godrie (NED).
Elite women: 1 Pavla Havlikova (CZE); 2 Ellen van Loy (BEL); 3 Sanne van Paassen (NED).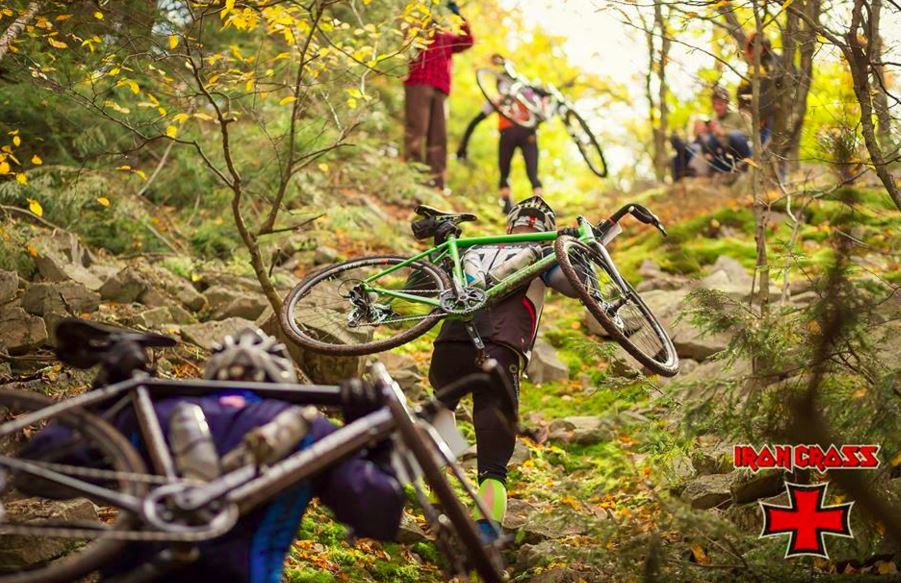 IRON CROSS PROVIDES ANOTHER TOUGH TEST
Last weekend was the 13th Iron Cross race through the forested hills of Pennsylvania – Iron Cross was inspired by the Yorkshire Three Peaks race and is the "original American ultracross race." Conditions over race weekend varied from snow to bright sunny skies as Ryan Serbel won in 4:08:23 and Vanessa McCaffery took the women's title over a newly designed course starting and finishing in Williamsport.
More Iron Cross photos from Abram E. Landes here. Details of the race and others in PA state can be found here.
UP CLOSE WITH SVEN'S SAND TRAINING
Most European top 'crossers will be doing technique training between weekend races and if possible it will be designed to be relevant to their next big race in some way. Sven Nys was preparing for the huge sand pit of Zonhoven (where the second round of the Superprestige takes place this Sunday) with some specific drills in the forest earlier this week and it's clear from these clips that technique and power is still one of his strengths. Observing his skills close up are team mate Sven Vanthourenhout, USA's Brian Matter and Trek's Matt Schriver.
STOP PRESS: Shortly after we posted this page, Sven Vanthourenhout's decision to retire at the end of this season was made public although he plans to remain involved in the sport.

"It's haunted me for some time," Vanthourenhout told Sporza, "I cannot ignore my age - at 35 you are no longer the youngest of the pack and the 'generation change' has also become reality." MORE LATER.

VAN DER POEL BACK IN THE WOODS
World champion Mathieu van der Poel was back training outdoors (after surgery) on Sunday and flexible enough to take this snap for Instagram by Tuesday.
As we reported last week, Van der Poel is hoping to return to racing at the World Cup in Koksijde on November 22nd – a month later than was originally thought. The Dutchman has been missing so far this 'cross season due to surgery on his knee. The twenty-year-old crashed in the Tour De L'Avenir back in August and after failing to recover fully underwent surgery to remove damaged tendons on October 2nd.
AND FINALLY… Sporza reveals the bad news

Sporza finally gave its Flemish viewers the bad news this week (October 20th)… revealing how many of the top races have moved from live coverage on national TV (available across Belgium and The Netherlands) to a Telenet digital subscription channel.
Whilst those outside the 'cross heartland' are used to finding often temperamental live streams the Flemish have grown accustomed to the big races being fed right into their living rooms. Race sponsors will also be bemoaning the likely drop in audience as well so, as we wrote here three weeks ago, not at all good news for the sport. Perhaps that's why we are over a month into the season before it's been 'talked about'.
Sporza's guide to where each major race will be broadcast is here.