HIGHLIGHTS – Elite women
HIGHLIGHTS – Elite men

BELGIAN Wout Van Aert was a comfortable winner of the opening round of the UCI World Cup after launching a determined attack that rid himself of breakaway companions Sven Nys and Michael Vanthourenhout. The three Belgians finished in that order to dominate the podium and Belgium placed seven riders in the top ten.

"It was difficult fighting for your spot in the big group," Van Aert told Renaat Schotte after the race. "It's a really demanding course and my plan was to attack on the section with the three climbs," he continued whilst also acknowledging Nys' contribution to the pair catching early leader Vanthourenhout.
In the women's race Czech champion - and 'adpoted' American – Katerina Nash won in Vegas for the fourth time ahead of Eva Lechner as Belgian champion Sanne Cant won the sprint for third place.
With temperatures for the evening races at around 26 degrees Celsius there was a new ruling from the UCI regarding drinking in the races. Designed partly to avoid the confusion here twelve months ago (when Sven Nys' 'early' trip to the pits for water got the UCI commissaires scratching their heads) but chiefly to reduce congestion in the pits, the new rule states that riders must carry their own drink from the start or change to a new bike with a drinks bidon on it.
Those keen to get their hands on a Cyclocrossrider bidon should LOOK HERE NOW!

The fast, firm grassland course was expected to suit Tom Meeusen and he was indeed the rider spearheading the riders through the first half lap as the dust swirled up from the dry racing surface. Belgian champion Klaas Vantornout sat right behind and Wout Van Aert was also noticeable, there or thereabouts, as Michael Vanthourenhout took over the lead.
When Vanthourenhout (Michael) and Meeusen eased open a gap on the rest (created by 'idling' teamwork from Vantornout, Klaas) Van Aert quickly moved forward and closed the gap. This wasn't a real attack though – these were just the early psychological skirmishes – and the large peloton completed the first lap pretty much as one.
With such a closely packed bunch though incidents were going to happen and on the second lap both Meeusen and former World Cup holder Lars van der Haar came to grief on the barriers and defending Cup winner Kevin Pauwels stuttered on some steps.
Meeusen was up and back on the front of the race by the third lap though before the Sunweb pair of Vantornout and Vanthourenhout set up the same move that they had 'rehearsed' on the opening lap. This time the attack from young Vanthourenhout (Michael) was for real.
As Vanthourenhout lengthened his lead – to 31 seconds approaching the halfway mark - the rest were looking around and from down in the teens both Sven Nys and US champion Jeremy Powers moved their way to near the front of the bunch. Amongst the large pack Pauwels suffered a second stall on some steps and it began to look like it was not going to his day and that Vanthourenhout would be the bright red Sunweb team's best card to gamble with.
Step forward Sven
With the gap growing so big, a reaction in the bunch was now urgently needed and none other than defending Vegas winner Sven Nys (looking for a hat-trick of wins here) stepped forward for the task closely tracked by Wout Van Aert.
Once Nys and Van Aert began sharing the pulls the rest were left behind – Vantornout, Meeusen and Van der Haar could not hold the wheels. The chasing Belgian pair were now really applying themselves and Vanthourenhout's lead began dropping quickly as he perhaps began thinking he might welcome some company out front anyway. With just over half the race gone it looked that the three riders who would contest the podium places had already been decided.
Jeremy Powers had not given up hope and he tried to make inroads with Van der Haar on his tail. As this pair closed to within 20 seconds of the leading trio though it was clear that Sven Nys wanted this move to stick and he ensured that the pace at the front was kept high.
Pauwels was on the move forward again in an attempt to score points in the season-long World Cup competition that he has won twice and soon got himself in amongst the fight for fourth place.
Fastest lap
Into the penultimate lap and we were now at the business end of the race. Van Aert began to increase the pace first and Vanthourenhout, and then Nys, lost his wheel as the twenty-one-year-old sped into the succession of three mid-lap climbs. Van Aert's lap was the fastest of the race.
Van Aert led Nys by 22 seconds at the bell with Vanthourenhout at 40. Van der Haar, Powers and Pauwels needed to close an unlikely looking 17 seconds to fight for a podium place and realistically fourth was their best hope.
The 2014 World Under-23 champion Van Aert had turned 21 on Tuesday and the victory here in the first major race of the new season gave him a double cause for celebration. Sven Nys and Michael Vanthourenhout were both visibly satisfied with their podium places whilst behind it was Van der Haar who won the sprint for fourth.



THE elite women's race also showcased team tactics and a rider attacking away from a small leading group to win convincingly. The team with the numbers near the front were Luna and it was their most experienced 'crosser Katerina Nash who notched up another win in Vegas.
"It was a good day, I felt strong and I made the right move," Nash said speaking to Renaat Schotte. "It was not really planned that way, but when you get a gap then you have to go," she added.
The favourites were soon to the front as Italian champion Eva Lechner led Belgian champion Sanne Cant around the first tight corners of the Desert Breeze course. Behind them the remainder of the top ten was: Sophie de Boer; Nash; Sanne van Paassen; Loes Sels; Ellen Van Loy; Amanda Miller; Catharine Pendrel; and Brit Helen Wyman.
It was difficult to spot multiple US champion Katie Compton in the pack and, given that she had announced not having much summer training in her legs, many were wondering if she would show anywhere near the front.
Lechner, who won silver at the 2014 World championships, continued to push the pace and gaps in the line of riders started to appear. Lechner, Van Paassen and the Luna pair of Pendrel and Nash eased clear as Cant fought hard to rejoin them at the end of the first lap of the five-lap race. Cant made contact during the second lap at the end of which the five leaders had an eight second cushion of the chase now being led by Compton.
Compton led a determined chase with De Boer, Amanda Miller, Meredith Miller, Georgia Gould, Crystal Anthony, Ellen Van Loy and Maghalie Rochette alongside her.
As the race entered it's second half Van Paassen, who won CrossVegas in 2012, slipped off the back of the lead group and the race was seemingly left to four reigning national champions to fight it out: Nash; Lechner; Cant; and Pendrel.
The sight of most of the world's best cyclocrossers fighting it out on American soil must have been an emotional one for CrossVegas promoter Brook Watts who took a gamble back in 2007 to organise an offbeat night-time race at the Interbike trade show.
On the penultimate lap Compton and yet another Luna rider – Georgia Gould – made contact with the leaders but it was for a fleeting moment. Nash was keen to get on with it and her attack with a lap and a half remaining blew things apart. Wout Van Aert's later attack in the men's race was practically a carbon copy in most respects.
At the bell Nash's lead had grown to 26 seconds and Gould had rejoined the chase group. Eva Lechner decided that attack was the best policy and went clear in second place leaving a three-way battle for the final podium spot. Despite being in a Luna team sandwich with Pendrel and Gould, Sanne Cant sprinted well to win that particular battle. Lower down the field Compton had faded slightly and finished eleventh and Helen Wyman was the first British finisher in fourteenth place.
So a fourth victory for Nash in Vegas, but reigning World Cup holder Cant will not be disappointed with the points accumulated for third place as the competition heads back to Europe and Valkenburg on October 18th.


Preview and start lists
EUROPEAN 'cross fans must turn nocturnal this evening (Wednesday evening/Thursday morning) in order to watch the opening round of the 2015-16 UCI World Cup in Las Vegas. For the first time in it's 22-year history a UCI World Cup cyclocross round takes place outside of Europe, but sadly a planned round in Canada to follow on from CrossVegas had to be cancelled. Vegas will host World Cup races for two categories – elite women and elite men.
So set your alarms for the middle of the night to find out which riders will excel in the Nevada desert - the evening race schedule means that Europe is sleeping whilst the racing takes place. This should be the most atmospheric CrossVegas yet despite there being plenty of drama here twelve months ago.
In 2014 the elite men's race concluded with an argument about in-race drinking (an argument that has recently resurfaced in America) that provided an unfortunate Hollywood-style scripting to the end of the main race. Sven Nys crossed the line first but complaints were lodged about his first pit stop for a drink being too early. Common sense prevailed and Nys was not stripped of the victory.
Look back over our extensive 2014 CrossVegas coverage here
This early in the season - and on a course quite different from what the riders generally face in Europe - predictions are difficult and performances can be atypical. Results here will however give a good indication as to who has had a strong summer of training and are likely to confirm the continuing progress of some of the younger and emerging riders with whom fans are less familiar.
Favourites
Among the big Belgian favourites World Cup holder Kevin Pauwels, Belgian champion Klaas Vantornout and Tom Meeusen (amongst many other Europeans) will all race in Vegas for the first time.
Don't expect CrossVegas podium regulars Nys, Van der Haar and Powers to have it all their own way
Wout Van Aert - who finished fifth here in 2013 (main photo) - will start as the race favourite – World champion Mathieu van der Poel is missing after crashing last month - and it may be other young riders like Laurens Sweeck, Gianni Vermeersch, Michael Vanthourenhout and Jens Adams that supply the surprises. Don't expect CrossVegas podium 'regulars' like Nys, Lars van der Haar and US champion Jeremy Powers to have it all their own way. The gridding based on UCI rankings will mean that defending Vegas winner Sven Nys (beginning his final season in the sport) will start on the second row wearing his new black team kit – the front row grid is listed below.
Laurens Sweeck has travelled to Vegas directly from winning the first European C1-ranked race of the season in Switzerland on Sunday where he beat Philipp Walsleben and Francis Mourey. Sweeck won on a dry and dusty course to show his early season form. Walsleben also races in Vegas, but Mourey does not travel.
British champion Ian Field will be in Vegas and is joined by British international Hugo Robinson. For European followers the men's race starts at 06.30hrs on Thursday morning – that's 05.30am for British viewers where the UCI live feed is expected to play this season (USA and France are the chief countries geo-blocked for this round). In the elite men's race there are 68 on the start list representing 16 nations and the front row will be called up in the following order.
FRONT ROW GRID

1 Kevin Pauwels, 2 Wout Van Aert, 3 Lars van der Haar, 4 Tom Meeusen, 5 Laurens Sweeck, 6 Klaas Vantornout, 7 Philipp Walsleben, 8 Jeremy Powers.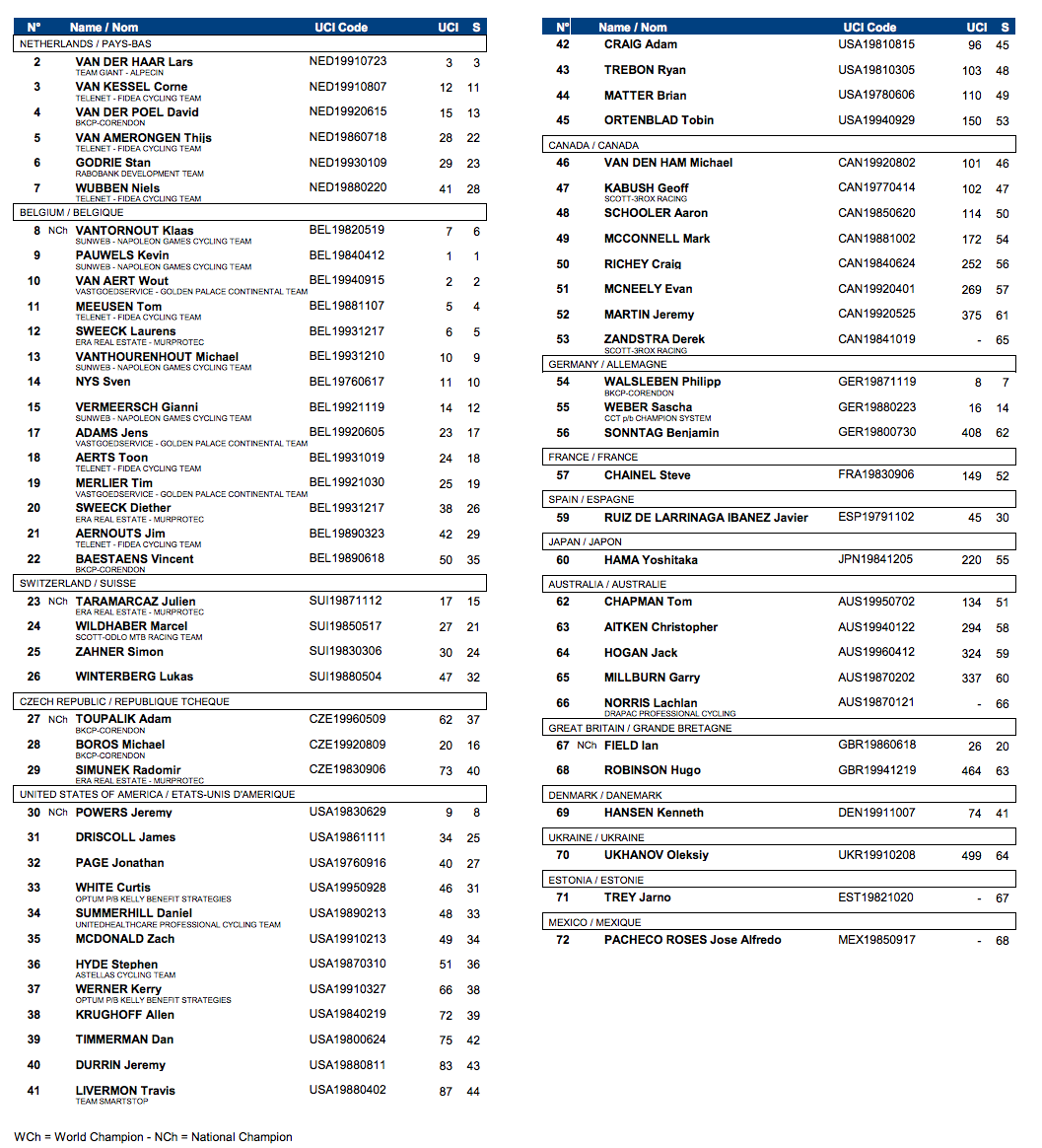 Elite women
The start list for the elite women's race is dominated by large American and Canadian teams the former led by multiple US champion Katie Compton who was third here twelve months ago. There are 46 entries from 14 nations.
As with the men's race it's a very difficult race to predict. Top ranked on the UCI list is Belgian champion Sanne Cant who will have compatriot Ellen Van Loy alongside her. Completing the front row of favourites alongside Compton and the Belgian pair will be: Katerina Nash (runner-up in 2014); British champion Helen Wyman; Sophie de Boer; Lucie Chainel-Lefevre; and Caroline Mani. Italian champion Eva Lechner starts from the second row as does last year's winner Meredith Miller.
The two big names not racing in Vegas are reigning World champion Pauline Ferrand-Prevot and her predecessor and trade team mate Marianne Vos. It's expected, like last season, that both 'PFP' and Vos will race only a limited number of 'cross races.
Vegas always puts on a show and, apart from the unfortunate early hour (for European fans), it will be a dramatic curtain raiser to an intriguing season.