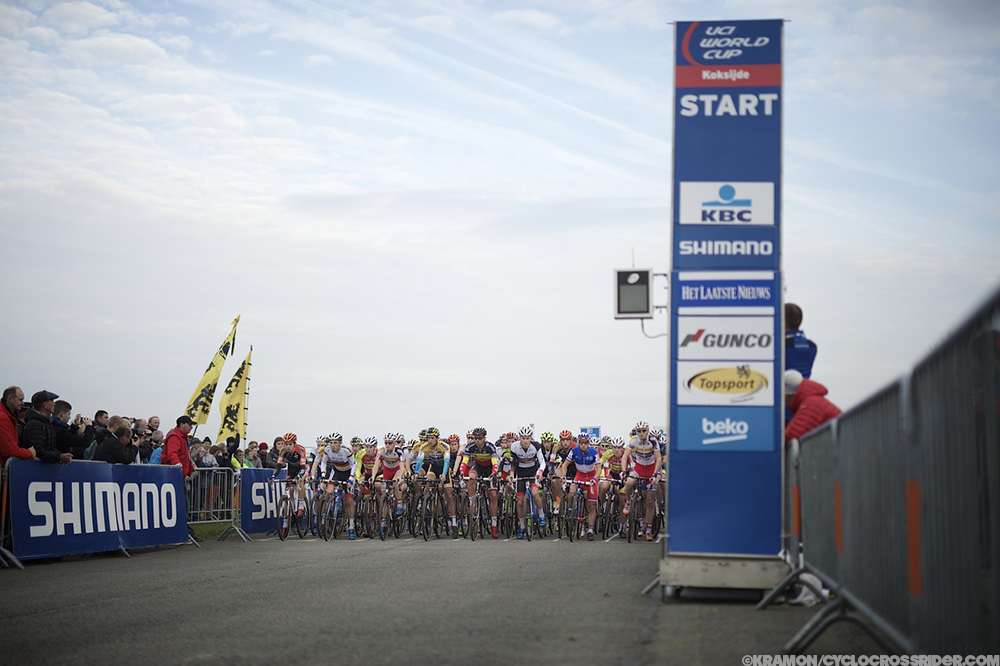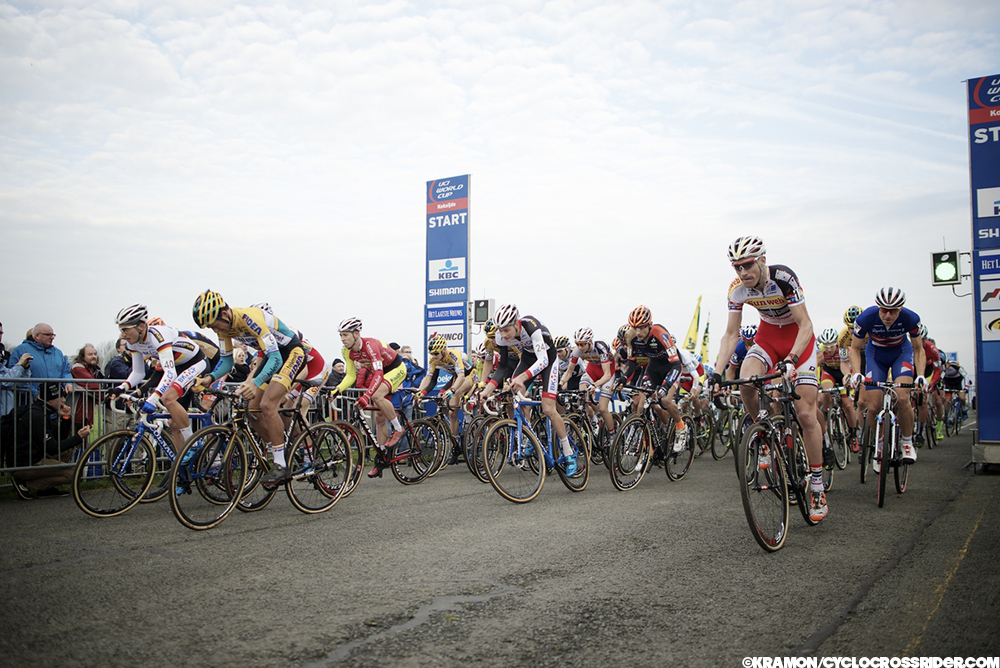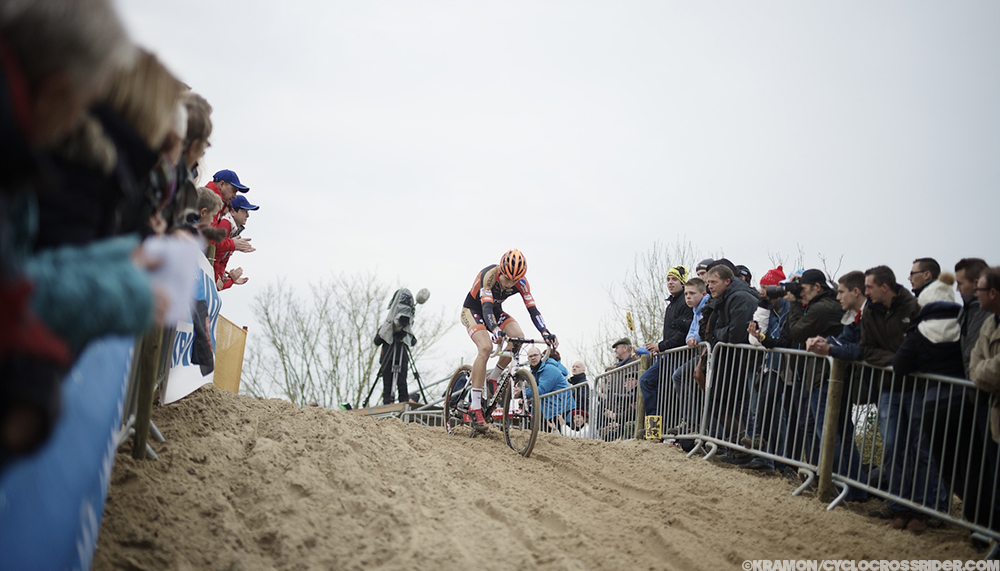 WORLD Under-23 champion Wout Van Aert (above) scored a second major elite victory in a month today in Koksijde to truly cement himself at the top of the senior level of the sport. Earlier in the month the Belgian won a controversial sprint with Sven Nys to win the Koppenbergcross, but today, near the Belgian coast, the 20-year-old won emphatically to add his name to Koksijde's long and illustrious roll of honour.
"It was pretty amazing to finish alone with a big gap - I did not imagine that," Van Aert told reporters after the race. "Before the race I didn't think it would be possible to go alone so early, but I was alone for nearly half the race and did it," he added. "The Koppenbergcross and now Koksijde – these are the races that you want on your palmares – they are the two big races to win in Belgium. It was a special race for my team leader Niels Albert [forced into retirement earlier this year] and he brought along his World champion jersey. This win is for Niels."
Niels Albert was the winner here twelve months ago as well as winning his second World title here in 2012. Having someone like Albert in his camp is going to be a big boost for Van Aert especially on the more technical courses like Koksijde where experience can really count.
I know it's too early to make big statements, but I hope this is the start to a great career with these two big victories in one month - Van Aert
Van Aert went on to say, "I can be happy with this and should enjoy the moment now. Although I know it's too early to make big statements, but I hope this is the start to a great career with these two big victories in one month. I hope I can hold onto this shape for the rest of the season, that's my goal."
Van Aert was never away from the head of the race and even led around the first corner as a certain amount of chaos ensued behind. Belgian champion Sven Nys missed his pedal at the start and was back in 17th place, but at least managed to miss the first corner crash that American Jeremy Durrin got tangled up in.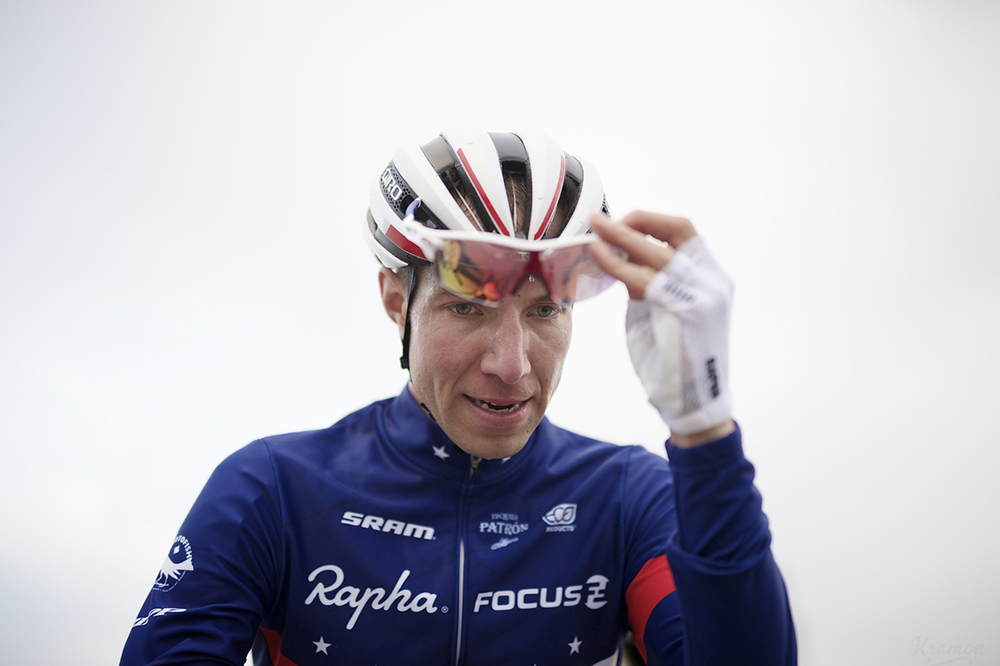 American champion Jeremy Powers (above) got a reasonable start in 14th place before Nys passed him with some strong running through the first sand strip, but it was the younger riders who were packing up near the front. Behind new leader Philipp Walsleben were the new generation: Van Aert; David and Mathieu van der Poel; Laurens Sweeck; and Michael Vanthourenhout.
At the end of the first lap there was a big peloton of 15 riders including Nys with Powers just off the back of this group. Laurens Sweeck led out of the first sand strip (Herygers' Dune) as Nys had another good passage riding low and moving up to sixth place. Through the long sand strip for the second time (that lap) though the race started to get stretched out and Mathieu van der Poel and Van Aert opened up a small gap over chasers Sweeck and Van der Poel, David. Around lap three and Nys led the big bunch up to the chasers leaving only Mathieu van der Poel and Van Aert out front and whose lead was now up to 14 seconds.
Time board
Van Aert's team, Vastgoedservice-Golden Palace, were showing Van Aert a 'time gap' information board of the kind previously only really used by Sven Nys. On the fourth lap, with not much over 20 minutes racing gone - and just after Van Aert had seen his time board - he began almost imperceptibly at first inching away from Van der Poel and led him by nine seconds by the end of the lap.
Going into the fifth lap a group of eight chasers were 31 seconds behind Van Aert with Powers just off the back still - in 11th place. The longer Sven Nys was buried in the big group though, the more it seemed he would be delayed and, right on cue, he got accidentally hit astern by Rob Peeters exiting the sand.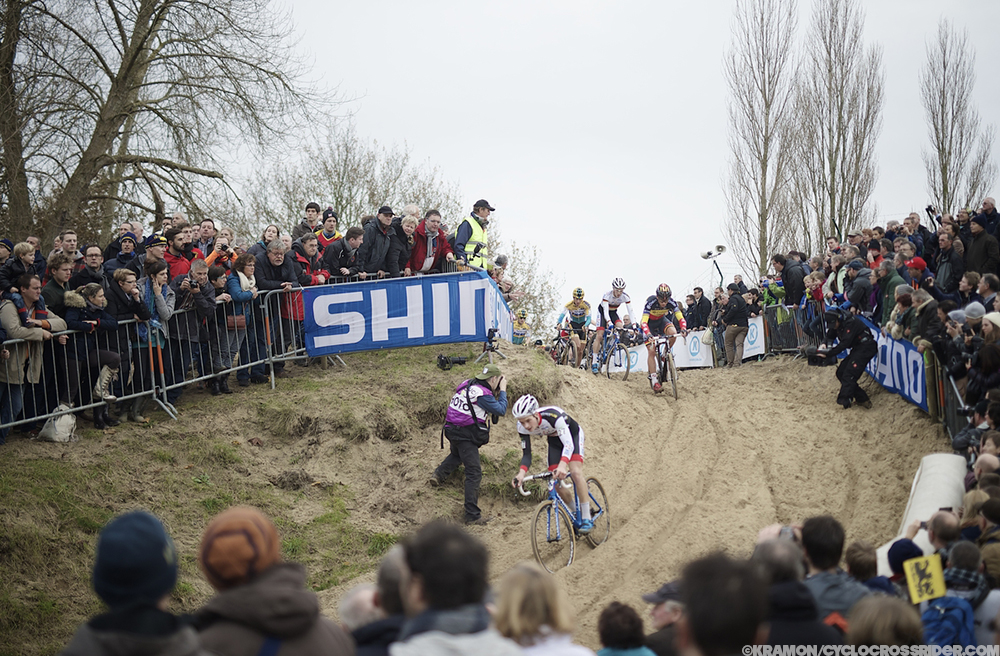 On the sixth lap – with four laps remaining – the group broke up a little, Nys extricated himself and moved into third place to perhaps begin a chase. His chase was short-lived however as he rode into the trackside banners, pitted to change bikes after the two collisions and duly dropped back down to seventh place.
Kevin Pauwels chose this moment to make his move and went clear in third place around the seventh lap. This prompted Sven Nys to chase, in fourth, only for his bad luck to continue with little mistakes and 'bobbling' in the sand sections. With two laps to go Van Aert's lead looked unassailable as Van der Poel was about to come under pressure from Pauwels and the Nys chase group were 1 minute 18 seconds in arrears.
Young Van Aert held his form impressively well in the closing stages and had no real problems in the sand – shifting his body around to remain upright and increase traction. At the bell he led Pauwels by 43 seconds with Van der Poel now a minute down and Nys now looking disinterested and riding on his own in thirteenth place.
Past the pits for the final time, Van Aert pumped his arm in celebration as behind him Kevin Pauwels quietly took the lead in the World Cup standings with second place and Van der Poel just held off Tom Meeusen and Klaas Vantornout to stay on the third step of the podium.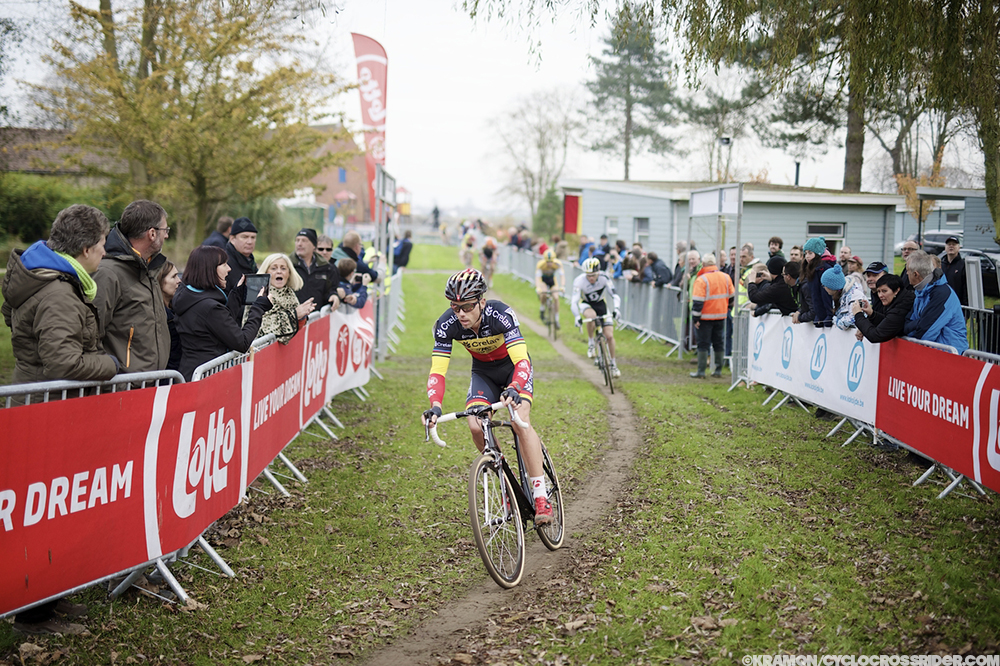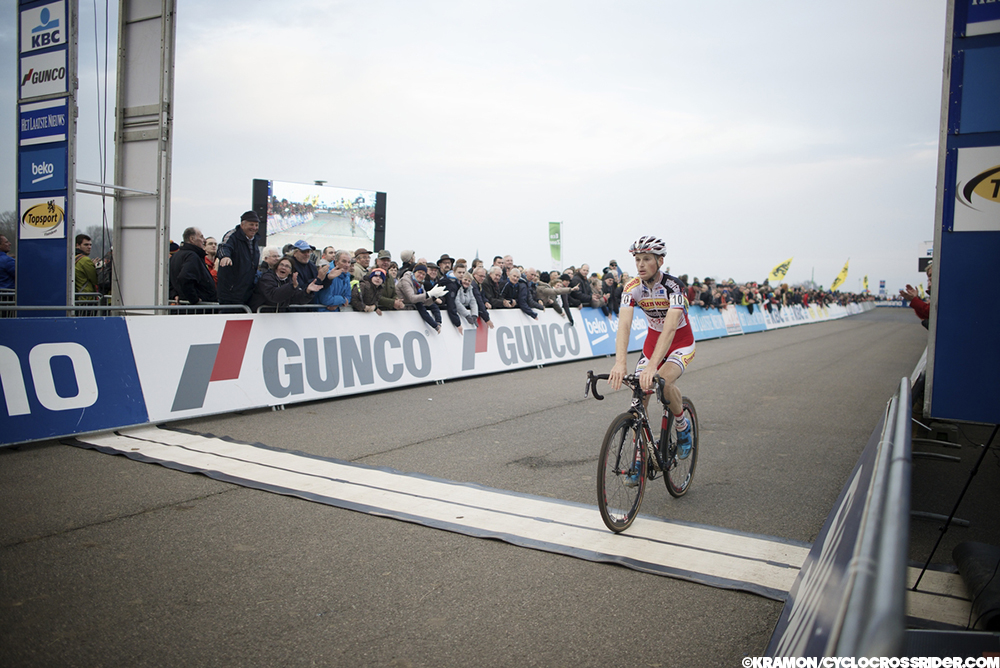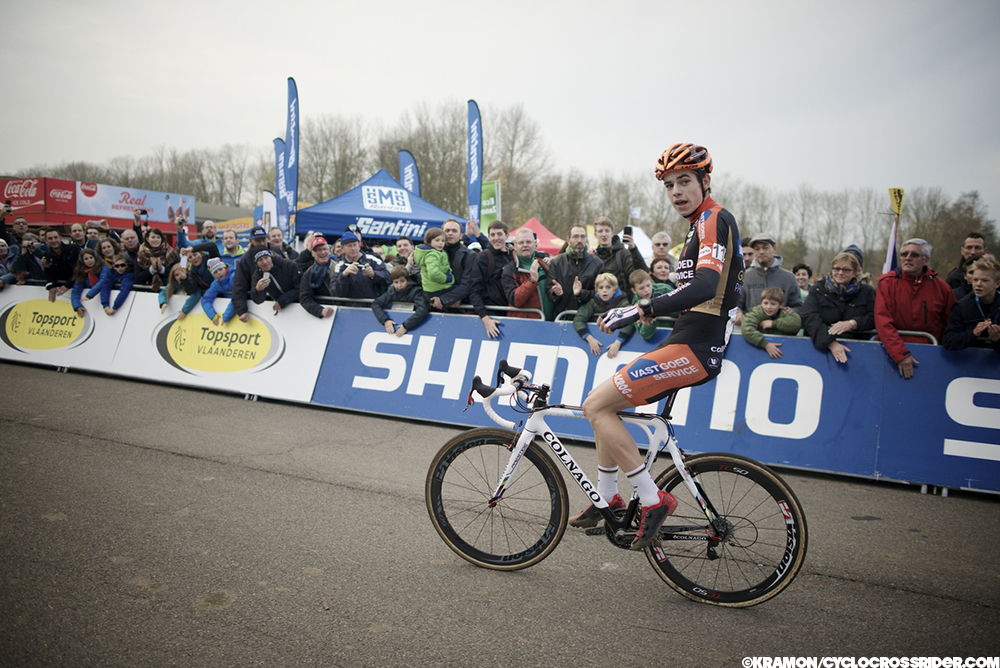 Van Aert's animated (Paul Herygers-style) victory celebration was in stark contrast to Sven Nys who lost another place on the finishing straight and it became very clear that his priorities had already turned to Sunday's Superprestige race in Spa as his World Cup campaign produced a second disappointing result. There were also suggestions that Nys was ill this week after tweeting that he thought he had kept illness at bay. Get ready for more drama tomorrow at the Spa-Francorchamps race circuit.
I feel as though I should have been top 20 and it was probably one of the best World Cups I've ridden - Ian Field
British champion Ian Field's race story was one of some satisfaction mixed with a great deal of frustration. As he explained to us, he was forced into making a poor start, but two of his lap times were top 20 and he salvaged a good result under the circumstances.
"My race got ruined by Sven (Nys) of all people," Ian told us after the race. "I was third row, but right on Nys' rear wheel - as I was to the side of the second row rider - and Sven completely missed his pedal. By the first corner I was right back in the mix where people are just taking all kinds of risks and there is no respect. It was carnage on the first lap."
"I was trying to move through and passing people easily, but it's just one line in the sand and people are making mistakes all over the place and you have to get off," Field added. "I feel as though I should have been top 20 and it was probably one of the best World Cups I've ridden. I was flying but that first lap totally ruined the whole race. It bodes well for next week (Milton Keynes) and I've found some good consistency this year. It's just frustrating!"
Result: 1 Van Aert; 2 Pauwels; 3 Mathieu van der Poel; 4 Meeusen; 5 Vantornout; 6 Jens Adams; 7 Van Kessel; 8 Walsleben; 9 Peeters; 10 Wellens… 15 Nys; 17 Powers (USA); 24 Field (GBR); 38 Page (USA); 54 Durrin (USA); 56 Edmond (NZL); 57 McConnell (CAN).
Overall World Cup standings (after 2 rounds): 1 Pauwels 140 points; 2 Meeusen 115; 3 Vantornout 115.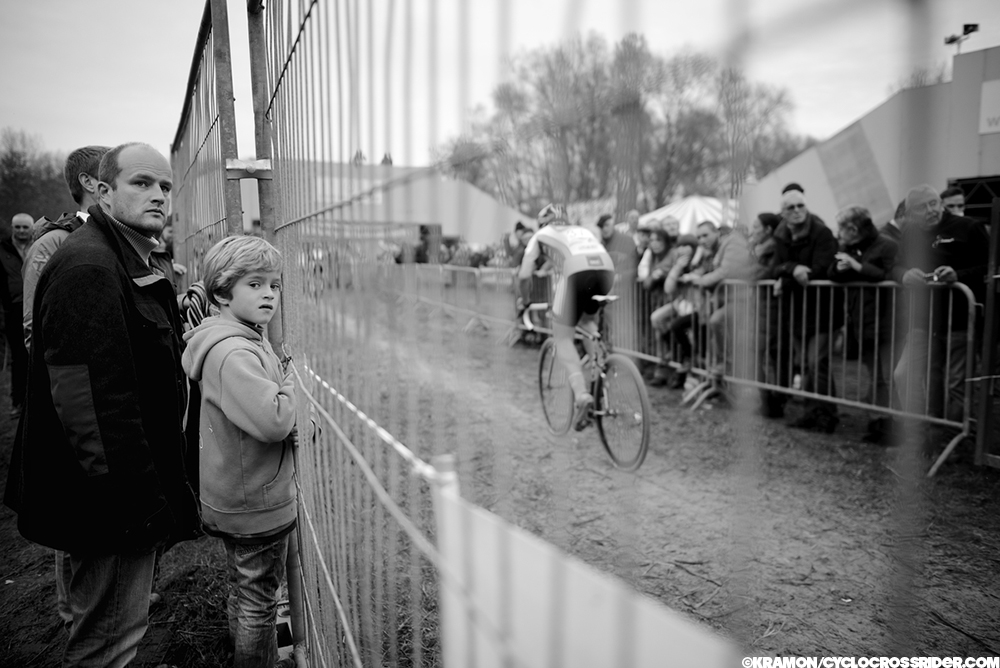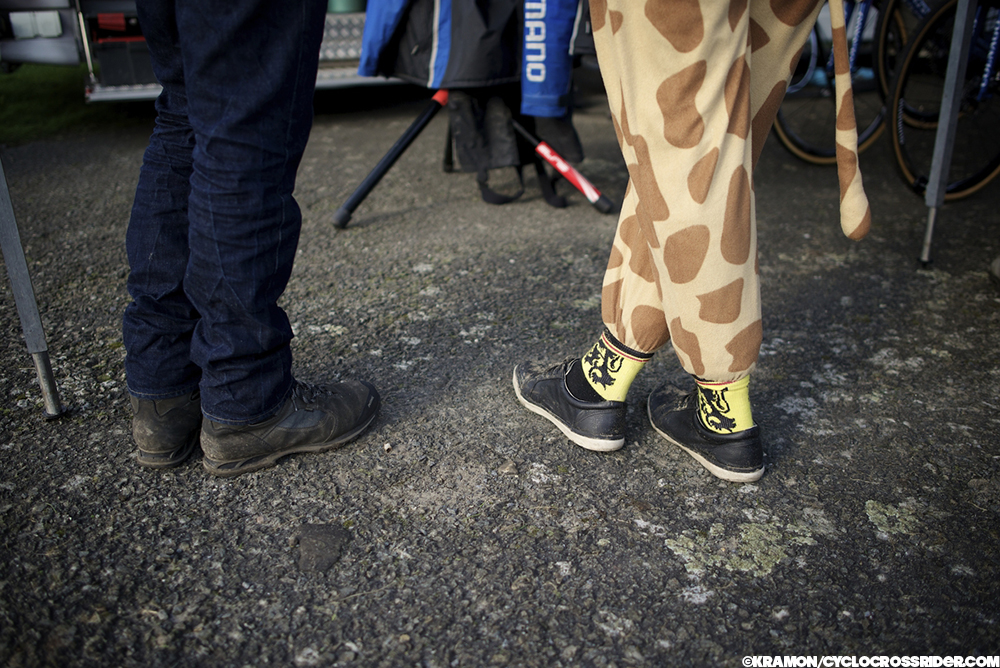 Photos: ©kramon/cyclocrossrider.com