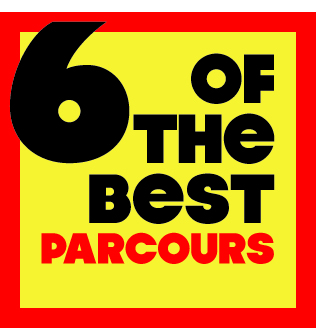 ARTICLE FIRST PUBLISHED IN 2014 - JENS ADAMS is the current Belgian under-23 champion, but as he's now an elite senior rider we will not get to see him in his 'driekleur tricot' (above) this season. Jens has made an impressive start to the season – in his opening race in Switzerland he was only 23 seconds down on the winner Francis Mourey and he finished 6th in Koksijde and 5th in Spa-Francorchamps.
He currently lies eighth in the elite World Cup standings and is ranked 20th in the UCI rankings. Jens also studies physiotherapy in Hasselt.
Niels Albert calls Jens "a real champion in the making." Jens calls his selection the "six most beautiful races."
Team: Vastgoedservice-Golden Palace.
Date of Birth: June 5th, 1992.
Career Highlights: Belgian under-23 champion 2014, 5th World Under-23 Championship 2013 (as of December 2014).

Zonhoven (BEL) // In the Limburg Kempenland this is such a spectacular track with a lot of loose sand and the famous pit. The huge sand pit holds thousands of fans which create such a great atmosphere. This season I was just outside the top ten in the elites.

Gavere (BEL) // This is a famous track at the Belgian Army base with lots of technical descents, mostly very slippery and very tough. I was not that happy with 24th place there this season though and had one bad crash caught by the TV cameras.

Koksijde (BEL) // Another race that attracts large crowds and a very special atmosphere. It is famously located in the dunes with, naturally, lots of loose, sand sections. A special sand technique is required to complete this race. I finished sixth there in this season's World Cup (Just five seconds off a podium at one of the hardest parcours – Ed).
A champion in the making - Niels Albert

Overijse (BEL) // The Druivencross is a hard race with a lot of climbing and technical sections. It's one of the oldest races and the start and finish are right in the centre of town. I didn't race this year but saw that the first climb was so muddy that they were all running it.

Namur (BEL) // This of all the major races has the most altitude differences. There are hard, long climbs followed by technical descents. It's also has the beautiful surroundings of the citadel high above the city. I'm looking forward to the challenge of Namur!

Oostmalle (BEL) // The last race of the season always produces a great atmosphere. This is a technical track through the forest with numerous sand sections. Oostmalle is another Kempen course that features a great deal of sand. (Oostmalle is close to the neighbouring village of Westmalle where the Abbey produces the renowned trappist beer – Ed).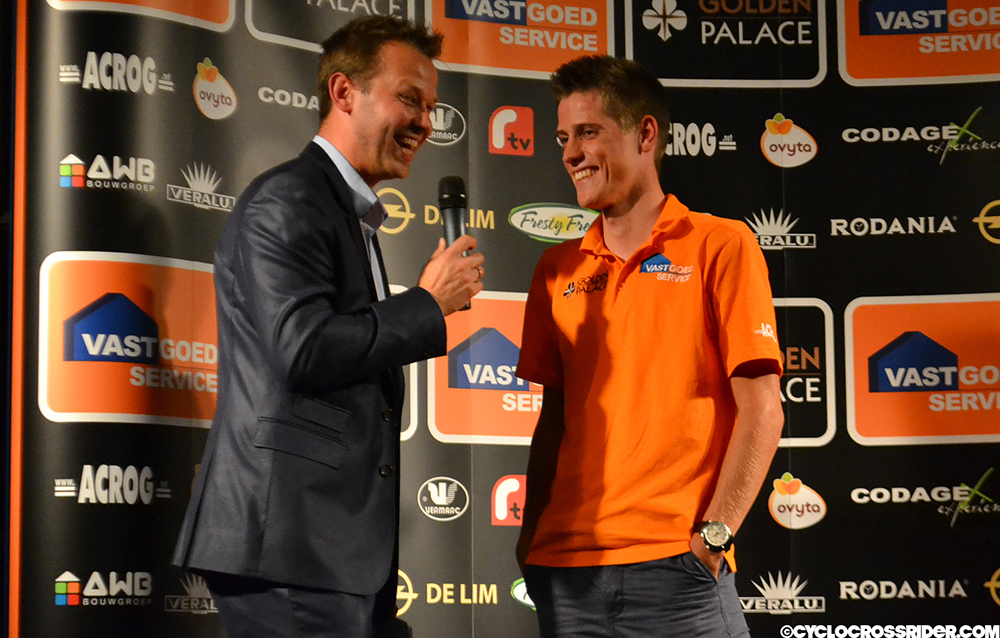 Jens shares a joke with TV's Chris Mannaerts at the VGSGP 2014-15 team launch in Mol.
Photos: ©kramon/cyclocrossrider.com & ©konradmanning/cyclocrossrider.com