THERE IS a first time for everything. Last weekend I participated in the 53rd Three Peaks race. It was my first time and indeed also my first experience of travelling north of Milton Keynes (in the UK). I really did not know what I was getting myself into.

First off, I knew the peaks (or mountains) only as: "The First Peak", "The Second Peak" and "The Last Peak" because I was not actually aware of what they are called.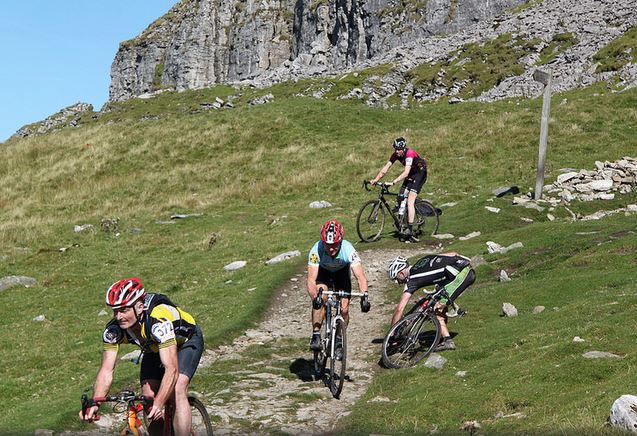 I also left the finer details of the race until pretty much the last moment. Until Wednesday – four days prior to the race - I thought that the race would require low pressures (in my tyres) just like any other 'cross race. In a shock to me, fellow Peaks riders (in Facebook groups) were recommending high pressures and cheap city tyres as the way to get around the race puncture-free.
Survival bag
On Friday evening, I met up with Konrad (editor of Cyclocrossrider and Three Peaks regular) and, in amongst the many race tips, he informed me that the race regulations stated that I was required to carry an emergency whistle and even a survival bag. Whaaaaat!
Well, at least my bike was ready and we picked up the extra items required on the long journey north to my bed and breakfast on the edge of the Yorkshire Dales. The splits for each summit where stuck on my top tube based on me getting around in three and a half hours not knowing that was actually defined as an Elite Class time.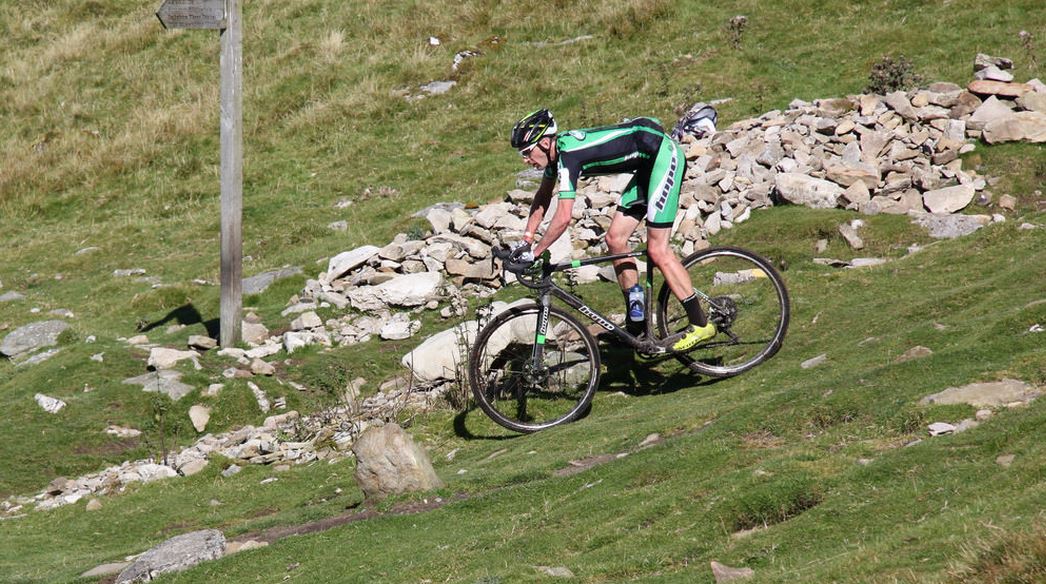 Race winner Paul Oldham makes the descent off Pen-y-ghent look easy.
Mentally I felt confident: I am ok road cyclist, doing well in cyclocross races, a good climber. I can even run really well.
I was lucky enough to have been offered roadside support (by Konrad and his father Harry) to hand me drinks and have spare wheels ready at the foot of the first two peaks. Konrad described the support points and his father would hold my Canadian flag (yeah, I am from Quebec City and living in London for another twelve months) so that I could spot them as I rode into the busy, official support areas.
So with all that, what could possibly go wrong?
The first strange aspect was the actual race start. I lined up on the fourth row not too far behind the favourites, but to my surprise hundreds of riders were massing in front of the first row. The way it shaped up I was down in the masses getting away from the line. Oh well, I thought, I will be passing them on the climb.
Shocker
The first climb was another shocker though. Literally only 25 minutes into the race, everyone was reduced to simply shouldering the bike and climbing a hill that goats would probably avoid. But it was all good fun and I even got onto the summit under my predicted time without overdoing things too much.
I was pulling on those (brake) levers so hard it was shameful!
Once I started going down though, that was when I realised that my target time would be hard to hit. I was probably the worst descender out there and I just could not let my brakes go. I mean, I was pulling on those levers so hard it was shameful! Oh well, my wife's parting words to me were still in my head - "don't hurt yourself" – perhaps I was listening to that appeal way too much.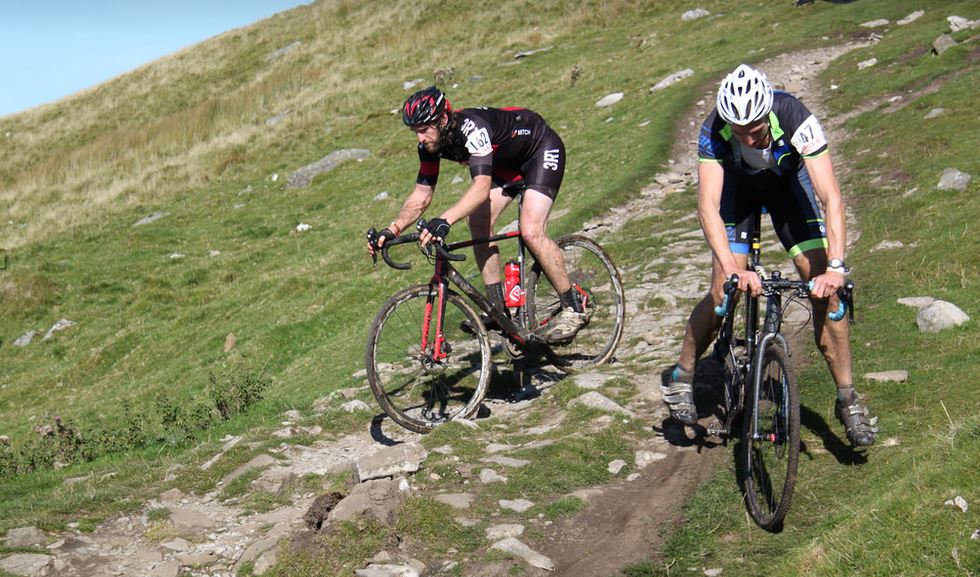 Descending the three mountains is always a challenge.
When I reached the foot of the first peak (Ingleborough) I was seven minutes slower than my 'schedule'. I suppose all targets are flexible, I thought to myself. I felt that I had 'great legs' and pushed strongly on the next undulating road section. The second peak (Whernside) seemed to pass quite quickly and relatively easily. I passed a few people, but I believe that, like on the first mountain, they all passed me going downhill.
The Last Peak
At the support area (Ribblehead) I quickly spotted Harry and my spare wheels wrapped in the maple leaf flag, took my bidon from Konrad and headed towards "The Last Peak". I'd heard people saying that the last peak (Pen-y-ghent) is the easiest of the three. Well, I don't believe them - it is long and hard.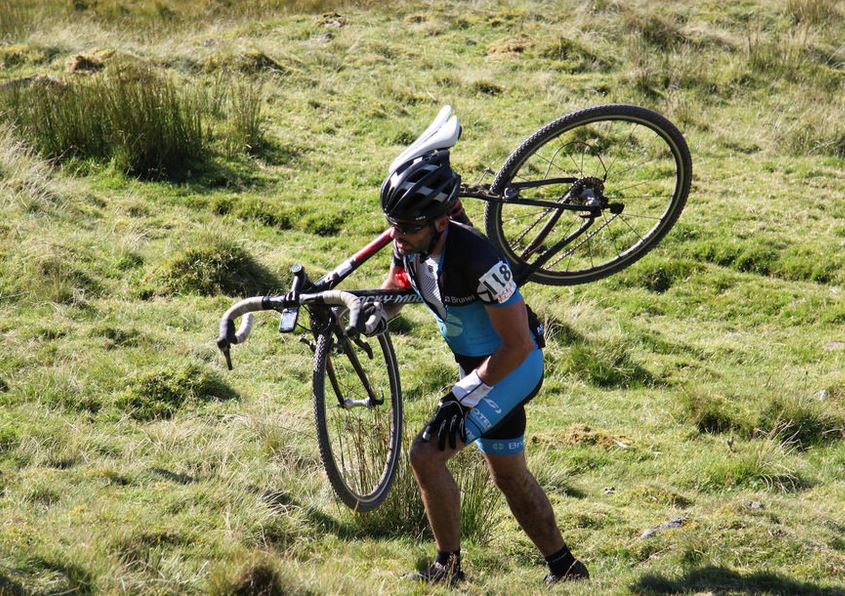 Eric tackles the steep grassy bank en-route to the summit section of Pen-y-ghent.
On the ascent I was beginning to wonder why this race is considered a bike race and not a 'run and carry your bike race'. I felt a little slower on this climb than the other two, but now I was ready for the finale. On the long final descent my arms were screaming in pain from clutching the brakes and once again many riders were passing me like speeding bullets. I couldn't wait to get back onto the tarmac for the final kilometres.
I crossed the finish line in 3 hours 48 minutes and 34 seconds and some 18 minutes outside the elite time band (Eric finished a respectable 37th in the 200 plus male 40-50 age category - Ed).
Reflection
On reflection I cannot really pinpoint anything that particularly went wrong. My ability to descend those types of trails was my real undoing. That is part of the game though and my fellow competitor showed many amazing (and maybe crazy) abilities: jumping their bike over rocks, braking only when really needed, sliding their bodies and bikes, running and simply going fast down the three mountains.
All in all, the Three Peaks is one of the greatest races that I ever participated in thanks to its incredible atmosphere. As a visitor it was great to discover a beautiful new area of England. My one disappointment was missing out on the great scenery. I think I barely soaked in 15 seconds of the views that where there to see, but racing hard does that. I guess that I will need to go back to the Dales and simply hike the Peaks or maybe, who knows, even race it once again!
If there is a next time, I'll make sure to learn to descend terrain like that and I also promise to learn the names of all three peaks.
I'd like to express my thanks to Konrad and Harry Manning for their support.
Race report and 2014 coverage here.
Julia Butterworth's other images of the race can be found here.