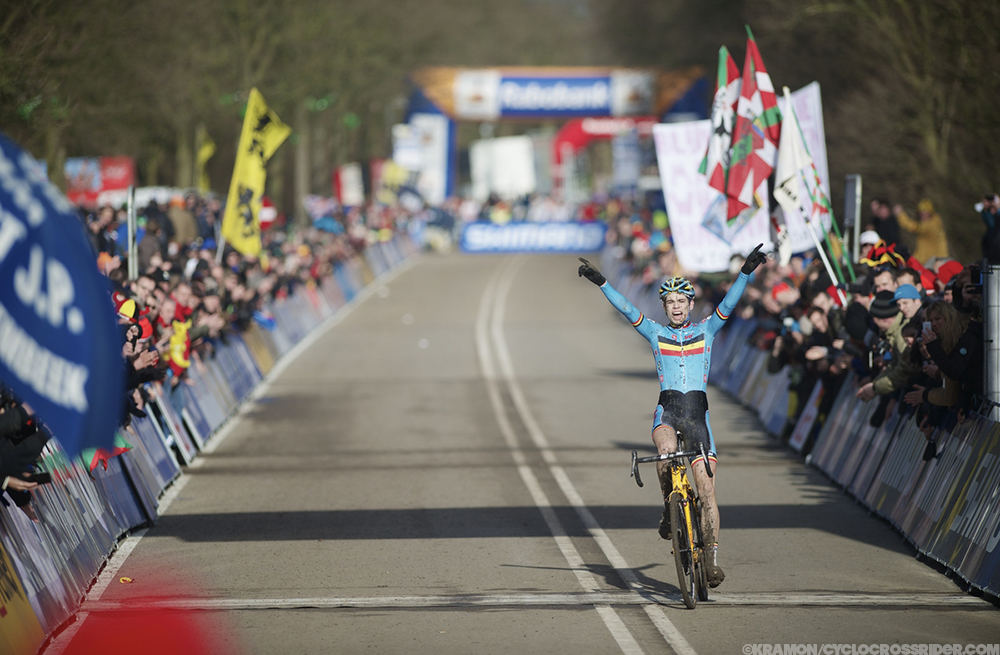 Update Friday January 16th: VAN AERT WILL RACE ELITE WORLDS: Wout van Aert has decided not to defend his Under-23 title in Tabor and instead will race in the senior elite race (Mathieu van der Poel announced that he would also race elite earlier in the week). Here's how we looked at Van Aert's dilemna before his bronze medal in last Sunday's Belgian Championships...
WOUT van Aert is a reigning World champion, but it's not yet clear whether the twenty-year-old will defend his Under-23 title or take on the senior elite race at this season's World Championships in Tabor in the Czech Republic.

Van Aert intention at the start of the season was to race Under-23, but because of the considerable success he's had against the seniors it's now a much more difficult choice. Van Aert says he will decide in co-operation with his team after Sunday's Belgian Championship where he does start in the elite professional championship race for the first time.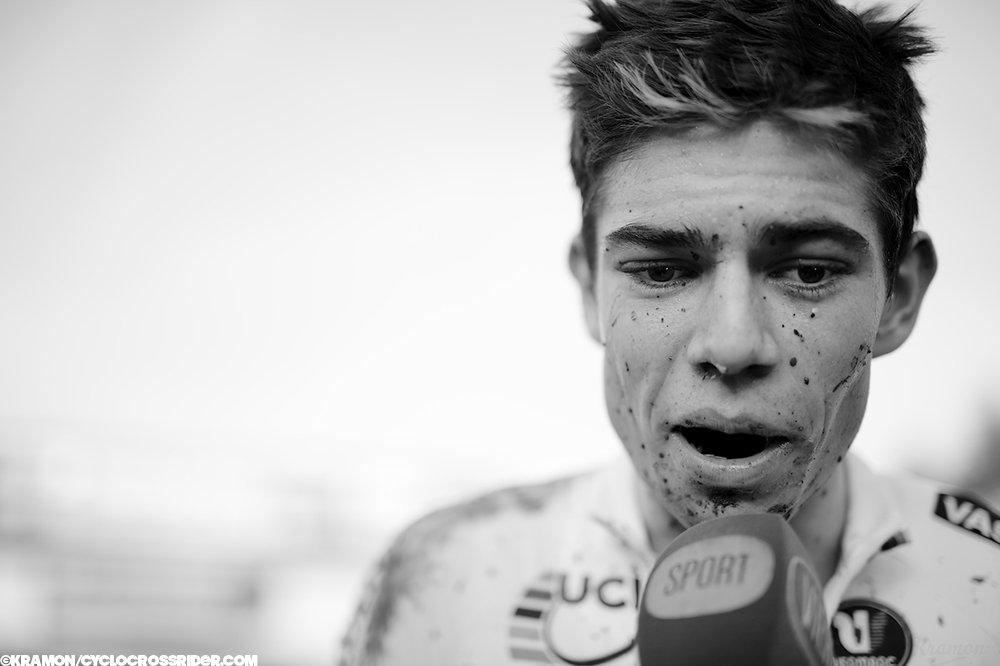 Van Aert goes into the Belgian National as favourite
WOUT VAN AERT
Team: Vastgoedservice-Golden Palace.
Date of birth: 15th September, 1994.
Home: Lille, Belgium.
Height/weight: 1m 86cm/69kg.
UCI World ranking: 3 (30.12.14)
Major achievements:
World Under-23 champion (Hoogerheide, 2014).
bpost Bank Trofee series winner (2014-15).
European Under-23 champion (Lorsch, 2014).
On the back of his performances this season, and particularly during the Christmas period, Van Aert goes into the Belgian National as favourite and perhaps only Kevin Pauwels or Tom Meeusen can beat the youngster in Erpe-Mere. Defending champion Sven Nys is reduced to an outsider, hoping to get on the podium. Erpe-Mere is a flattish course with some boggy woodland sections, but photos taken there today (January 5th) confirmed that it's going to be very 'heavy' with several sections of muddy running.
False start
Strangely enough Van Aert is yet to win a Belgian national title in any age group. Twelve months ago he was expected to win the Under-23 race in Waregem but was controversially disqualified for a 'false start' – future team mate Jens Adams took the title. Van Aert made amends in the Worlds in Hoogerheide (top photo) three weeks later by beating Michael Vanthourenhout and Mathieu van der Poel to take his first World title (race highlights below).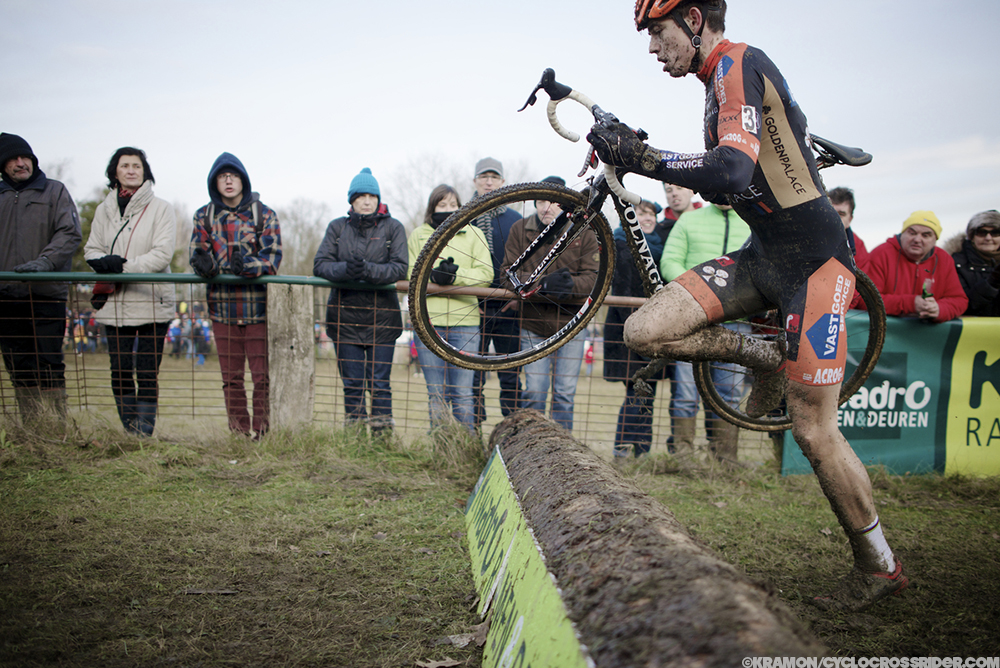 This season Van Aert has been able to pick and choose his opposition to a great degree. In the Superprestige series and World Cups (when there was the option) he raced Under-23 whilst deciding that the bpost Bank Trofee would be the series that he'd contest with the elite. He won the elite Trofee series in Baal on New Year's Day (above) with one round in hand.
Applying for dispensation
An Under-23 rider has to request 'dispensation' from the UCI (via his team and national federation) to race with the seniors at the Worlds and it's understood that Van Aert (and Mathieu van der Poel for that matter) has until mid-January to make that request. Van der Poel is only four months younger than Van Aert and perhaps a little less likely to want to move up. After Van der Poel's win in Leuven on January 4th however, the Dutchman was unsure.
"May be we should think about it (racing elite). The course in Tabor suits me and there is no guarantee of a win in the Under-23s," said Van der Poel after his win.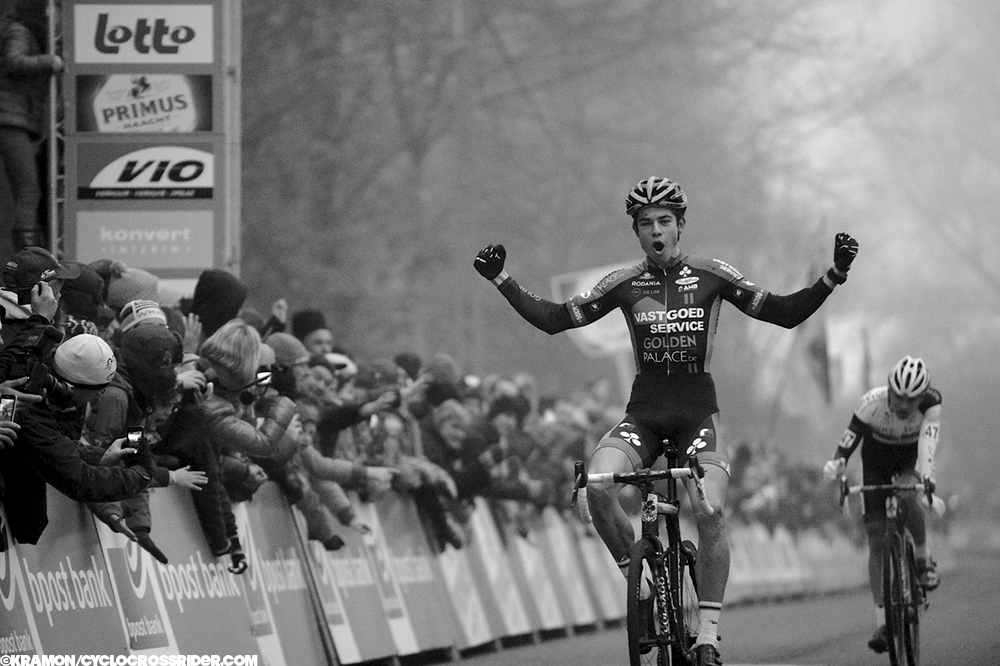 Van Aert outsprints Van der Poel to win the Flandriencross in Hamme.
Dutch champion Lars van der Haar skipped his final season as an Under-23 rider to move up to elite and once a request to change is granted there is no opportunity to go back to Under-23 racing. The final decision will rest with the UCI though and in Van der Haar's case - he applied at the very beginning of the season.
Van Aert's coach Marc Lamberts is reported to prefer that he races Under-23 in Tabor so that he will still have a future target to motivate him. Belgian football international Timmy Simons, part of the Vastgoedservice-Golden Palace team management, also wants Van Aert to race Under-23.
Belgium's national team manager Rudy De Bie will leave Van Aert to make his own decision and recognises that opinion will be divided. De Bie told Sporza that "At Under-23 he can lose the title and with the pros he can only win."
A devalued World title?
There has also been the suggestion in the Belgian press though, that an elite World title race without Van Aert (and Van der Poel) is devalued. If Van Aert and Van der Poel both race the Under-23 championship, one Belgian newspaper pondered, would the race programme be altered so that their race got top-billing and the 'prime-time' viewing slot.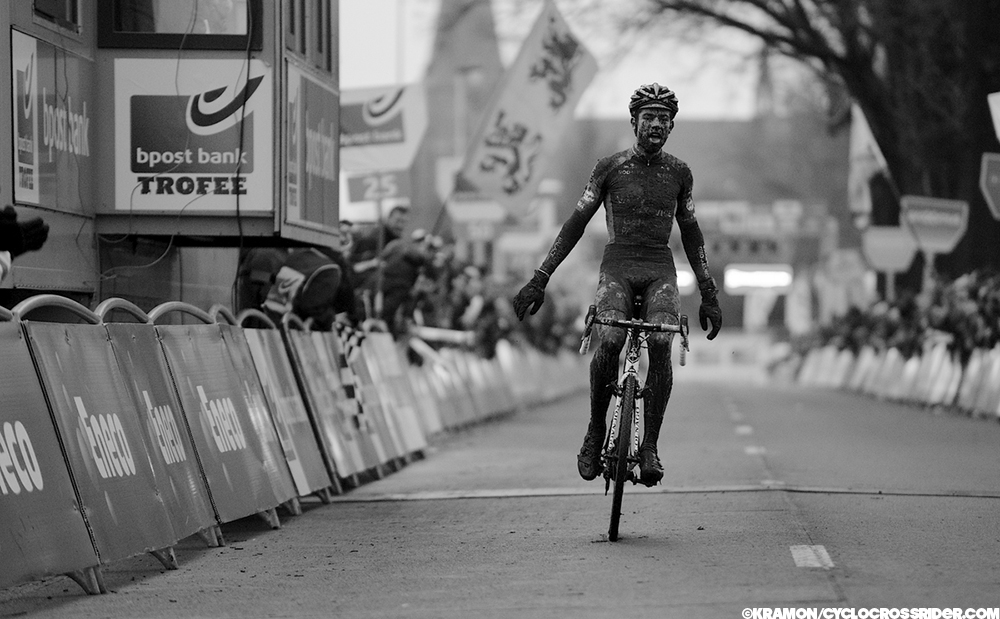 Three-time World champion Erwin Vervecken, who grew up in Van Aert's hometown of Lille, believes Van Aert should race the elite World Championship.
"Wout is able to win anywhere, especially the heavy crosses," says Vervecken, "and I cannot see who can beat him to the Belgian title. In his situation I would also race elite at the Worlds."
Former Fidea rider Vervecken told VRT this week, "In my first year as a pro (1996) I won the Belgian title and I thought it would be the first of many. It turned out to be my only title. Wout is riding extremely well and if I was him, I would not miss the elite Worlds."
The man who Van Aert will perhaps listen to most closely... is double elite World champion Niels Albert
Albert the mentor
The man who Van Aert will perhaps listen to most closely, however, is double elite World champion Niels Albert who also won World titles as a junior and an Under-23 rider. Like Vervecken, Albert was destined to win only one Belgian elite title (2011) before his career was cut short.
After retiring prematurely, with a heart condition, in May 2014, Albert joined Van Aert's Vastgoedservice-Golden Palace team management and has been an ideal mentor for the young Belgian. Given Albert's recent life experience, perhaps his advice to Van Aert will be to 'make hay whilst the sun shines' and go for a potentially history making title.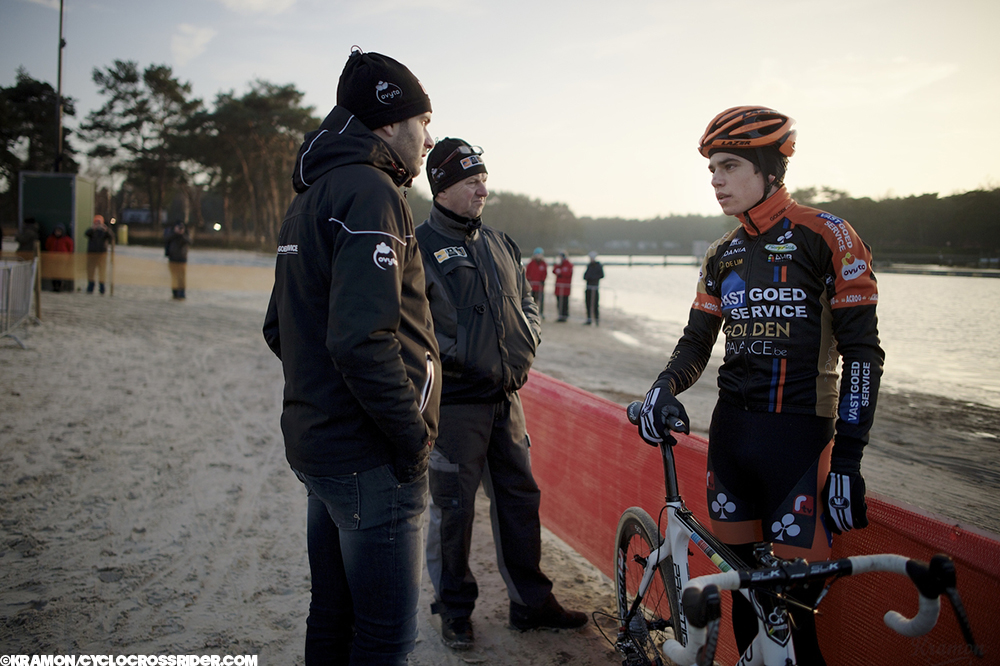 History making?
If Van Aert does decide to race for the elite World title, in Tabor on February 1st, and then go on and win it, he would become the youngest-ever winner (as would Mathieu van der Poel). Van Aert would be some 49 days younger than Erik De Vlaeminck was when he won his first title in 1966.
De Vlaeminck won the World title a record seven times between 1966 and 1973 and is regarded by many as the greatest-ever cyclocross rider. The pressure, and urge, to follow in De Vlaeminck's wheel tracks may prove irresistible for the young rider from Lille.
2014 World Under-23 Championship race, Hoogerheide
FACT FILE

Van Aert's record in recent Championships:

2014-15 season
2014 Europeans, Lorsch; 1st Under-23.

2013-14 season
2014 Worlds, Hoogerheide: 1st Under-23.
2014 Nationals, Waregem: DSQ Under-23.
2013 Europeans, Mlada Boleslav: 4th Under-23.

2012-13 season
2013 Worlds, Louisville: 3rd Under-23.
2013 Nationals, Mol: 3rd Under-23.
2012 Europeans, Ipswich: 5th Under-23.

2011-12 season
2012 Worlds, Koksijde: 2nd Junior.
2012 Nationals, Hooglede-Gits: 2nd Junior.
2011 Europeans, Lucca: 4th Junior.

Elite Klassements:
2014-15 bpost Bank Trofee series winner.

Elite pro wins (2014-15):
October 25th: Kruibeke.
November 1st: Koppenbergcross (Trofee).
November 22nd: Koksijde (World Cup).
November 30th: Hamme (Trofee).
December 14th: Mol.
December 20th: Essen (Trofee).
December 27th: Bredene.
December 30th: Loenhout (Trofee).
January 1st: Baal (Trofee).
In addition to these eight wins Van Aert has also won six Under-23 races this season.

Teams:
2012-13 Telenet-Fidea.
2013-14 Telenet-Fidea.
From March 1st, 2014: Vastgoedservice-Golden Palace.