AFTER her surprise World championship victory at Zolder twelve months ago, it's fair to say that things stepped up a pace for Evie Richards beginning with another round of television interviews once she'd returned to England. Zolder was Evie's first cyclocross race outside of Great Britain and she had won the new World Under-23 title! Once things had died down a little, for Britain's first cyclocross World champion since Roger Hammond in 1992, I managed to track her down at a Team GB training camp in the remote mountains of Snowdonia, Wales.
I asked Evie to describe how and when she first got into cycling.
"I was only 18 at Zolder last January and I'd only started riding around two or three years earlier." the now nineteen-year-old told me. "At school, I played lots of sports and always dreamed of representing my country. Hockey was one of the sports but I was advised to pick up another sport by my regional coach."
"My dad had a new bike and I thought that cycling would be a great chance to spend time with him and build my fitness. I soon fell in love with riding and joined my local bike club, Malvern Cycle Sport. They were so supportive and I loved every aspect of it. I started racing in local mountain bike races including a small race that Tracy Moseley (2015 Enduro World Series winner and two-time UCI World Downhill MTB champion) organises at her farm nearby," says Richards.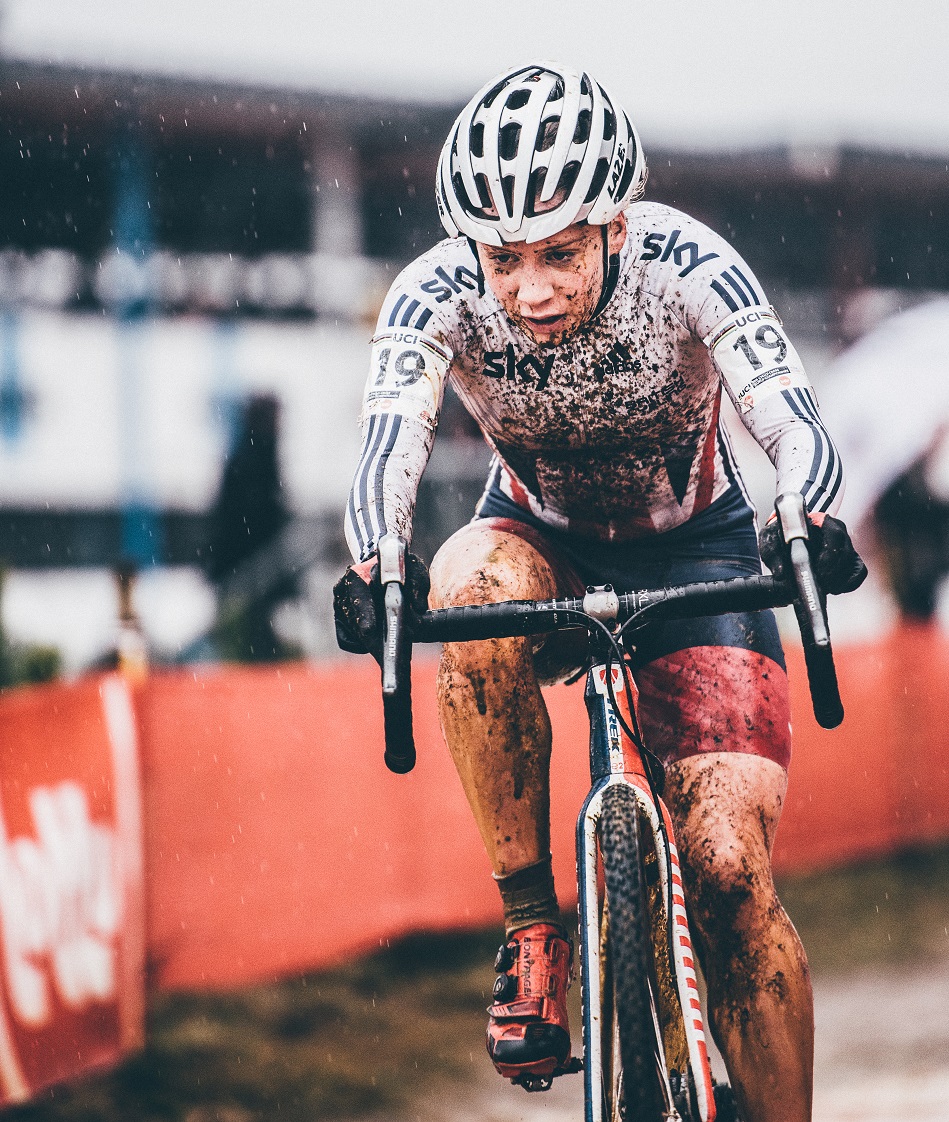 Evie's obvious talent for mountain biking soon caught the attention of the British Cycling Team and although cyclocross wasn't initially on her radar, that was soon to change.
"I bought a cyclocross bike primarily to ride to work as I worked on a farm," Evie told me. "My dad then entered me in a few local races as a first year junior (in the Summer of 2013). I raced with a massive smile on my face, despite having a really heavy bike with rubbing brakes! In my second year as a Junior I hadn't raced 'cross seriously until, as part of a GB mountain bike team training camp, we were told to race in the National Trophy Series race in Bradford at the end of 2014."
Into the big time
Peel Park in Bradford has hosted the British National Championships on several occasions (as well as numerous UCI C2-ranked National Trophy races) and is widely recognised as one of the best and probably toughest major courses in the UK, being both hilly and usually muddy and technical. Evie produced one of the most remarkable rides of the British domestic 2014-15 season by winning the Elite women's race and beating fellow seventeen-year-old Amira Mellor by seven seconds. It came just 17 months after her first ever youth cyclocross race.
In the National Championship in Abergavenny that season she finished seventh in the Elite women's race (junior women having to race with the elites at that time). But, although that Bradford result in December, 2014 had caused ripples, Evie was soon back to the 'day job' of racing cross country mountain bike.
"In 2015 I raced for TMO Racing which was the team of Tracy Moseley, the Enduro World Series Champion," Richards tells me. "Tracy and Liam Killeen (2016 British cyclocross champion and GB's leading MTB rider of the last decade) are local riders and have been a huge influence on my cycling. I'm very lucky to have them. Tracy would take me to MTB trail centres and I would have great fun trying to stay on her wheel on the descents whilst she would stick on mine up the climbs! Liam would also put me through my paces on the Malvern Hills."
"Great Britain mountain bike development coach Simon Watts was my coach in 2015 and I travelled across Europe with him and the team racing in Junior World Series. This really shaped me as an athlete both on and off the bike, I loved every bit of the traveling and I was a very lucky seventeen-year-old."
"I went from working as a waitress and attending sixth form in the week, to racing in the Junior World Series at the weekend. It was surreal!" Richards continues.
In the autumn of 2015 Evie move up to the GB Team's Olympic Academy Programme, which is aimed at riders in the Under-23 age category and designed to be a stepping stone to professional racing across all the Olympic disciplines. Evie's presence on the Programme was primarily as a mountain biker and a silver medal at the World MTB Championships in September in the Junior Women's cross country race had sealed her place.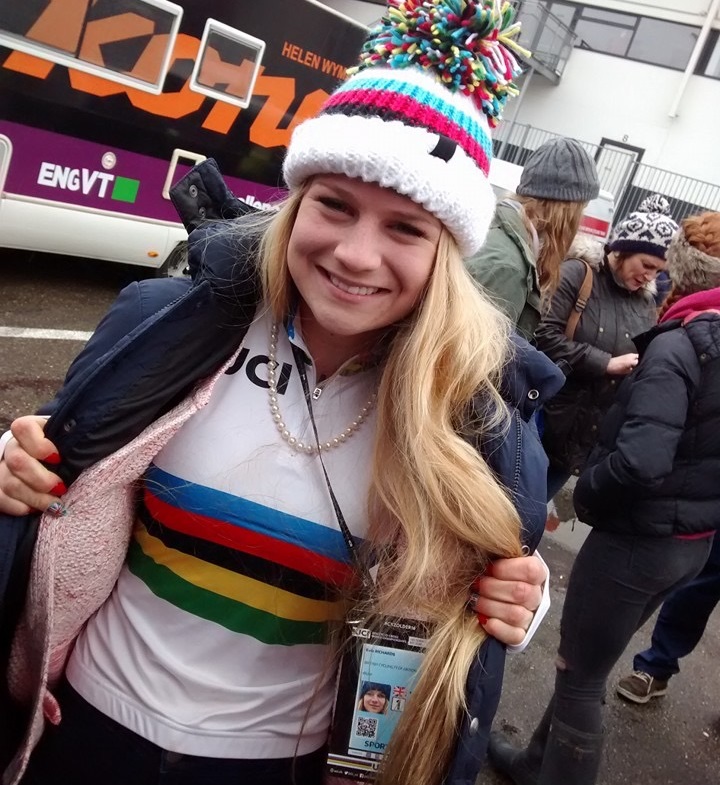 Last season
As the winter of 2015-16 approached, cyclocross was back on the menu, but once again it was mainly a part of Evie's pre-season training, with mountain biking still her likeliest career path.
"My new coach, Julian Winn [former British road race champion and cyclocross racer], was keen for me to be racing 'cross most weekends last winter, even twice some weekends, as it was a great way to get a top zone 5 effort in and mix up training from the long road miles." Evie told me.
"I wasn't intending to have a particularly serious 'cross season, it was just supposed to be a training tool, but I liked it too much for that to happen! I raced most weekends and sometimes twice in the regional leagues. I loved racing in those as although there weren't always many women, I was racing riders from the grand vets to elite men. It was great having experience starting mostly at the back and moving forward. I couldn't have asked for a better 'cross season when I look back it was 12 races entered and 12 wins. I did break my rear mech' at the start of one race, and had to run a lap and then ride the rest of the very muddy course on a mountain bike!"
Richards raced all across Britain from Wales to Yorkshire and returned to Bradford again for National Trophy Series race and won the Elite women's race by two minutes. Then in early January 2016 came the opportunity to race for the first ever British under-23 title in Shrewsbury.
"I never thought that 'cross Worlds (Zolder) would be an option until after the British Championship (where she won the Under-23 race) when I realised how much I really wanted to go. My aim with 'cross was never to podium or get medals, it was simply to add variety to training and include some race-pace efforts. I put lots of pressure on myself though and I always like being as competitive as I can. Of course every athlete thinks about those top positions and that is what drives us to train hard. I was really motivated over Christmas to try to win a National Champion's jersey, so to achieve both the National and World Championship was a real dream come true."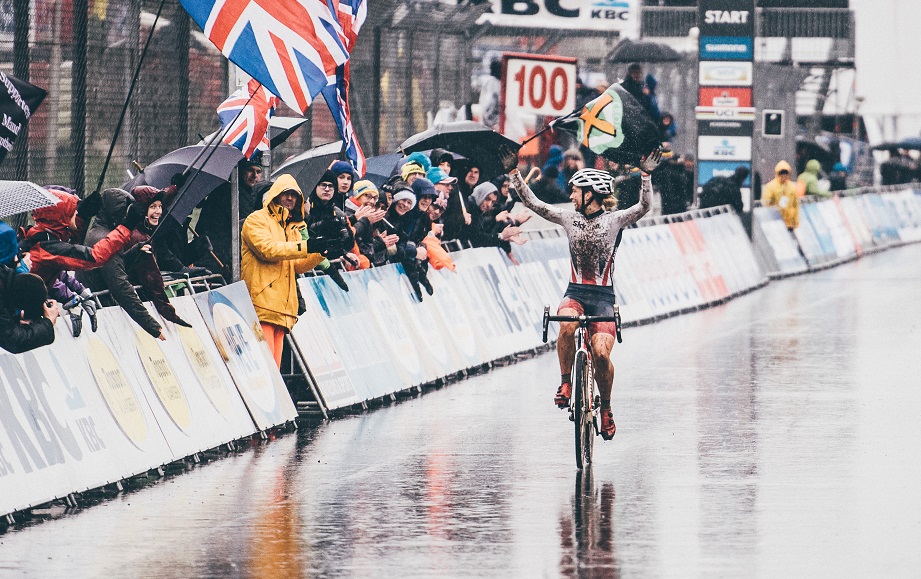 So what about that win at Zolder? Evie Richards (Great Britain) was certainly not on many people's radar!
"I went into the race with theoretically no pressure. I was not known by many international riders, as this was my first international cyclocross race! I had a poor gridding and I was a first year Under-23. I could not rank myself against other riders as I had no idea how strong they were or how I compared." Evie tells me.
"After Tom Pidcock's [her GB team mate who rode brilliantly from a poor grid to claim fifth in the Junior men's race] race I heard that he had been made an offer by a pro 'cross team. I thought I would love to be part of a team and this really motivated me to get on the podium."
How did you prepare for riding the Zolder course?
"I did the first few laps with Julian Winn and then I did the last few on my own. I like taking my time going round the course as I like spending time on my own watching other riders and then discussing it with my coach or Liam later on."
What particular equipment choices did you make for the Zolder Worlds, anything unusual?
"I was lucky enough to be riding an old Katie Compton bike that Tracy Moseley (also a Trek rider) had kindly lent me. I had been riding a very different Trek bike as my number one bike all year. Although it was not as blingy, I loved riding it as I had bought it with my money and I'd had some good races on it the previous year. And it was the nicest shade of blue!"
"In course practice I rode both bikes, and the Katie Crompton bike just felt amazing, the disc brakes gave me so much more confidence descending as I was more in control. The Di2 felt incredible on this course, too, as there were short sections with lots of different obstacles. I only had the tubs that came on the bike and so the only thing I could change was the tyre pressure, which I lowered by a couple of PSI on the day."
Talk us though the day of the race.
"I ate a lot of porridge to start the day! I get nervous in the build-up so over breakfast I'm always in my own world and quiet. I had spoken to Liam Killeen the morning of the race. He gave me a few last hints and advised me how to ride the course, and whatever Liam says you do because he is always right!"
"When I arrived at the course I rode a lap and a half before I made base in one of the GB vans. There I sang to One Direction for a good 30 minutes to chill me out. My mum and sister came and gave me a few last minute hugs and kisses, whilst my dad had a quick look at my bike. He loves doing my mechanics and they gave me my final boost I needed pre-race. Before I knew it, I changed my jersey and put some perfume on before I got my head down for the warm up. In my head I wanted to ride my own race and push myself as hard as I could. I can't say the race went to plan, as I didn't have one, but I was very pleased to how it went!"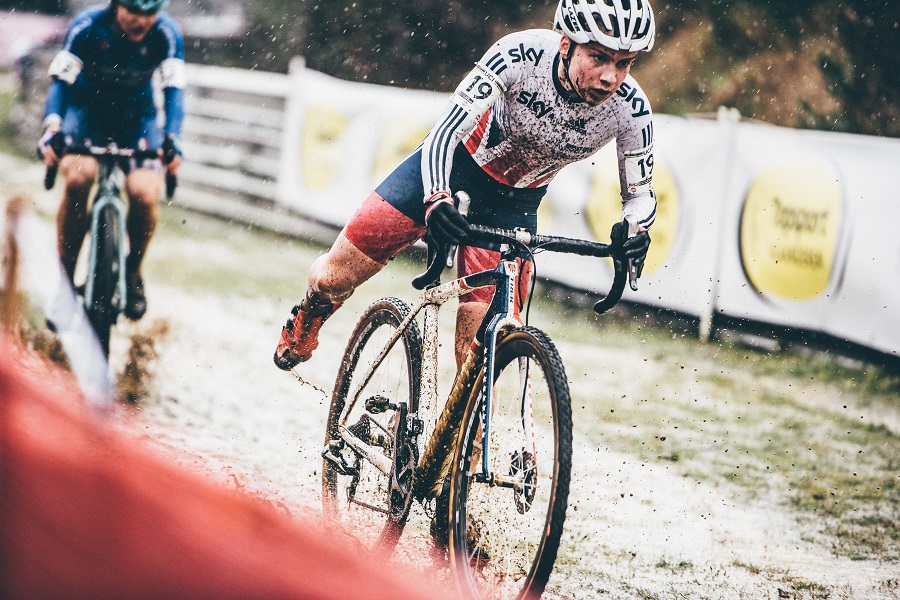 At what point did you realise you were well ahead of the field and had the possibility to win – I hear that you didn't even know you were leading for a while?
"When I race I lose track of where I am and I couldn't hear my name being mentioned by the commentator, although I'm rarely actually able to hear what they are saying anyway. I moved into first position on the muddy descent after the bridge. I'd got in sight of the Italian girl and didn't even hesitate to stop behind her as I assumed there were many more girls ahead I needed to catch. I had asked various people to shout splits to me as this is what I like to hear when I race. As I came into the start finish straight a GB Team staff member, Anthony, shouted my split and I looked up to see how many laps to go and realised I was leading!"
Did you change bikes at all during the race, it wasn't clear from the TV coverage?
"No I remained on the Trek Boone for the whole race. The rain was so heavy it just washed all the mud off the bike! I have turned up at some local leagues which have been a hundred times muddier and stayed on one bike because I was on my own with nobody in the pits, so I thought my bike [in this race] was really clean! I did consider switching bike at one stage, as I wasn't able to get in my big chain ring at the front. I always ride in the big ring, so initially I panicked but I think the quicker cadence from being in my small ring actually benefited me, I've never seen my legs spin so fast!"
The British commentator Simon Burney was very complimentary about your running and climbing ability, is this something you'd worked on in training?
"No, not at all! I have come from a background of playing hockey and doing cross country running, so it's something I have always really enjoyed and I would love to include it in my training more to get even stronger. I live on the Malvern Hills and when I'm home I love nothing better than a run on the hills with my dog as I love all the stylish running clothes and there is a great loop that finishes back at a cafe where my mum works!"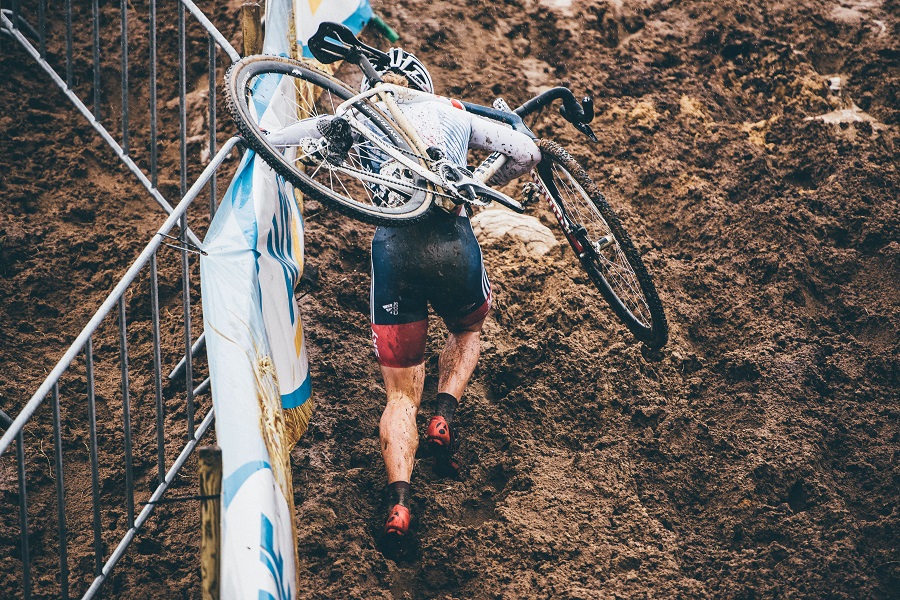 Did you get a sense of the historical significance of the event and being the first World Under-23 Woman champion?
"I was so shocked when I won that this didn't even cross my mind until it was mentioned in the interview after the race! As if winning a World Championship couldn't get any better, I had won the first ever Under-23 race!"
Did Zolder change any plans for you? Are the Olympics (MTB) on your radar? Or road racing?
"I am 'on track' for the Tokyo 2020 Olympics, which is a good few years away, so I am just exploring a range of different disciplines to improve myself as a whole rider. I will be doing some road racing in 2016 and of course will be back on the MTB scene stepping up to Under-23. But yes, the race has changed my thoughts for the future. I never thought I would ever have a career in 'cross as I didn't think I was good enough to get such a result. I have loved riding 'cross so much and I could not get over how incredible the atmosphere was in Belgium. Me and my dad have been getting very excited looking at 'cross races for the future. Cross Vegas looks really fun and would be such an amazing experience."
Finally tell us how it feels to be a World Champion cyclocrosser?
"It was difficult to get my head around. So many people have this aim for so long and I managed to achieve it as an eighteen-year-old in my first international 'cross race that I don't feel like I deserve it! I have to remind myself of the roast dinners, a family holiday or nights out with my friends that I had to miss and how hard I pushed myself to realise that I deserve the rainbow stripes just as much as any other athlete."
Retaining her crown
Retaining the rainbow jersey­ in Luxembourg on January 28th is certainly not a given for Richards, there's some serious competition especially from up and coming Belgian rider Laura Verdonschot. A change of team for Verdonschot, after racing alongside Sophie de Boer, seems to have inspired the twenty-year-old. She has joined one of the big teams - ­Kevin Pauwels' Marlux-Napoleon Games team - and has been placing higher and higher this season. The rise of Verdonschot culminated in a last lap showdown with Sanne Cant for the Belgian National Championship, a race which included Cant's speciality: riding the sands. Verdonschot only lost by four seconds and with it retained her Belgian Under-23 crown by over four minutes.
Richards will also face a strong challenge from The Netherlands - Annmarie Worst recently beat Verdonschot to take fourth place in the tricky Elite women's World Cup race in Fuiggi, Italy and yet she was only third in the Dutch Under-23 championship behind Manon Bakker and Inje Van der Heijden. World Cup leader Ellen Noble (USA) and European champion Chiara Teocchi (ITA) cannot be discounted either who have both been racing regularly on the international circuit.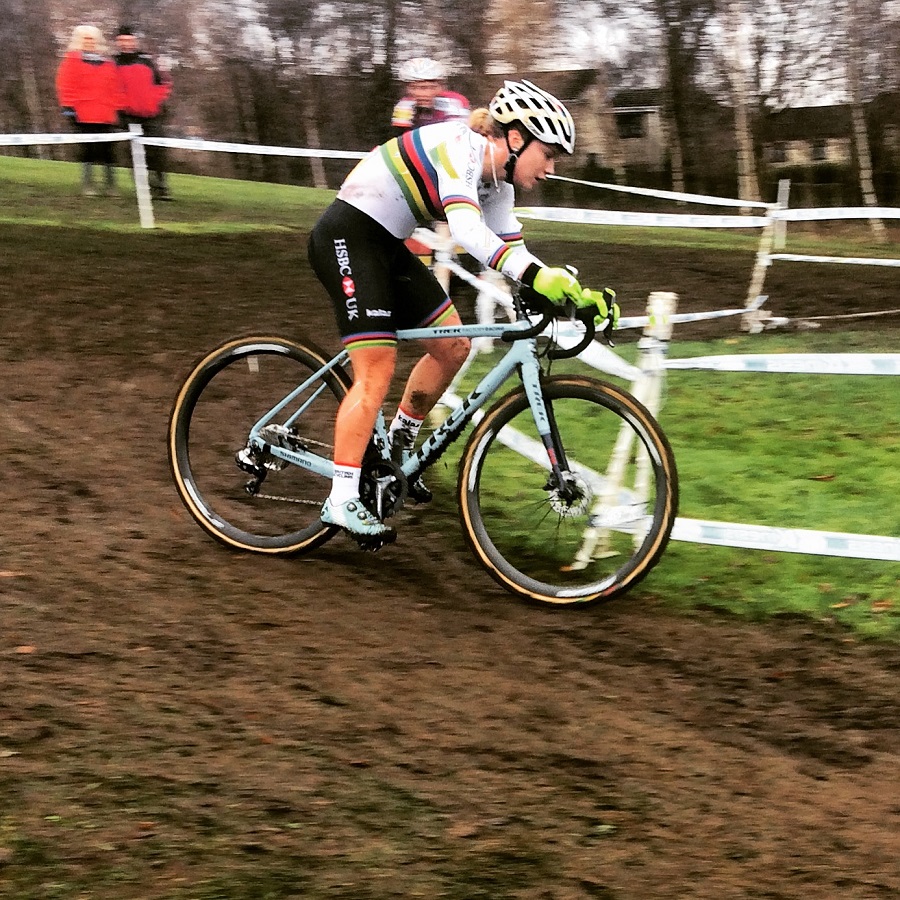 Richards raced five races in Europe during November and December and her performances have got better race by race, but she will not go into the Worlds in Bieles as a clear favourite. Verdonschot beat her in three races of those races and at Overijse Evie was second behind fellow Brit Ffion James. Evie finished a minute and a half behind Verdonschot in the sandy Scheldecross in mid-December, but the following day in the Namur World Cup finished first Under-23 in 11th place overall beating all her main rivals admittedly over a course that might suit mountain bikers. After Namur, Evie did not race over Christmas, but retained her British Under-23 title in Bradford on January 8th (above).
Final touches
A week and a half after Bradford (this week) I arrived on Majorca to treat myself to a little warm weather riding and who should I see riding by, but Evie. At a pre-Worlds base in Port d'Alcudia, and in the unusually cool Majorcan weather (the island has recently been hit by snow), she was putting the final touches to her training ahead of the World Cup in Hoogerheide and the defence of her World title.
The concluding round of the World Cup in Hoogerheide (January 22nd) will be the final test for all riders before the Worlds and will decide the gridding for that all important race. Evie is currently ranked eighth Under-23 rider on the UCI World rankings and will be gridded 30th (fourth row) in a big field of 80 Elite women riders (former British champion Helen Wyman returns to racing after her bad crash). Only Ellen Noble and Laura Verdonschot of Evie's under-23 rivals will start on rows ahead of her in what will be an intriguing race within a race. We wish Evie all the very best in the defence of her crown.
Words: Ted Sarmiento.
Main photos: Russ Ellis.
Additional photos: Ted Sarmiento & Konrad Manning.
WHERE TO BUY CYCLOCROSS TYRES
Chain Reaction Cycles: Cyclocross tyre deals.

Wiggle: Cyclocross tyre deals.
Tweeks: Cyclocross tyre deals.