Elite men's race highlights
NINETEEN-year-old Dutchman Mathieu van der Poel overcame the dark and ice of Diegem to not only win the sixth round of the Superprestige but also re-take the series lead in a thrilling race. Mathieu's brother David also rode strongly to finish fifth in the race that their father Adrie won twice (in 1994 and 1997).
After considerable snowfall across Belgium the urban course on the outskirts of Brussel was frozen in places, boggy in others and the icy corners produced more than a few incidents that for made for another interesting race. Diegem at Christmas rarely disappoints on the drama front.
It's my job, my passion and my hobby - Sven Nys
Sven Nys – the thirteen-time winner of the Superprestige series - was returning to racing after a short break (missing Namur and Zolder) with the intention of staying in overall contention for the title that he holds in the highest regard so it was no surprise that he got away well. Despite his recent disappointing results Nys maintains a hunger for the sport. "It's my job, my passion and my hobby," Nys told Vier viewers before the start.
Congested start
Tom Meeusen (sixth in the standings pre-race) led onto the offroad as his team mate Bart Wellens became the first race casualty – snapping his chain before even reaching the frozen grass and pretty soon retiring.
The early sections were crowded with the big field of starters and unseen by the cameras Nys and pre-race series leader Kevin Pauwels were both affected by a crash (Pauwels slipped and was hit by Nys). Nys dropped back from fifth to tenth place after the incident and then soon to fifteenth and one wondered what kind of an evening was in store for the Belgian champion – five times a winner here. Pauwels, however, came off worse and after a second crash he was right down near the back of the 40-odd starters.
Early on in that opening lap Mathieu van der Poel launched the first attack and pretty soon he had five big names for company: Meeusen; Lars van der Haar; Philipp Walsleben; and Corne van Kessel. At the end of the first lap Nys was 16 seconds adrift and Pauwels almost 40 seconds down.
The strange sight of five non-Belgians leading the race
A lap later Nys was a further 10 seconds in arrears and Pauwels was still no closer. On the third lap (of the eight-lap race) David van der Poel made it across to the leaders and his BKCP-Powerplus team looked in charge with three riders in the six-man group. Meeusen had a bad lap and for a moment there was the strange sight of five non-Belgians (Walsleben; Van der Haar; Van Kessel and the Van der Poel brothers) leading with race with Meeusen (the first Belgian) five seconds adrift.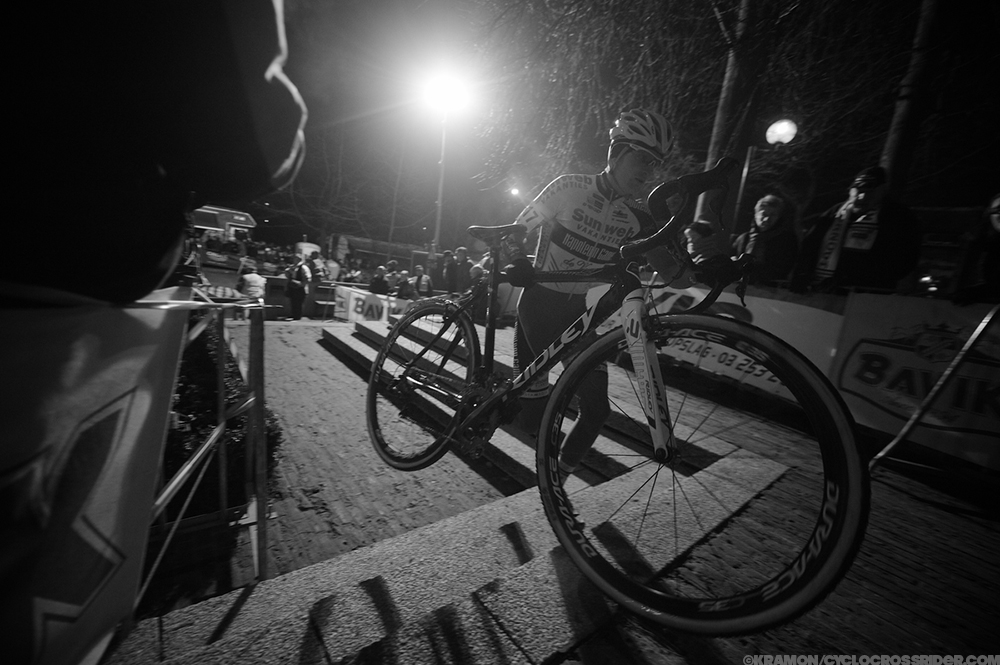 Approaching the halfway mark, Pauwels (above) had caught Nys and took 11th place from him - which seemed to reinvigorate Sven slightly, but they were still over 20 seconds from the front of the race. Pauwels continued his surge forward whilst Sven, however, slowly started sinking back – the Belgian champion saying beforehand that he had taken a "mental and physical break" over the past week and barely ridden the bike.
As David van der Poel and then Philipp Walsleben launched BKCP-Powerplus attacks at the front, Gianni Vermeersch dropped momentarily from the chase group to pace team mate Pauwels up. With a third of the race remaining there were the same six leaders ahead with a chase group of Vincent Baestaens; Vermeersch; Klaas Vantornout; Jens Adams; and Pauwels some 21 seconds behind. Nys was on his own in 12th place and as a result of him failing to follow Pauwels' wheel he was a further 20 seconds behind.
Incident-packed
The incidents came thick and fast in the final laps: David van der Poel crashed into Van Kessel's bike in the pits and distracted Van Kessel's mechanic who failed to release his new bike – both riders lost time; Vanortnout lost his front wheel in a hole and tumbled off; and most dramatically Van der Haar fell on successive laps on the same icy corner. Van der Haar's first crash - under pressure from Mathieu van der Poel (who looked extremely close to making contact – Van der Haar claimed he was "knocked") with just over two laps remaining - was the signal for the younger Dutchman to attack and he never really looked back.
One lap later Van der Haar had moved back up to second place before losing his front wheel on the very same corner and falling back to fifth. The five chasers – Van der Haar, Meeusen, Pauwels; Walsleben, and David van der Poel – were all set up for an intriguing last lap fight. It was the three in overall contention (Van der Haar, Meeusen, Pauwels) who fought the hardest and Meeusen secured second place by bunny hopping the barriers whilst Pauwels amazingly - considering his first lap - salvaged the third podium spot.
Van der Poel even performed a Peter Sagan-style wheelie over the line to celebrate yet another senior victory for the 'younger generation.'
Klaas Vantornout, returning to racing after illness, could only manage 11th place and Sven Nys coasted over the line even conceding the final, single Superprestige point that was on offer for 15th place.
Elite men's results
1 Mathieu van der Poel

2 Tom Meeusen

3 Kevin Pauwels

4 Lars van der Haar

5 David van der Poel

6 Jens Adams

7 Philipp Walsleben

8 Corne van Kessel

9 Vincent Baestaens

10 Gianni Vermeersch

Overall standings (after 6 rounds)
1 Mathieu Van der Poel

77 points
2 Pauwels

76
3 Van der Haar

75
4 Meeusen

72
5 Vantornout

64
6 Nys

60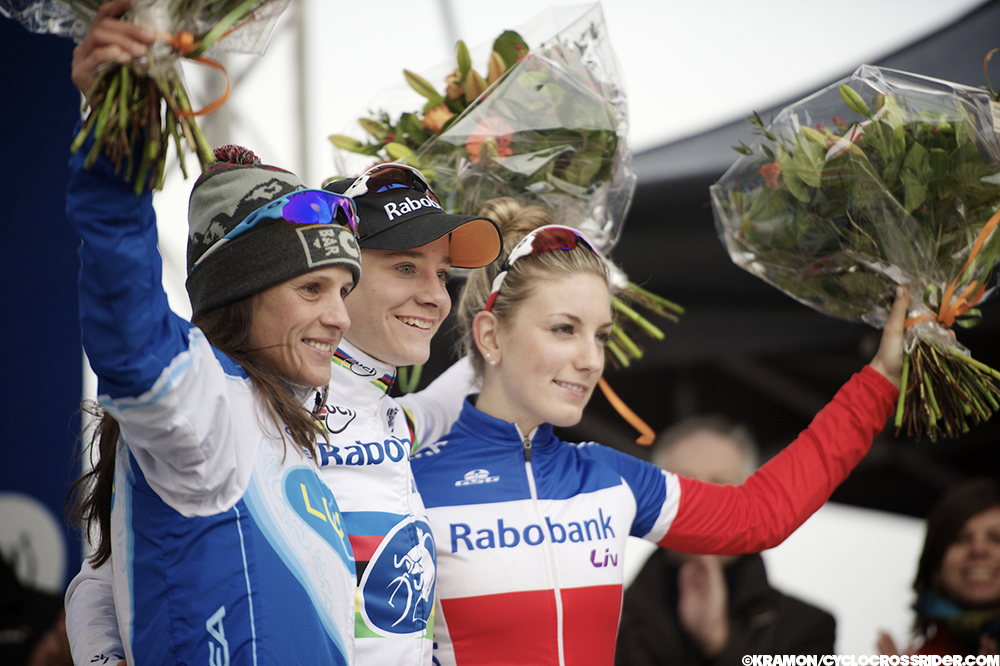 Elite women's results
1 Marianne Vos

2 Pauline Ferrand-Prevot

3 Katerina Nash

Elite women's race highlights