TV Coverage from S4C (Welsh-language channel)
HELEN Wyman put in another impressive performance to win her ninth British national title, ahead of Nikki Harris, in Wales and afterwards told us that she wants another World Championship medal in Tabor - just like in 2014.
"I just love being national champion," Wyman said after the race. "It worries me every year that I might have to wear normal kit, no one has seen me race in normal kit for years." Helen won her first British senior title in 2006 and has worn the champion's jersey every season since except for 2013 when Nikki Harris got the better of her in Bradford.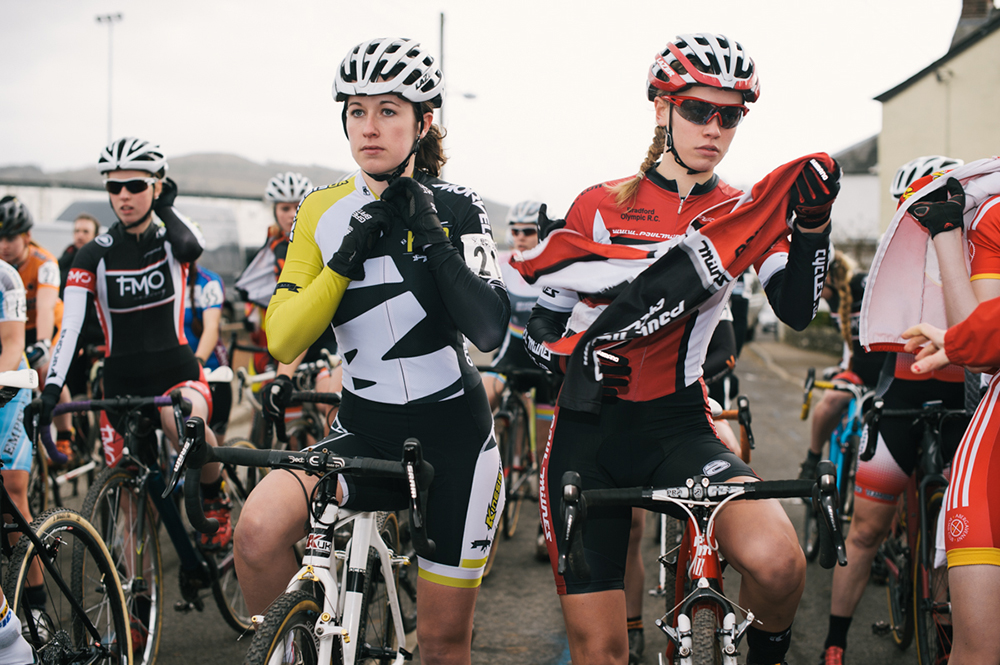 Hannah Payton and Amira Mellor line up on the front row in Wales.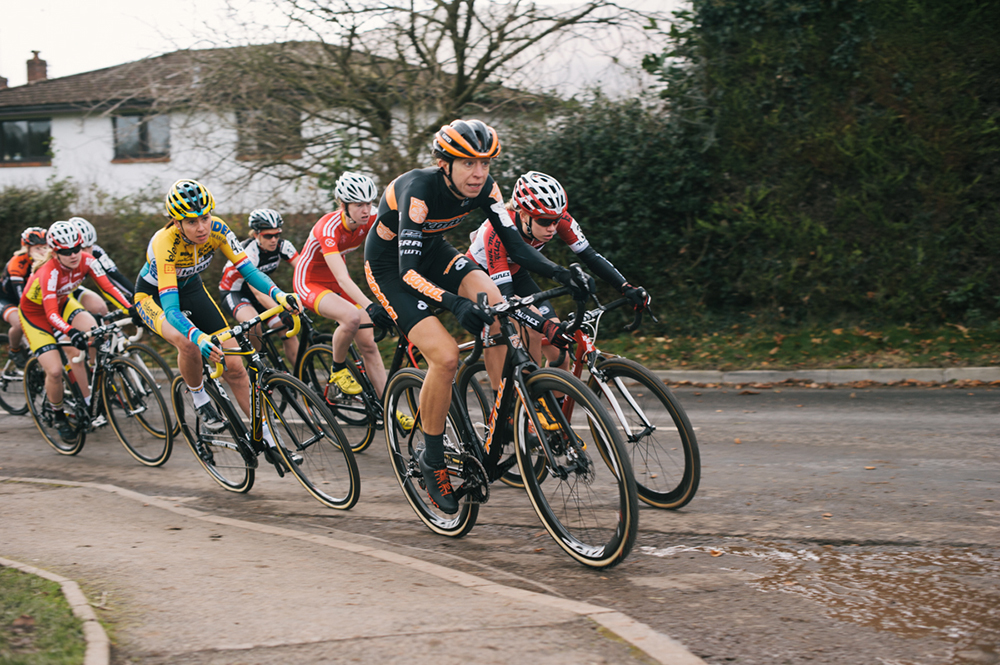 Defending champion Helen Wyman wastes no time in getting to the front with Nikki Harris on her wheel.
This race was again expected to be a battle between the eight-time champion Wyman (Kona FSA/Factory Team) and the younger Harris (Young Telenet-Fidea) both riders who ply their trade on the European circuit.

The pre-race form book actually favoured Harris - who had only been beaten by Wyman once in their last eight races against one another – but she'd need to recover from a slight post-Christmas dip which included a damaged knee.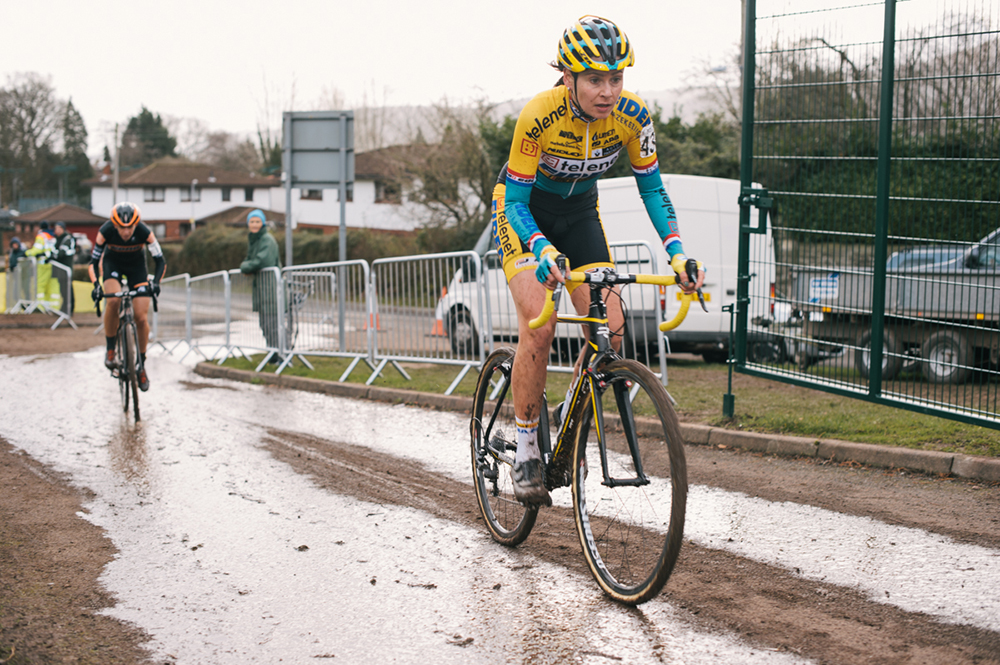 Nikki Harris, the champion in 2013, forces the pace on the second lap.

Wyman got away to a fast start before Harris took over and the pair were tracked by Tracy Moseley, Annie Simpson, Annie Last and junior rider Amira Mellor. Wyman and Harris were soon away on their own though and fought out the opening lap almost as though it was the last - the lead exchanging many times - with Moseley not too far behind them.

On the second lap, Wyman and Harris continued to exchange the lead as behind them Last and Mellor battled for third place.
It looked a little bit like Harris was finding it harder to hold Wyman's wheel though and in the early part of the third lap the Derbyshire woman made a mistake. On a muddy banked climb after a 180 degree turn Harris faltered and Wyman gained a small gap. After Harris' mistake Wyman was able to captalise on it and from that moment on never really looked in danger of relinquishing her lead.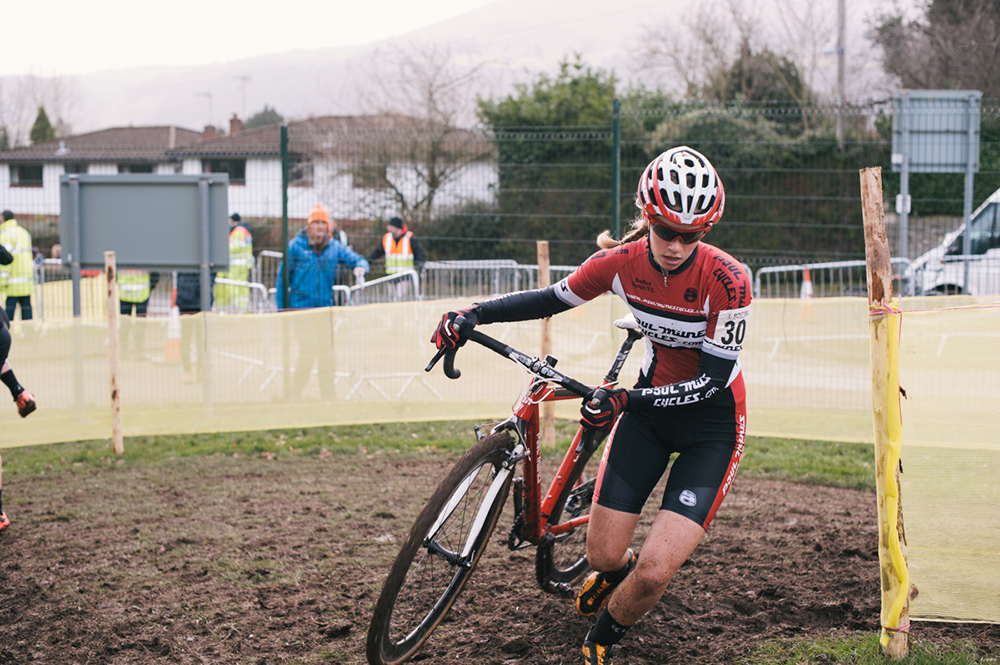 Amira Mellor on her way to a gold medal in the combined Junior race (and fourth senior).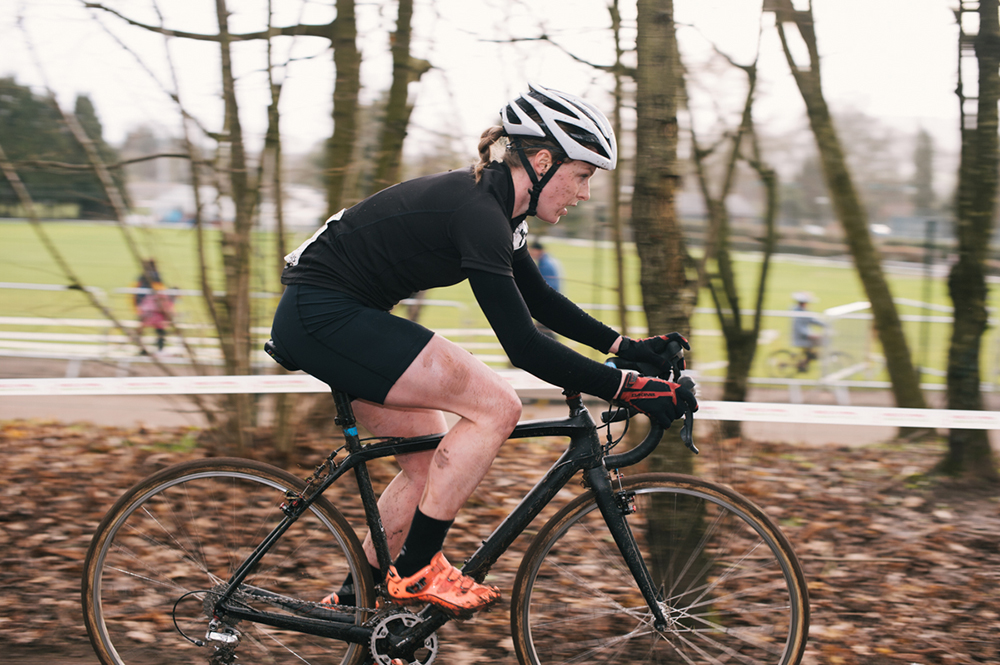 Annie Last claimed the bronze medal.
Harris was comfortable in the silver medal position, but Annie Last in third less so. Last was being hounded by the impressive junior Amira Mellor who refused to let her go. It wasn't until the final lap on a long windy stretch that Last finally managed to crack Mellor and got the decisive gap to earn her the bronze medal.

"I have been in front of Helen thirteen times and I really thought I could get the jersey this year," said Harris after the race. "I have been plagued with a few injuries but this week I've had a bit of a rest and felt recovered. I felt good this morning and even in the race, but Helen was just that little bit stronger today."
"I feel like I'm getting stronger every week now with the Worlds approaching," the 2015 champion Wyman concluded, "Even though it's not a course that suits me - anything less than third place will disappoint me."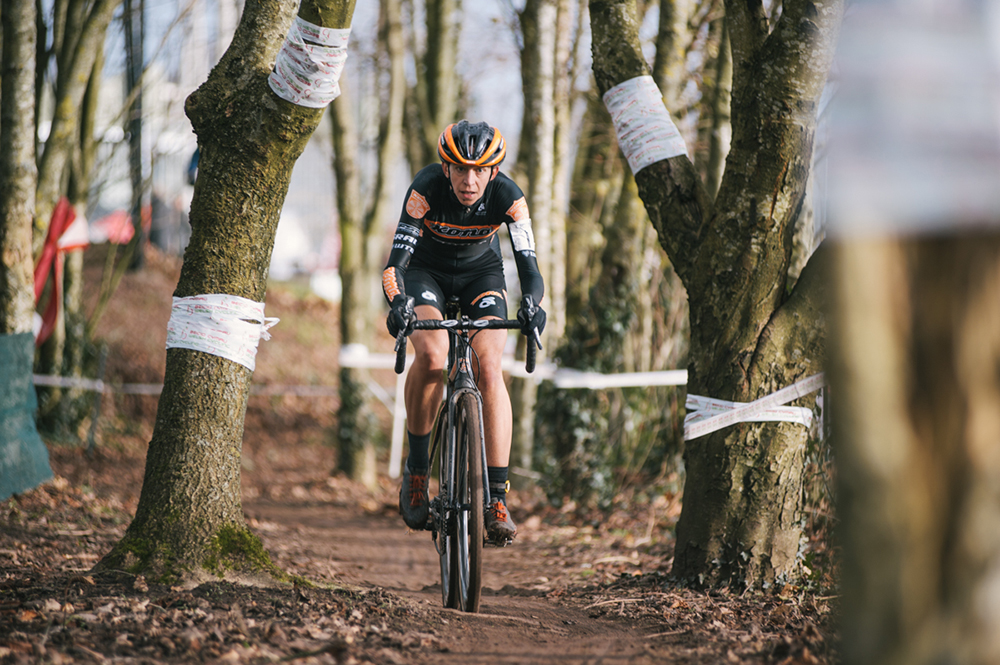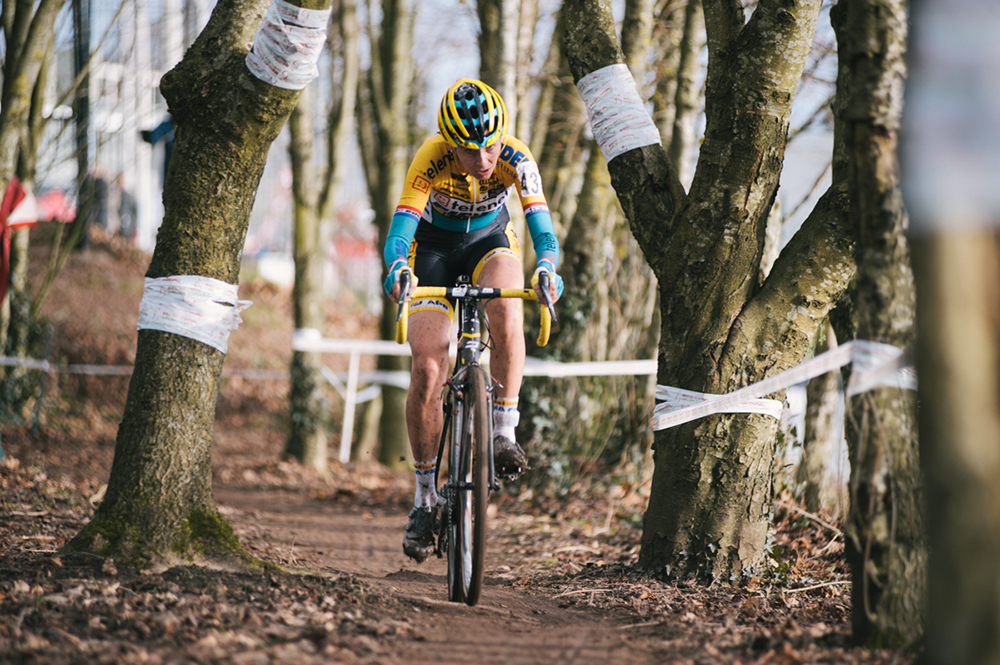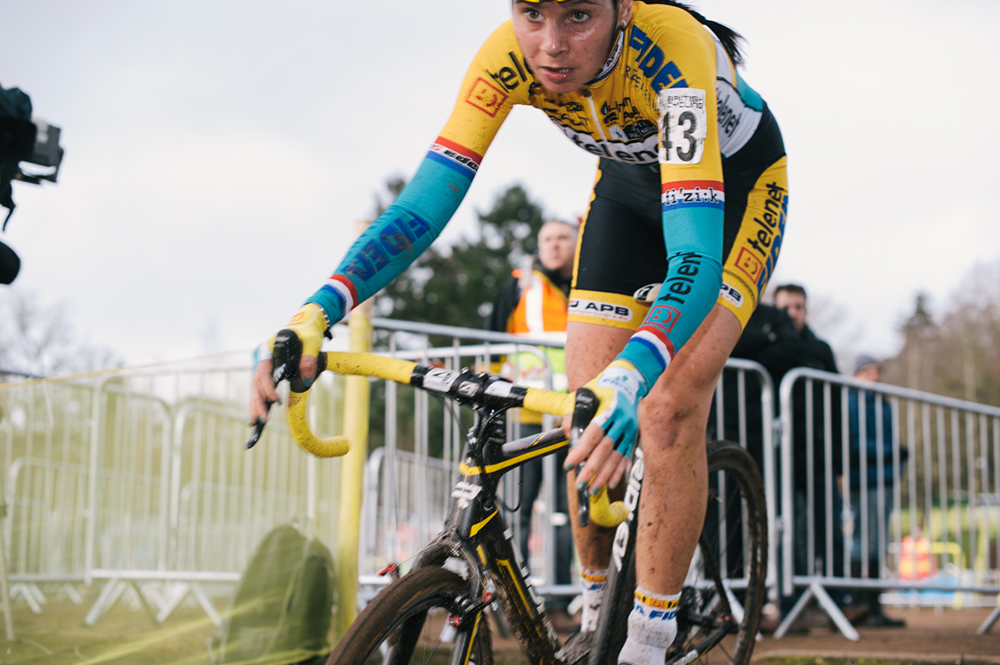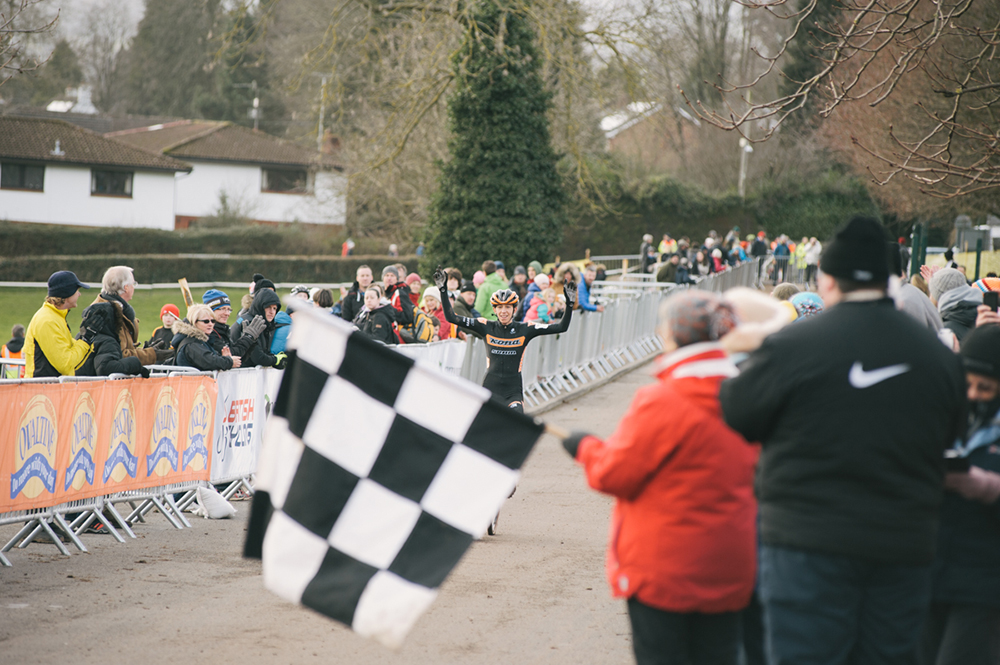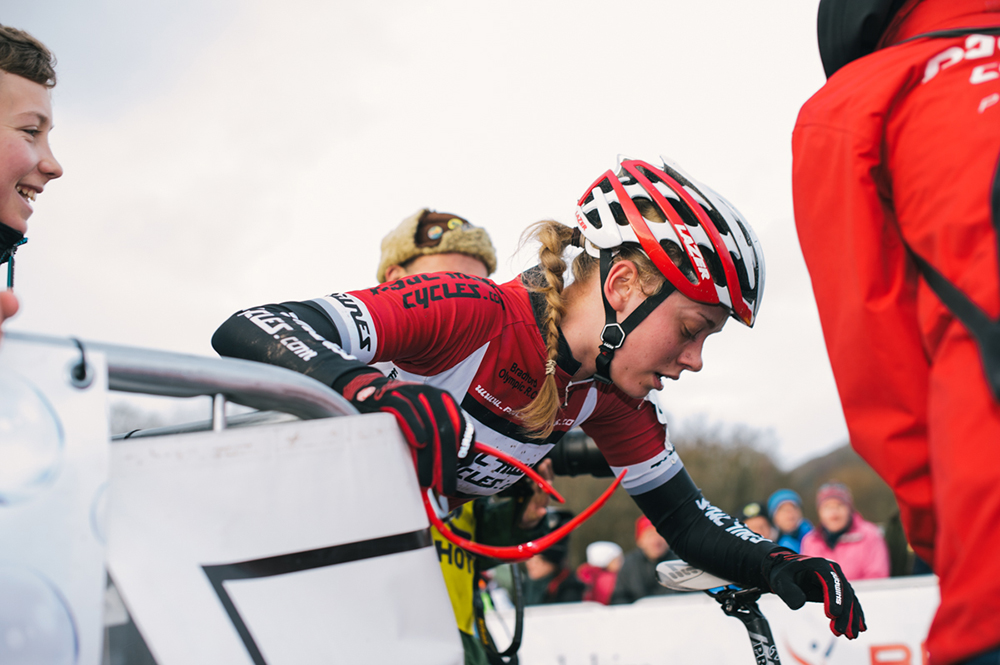 Hard race: Amira Mellor wins gold in the combined Junior race (and impressively fourth placed senior).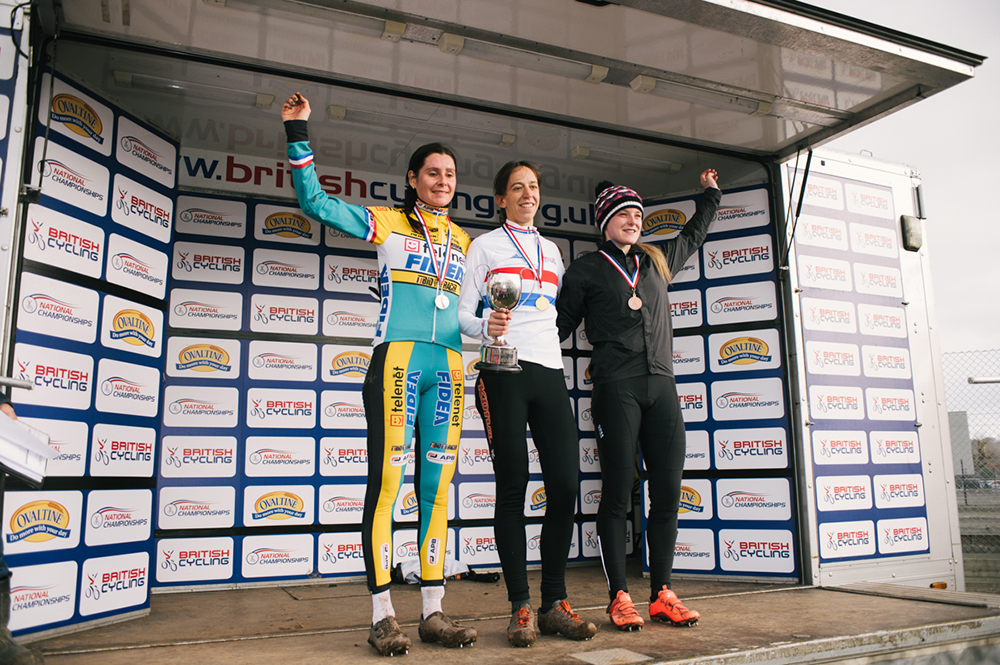 Results
1 Helen Wyman
2 Nikki Harris
3 Annie Last
4 Amira Mellor - first junior
5 Alice Barnes
6 Hannah Payton
7 Evie Richards - second junior
8 Annie Simpson
9 Ffion James - third junior
10 Isla Rowntree
British team for World Championship announced (January 14th):
Elite men: Ian Field
Elite women
Nikki Harris
Amira Mellor
Hannah Payton
Helen Wyman
Under-23 men
Nick Barnes
Jack Clarkson
Ben Sumner
Junior men
Will Gascoyne
Arthur Green
Alfie Moses
Joshua Waters
Photos: Courtesy of Jack Chevell of Cyclocross Handbook ©Jack Chevell.