UPDATE (Monday January 26th): MEEUSEN AND SWEECK SELECTED FOR WORLDS
Laurens Sweeck's Under-23 World Cup win in Hoogerheide yesterday showed that he has come through the Belgian selection saga well. After being selected for Tabor, in the Belgian team announceent this morning, Sweeck will go into the Worlds as one of the main favourites for Under-23 gold.
Tom Meeusen was also selected for Tabor today after finishing 18th in Hoogerheide - a result clearly affected by his week of uncertainty. Meeusen finished seventh Belgian rider yesterday and his selection means that Tim Merlier and Jens Adams (8th and 9th in Hoogerheide) will be Belgium's reserves.
BELGIAN ELITE MEN'S TEAM FOR TABOR: Pauwels; Meeusen; Nys; Peeters; Van Aert; Vantornout; Vermeersch.
UPDATE (Friday January 23rd): NEW HOPE FOR BELGIANS AS APPEAL RULES THAT THEY MUST BE ENTERED

The Belgian Court for Sport Arbitration (BAS) has ruled that the Belgian Cycling Federation (KBWB) must enter Tom Meeusen, Laurens Sweeck and Bart Wellens for the UCI World Cup in Hoogerheide in two days time. Meeusen and Sweeck are expected to be entered for the World Championship in Tabor as well (the entry deadline is noon Friday) as BAS ruled that the selection of the KBWB should be based solely on "sporting criteria."

According to early Belgian press reports the Belgian Court for Sport Arbitration (BAS) met late into last night in Brussels, with Tom Meeusen present, and reached no conclusion, yet a decision was announced early this morning. The KBWB also announced today that it will make it's final selection for the World Championship on Monday (January 26th).

Meeusen is currently ranked number three in the UCI World rankings and lies in fifth place in the UCI World Cup and is considered to be one of the favourites for the World title. Sweeck is a favourite for the World Under-23 title.

One rider who may be affected by the decision of BAS in Hoogerheide on Sunday is Wietse Bosmans who was originally entered by Belgium despite being ranked outside the Worlds top 50 riders. The decision has bigger implications for the riders who were in Belgium's Worlds squad announced on Monday, now that Meeusen and Sweeck are likely to be selected.

UPDATE (Wednesday January 21st): 'MERTENS THREE' CASE GOES TO SPORTS ARBITRATION

THE Belgian Cycling Federation (KBWB) has given Tom Meeusen, Laurens Sweeck and Bart Wellens the go ahead to take their situation (outlined in main story from Monday) to the Belgian Court for Arbitration in Sport (BAS). The BAS arbitrators will meet on Thursday evening (Jan 22nd) and are expected to rule on the riders non-selection issue only.

Meeusen, a favourite for a World Championship medal, told the Belgian press this week that he has had nothing to do with ozone therapy. He does say that he was treated by Mertens two years ago for sinus problems.

The father of Laurens Sweeck also maintains that his son's dealings with Mertens were perfectly normal. Stefaan Sweeck says that Mertens has been the family doctor of all three of his sons (all 'cross racers) for over a decade and that Laurens has not been questioned about the investigation. Laurens' brother Diether has been selected for the World Under-23 championship race.

The riders' appeal to BAS is unlikely to mean they will race in either the final UCI World Cup in Hoogerheide on Sunday (they have not been entered) or the World Championship in Tabor the following weekend. Belgium has announced its World team selection and it would be another surprising twist if that was to be changed at this stage.

The actual deadline for riders and reserves (squad) names to be registered with the UCI for the World Championship, however, is noon on Friday (January 23rd).
How the selection saga broke on Monday...
THE Belgian coach Rudy De Bie announced his teams for the UCI World Championships in Tabor today (January 19th) and the huge shock was that two of his biggest medals hopes have been excluded from competing by UCI regulations.

The non-selection of elite medal prospect Tom Meeusen and one of the favourites for the World Under-23 title Laurens Sweeck is related to the long-running civil investigation into sports Doctor Chris Mertens. Double World champion Bart Wellens, an outsider for Worlds selection, is the third cyclocross racer understood to be mentioned in the Mertens case and therefore Belgium believe is also ineligible for selection.
It is understood that Meeusen, the runner-up in the Belgian Championship, national Under-23 champion Sweeck and 'cross legend Wellens will not be selected by Belgium for the final World Cup round in Hoogerheide this Sunday either. It is believed that the riders are able to continue racing other UCI-ranked races as normal though.
There is naturally confusion and consternation about the decision and we believe that it's clause 9.2.002 of rule 1.1 of the UCI Cyclocross World Championships (below) that has caused the situation.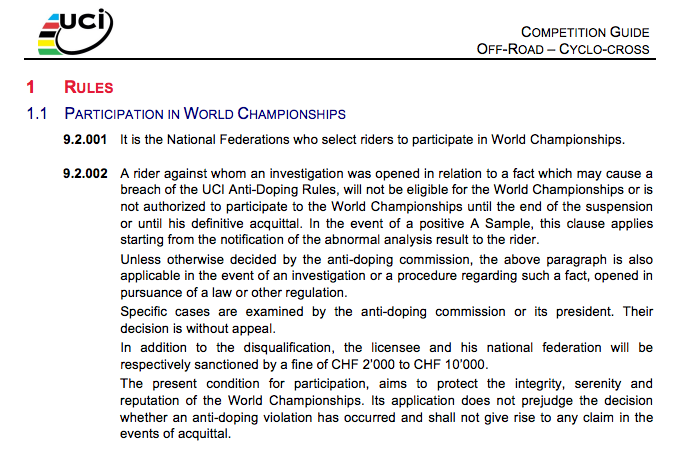 Two-year investigation
Investigations into several doctors believed to be carrying out controversial ozone therapy began at the end of 2012 and had continued to focus on Mertens who is understood to have as many as 19 athletes from many sports (including road cycling) as patients.
On Friday (January 16th) it was finally decided that Mertens would face criminal prosecution and that decision apparently placed the three 'cross riders on the wrong side of the UCI regulation. It's understood that the Belgian federation then contacted to Flemish Anti-Doping Agency (NADO) to ensure that their Worlds selections would not contravene any UCI regulations. A shocked Rudy De Bie was then given the news by the federation that he could not select Meeusen, Sweeck or Wellens.
It had been stated that the names of athletes who had been questioned during the investigation into Mertens' practices would not be made public (they are not at risk of prosecution in the case). Today though, when the Belgian Worlds teams were announced there were immediate questions as to why two big medal prospects such as Meeusen and Sweeck had been left out.
From his Spanish training base in Alicante, Meeusen expressed his dissatisfaction about the news on twitter: "It's painful. I cannot defend either my human right or sporting chance - Unfair."
In January 2013 Meeusen found himself in an identical position because of the same investigation and was prevented from racing the World Cup in Rome and the Worlds in Louisville though apparently eligible to race other UCI-ranked races. The popular Telenet-Fidea rider afterwards raced with "DOPE FREE" printed on the peak of his cap. Until today, when Sweeck and Wellens' positions were revealed, Meeusen was the only cyclocross rider who had been publically connected to the investigation.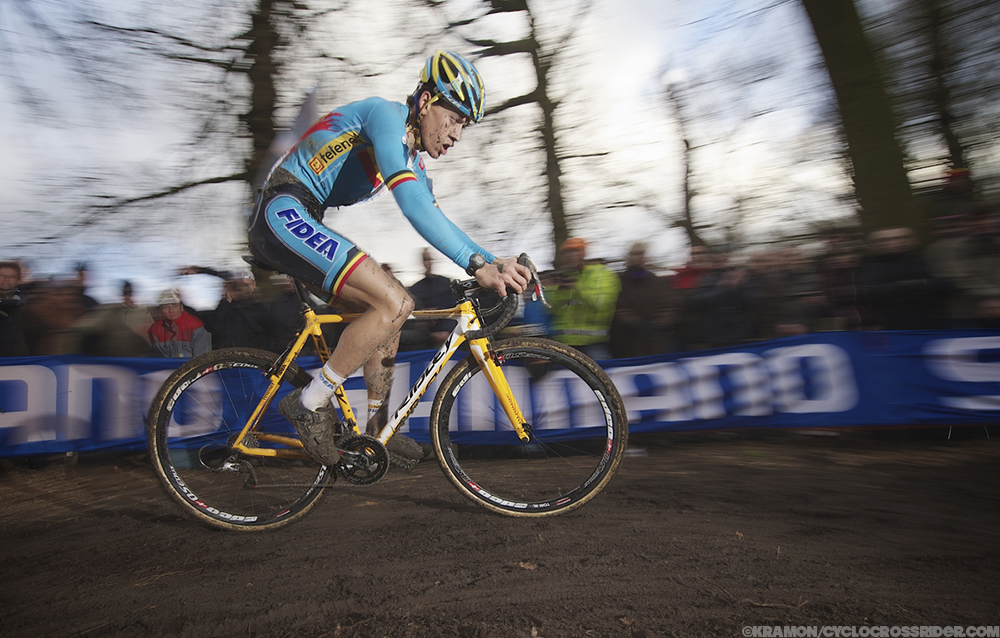 Tom Meeusen finished fifth in last season's World Championship in Hoogerheide.
In October 2014 it was widely reported that the investigators, based in Leuven, had until mid-November, 2014 to show sufficient evidence that the long-running case could go to court. Aware that there had no recent news about the case, Cyclocrossrider.com contacted the relevant authority in Leuven in December, 2014 and received no reply.
What is Ozone therapy?
Ozone therapy is a treatment that claims to increase the amount of oxygen in the body through the injection of ozone into the blood and as such is a form of blood manipulation banned by the UCI. In 2011 Pieter Van Herck, a young Crelan-Euphony team rider, became the first cyclist to be investigated for using ozone therapy. In June 2013, the twenty-one-year-old Belgian rider was suspended for two years.
Belgian selection for Tabor (subsequently revised)
Elite men: Kevin Pauwels, Wout Van Aert, Klaas Vantornout, Sven Nys, Rob Peeters and Gianni Vermeersch and Tim Merlier. Reserves: Jens Adams and Joeri Adams.
Elite women: Sanne Cant, Loes Sels, Ellen Van Loy and Jolien Verschueren
Under-23 men: Toon Aerts, Quinten Hermans, Yannick Peeters, Diether Sweeck, Michael Vanthrouenhout (Daan Soete).
Junior men: Alessio Dhoore, Jarne Driesen, Eli Iserbyt, Jappe Jaspers, Lander Loockx (Han Devos).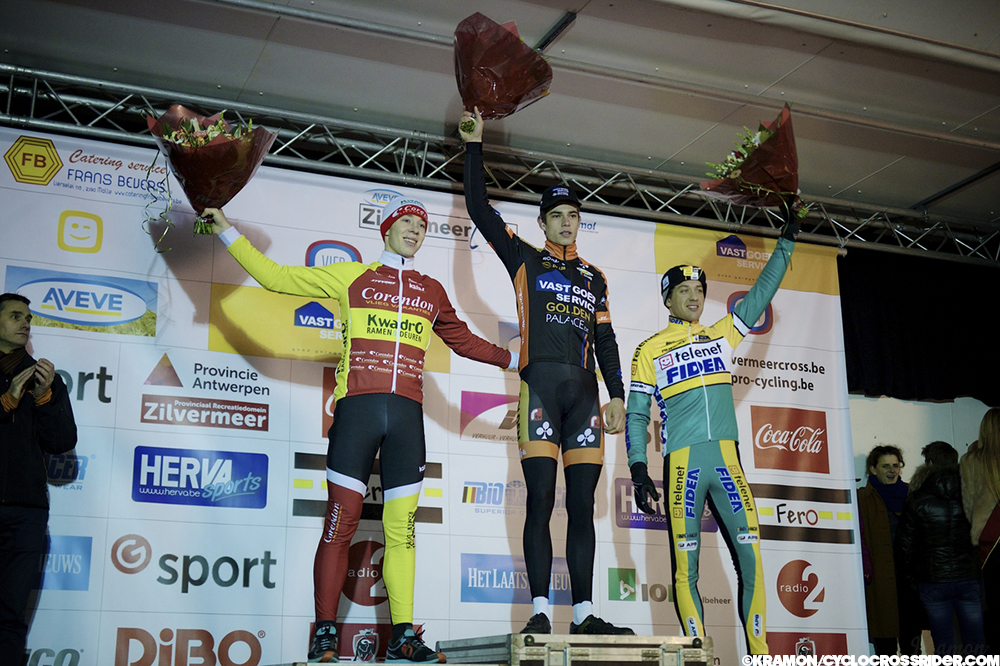 Both Sweeck (left) and Meeusen (right) were having good seasons - here on the podium behind Wout Van Aert in Mol.