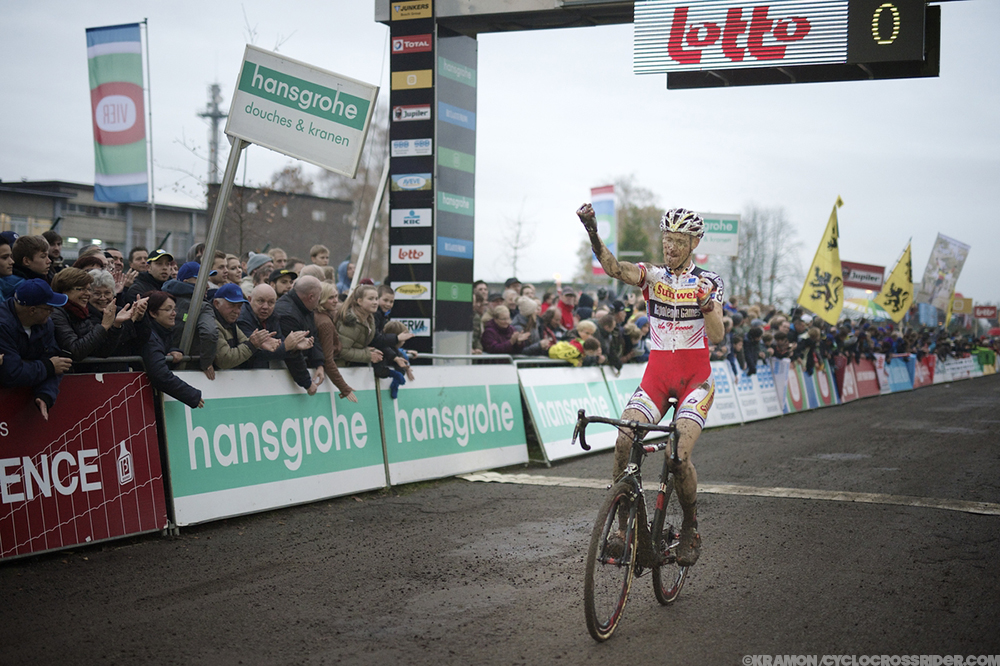 THE 2013 Belgian champion Klaas Vantornout had been on the podium three times in Gavere – his favourite course of the season – but never won here until today. The tall, rangy 32-year-old from Torhout took advantage of a mistake by Tom Meeusen to press home solo over the final lap and a half of eight tough circuits.
Vantornout was clearly pleased with his win in what is considered to be one of the sport's Classic races, "This is my best win after the Belgian title," he said afterwards, "I wanted the rain and I was happy with the conditions. I thought Mathieu (Van der Poel) went off a bit too fast and I stayed calm. I went flat out for the final two laps though."
I made a choice to start slowly and get faster as the race went on, but I had a chain problem which meant I was stood still for 15 seconds - Sven Nys
Current Belgian champion Sven Nys denied himself the chance of a hat-trick of wins in Gavere with a strange, slow-starting tactic that he admitted afterwards may have backfired on him.
"I made a choice to start slowly and get faster as the race went on, but I had a chain problem which meant I was stood still for 15 seconds," said Nys. "I was getting faster and faster but really the gap was too big – the first two were very strong today. I need to look at whether it was a wise decision because of the problems I experienced," added Nys.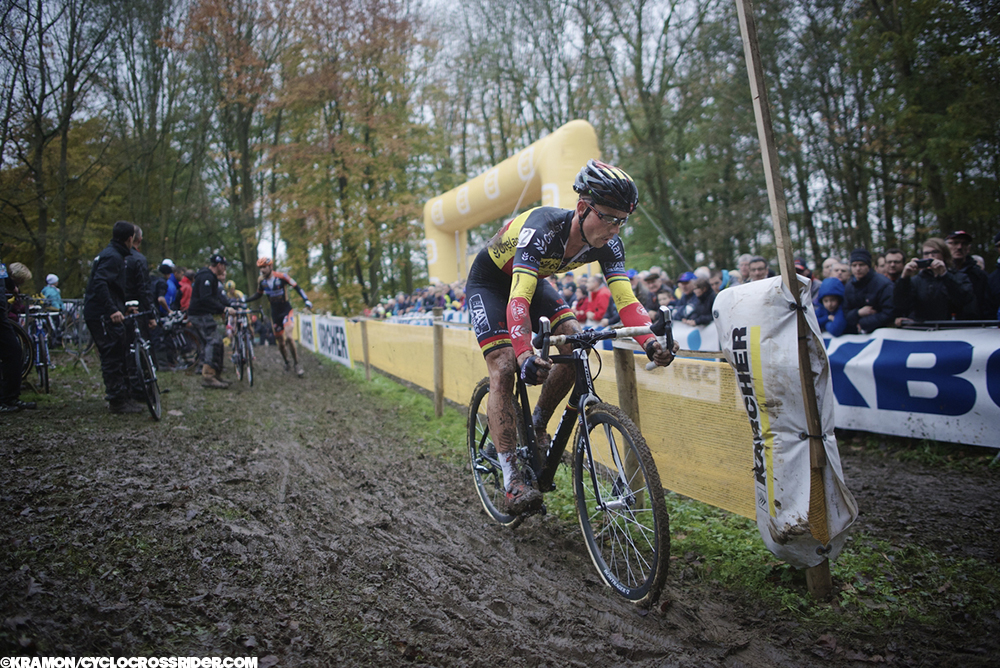 Rob Peeters was again the early leader as Nys (above) initially sat in about tenth place only to quickly drop to 15th alongside Dutch champion Lars van der Haar. After the first lap a leading group of five had formed with Tom Meeusen, Kevin Pauwels, Mathieu van der Poel, Vantornout and Peeters - Nys was in the third group of riders.
The second lap was full of drama as Van der Poel hit the front, Peeters punctured and Nys fell right back down to 21st place with his chain issue and with nearly a quarter of the race gone. A number of riders, including Van der Poel and the Crelan-AA Drink pair of Nys and Sven Vanthourenhout, opted for disc brakes today in the very slippy and sticky conditions over the course with tricky descents (the first and second placed riders raced on canti-equipped bikes however).
At the end of the third lap there was a leading trio of Van der Poel, Meeusen and Pauwels with Nys still looking completely out of the running - 47 seconds down. At halfway Nys was still over 30 seconds adrift as his team mate Vanthourenhout was having his best ride of the season in seventh place.
Half-distance was also the point that Vantornout stuck his bike in front for the first time, attacking and building up a 13 second lead over team mate Pauwels, Van der Poel and Meeusen. Nys was soon up to sixth place, but the time gap on Vantornout was still huge – 34 seconds.
As young Van der Poel began to fall back (he suffered a puncture and pedal and gear issues), Meeusen and Pauwels re-caught Vantornout and with three laps to go they led the Dutch pair of Van der Haar and Van der Poel by 16 seconds, with Nys at 28 seconds. Nys would have to be nine seconds faster than Vantornout on each of the last three laps to reach him – a task that was pretty impossible. With two laps to go Nys was up to fourth place but still 24 seconds adrift.
Numerical advantage
Up front, the Sunweb-Napoleon Games pair of Vantornout and Pauwels had numerical advantage over Meeusen but it was Tom's mistake – fluffing a remount on the long sticky climb – that enabled Vantornout to escape to victory with a lap and a half to go. At the bell, Vantornout led Meeusen and Pauwels by six seconds with Nys 17 seconds behind them.
Vantornout was looking at ease though and took the final tricky descent comfortably as Meeusen took risks and almost crashed before Pauwels pulled away from him on the long drag. To make matters worse for poor Tom, Nys put in a last lap surge, leaving Van der Haar (below) behind, and overtaking Meeusen before the finishing straight.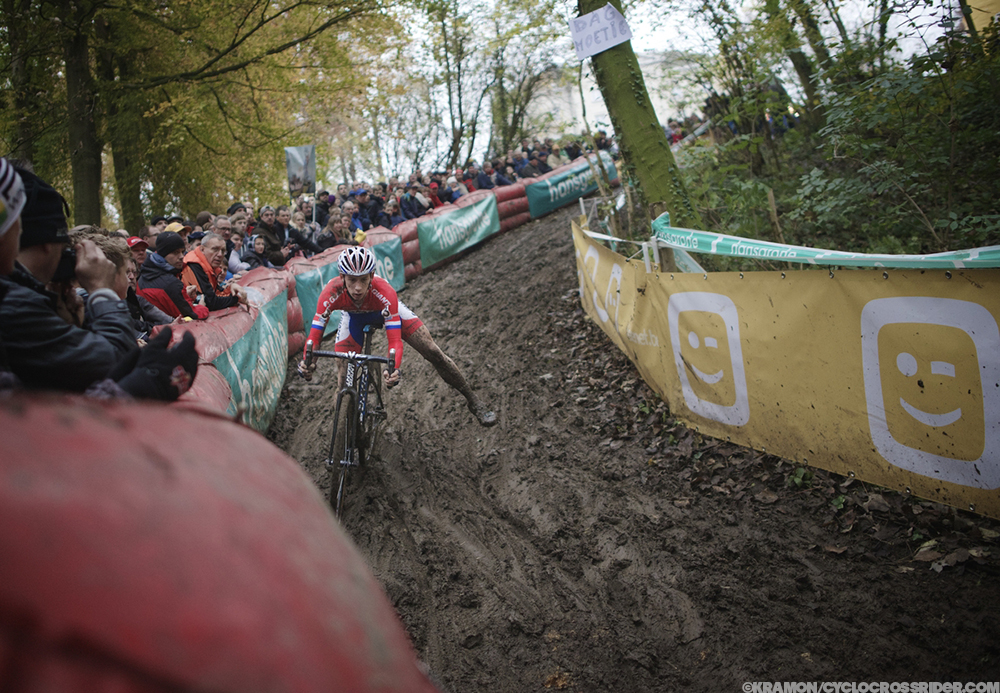 It was Vantornout's second UCI win of the season (after Erpe-Mere in September), but the 33rd Superprestige series classification remains wide open. The first four rounds have now produced four different winners yet the man who leads the overall classification, Sven Nys has not won a round. That's not that unusual as it was pointed out that Dutchman Hennie Stamsnijder won the series in 1985 without having won one of the counting races.
Nys probably made a wrong decision today, but he said that he "really enjoyed the spectacle" in Gavere and will be looking forward to another tough parcours in the next round in Spa (November 23rd) which is the day after the Koksijde World Cup.
Result: 1 Klaas Vantornout; 2 Pauwels; 3 Nys; 4 Meeusen; 5 Van der Haar; 6 Van der Poel; 7 Walsleben; 8 Wellens; 9 Sven Vanthourenhout; 10 Bart Aernouts… 21 Ian Field (GBR).
Overall standings (after 4 rounds): 1 Nys 52 points; 2 Van der Poel 50; 3= Vantornout & Van der Haar 49; 5 Pauwels 48.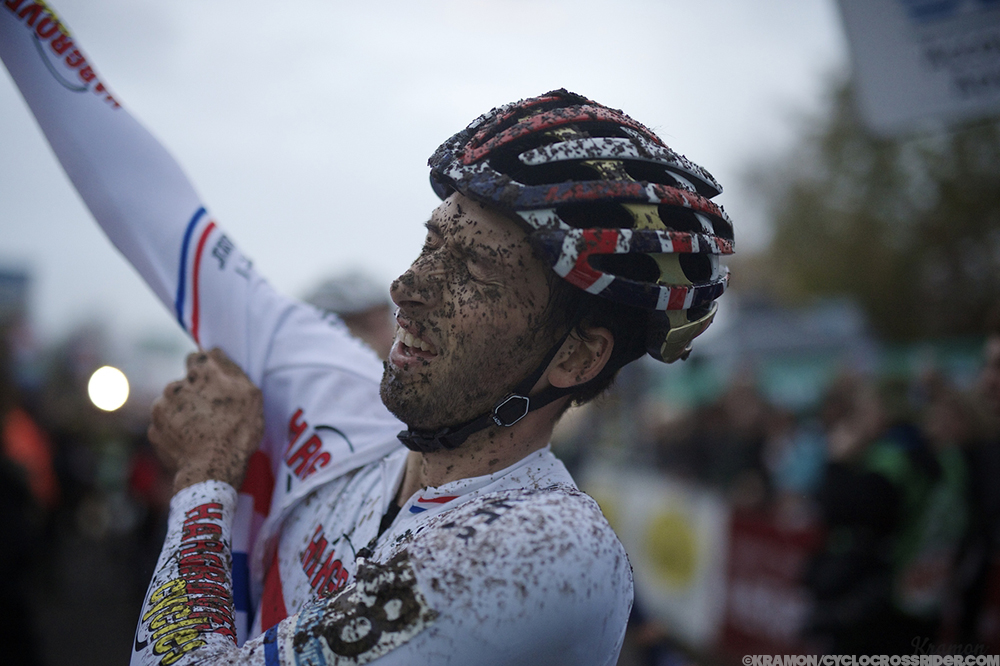 Ian Field finished in a three-up sprint for 20th place.
Elite men's Highlights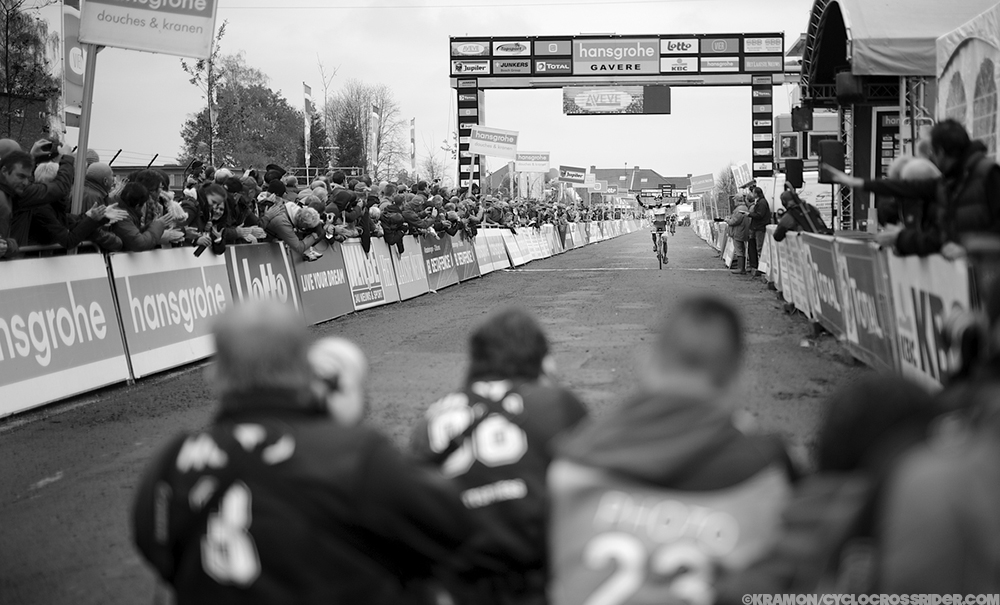 Elite women: You can't stop Sanne Cant
The women's race was an interesting duel between European and Belgian champion Sanne Cant and Brit Nikki Harris – with Ellen Van Loy in contention for a time as well. Cant took some time to get to the front and, when she did, was challenged by Van Loy and then Harris who then went into the lead ahead the Belgian pair. American Elle Anderson coming back from illness was in fourth place.
Cant had to survive a crash - going into the barriers as she and Harris went down the tricky Gavere descent side by side - but the Belgian got away from the former British champion on the running sections in the later stages. It was Cant's fifth successive UCI victory – an impressive run – and her second successive win in Gavere.
Nikki Harris told TV reporters after the race, "I feel better and stronger every race, but Sanne was the stronger rider today. I'm happy with second place."
Result: 1 Sanne Cant; 2 Nikki Harris; 3 Ellen Van Loy; 4 Jolien Verschueren; 5 Sophie de Boer; 6 Christine Majerus; 7 Pavla Havlikova; 8 Elle Anderson; 9 Githa Michiels; 10 Olatz Odriozola Mugika... 14 Christine Vardaros (USA); 18 Hannah Payton (GBR).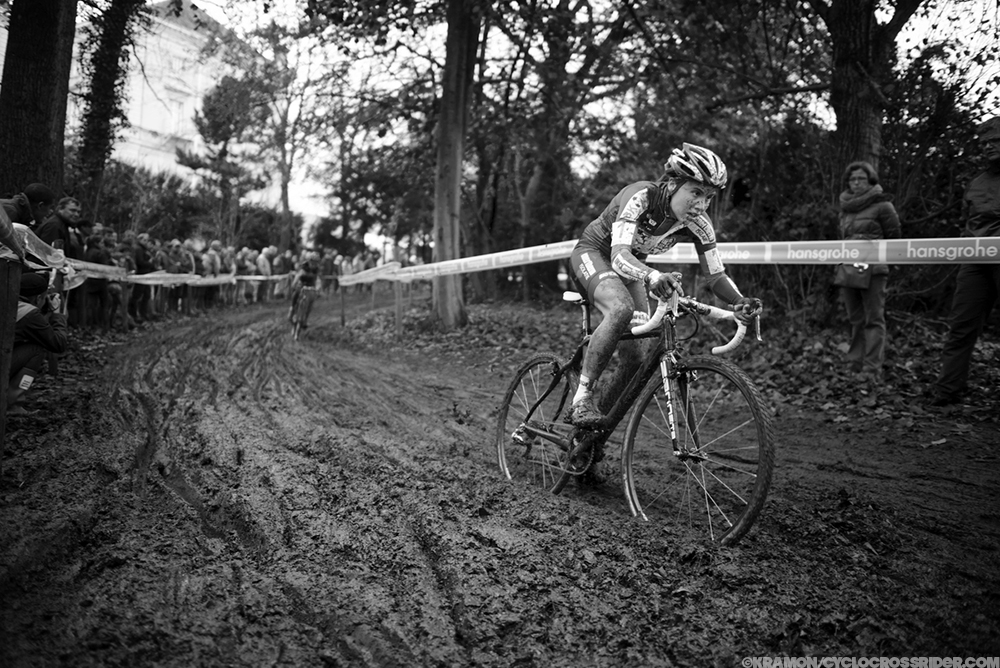 Elite women's Highlights
Under-23 men: Van Aert wins Belgian battle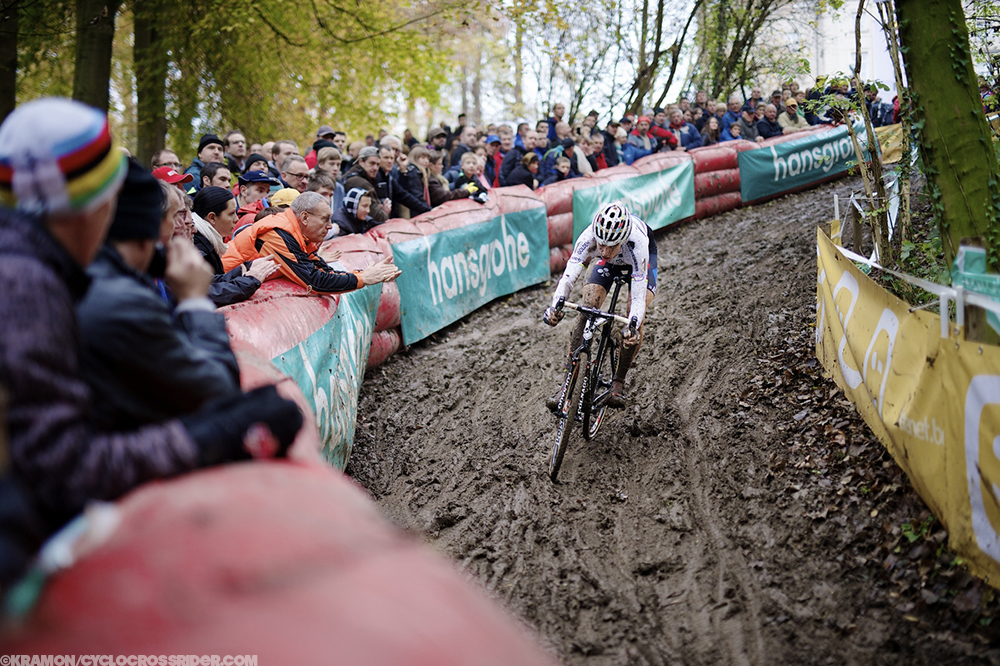 Above: World champion Wout Van Aert got the better of Michael Vanthourenhout (below) in the mud of Gavere.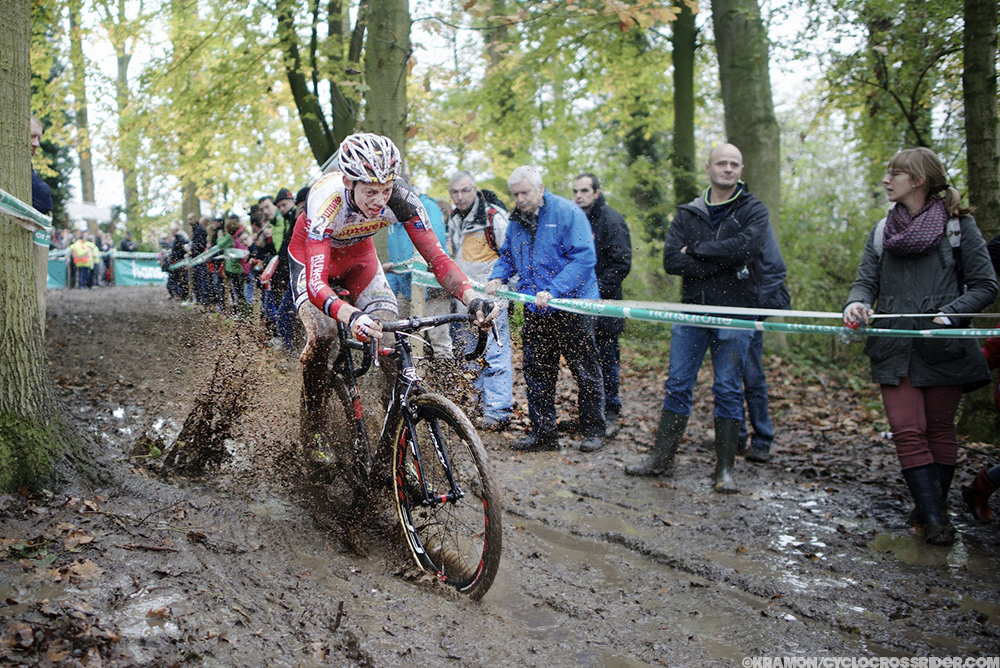 Laurens Sweeck was the early leader as, eventual winner Wout Van Aert hit a fallen rider on first lap and went over his handlebars. Sweeck was joined at the front by his brother Diether and Dutchman Stan Godrie before Van Aert eventually caught up.
Michael Vanthourenhout also moved through to join Laurens Sweeck and Van Aert in the latter stages before Van Aert pulled away and Vanthourenhout and Sweeck fought it out for second place. In the end World champion Van Aert won comfortably.
Result: 1 Van Aert; 2 Vanthourenhout; 3 Laurens Sweeck… 31 Sean Dunlea (GBR).
Under-23 men highlights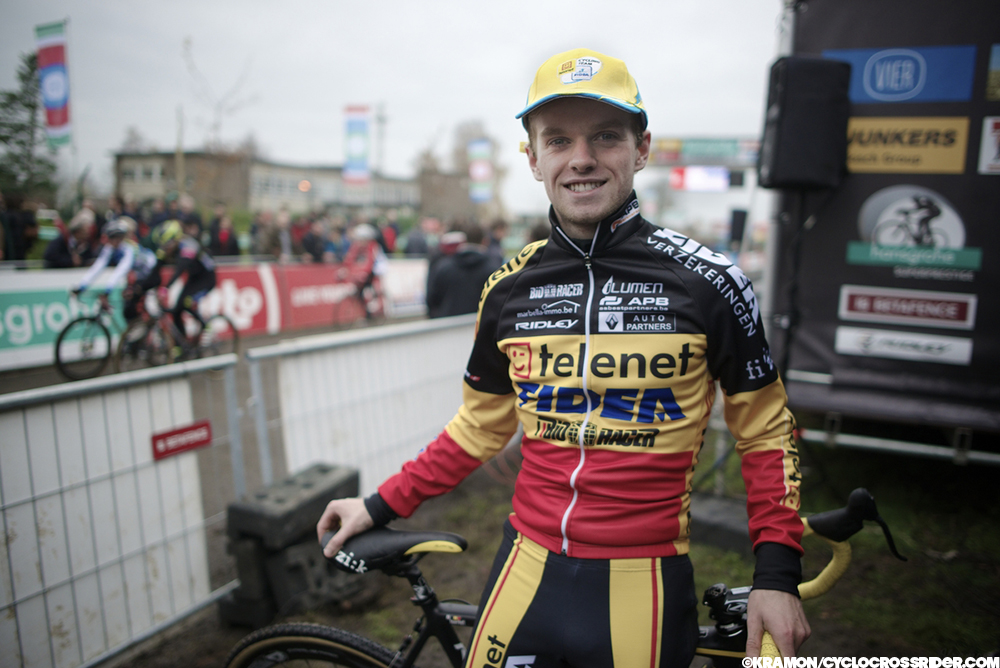 Junior men: Eli Iserbyt, resplendent in his new, blue, European Champions jersey pulled away from Jappe Jaspers to win as Johan Jacobs fell back with mechanical issues and dropped to fifth place. It was Belgian champion (above) Iserbyt's tenth win of the season.
Result: 1 Iserbyt (BEL); 2 Jaspers (BEL); 3 Thijs Wolsnick (NED).
Nieuwelingen: 1 Florien Vermeersch (BEL).
Junior men's race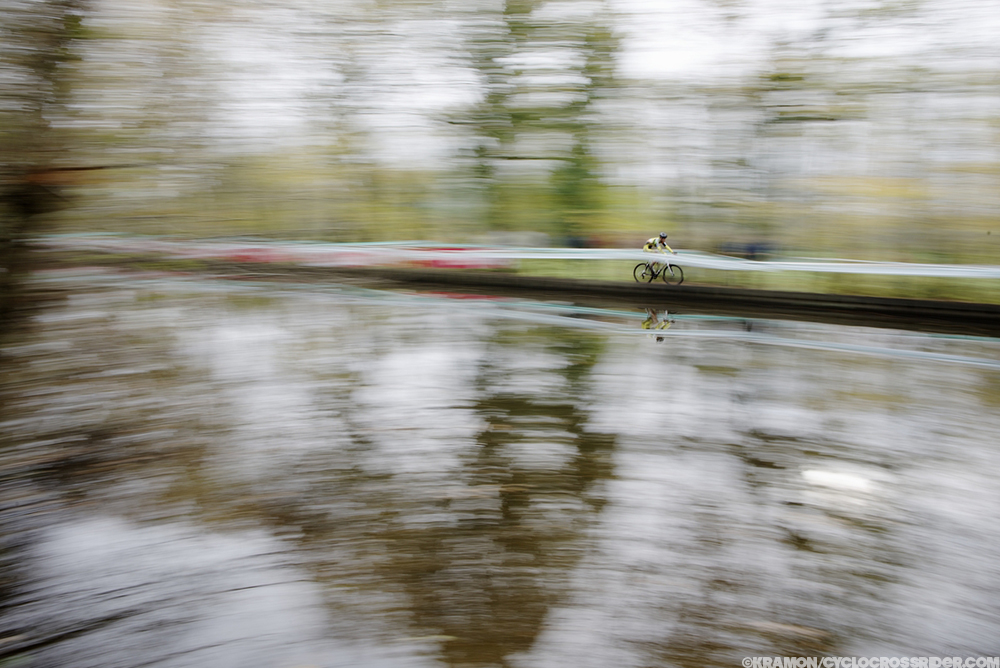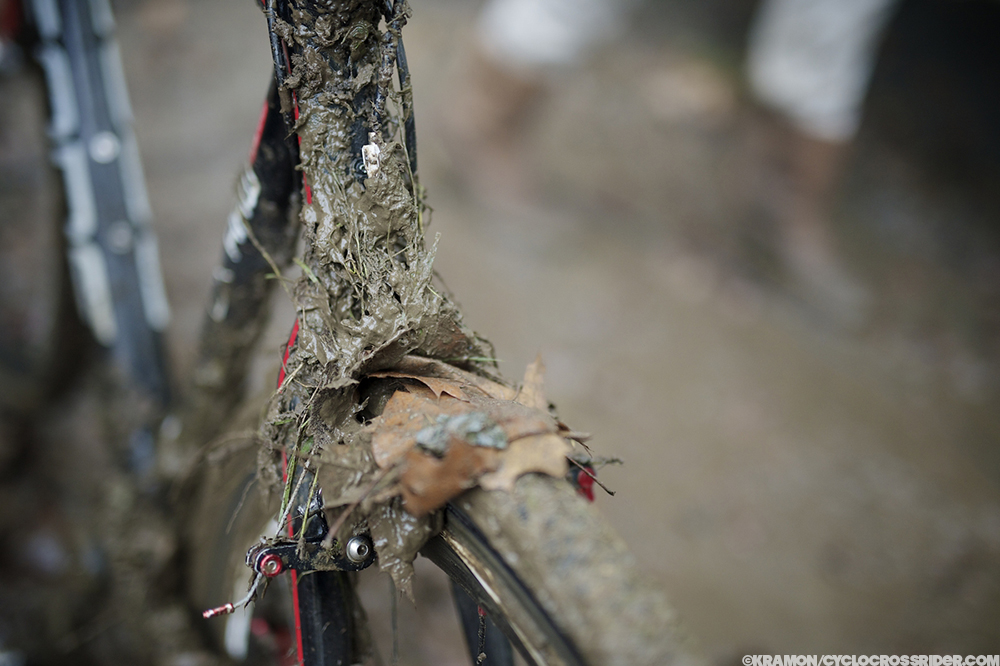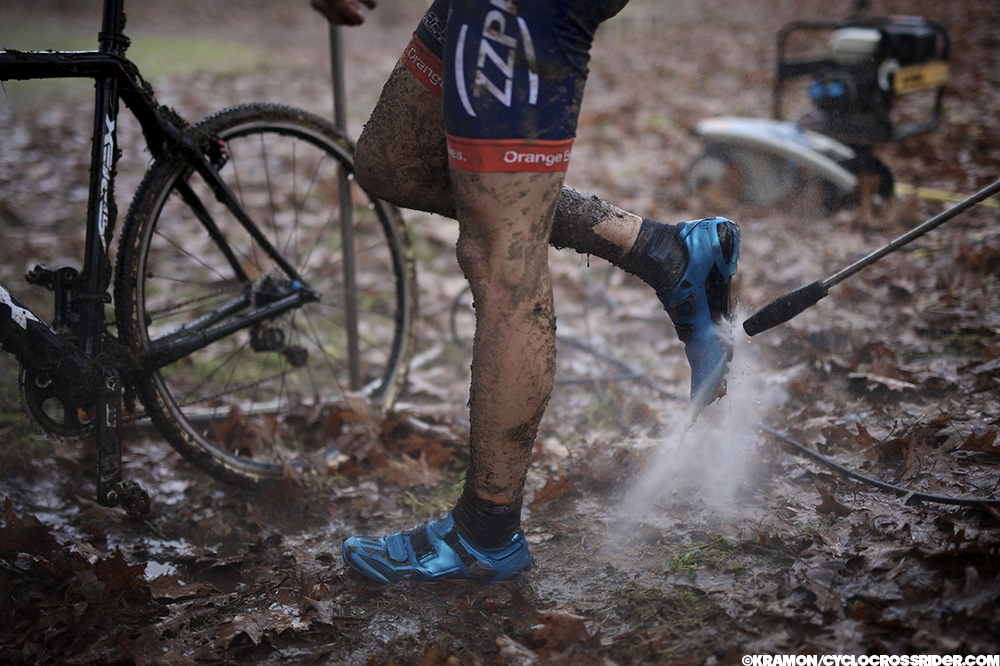 Photos: ©Kramon/Cyclocrossrider.com